Archive for December, 2010
By the time we unpacked our shower curtain last week, it had been 48 hours since either of us had showered. And those two days were filled with lifting heavy objects, if you catch our whiff drift. So hanging the shower curtain was a welcome step in our moving process. What was not so welcome? This result: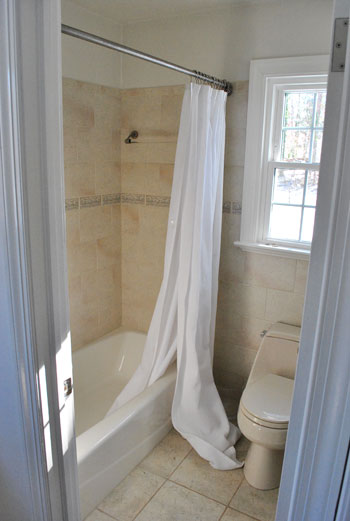 You know we love hanging an extra long shower curtain all the way to the ceiling to add height to the room (the 95″ waffle curtain is from amazon.com and the 86″ fabric liner is from Bed Bath & Beyond by the way). But the trick doesn't work so well when the tension rod you inherit is too stumpy to hang on the higher tile-less portion of your shower wall (it was literally about a half-inch too short to grab the slightly wider wall up top). Then the tricky part becomes being ok with the bottom of the extra-long curtain sitting bunched under the toilet seat.
We were not ok with it.
Which is why our first post-move trip to Home Depot was to get a new longer tension rod. And now we have this going on. Ooooh. Ahhh. Note: You can read more about raising your shower rod and finding extra long liners and curtains here.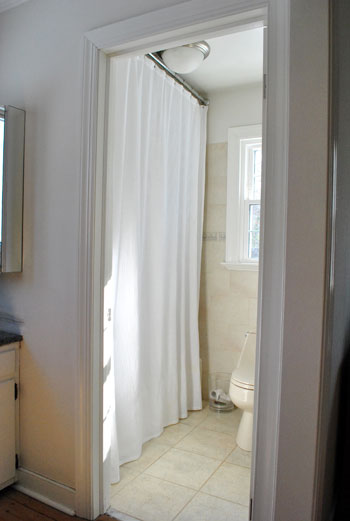 It's a small start in the process of making this bathroom feel a bit more like our own. It's a great bathroom with lots of good stuff already, but not necessarily an overall style that we'd pick for ourselves. So eventually we'll do some tweaks / upgrades / remodeling to make it more "us." And yes, we're definitely planning to swap out the light fixture for something smaller that doesn't encroach as much on the newly hung ceiling-height shower curtain. And speaking of light, anyone who is wondering if it's super dark with the shower curtain that high- amazingly it's not. It sort of glows and light shines through the light curtain and the liner so the whole shower is lit up through the curtain if that makes sense. In our old house we didn't even have a ceiling light (just a wall-mounted one above the mirror) and it was still nice and bright.
'Til then, we at least get to enjoy nice finishes like these sleek stainless shower fixtures.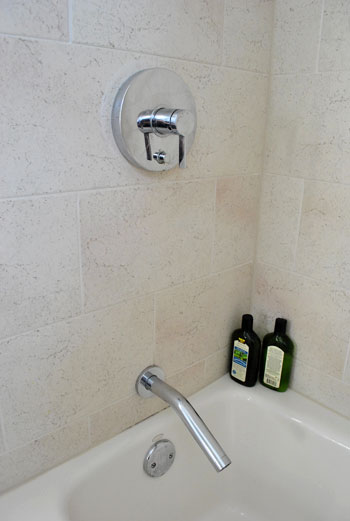 And these spa-like glass shelves: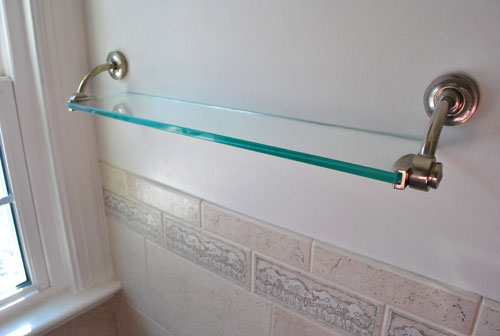 We don't really have a clear vision of what we'd eventually like our master bathroom to be, but there's a good chance both of those items will be kept long term. The only thing we can say for certain will be going sooner rather than later is the mirrored door. Shocking I know. When have you known us to remove a mirror from our house? We can usually be found hanging them left and right.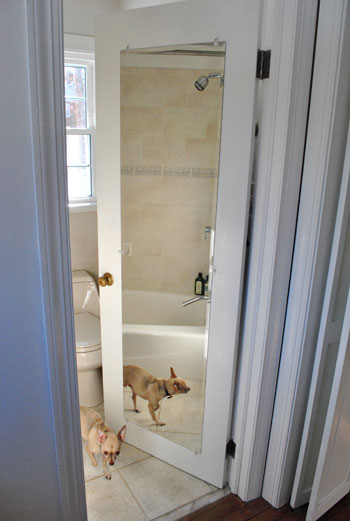 But we already have a nice chunky floor length mirror in the bedroom (the one seen in this post, that I got Sherry as a surprise wedding gift) so there's no need for the slightly less exciting door-mounted one a few steps away. Here's hoping we don't break it during removal and suffer a seven-year span of bad luck. And for anyone else out there who's ready to remove a big mirror on their door or wall, we'll be sure to post about our hopefully-not-bloody-at-all removal process when we get there…
&nbsp&nbsp&nbsp
Our new place sure has its share of bi-fold doors. Like this pair sectioning off the future dining room and the main hallway (see a floor plan here to get your bearings):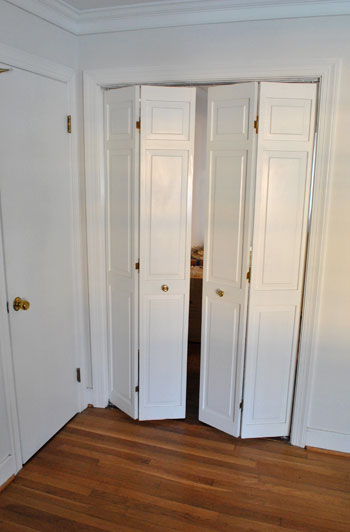 And this nearby set that closes off the hallway that leads to most of the bedrooms (we removed one door to get the daybed through on moving day):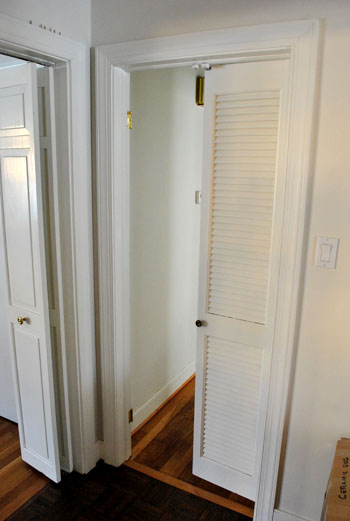 Then in our bedroom we've got another big set closing off the bathroom sink area…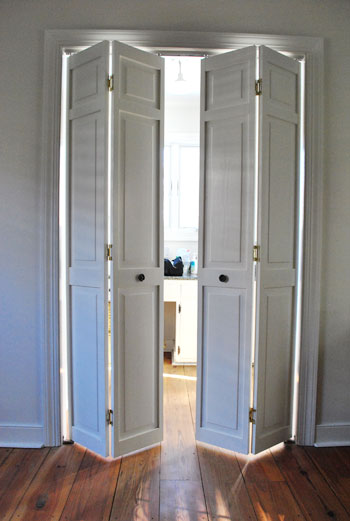 …and a single bi-fold door right next to it closing off the walk-in closet.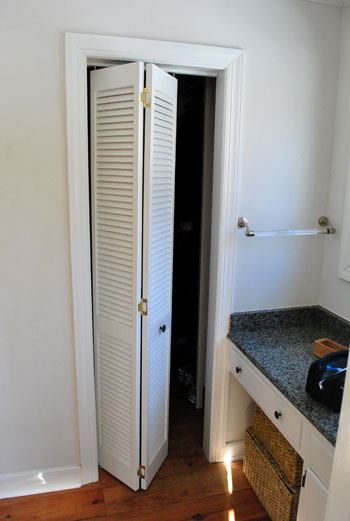 That doesn't even include all of the bi-folds that close off the other three bedroom closets. So basically… yeah, there's a lot of 'em. And unfortunately most of them go against the whole open / airy vibe that we're going for, so most of 'em had to go. Sorry bi-folds. But we're already loving how the hallway looks so much more open sans doors.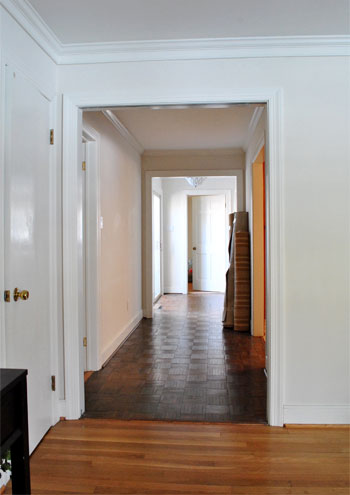 And getting rid of the straggler leading to the back bedrooms certainly helped too (we still have to go back and putty / paint where the doors were attached).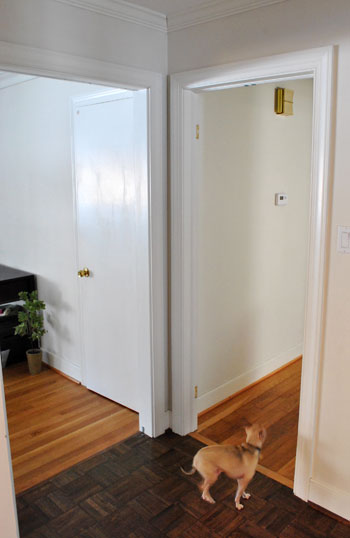 Our master bedroom is even looking airier thanks to the door departure.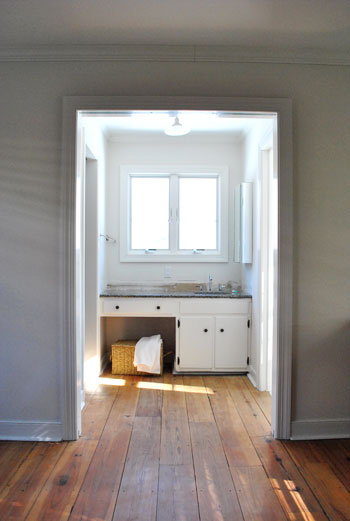 And although we're going to leave them on all of the other bedroom closets for now, we did take the bi-fold door off of our own closet (we were constantly bumping into it). We're thinking we might replace it with a thick floor length curtain at some point.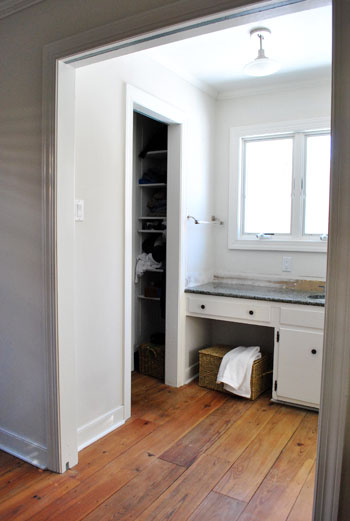 Another bi-fold that didn't get the axe was one between the kitchen and the laundry / mudroom.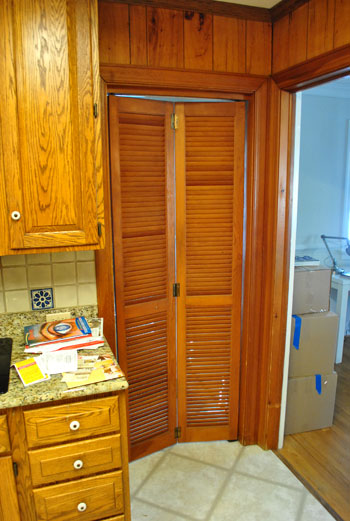 We don't have a particular fondness for the look of this door, so right now its saving grace is purely functional. Without it there's a straight shot from our carport right into the kitchen. See, here I am leering through the door to demonstrate.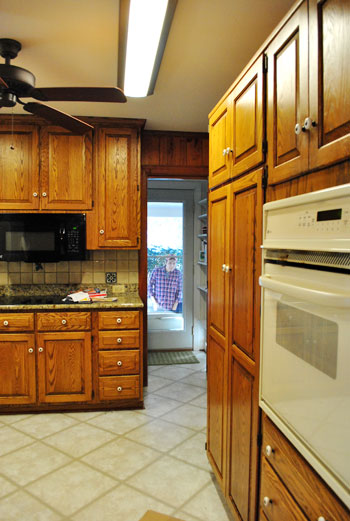 We've learned that surprisingly enough, the side door that leads out to the carport is the one all of the neighbors use when they stop by (in the words of the previous owners: "if someone comes to the front door, they're probably selling something"). And since my wife can and will nurse pretty much anywhere – even at the kitchen table – it's probably not a good idea to leave that window unobscured.
So we're going to leave that bi-fold up for now, but as soon as we can find a moment to frost that glass (so the light still pours in but the view is muddled) that bi-fold will be getting the same farewell treatment that the rest of them got. Stand by for that unbelievably exciting undertaking (I'm kidding, but hey- not every project is mind blowing). Oh and we're donating all of the bi-fold doors to the Habitat For Humanity ReStore so they get to live on in someone else's house, as opposed to junking up a landfill. Have you guys been to a ReStore yet? They're full of awesome old windows, doors, sinks, faucets, light fixtures, and even rainbow colored toilets. Believe me when I say that there's something for everyone.
Psst- This week's BabyCenter post is all about trying to get Clara to adjust well to the new house (so we didn't have an angry/grumpy/confused/scared bean on our hands). Here's what worked for us.
&nbsp&nbsp&nbsp