Archive for December, 2010
***This giveaway is no longer accepting entries – scroll down for special discount and to see who won!***
If the words "simplify," "organize," "declutter" or "make more time for [blank]" will be showing up on your resolution list this year, boy do we have the giveaway for you. Simplify 101 provides all sorts of fun interactive tips and online workshops to help you achieve those goals, and this week a trio of you will win TWO free workshops.

Our three winners can choose from any of the following workshops being held early next year: "Quick + Simple Clutter Control," "How To Achieve Your Goals And Create A Life You Love," "Organizing 101" and "It's About Time: How To Have More Fun and Get More Done." Oh and all of you can get a taste of Simplify 101's helpful advice by downloading their free "How To Create A Command Central Binder" guide. We've also got a special discount ready to announce on Thursday, so check back for that in a few days. But enough chatter, here's how to enter:
PRIZE: Your choice of any two Simplify 101 workshops being held in January or February.
TO ENTER: Comment on this post with the words "SIMPLIFY ME!" and…
BONUS QUESTION: … tell us how you're looking to simplify, organize, declutter, or streamline your life in 2011. We'd love some great ideas for our own list of 2011 resolutions.
GIVEAWAY CLOSES: Wednesday, December 29th at 8pm EST
NUMBER OF WINNERS: Three!
PRIZE SHIPS: Worldwide!
USUAL STUFF: One entry per e-mail address is permitted. The winners will be selected using random.org and announced on Thursday as an update to this post. That's right, come right back here on Thursday morning for the announcement of our winner. Good luck…
******************************
Before we announce our trio of winner, know that Simplify 101 is offering 15% off enrollment through January 3rd, 2011 with code SAVE15YHL at checkout. (Note: the "It's About Time" workshop is currently offered at 20% Early Bird savings, so this 15% off can't be combined with it)
On to our winners. The lucky three entrants that random.org chose are… Sarah Thimmes (who's looking to organize her homeschool supplies and make more time for poetry writing), Kelsey R (who wants to really use her planner all year)and Tiffany (who just gave birth to baby girl on Christmas Eve. Wow!). Congrats!
Note: We weren't paid or perk'd for hosting this giveaway, we just take them on to reward our lovely readers! See our Giveaway FAQs page for more info. Pics from Simplify 101.

&nbsp&nbsp&nbsp
After over two weeks of doing it, sleeping on the floor is officially getting old.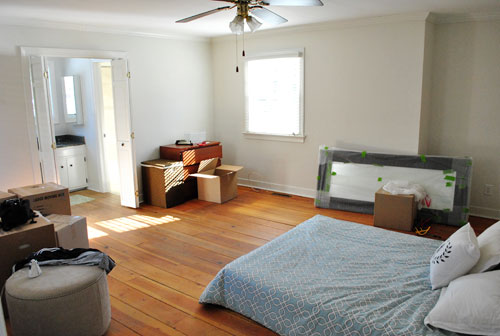 So we bought a bed frame. Oh happy day! We had big plans for possibly building one (using one of Ana White's amazing tutorials). And we debated just getting a cheapo-metal frame and laying slats of wood across it so we could rest our mattress on that (so we could DIY another upholstered headboard down the road). But in the end the four poster bed that caught our eye back when we whipped up this future bedroom mood board won out (click here for more mood board details).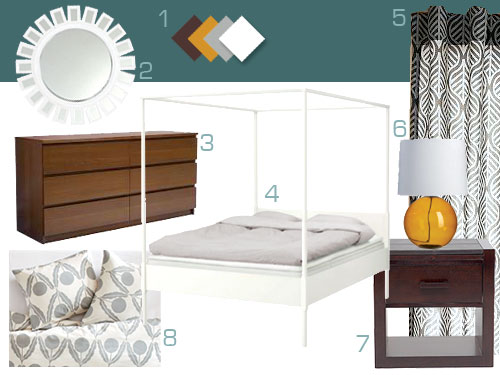 One of the issues is that our organic mattress (which you can read about here and here) is super thick and made of extra dense all natural latex rubber. So as I've weirdly described it before, it's heavier than thirty dead people. To this comment John always responds: "How would you know that? Even serial killers don't attempt to carry thirty bodies at once." So although I will specify that I haven't actually carried thirty dead people, the mattress is as heavy as I would imagine that scenario to be. Seriously, it weighs a ton. Which is why we worried that a normal metal frame meant to hold a boxspring and a regular (much lighter) mattress wouldn't exactly adapt very well to wood slats and a box-springless super heavy mattress. And the idea of buying a $600+ organic boxspring to make a cheap-o metal frame work quickly became a not-so-cheap-o solution, so we tossed out that possibility as well.
It definitely would have been fun (and kinda romantic) to build a bed frame together like our Bower buddies, but our aching backs won out and we decided we were done with sleeping on the floor. Over it. Seriously spent. Imagine Ben Stiller emphatically saying "I'm finished with the checking of the bags conversation" to that flight attendant in Meet The Parents. That's how emphatically those last few sentences should be read. Warning: Ben tosses out a the word beeyotch (without all the eee's) at the end of this clip in case you're at work/with a tot.
And with the chaos of the holidays, bed-building just wasn't going to happen for another week or so. Which is how we got to the purchase of our new queen sized white Ikea four poster bed. And since his official Ikea name is Edland, we like to affectionately refer to him as Ed.
But right now he's looking like this in our house: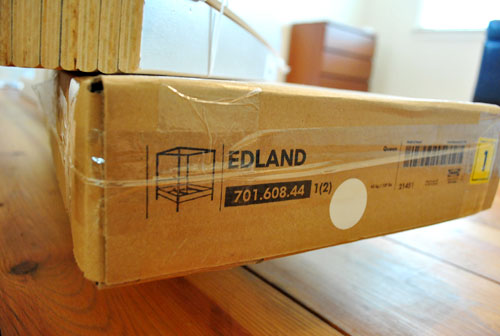 Here's hoping he's not too hard to assemble and can handle the weight of thirty dead bodies. We'll be back with pics when he's all set up after some not-floor sleeping (we're gonna give him a test run and tell you all about the comfort-factor tomorrow).
&nbsp&nbsp&nbsp