Archive for December, 2010
We're back with part two of our virtual gift shopping roundup (see part one here) and this time we headed into Pottery Barn to see what we could find. Here's what we loved.
This charming $12.50 rubber stamp kit is so cute for anyone from a well traveled kid to a crafty adult (who might use them to whip up some custom stationery).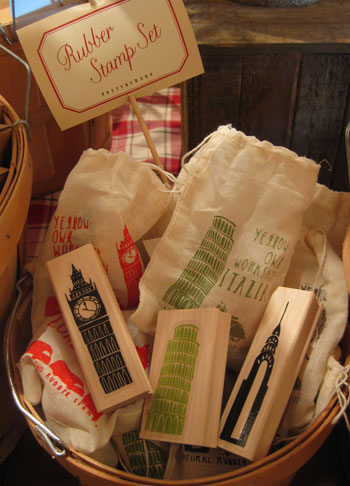 In the can't-get-much-cheaper-than-this category, these $3 vases would be perfect for this DIY reed diffuser project that we tackled last year.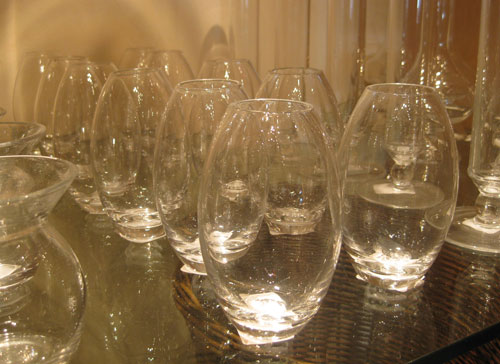 These $11 "His" and "Hers" knobs would be cute for any married couple who share a bathroom (which is pretty much all of our friends and relatives since we're not of fancy enough blood to know people to have two separate master baths).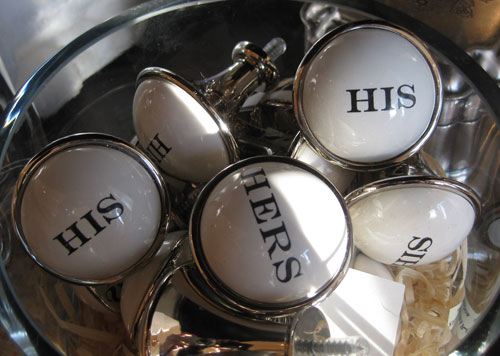 The hubs loves maps, so the globe ornament definitely caught my eye as a sweet gift for anyone with geographic interests.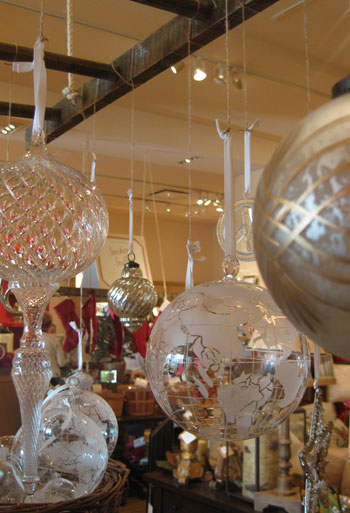 And for anyone who wants to feel swanky, this $29 marble cheeseboard just screams decadence (I actually expected the tag to read $69 or something, so the chunky marble slab and cheese knife for under 30 seems really reasonable to me). Maybe someone you know just recently redid their kitchen and would appreciate something chic like this to finish things off?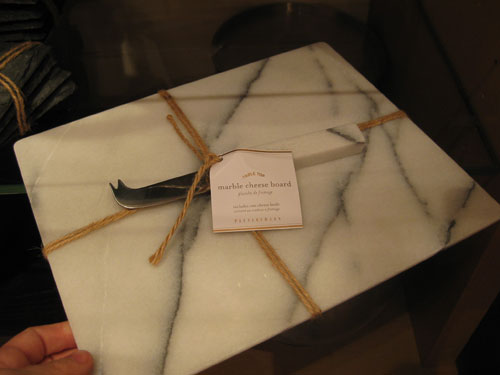 I didn't realize I had a weakness for large hardcover books like these until we were packing/unpacking (they are NOT a plus when you're packing/unpacking by the way). But they're gorgeous enough on a coffee table the rest of the time to make them worth the trouble. And since many of these were 60% off (some were marked from $50 down to $18!) they really would make a nice high-roller gift that doesn't actually break the bank. And yes, I would totally peel off the markdown sticker so the giftee was left wondering if we really paid $50 for a book (but if they know us at all, they'll know that we didn't… haha).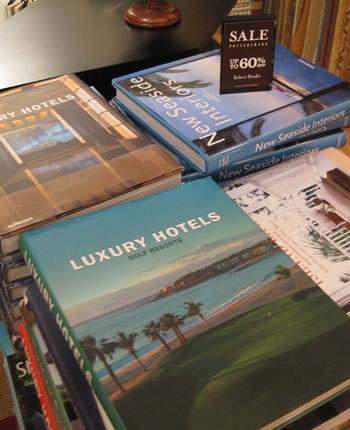 So that ends the PB roundup. We'll be back in a bit with our Urban Outfitters run to finish off the three part virtual shopping spree (we took too many pics to put them in one post). In the meantime, we'll just be- you guessed it- unpacking. Fun, fun, fun.
Psst- We weren't paid or perk'd to mention these items or stores, we just like them and thought you might too.
&nbsp&nbsp&nbsp
As we continue to unpack, we thought we'd share this year's virtual gift roundup (a la this one from last year). It's a three-post-in-a-row thing (we couldn't fit all the pics into one) so stay tuned for two more that'll pop up today. First we hit up Crate & Barrel. Here's what we found:
These cute wine glasses were on sale for $1.50, and two of them along with a bottle of inexpensive vino could make a nice little gift for someone that doesn't drain the ol' bank account: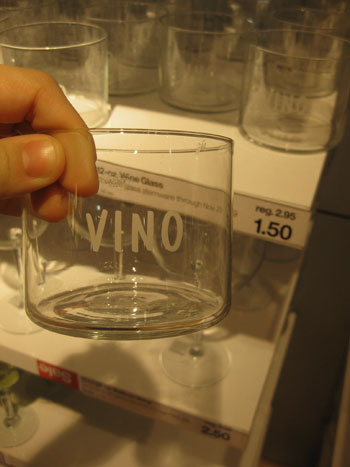 This pretty ceramic serving tray was on sale for $5.95, and could be filled with anything from cookies to candy (I'd do an assortment of fancy olives for my Italian antipasto loving mom). Who doesn't need another serving platter? And one with the Crate & Barrel logo on the back always feels swanky (we're betting the giftee would never guess it was under 6 bucks).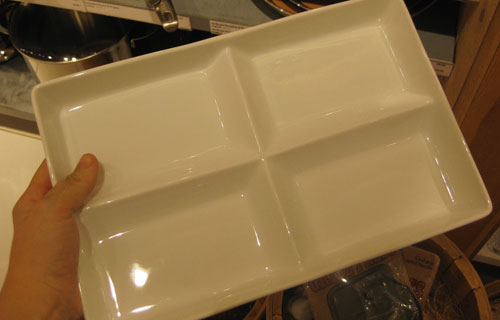 I also couldn't take my eyes off these gorgeous $3.95 votive glasses (a gift of three of 'em with simple white candles inside would be sweet). Full disclosure: if we weren't packing and moving when we shot these pics, I totally would have snagged a few for myself.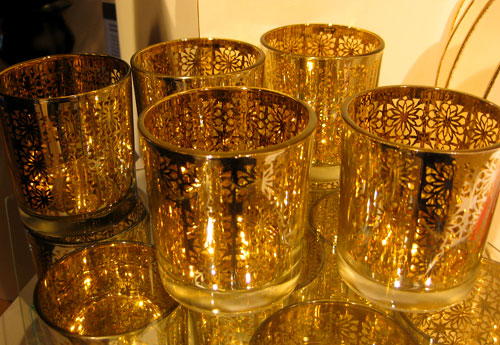 These colorful bowls were $3.95 a pop, so a cute gift idea might be pairing a few of them with anything from a box of your giftee's favorite cereal to a bag of mixed nuts or caramel corn.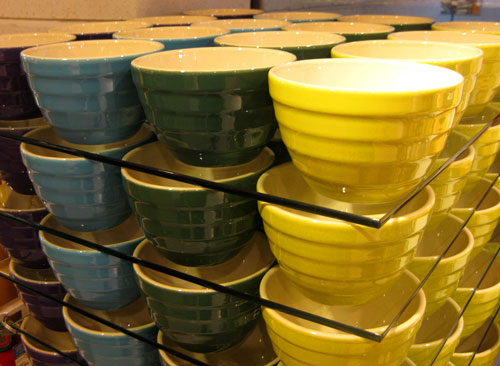 I have a certain bake-happy best friend who I think these $2.95 cupcake-shaped cookie cutters would be perfect for (along with anything from a baking cookbook to a bag of flour, sugar, and baking soda).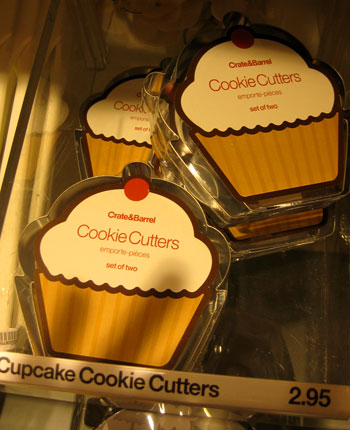 We can't forget gifts for our four-legged friends! And these designer dog toys would look pretty darn cute on the floor: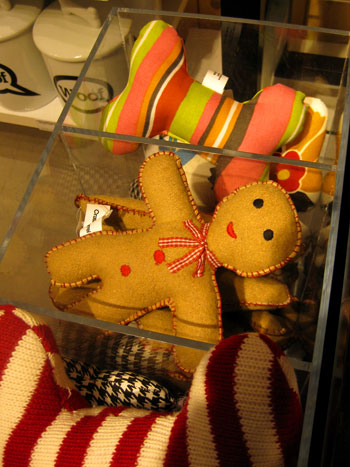 These feisty little pepper-riddled dishtowels (just $4.95) would be nice for anyone that you know who has red or green accents in their kitchen (John's mom has a red kitchen at their beach house…).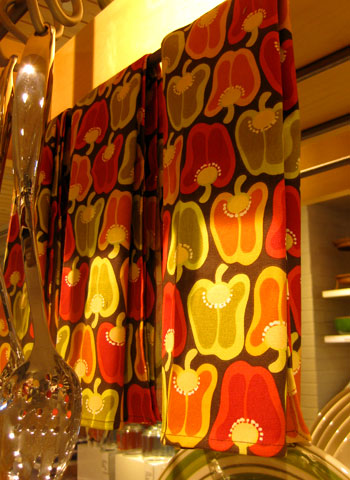 This is just a DIY idea that we noticed while trolling the store. How creative are these grasscloth wallpaper bookcovers? We've seen it done with white or tan craft paper, but the texture from the woven grasscloth is really cool.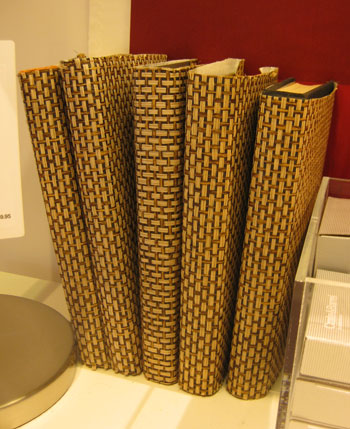 We can't forget our recently acquired patterned napkins (which have a lot of the tones we're loving for the new house color scheme worked in). They're were still $2.95 each (marked down from $4.95) when we were there, so a gift of four of them tied with a turquoise ribbon would only run you $12.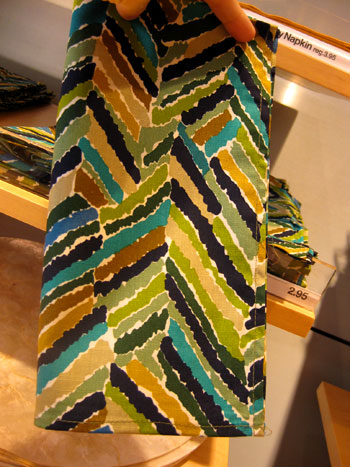 Here's another idea that we thought might inspire some good old fashioned DIY. A big box, bin, or jar of markers, crayons, pipe-cleaners, stickers, scissors, balloons, and other inexpensive (even dollar-store) items could make a really cool "I'm not bored anymore" present for the kid in your life.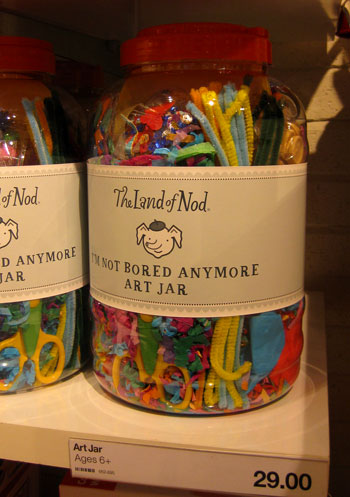 These delicate $3.95 ceramic leaf ornaments were so pretty (for gifting to yourself while you're shopping, or to someone else who might have a penchant for white ceramic things…).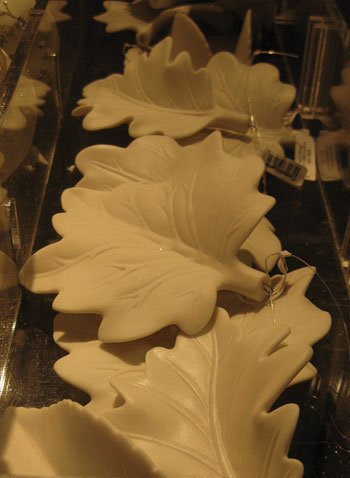 And speaking of white ceramic gorgeousities (not a word, but bear with me), this $6.95 pinecone ornament makes me want to make up words.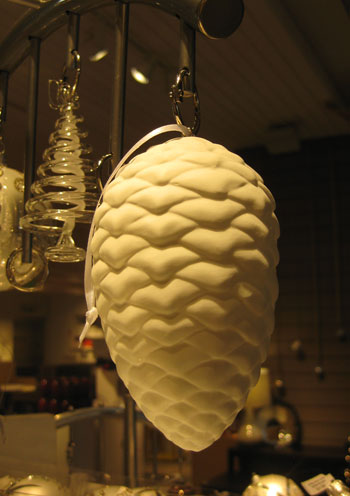 And of course we have the obligatory photo of John and Clara in the Clara chair. Lookin' good guys. Lookin' good.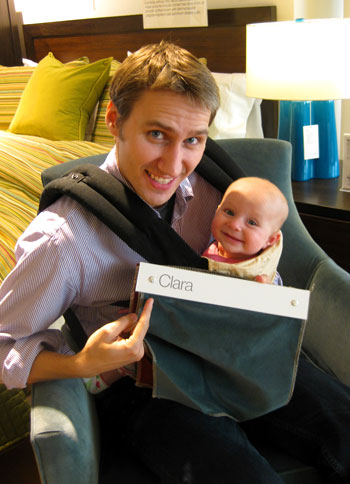 And so ends our trek through Crate & Barrel. We'll be back in a bit to share what other budget friendly things we stalked at Pottery Barn and Urban Outfitters (we took too many pics to roll everything into one post this year). Until then, we'll just be unpacking… again.
Psst- We weren't paid or perk'd to mention these items or stores, we just like them and thought you might too.
&nbsp&nbsp&nbsp