Archive for November, 2010
House hunting has been a fun adventure and, like any adventure, it took some weird twists and turns. So we figured since we highlighted some of our close-but-no-cigar finds (here, here, here, and here) we should take a second to share some of our no-way-no-how finds as well. Because they were actually pretty darn entertaining.
First, we encountered a mammoth split level. From the outside it looked like your usual split-level home. Until we got inside and realized it had SIX floors. Yes, six. That's six times the number of levels we're currently used to. Granted the top (attic) and bottom (basement) weren't entirely finished, but still – wow. You can thank my brilliant artist's rendering below to roughly show you how it was laid out: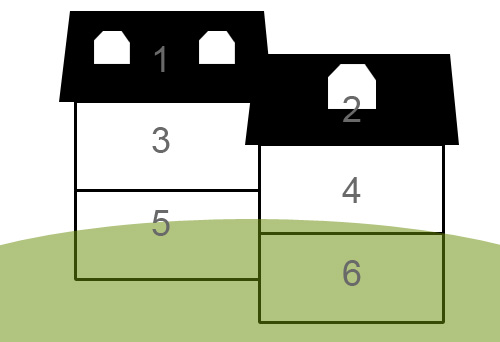 Then there was the dark house. Not "this doesn't get very much natural light" dark. This was "um, there's no electricity" dark. When we arrived the realtor discovered that the power wasn't working – whether from the owner not paying the bills or from a storm earlier that day we'll never know. But bless her heart, the agent was determined to show the house to us anyways. So we busted out our cell phones as flashlights (it was about 6pm on a cloudy day, so there wasn't much natural light to speak of) and we walked through carefully. In the end, we think the darkness probably did the house a favor because it didn't appear to be very clean.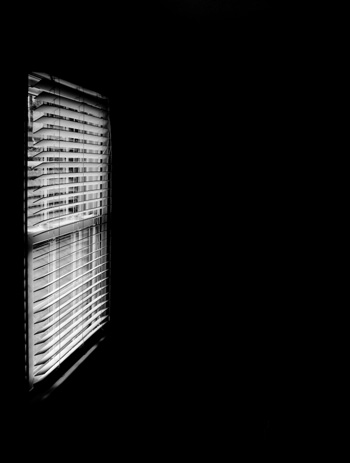 And speaking of clean… there was also the house where the owner's idea of staging was to leave her shoe collection scattered across the master bedroom floor. Picture piles of high heels everywhere (sort of like the pic below, but not running shoes and not nearly as orderly). We couldn't even step into the room because of the mess. Maybe they were trying to impress us with how many shoes they could afford?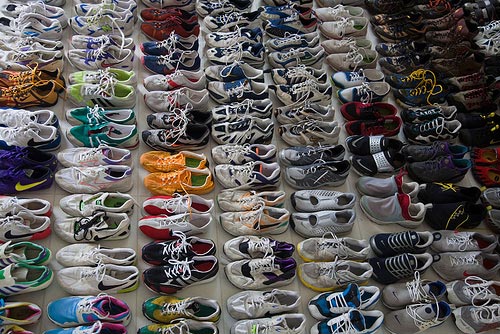 Now I'm sure we're not the only ones with crazy house hunting stories, so we can't wait to hear what you guys have encountered. Isn't it amazing what some people consider "designed to sell"? What craziness have you seen? And have you checked out this site? Oh the hilarity.
Dark room photo from here, shoe photo from here.
Psst- We announced this week's lucky Target gift card giveaway winner. Click here to see if it's you.

&nbsp&nbsp&nbsp
I got all leaf-happy to add a bit of that fall/Thanksgiving vibe to the dining area. It was free and it took about ten minutes total. Here's the dining table with some pretty branches from the cherry tree out front: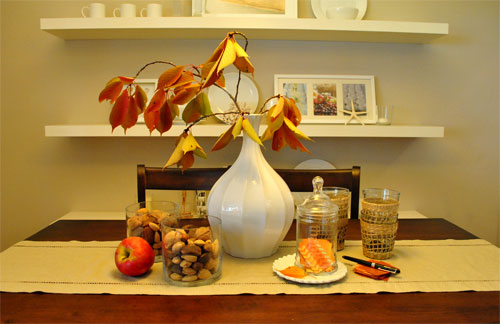 And I popped a few smaller branches from the same tree into my floating cb2 hanging vases.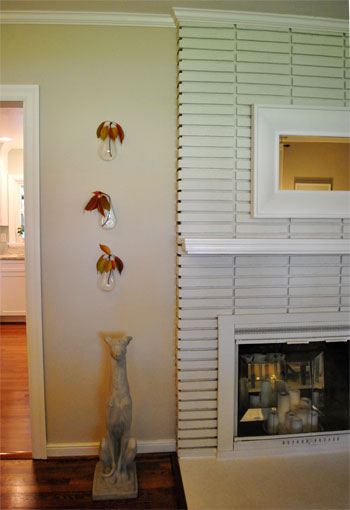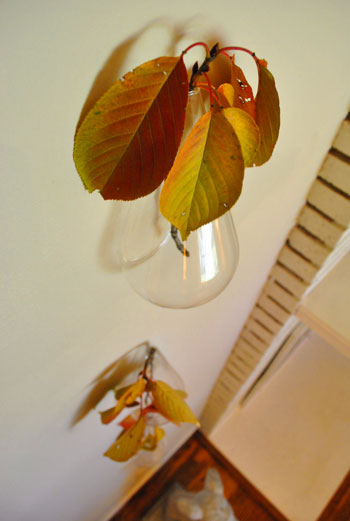 Sure, they're looking a little limp, but after adding some water to the vases, they perked right up. And since they're free I'm ok with them lasting just a week or so if that's what mother nature so ordains.
Oh and I thought a $2 bag of mixed nuts looked kinda Thanksgiving-ish (saw something similar in an old Pottery Barn catalog of yore) so I grabbed the bag and dumped them into two clear glass vases for more of that seasonal vibe. And I added an apple we already had in our fruit bowl- just for more of that pretty fall color.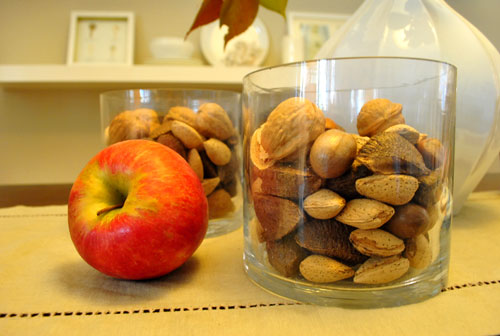 The great thing is that those apples & mixed nuts can look Christmas-y too, plus they're edible. Talk about multitasking only-takes-a-minute decor.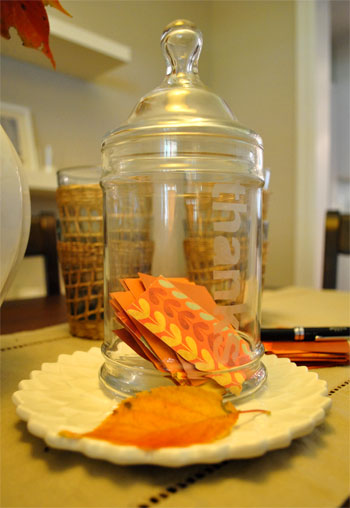 Oh and our etched "Thanks" jar is turning out to be a pretty fun project. We haven't skipped a day of recording something that we're thankful for yet (one of us usually reminds the other) and we can't wait til the end of the month when we can read them all (I have no idea what John's writing but he snickers from time to time, so I'm thinking it'll be funny to finally read his in a few weeks).
Any fall or Thanksgiving decorating going on at your house? Remember those fun trace-your-hand-and-make-it-a-turkey projects back in kindergarten? I basically lived for that when I was a kid.
&nbsp&nbsp&nbsp