Archive for November, 2010
We're thinking of moving away from the soft, subtle, and beachy whole-house color scheme that we have going on here and towards something more moody, risky, and sophisticated at the new house. Here's hoping it works for us (you never know… and we're the first to admit that sometimes we end up repainting). We're definitely no strangers to covering our mistakes with another coat or two of something new if we don't like how things look when we step back and check things out (after sharing the "outtake" pics with you guys of course). So it might take us a few tries to settle on a scheme we love, but right now we're considering something along these lines: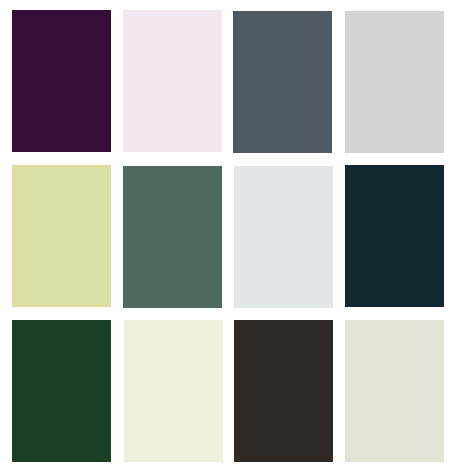 We haven't pulled any swatches yet (but we'll be sure to share actual paint colors when we get there), but right now we're loving eggplant, soft lavender-pink, slate blue, light gray, avocado green, saturated teal, muddy blue-gray, navy, emerald, artichoke green, chocolate brown, and light khaki. Not all on the walls of course, but also in the curtains, rugs, painted and upholstered furnishings, art, and accessories. Although we're definitely planning to add pops of different accent colors in a much wider range of tones- these are just the bigger hues that we plan to use more liberally throughout the house for something that's hopefully cohesive but not too repetitive.
We're thinking that the overall effect of the colors/decor in our new house will still be semi airy & natural (it's what we love, what can we say?), but we hope that adding more contrast, more saturated hues, and even more layers of texture (by working in some new furnishings, a few new rugs, more colorful art, and new fabrics galore) will give it a bit more zing than our current soft and subtle vibe. We're also envisioning a switch from our beloved breezy white curtain panels to printed and saturated floor length drapes in every room of the new house along with a plush upholstered headboard in the master and even some wallpaper going on in a few places. And we're thinking that a darker sectional would be a fun departure from the light slipcovered sofas you're used to seeing in our spaces (we'll craigslist them to get some moolah to put towards the new sectional, since it has pretty much been my life goal to have a big enough living room for a sectional where all of our family can gather).
We're even thinking about repainting some of our white pedestal tables and our double desk with something smokier and more dramatic. To see a few mood boards we've envisioned for the new house, click here and here. Although we're already thinking about a different bed possibility (we'd like to build one along with a DIY headboard). Who knows where we'll end up.
What color schemes are floating around your heads these days? Anyone else feeling a shift from light tans and mochas to soft grays and even artichoke, slate blue, and deeper gray-green tones? Anyone going the opposite way and segueing into more breezy and light hues as opposed to the smokier and more high contrast ones that we've mentioned? Let's talk about color. Is there really anything else in the world that's more fun to discuss? Not to me. Except for my baby girl. I can bore you to tears with stories about her but I'll save that for my weekly phone call with my mom…
&nbsp&nbsp&nbsp
We got this rocking chair for $25 thanks to craigslist, because we loved the simple shape and the low back and the rich chunky wood. Plus I've been dying to add a rocker to the new house's living area (since I feed Clara all the time while hanging out in the public part of the house, as opposed to retreating to the nursery or the bedroom). Plus she loves rocking at John's mom's house, so we thought it would contribute to good quality time with the bean. But this rocker is obviously lacking a bit in the seat and back cushion area. No worries, we just figured we'll reupholster it.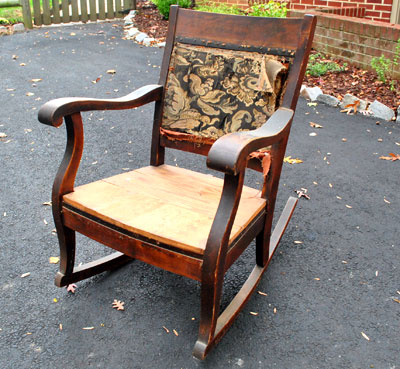 Until we realized that we had no earthly idea how to attack the double sided back cushion. As for the seat, we're planning to remove the boards that make up the bottom, add a foam cushion, staple batting around the back to hold it down/smooth it out, and reupholster that the same way we'd do any removable chair seat (and then screw it back in from the bottom). But the back has us stumped with a capital um.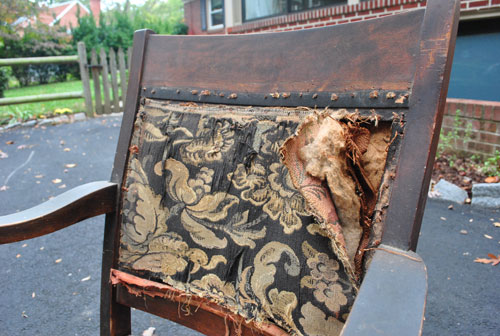 If you remove the fabric you can see right through the chair. In other words there are two upholstered panels on each side that were probably stapled and then trim was used to cover the staples, but we're not sure if we should add some structure so it's not just fabric that supports a person's weight against the back. That seems like it could sag over time, right? Any ideas? We've seen that seat-belt looking stuff that you can weave to create support and we're wondering if we need to do something like that for the back (so people can lean on the chair without feeling like they're falling into a hole) and then somehow attach two more fabric panels on either side of it (you know, for a seat-belt sandwich?). Can you tell we have no idea what we're doing?
In summary, this project reminds us of this song:
Somebody help us!
&nbsp&nbsp&nbsp