Archive for November, 2010
At our house, we serve dinner buffet style (setting out all the food in the kitchen so people can pile their plates high) which means I get to have some fun with the table since it doesn't have to accommodate a million platters and serving bowls. And I figure that even though Thanksgiving is typically a holiday full of orange, red, yellow, gold, and wheat tones when it comes to table decor, who says that's the only way to do things? Methinks there's more than one way to skin a cat cook a bird, so I had some fun with a rich green and blue palette thanks to some free wine bottles I've been working into our home's decor for a while (topped with some simple taper candles inspired by a recent Pottery Barn catalog).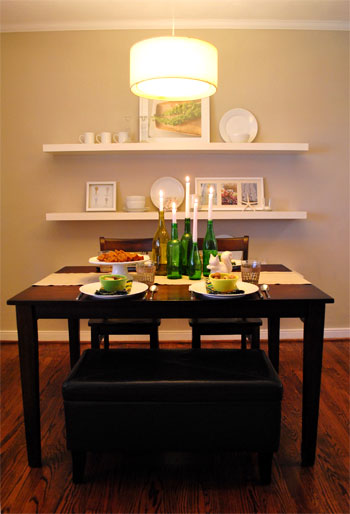 The addition of some cheap-o clearance napkins from Crate & Barrel and our regular everyday plates, cups, bowls, and silverware along with my funny ceramic squirrel (for a splash of quirk) completed the picture.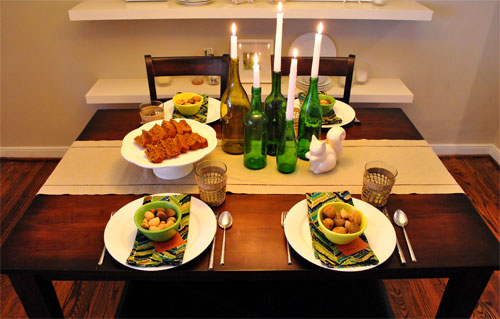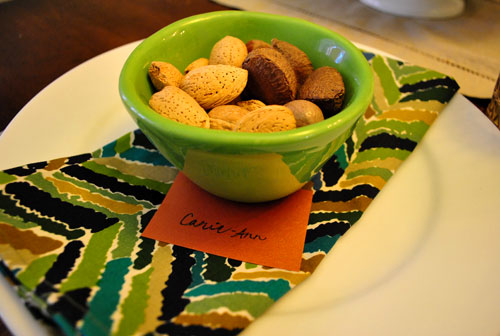 Oh and that stuff on the cake stand? Pumpkin bread. So delicious. Although it'll probably all be gone well before Thursday rolls around. One downside to working at home: constant eating. But that's also an upside.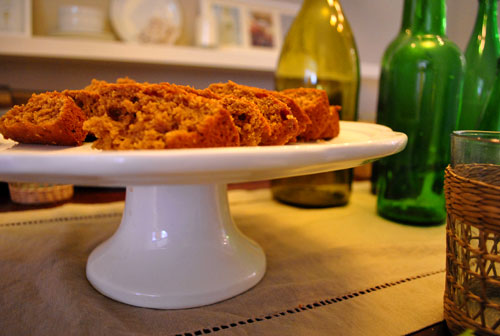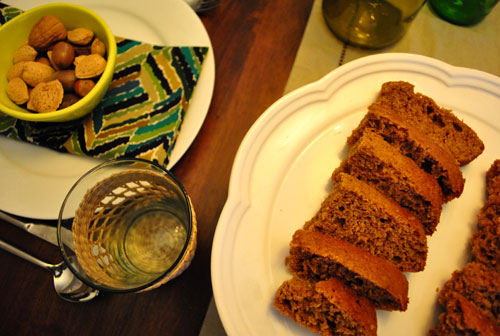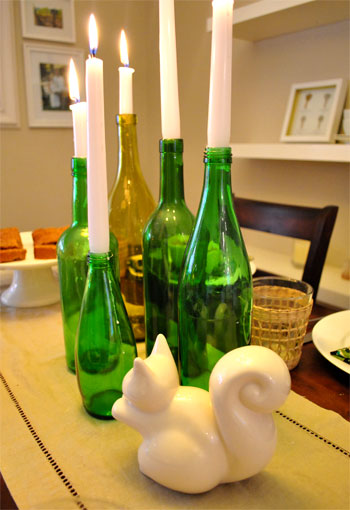 The result is still pretty festive and inviting, even if it doesn't scream Thanksgiving (although it does seem to whisper it thanks to the mixed nuts, the tan runner, the ceramic squirrel, the woven glasses, the gold place cards, the wheat tones in the napkins, and the big plate of pumpkin bread).
Here's a source list, just for fun – white plates: Linens N Things thanks to our registry, patterned fabric napkins: Crate & Barrel on clearance, cups: Sur La Table on clearance, yellow & green bowls: gifts from a friend (but we've seen similar versions at TJ Maxx), cake stand: TJ Maxx, silverware: a wedding gift from my mom from Crate & Barrel, ceramic squirrel: West Elm, bottle candlesticks: various already owned wine bottles & Pellegrino bottles soaked to remove the labels, white taper candles: Target, tan runner: Target, table & chairs: Target, floating shelves: Ikea.

So that's the state of our table right now. Any practice place-setting going on at your house? What are you guys doing for T-giving anyway? Anyone else hosting family? Or traveling in the name of face-stuffing? And while we're on the subject, what's your favorite Turkey Day fare? Mine is stuffing. John's is pumpkin pie.
Psssst- We went Nursery Crashing again over on BabyCenter. Check out that amazing baby haven here.

&nbsp&nbsp&nbsp
***This giveaway is no longer accepting entries – scroll down to see who won!***
The winner of this week's giveaway can literally make that request. Because Swedish-born Virginia-based artist Erica Eriksdotter is giving away a commissioned painting worth up to $350. That's right everyone, put on your fancy pants because soon you could be telling your friends smugly "oh yeah, that beautiful painting over there? I commissioned it."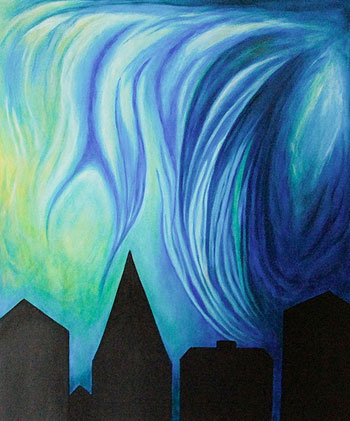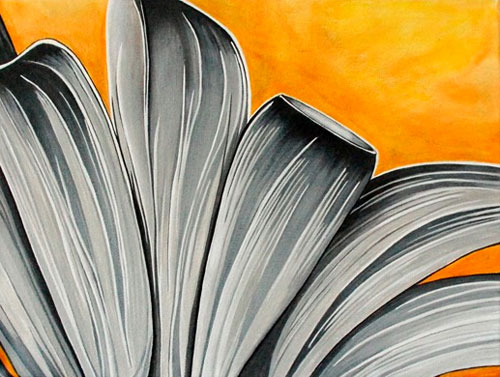 We really like the color in all of Erica's work, and we love that our winner will be able to guide the color and design of their custom work to fit their home perfectly. You can even pick the best size for your space (from a 12 x 9″ up to 16 x 20″). Here's how to enter:
PRIZE: A commissioned painting from Studio Eriksdotter worth up to $350
TO ENTER: Comment on this post with the words "PAINT ME A PICTURE!" and…
BONUS QUESTION: …tell us about your favorite piece of one-of-a-kind artwork that you currently own. Maybe it's a finger painting done by a kid in your life? Something you got on etsy? Or a drawing that you sketched yourself to fill some blank space?
GIVEAWAY CLOSES: Wednesday, November 24th at 8pm EST
NUMBER OF WINNERS: One
PRIZE SHIPS: The United States, Canada and Europe!
USUAL STUFF: One entry per e-mail address is permitted. The winner will be selected using random.org and announced on Thursday as an update to this post. That's right, come right back here Thursday morning for the announcement of our winner. Good luck…
******************************
Not only do we have one winner, but everyone can get 10% off of anything from Studio Eriksdotter through Dec 9th. Use the code YOUNGHOUSELOVE for any stationery purchase in her Etsy shop or you can contact her directly for art inquiries.
And our very lucky winner (as selected by random.org) is… Ali Moore. Congrats!
Note: We weren't paid or perk'd for hosting this giveaway, we just take them on to reward our lovely readers! See our Giveaway FAQs page for more info. Pics from Studio Eriksdotter.
&nbsp&nbsp&nbsp