Archive for November, 2010
…I'll never let go. We're both going to miss so many things about our first casa that we just had to dedicate a post to those little details that bring a smile to our faces. We don't want to forget a thing.
1. The gorgeous cherry tree in the front yard.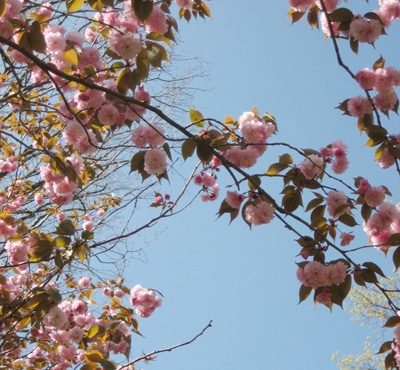 2. The new kitchen (which was totally worth 113 days of eating-out-and-living-without-a-sink chaos).
3. Our view of the amazingly lush and private backyard (which was actually one of the main reasons we bought our house back in 2006)
4. The sweet front porch where we'd sit and watch the world neighbors go by.
5. The layers of paint and slivers of wallpaper that we discovered as we renovated (we loved uncovering "hints" about its past life)
6. The amazing story about our house's first owners, which we shared here.
7. The fact that the front and back door were so narrow that we had to remove the doors from our new fridge to get it into the house.
8. Waking up each morning and looking out at the spot where we got married (sniffle).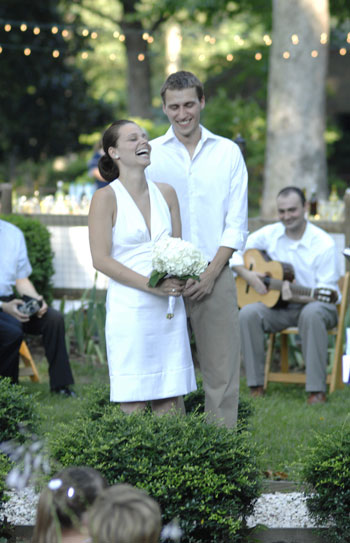 9. The quirky cow weather vane on top of the garage.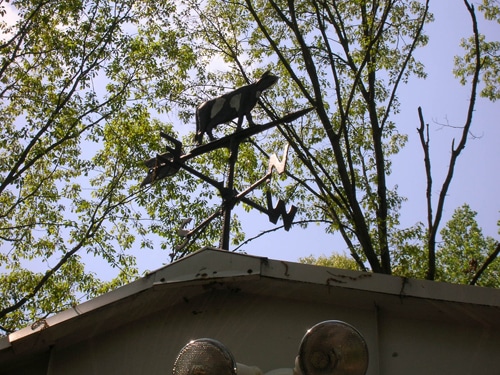 10. The cute (and completely unused-by-us) red shed in the backyard.
11. The mostly centered windows throughout the house (we didn't realize how rare this was until we started house hunting).
12. The fact that neither bathroom had an outlet in it for the first few years that we lived here (one still doesn't).
13. The two fireplaces- what a lucky break.
14. What the front yard looked like that fateful day when we drove up to check out the house (we made an offer that night).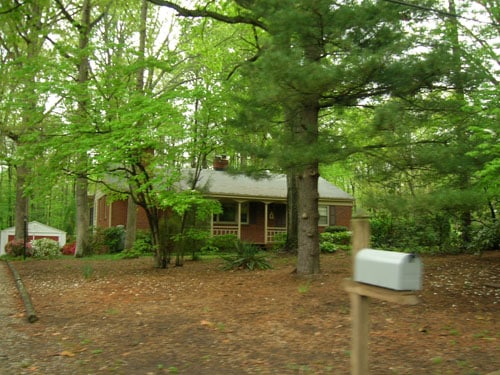 15. Rushing home from vacations just because we "missed the house."
16. The sleepless nights we spent painting, planning, sledge-hammering, and daydreaming.
17. The charming neighborhood where we walked with Burger (and Clara when she later came along).
18. The brilliant fall leaves that put on quite a show every fall (although we won't miss raking them).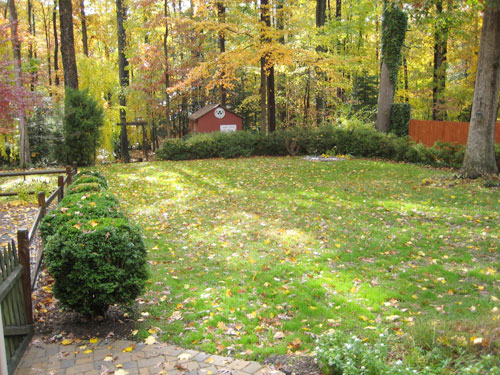 19. Those two rare snowstorms that made everything look even more cozy somehow.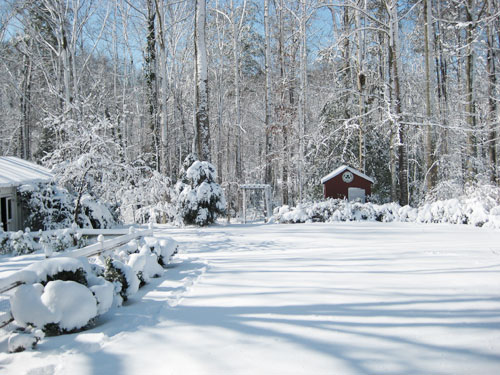 20. The pretty white and pink azalea bushes. There must be at least 50 of them.
21. The modestly sized rooms that have encouraged us to spend time together.
22. The wide doorways that so dramatically opened up the den, kitchen, and living/dining room.
23. All the crisp white trim, molding, and breezy curtains that make it feel like a beach house in the summer.
24. The patio that has charmingly aged over the last three years with moss.
25. More specifically, making smore's on the patio after adding a fire pit last year.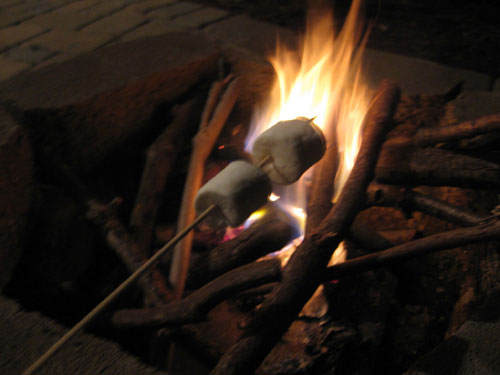 26. The sunroom on a lazy Sunday morning. Our favorite place to be.
27. The subway tile all the way to the ceiling in the bathroom shower (I stare at it nearly every day and marvel at John's amazing handiwork).
28. The fact that we have 23 storage baskets and 10 storage ottomans in our tiny house. Is there a support group I can join? Organizer's anonymous?
29. The bedroom built-ins that make us feel tucked into a cozy little nook every night.
30. The fact that we brought our cute pup and our sweet baby girl home here. It's not just our first house, it's also Clara and Burger's.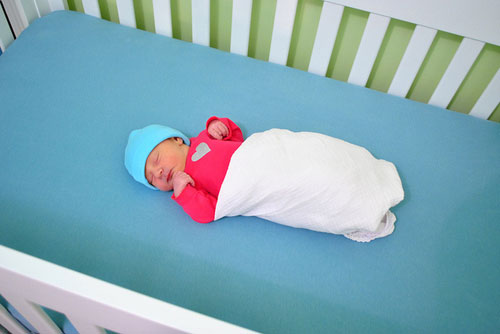 31. The big picture window in the living room (where Burger loves to bark at all of his dog friends).
32. The seeded glass pendant above the kitchen sink (so simple, yet we haven't seen anything like it since ordering it from West Elm years ago)
33. Memories of painting nearly every room at least twice to get things just right.
34. The sound of the screen sliding in the sunroom, which used to signal to me and Burger that John was home from work. Such an exciting sound.
35. The intense pain in the arse that was removing the scallops from the front porch (my hardest solo project to date).
36. The excitement I felt as I listened to every crash when John demo'd the bathroom (I was prego, so I sadly couldn't get in there and bash stuff with him).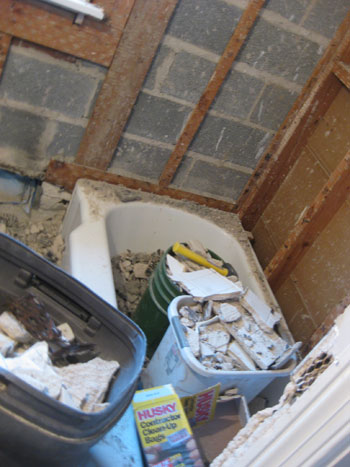 37. The paranoid feeling that I forgot to unplug the toaster or lock the front door or turn on the alarm every time we left for vacation (John would humor me and we'd turn around so I could check)
38. "Camping" in the sunroom on a warm spring night (and regretting that decision after being awakened by the sun streaming in at 6am).
39. Plugging in the Christmas tree and sitting by the fire with hot chocolate. Doesn't get much better than that.
40. Phantom doorbell ringings (when the battery would start to die, it would randomly ring and freak us all out).
41. The garage door that strangely swings out to open (and constantly warning people not to park too close).
42. How things looked in the first year, before we had any idea how much blood, sweat, and tears that we'd pour into this house (good thing we have this Burger video with old house details in the background to refresh our memory).
43. The sight of Burger laying limply near the vent under the side table in the living room warming his buns in the heat.
44. Screaming "don't look, I'm peeing" when the half bathroom pocket door was broken (more details on that later this week)
45. Our wedding night, when we took one last picture in the photo booth in the corner of our driveway after everyone left before the truck came to pick it up.

Sheesh, somebody get me a tissue. We're so excited to move into our amazing new house, but we sure will miss this one.
&nbsp&nbsp&nbsp
Yes, we're those people.
I personally get irritated whenever stores skip holidays. For example, if I'm walking around Target and they have Christmas stuff out but it's not even Thanksgiving. Not ready yet. Let me get through Turkey Day before you push your red & white santas and snowmen on me. But this year we did the unthinkable…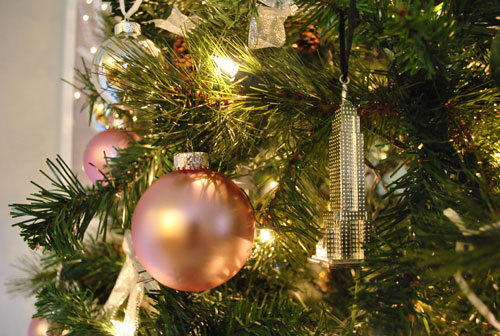 … we set up our Christmas tree before Thanksgiving. I'm so sorry. Feel free to virtually slap us or break out an "oh no you di'int."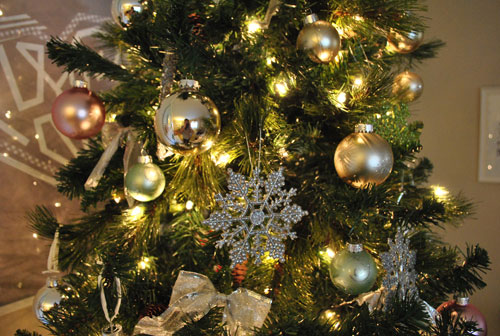 We've already warned our Thanksgiving guests, and thankfully they acted like it was some fun novelty. So we'll be able to tell you firsthand if turkey and mashed potatoes taste less Thanksgiving-ish when eaten in the same room as a big glowing Christmas tree.
Why the rush? Well, we usually like to decorate our tree the first week of December. Sometimes the second if we're not especially on the ball. But since we're moving in mid December we decided that in order to enjoy it for the three-weeks-or-so period that we normally do, especially since it's Clara's first Christmas, we had to break that baby out a bit early this year (before we have to pack everything up for the move in a few weeks).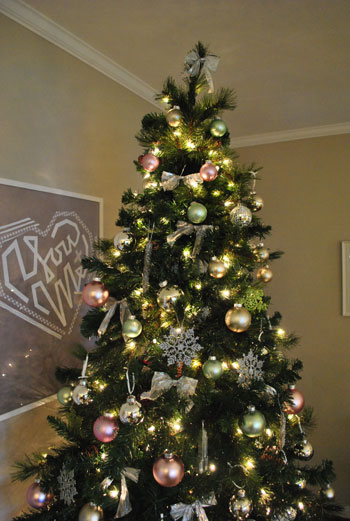 Our color scheme this time around is champagne, metallic green, silver, and pink – all in honor of Clara's aforementioned first Christmas (check out last year's citrus theme here, and the year before that's monchromatic scheme here). Thankfully we already owned a lot of silver and champagne colored ornaments so we got the pink bulbs along with some metallic green ones for $20-ish at Michael's (where they were having a half-price holiday ornament sale). I was going for something frosted and girly but not too feminine for the guys in the house (I resisted the urge to bring in some over the top pink feathered boas as garland with John and Burger in mind). Speaking of our four-legged son, this festive chihuahua ornament (from John's Godmother) is too hysterical not to put up- even though it's not technically pink, silver, green, or champagne.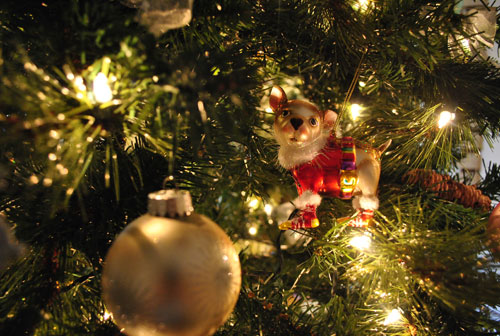 Ditto for our just married moose ornament (it's a bride moose and a groom moose, procured during our Alaskan honeymoon). So even though it's hardly glam and baby-girl-esque, it's too sentimental to leave out: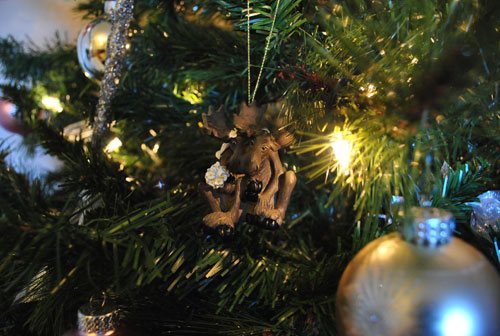 And you already may have noticed a few other personalized ornaments that worked their way in- like this silver (yes, it even fits into our color scheme) Empire State Building ornament that reminds us of our early days in NYC.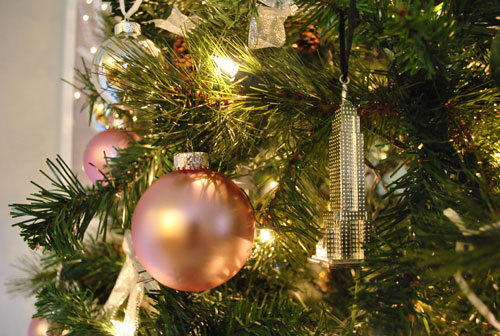 In the end we love how soft and sweet it looks (John approves, and Burger seems oblivious as always). Definitely baby-girl-ish, but not too overdone and pastel-y to work in a room with a geometric rug and a clean-lined modern sofa. And of course I tossed down our faux sheepskin rugs as a tree skirt (an odd tradition that we've kept up for the past 4+ years).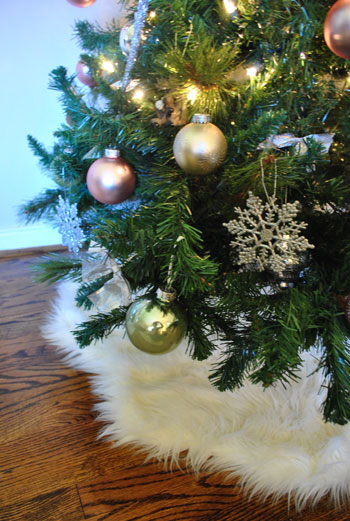 Oh yeah, and for the second year in a row we've had a bit of an issue with the pre-lit tree (the bottom strand of lights was out, but the solution was as simple as stringing a strand of lights around the bottom to correct it). I'm sure we could try to find the bulb that's burned out to fix it for real, but the added-strand-o-lights approach works just as easily for us (since we already had one around).
And just in case you're one of those Christmas enthusiasts who not only likes checking out a tree in November, but actually wants to see us put it all together at high speed (like John's old coworker who starts playing holiday music the day after Labor Day- hi Lauren!) here's a holly jolly video for you (complete with that burned out string of lights at the bottom of the tree and a baby who wants nothing more than to eat every ornament we hold within her reach). Or you can watch it here on YouTube.

So that's our tree this year. What about you guys? Any fun color schemes or themes swimming around in your head for your own tree decorating adventures in a few weeks (edible? jewel toned? Jersey Shore inspired?). Let's chat. If you're ready, that is. If not feel free to wait the obligatory week or so to join the conversation.
Psssst- If you're excited to get into your red footie pajamas and go holiday crazy, check out this section of our Projects page for lots of Christmas-related stuff.
&nbsp&nbsp&nbsp