Archive for October, 2010
I can't promise that we'll execute this mood board to a T when it comes to our future bedroom – heck, the entire vision could easily shift by the time we move into a new home. But as of right now, this is what I'm loving (and John's surprisingly right there with me):
1. I'm dreaming of a cozy and enveloping room painted in a rich and saturated teal like the stripe of color across the top of the mood board (Benjamin Moore's Rendezvous Bay 726). I'd temper the bold color by adding some white furnishings/accessories and some rich dark woods to ground things. And then I'd add a pop of tangerine, just because I'm feeling crazy. Layering in a few different prints and patterns along with some geometric shapes and modern lines will be the icing on the cake.
2. This round mirror will bounce around lots of light and break up the rich hue on the wall to make sure it still feels relatively light and airy. I can see it now, hanging centered above the four-poster bed.
3. This sleek and affordable double dresser in a rich wood tone could definitely come in handy since the built-in drawers and shelves in our bedside wardrobes are staying behind (we're offering them up to whoever buys our house since they're built in with a header and crown molding). Oh and sometimes these Ikea dressers come up on craigslist for even less than their already low in-store price.
4. John and I are both loving the idea of a new bed with some presence (we're also leaving our current bed frame for the future homeowner since it fits perfectly between our two bedroom built-ins). And this new bed combined with the luxe teal walls will still feel airy and open while creating some pretty great "lines" in the room.
5. These curtains would look amazing with teal walls. And John and I have both loved the idea of embracing more pattern and color in the next house- even though it means moving away from the breezy white curtains that we currently enjoy in every room. Change is good.
6. John loved the idea of a pop of tangerine in the bedside lamps for a less monochromatic effect (we really are embracing color, huh?). And although we love these beauties from Crate & Barrel, we've also seen something similar (and super cheap) at HomeGoods so we might check those options out if we end up bringing this mood board to fruition someday.
7. The clean and modern lines of this night table will pair perfectly with the four poster bed and the dresser for a not-quite-matchy-matchy look that still "goes."
8. I've been loving this chic organic bedding since first laying eyes on it in the West Elm catalog a few months back. And John agrees that a new bedroom in a new house deserves some new bedding (yesssssss). I really like how textured and layered this room could feel with a large scale pattern on the duvet and another bold-ish pattern on the curtains. And the clean-lined brown and white furnishings will definitely play a nice supporting role in the room (so it doesn't feel too crazy and chaotic).
So there it is. My master bedroom wish list as it stands today. Anyone else loving the layering of different textures, patterns, and rich saturated hues (cut by a fair amount of white if you're us)? Any other bedroom planning or daydreaming going on?
Pssst- Wanna check out over a hundred mood boards that can be sorted by room or color? Click here.
I know, I know. The idea of puffy paint in most craft projects makes you skeptical. Me too. But a few weeks ago John and I were brainstorming about what we should do to our pumpkins this year, after painting them last year:
… and carving intricate designs into them the year before: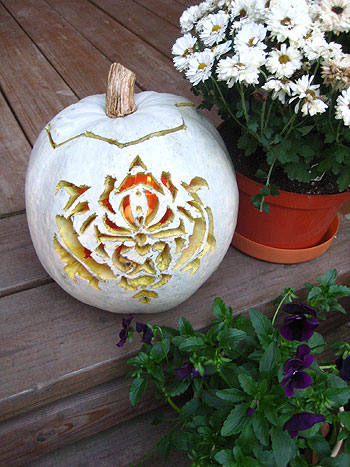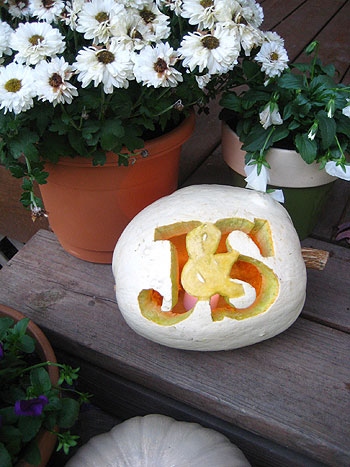 Anyway, so somewhere along the line John said "too bad we can't use nail polish or something to build up shapes on the pumpkins." I sort of looked at him sideways at the nail polish suggestion, but I liked the idea of somehow creating raised designs on them… and so the idea of puffy paint was born. We figured it was made for puffing (aka, building things up) and it's super cheap so why the heck not. We even hoped that if we spray painted them after puffing them they might look sleek as opposed to cringeworthy and bad crafty. You know how there's good crafty and bad crafty? We wanted to stay on the good crafty side of things.
In full disclosure, this was one of those projects where we had full expectations of failure. We could just picture the puffy paint sliding right off the pumpkins and creating a drippy mess (since pumpkins don't exactly lay flat like paper or fabric). But we figured it was worth a try- and lo and behold it actually worked! Oh happy day.
Here's how it all went down. First we started with three pumpkins along with some puffy paint and some spray paint from Michael's:
Then we just went to town on them with puffy paint. Here's what things looked like in progress:
When we finally proclaimed them done (after about twenty minutes or so) here's what we ended up with:
We decided to do a fun studded vertical stripe effect on one of them, a P monogram on the big tall guy, a chevron-inspired zig-zag pattern on the fat one, and a small bone on the tiny backyard pumpkin that we accidentally grew (you know, in Burger's honor). We liked how everyone in our family of four was semi-represented thanks to ending up with four pumpkins- although I'll be mad if you assume I'm the round one (even though John's obviously the tall one).
Oh and I chose that reddish-orange puffy paint color because I thought it would most closely resemble the color of the pumpkins, so when we sprayed them they would hopefully end up with even coverage and a uniform look (which did seem to work for us). Here they are with a few thin and even coats of marigoldy-yellow and pure-white spray paint:
We went with those spray paint colors since we thought they'd work with the yellow mums and the light cream accents on our front porch.
Thankfully they fit right in.
Burger's wee pumpkin is back behind them on the planter side table that we made a while back. I can't believe John "farmed" that. It's so round and perfect that it looks more like a superball than a pumpkin.
Oh and here's a spray painting tip for ya: we balanced each pumpkin on an old quart-sized paint can before spraying them so we could get all angles of 'em except for the unseen bottom portion without having to touch them and ruin the finish. We used white semi-gloss and marigold yellow high gloss paint and we actually preferred how the semi-gloss looked a bit more. The more matte texture made the studs look cool – like hammered metal – as opposed to the slicker and harder to see high gloss monogrammed P. In fact if we were to do it all over again we'd suggest using semi-gloss or even satin paint for all of them instead of dealing with the super shiny stuff. Surprising, because going into it we thought high gloss would look better. Live puffy paint and learn I guess.
But we're happy with how they came out for sure. And it was a really easy and fun project. Although we must admit that we're craving pumpkin seeds so much that we might grab one more small pumpkin and get all traditional on it- you know, so we can scoop out the goop and enjoy the seeds for Clara's first Halloween. What about you guys? Do you have any pumpkin carving or Halloween decorating plans? Were you totally cringing when we said we used puffy paint on our pumpkins? Admit it, you were.
There's been an impostor in our house. This placeholder silhouette of a little girl has been staring back us from Clara's frame wall since even before she was born. And it's finally time for this fake head to go so Clara's real head can take its rightful place. Well, not her real head. A rendering of her real head. You know what I mean.
After snapping Clara's weekly photo on Friday (see how we do that here), we decided to grab a shot of her in profile while we were at it. We'd be adjusting it later in Photoshop so all that was important was getting a clean shot (which meant taking off her onesie since it was bunching up around her neck and shoulders). Photographing her against the curtain in the sunroom helped get the silhouette effect started and making funny faces at her got her looking in the right direction (most of the time) so Sherry could snap away from the side.
After about 15 shots we ended up with this one that seemed perfect for silhouette-ification (weird back of the neck lump and all):
Now we considered this low-tech approach (which anyone who doesn't have Photoshop can do in about ten minutes):
Print your profile photo out to the size that you want your silhouette to be (even if it gets blurry from enlargement it doesn't matter)
Cut out the baby head so you're left with just a profile and no background (yes, it will feel weird to cut off your baby's head)
Trace your head cut-out onto black construction paper with a pencil and then cut the shape out one last time.
Instead I took the Photoshop approach (partially because we didn't have any black construction paper around and I'm lazy). I just cropped the pic, desaturated it to black & white, and then played with the "Brightness & Contrast" (under "Image", "Adjustments") to get a mostly silhouetted look:
Then I used the paintbrush tool to fill in those lighter areas with black, which left me with a crisp black silhouette on a white background. Oh and I added some eyelashes and wisps of hair like we've seen in professional silhouette cut-outs. And I extended the shoulders a bit so we had a little more to work with. We didn't worry about 100% clean lines on the added shoulder part since we knew the scissor cuts would straighten things out.
Once we had it done and printed to the size that we wanted (around 3.5″ x 5″ for our 5 x 7″ frame) Sherry "Steady Hands" Petersik took to cutting it out with small hair-cutting scissors. Yes, the same pair that she got at CVS and uses to give me a trim every few months.
Then came the official head swap in the frame (where we had previously used a colorful piece of craft paper from Michael's for 60 cents as the background). Looking at our placeholder silhouette really shows how off-base our expectations were in the hair department. Oh well. She's got time.
Oh but notice how we cut the bottom of the shoulders for a more "traditional silhouette" look (I added more than enough black on the bottom in that area before we printed for Sherry to create that little freehand shape as she was cutting).
And with that, Clara's round little head is officially represented on her frame wall. Of course I'd be lying if I said we weren't looking forward to updating her silhouette periodically as she grows… especially when that hair finally does decide to come in. Have you guys done any silhouette DIY projects? Or cut out photos of someone's head for any other reason? It feels weird, right?
Psst- Check out our weekly BabyCenter post here for even more DIY silhouette ideas.