Archive for September, 2010
We have a certain soft spot in our heart for other owners of 1950's ranches, especially when those owners also had to rescue their house from outdated decor. Take Maggie for example. She and her husband transformed their Texan living room into a comfortable and classic room that they're proud to call home. Here's her letter:
Hello John and Sherry! Ever since I found your blog over a year and a half ago I have been hooked. My husband and I recently purchased a 1951 ranch in Texas that needed a lot of work. We knew it would require a lot of commitment, but we both love do-it-yourself projects and knew that we could tackle it on our own. The room that needed the most help was our living room, which looked more like an Italian restaurant than a cozy country cottage.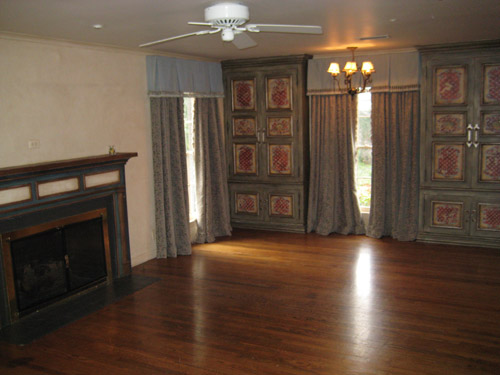 Our goal was for the space to feel organic, like it had been collected over time. We have found that by purchasing only the things that we love, the space, in turn, feels more cozy than if we were to go to one store and buy a lot of coordinating items.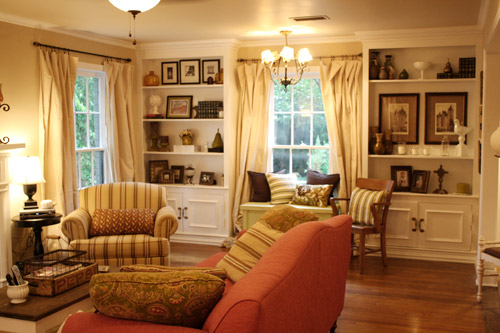 Here are some more tidbits about the makeover:
The wall color is Olympic "Toasted Almond" in flat and the color on the trim, built-ins, and fireplace is Olympic "Ultra White" in semi-gloss.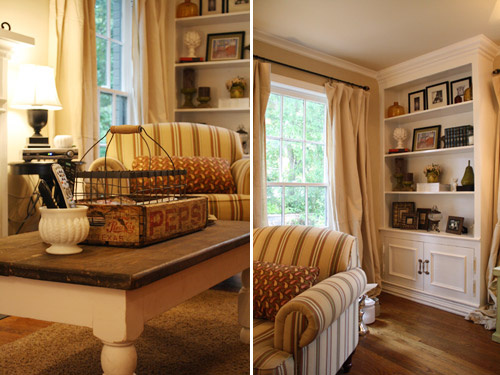 The decorations are from a variety of discounted home stores including TJ Max, HomeGoods, Tuesday Morning, Target, and even Walmart. We also found a lot of great things at resale and antique shops.
The curtains are actually painter's drop-clothes from Lowe's. We knew we wanted something light and airy, but also knew we didn't want to spend a ton of money since we needed 8 curtain panels. They fit perfect in the room, and the $9.99 price tag wasn't too shabby either.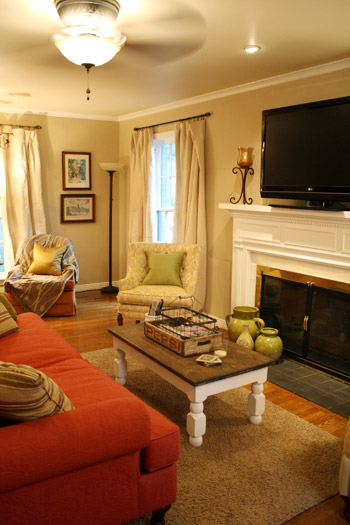 I also wanted to share my dated dining room makeover as a bonus: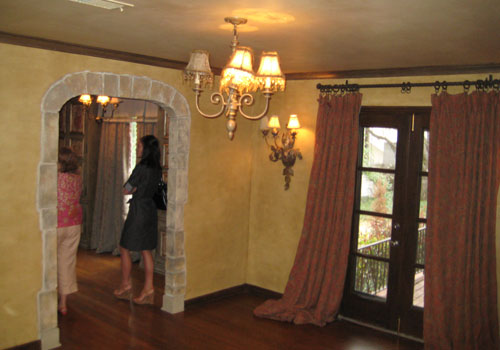 It feels so fresh and inviting thanks to more affordable items and ideas.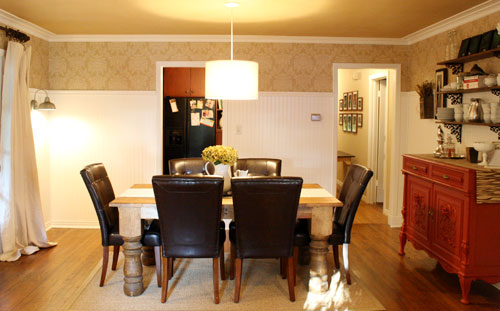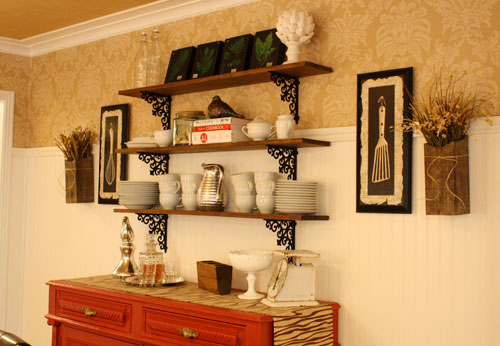 Just wanted to send those pictures your way. Keep up the awesome blogging! You'll are so inspiring! – Maggie from The Walton's
Wow. It's hard to believe those are even the same rooms. And we love that Maggie didn't run the other way when she saw those spaces as they were "before." We like how comfy and lived in everything looks now, and I particularly covet your vintage Pepsi-Cola box. Sherry will tell you I have a weird thing for old boxes and soda bottles, so you're lucky we live several states away or else you'd have to glue that down.
&nbsp&nbsp&nbsp
I took home another ceramic animal.
Is there a support group for this? (Hi my name is Sherry and I hoard porcelain mammals)
I totally understand that they're not everyone's cup of tea – not even close – but for some reason they're like catnip to me. I can't stay away. And I've realized that I'm attracted to certain characteristics when it comes to these fake friends of mine. I don't like them too cutesy and sweet. In fact I usually like them very hard and prickly looking. For example, my beloved rhino is ruff and tough and armed with horns.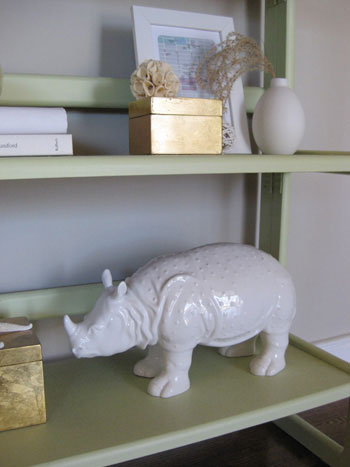 Kind of like my no-nonsense iron bull.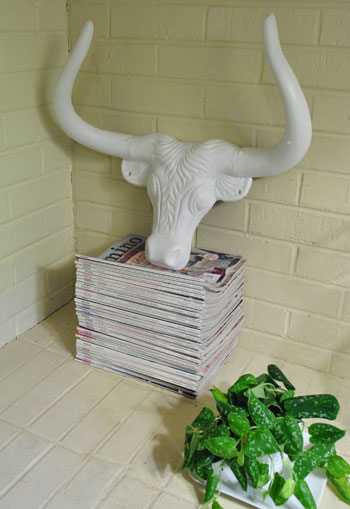 And my muscular bite-your-face-off ceramic pooch. And my harsh and haunting concrete greyhound (decked out with a bow for Christmas in this pic). Ok, so he's not ceramic, but he's close…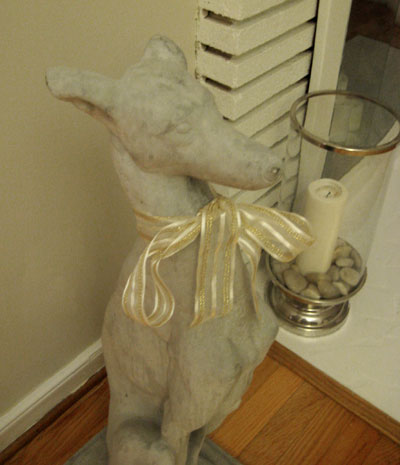 And my serious and angular horse bust (there's nothing my-little-pony about him).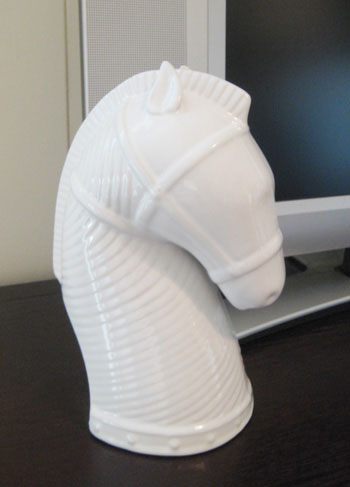 Sure I have a few cute-ish porcelain pig hooks (gotta get Clara on the ceramic animal bandwagon early)…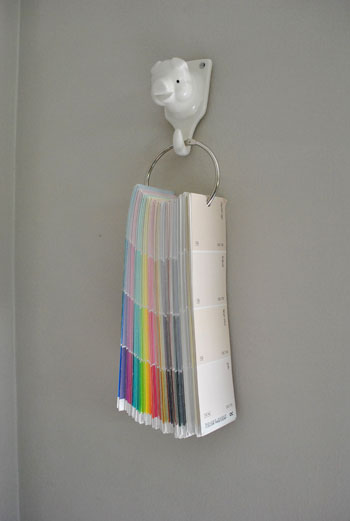 … and even some sweet ceramic birds. Sidenote: You know that scene in Cinderella where birds fly through her window and try to dress her? In my dream version they'd be ceramic and instead of dressing me they'd land on all available surfaces and live there permanently.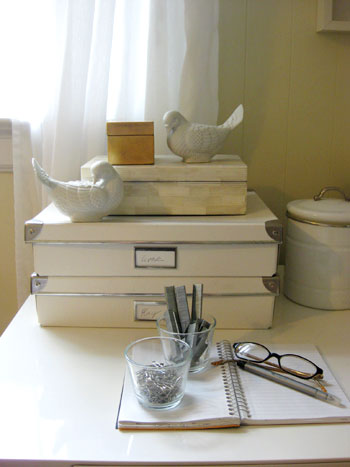 But more often than not I fall hopelessly in love with tough- even sinister- objects that make up for their malice with glossy and chic white exteriors. Maybe it's that balance of rough and smooth or angular and light that I love.
So when I saw this nasty wart-riddled ceramic frog for $1.99 at Goodwill I had to take him home and add a crisp white coating of high gloss spray paint…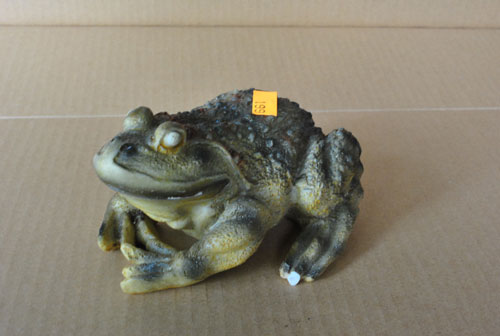 There, so much more charming! Almost kissable I'd say. How many points do I get for working two random Disney movie references into one post?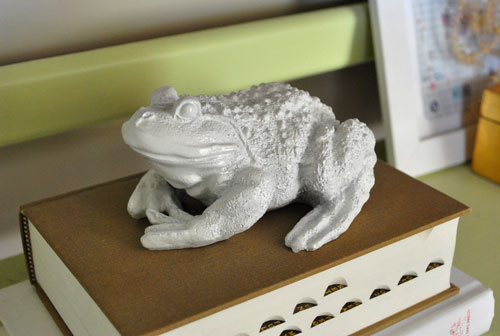 Or is it just me who finds glossy white ceramic frog friends to be approachable and endearing?
It's probably just me.
But the lesson here is that: something you like from Goodwill (not necessarily the color, but the shape) + spray paint = your own personal state of Nirvana. And it doesn't have to be white paint either. We think a hot pink or a turquoise frog (or even an antique bronze or hammered platinum one) would look quite posh indeed. Just go with whatever color you're feeling at the moment. Remember our buddy Lumiere who we recently spruced up? Bam, there it is: a third Disney reference.
What have you guys been collecting or spray painting lately? Is there anything in particular that you're always on the lookout for? Or any specific animal that you'd like to add to your own personal menagerie?
&nbsp&nbsp&nbsp