Archive for August, 2010
***This giveaway is no longer accepting entries***
Who's ready to win some art? If I were a motivational speaker this is where I would say "I can't heeeaaaar yoooou!" and wait for you to respond even louder to my question. But I'm not going to do that. And regardless of how much volume you put behind your response (in all honestly, I'm kinda hoping you just answered it quietly in your head) we're very excited to bring you this week's giveaway from Modern Bird Studios.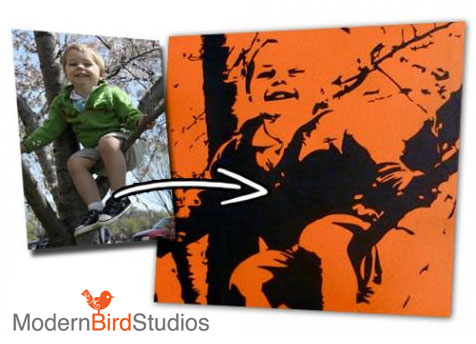 As you can tell from the image above, Gregg Deal – the artist behind Modern Bird – takes any photo you provide him and turns it into a hand-painted piece of modern art on a thick oak canvas. In many ways it's our favorite type of wall decor: personal and attractive.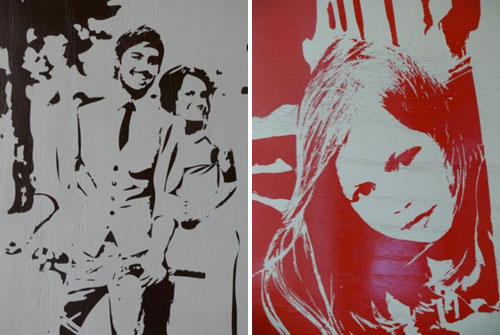 The subtle abstraction of your image, paired with two punchy colors and a solid wooden base make for an interesting and meaningful conversation piece for you walls, mantle, bookshelf or table.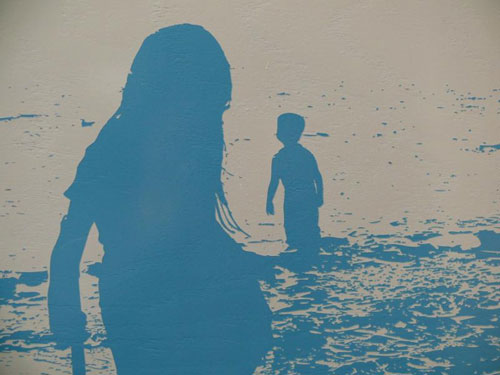 Plus it's a great way to do something different with that wedding portrait, baby picture, travel photo or pet snapshot that you love. Just pick a couple of colors from Modern Bird's color chart that coordinate with the tones in your house (or complement them for interest and fun) and suddenly you'll have a piece that looks right at home in your home. And we love the hint of wood grain that comes through for that truly authentic vibe.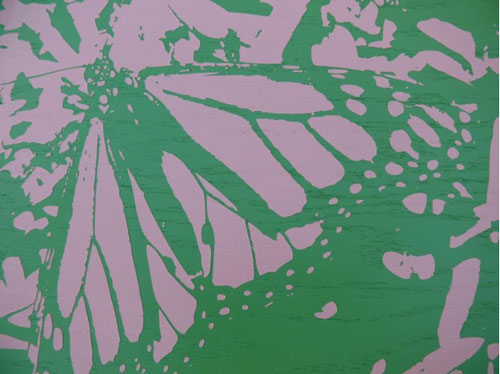 So here at the deets on how to enter this week (plus stay tuned for a discount on Thursday):
PRIZE: One 12″ x 24″ customized art piece from Modern Bird Studios
TO ENTER: Comment on this post with the words "BIRD ME" and…
BONUS QUESTION: … I know this sounds weird, but if you could be any bird what kind would you choose? Perhaps a flamingo or a toucan so you can hang out somewhere tropical? A hummingbird because you like being small but stealth? Or perhaps a character like Big Bird is more your style because you'd hate to lose the ability to talk and interact with humans?
GIVEAWAY CLOSES: Wednesday, August 25th at 8pm EST
NUMBER OF WINNERS: One
PRIZE SHIPS: The 48 Continental United States
USUAL STUFF: One entry per e-mail address is permitted. The winner will be selected using random.org and announced on Thursday. Good luck…
See our Giveaway FAQs page for more info. Pics from Modern Bird Studios.
&nbsp&nbsp&nbsp
Even though it was originally my idea/Christmas-present-to-Sherry to buy fresh flowers once a month, I've been pretty absent from these budget bloom posts since their inception – mostly because talkin' flowers isn't really at the center of my comfort zone. But this month's florals are less about the blooms and more about bottles which (as an off-and-on soda fan) are right up my alley. So here's August's $2.47 arrangement adding some punch to our kitchen window sill: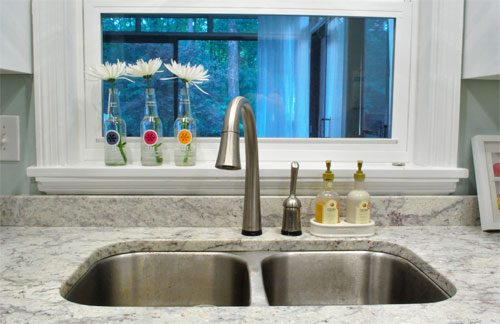 This actually started with a blueberry Izze soda (technically it's "sparkling juice") that we purchased at Whole Foods a few weeks ago. Sherry and I have both been fond of the graphic flower on their bottles for a while, so the empty Izze bottle managed to save itself from the recycling bin day after day while we enjoyed its quirky beauty on the counter. Then we realized that paired with a few other colorful Izze bottles it could easily become a sweet repurposed vase. So on a recent trip near Starbucks, I dropped in and picked up two more Izze bottles (each with a different colored flower just for fun) and then we grabbed three spider mums from a local florist to the tune of $2.47. So I guess if you want to get technical, although the flowers were under $3, this arrangement was around $9 if you include the Izze. But we did get to enjoy a bunch of fizzy drinks for that price too.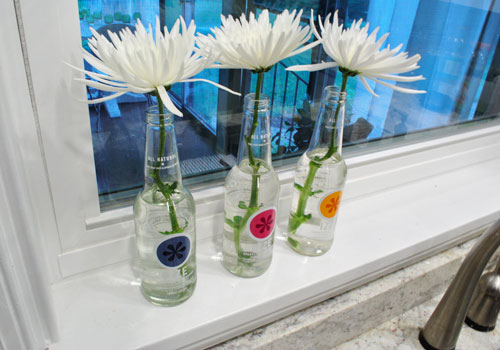 We liked the all-white flowers paired with the trio of hues on the Izze labels. Plus we realized there's something nice about the blooms blending in with the dominant crisp white color of our kitchen, making their containers stand out that much more.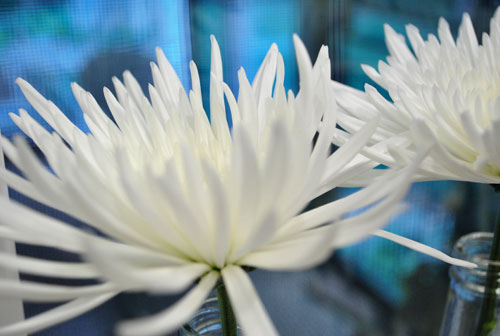 We've always been fans of adapting cups, votive holders, and of course bottles into makeshift vases – this is just our first time using Izzes. They'd also look great in a monochromatic grouping (all clementime flavored bottles with orange or yellow gerbera daisies, for instance) or you can come up with your own mix-and-match color scheme (there are 8 flavors in total). Oh and some classic Coke bottles could add a cute retro feel while some worn green glass bottles at a thrift store or flea market would bring a nice cottage vibe to any arrangement.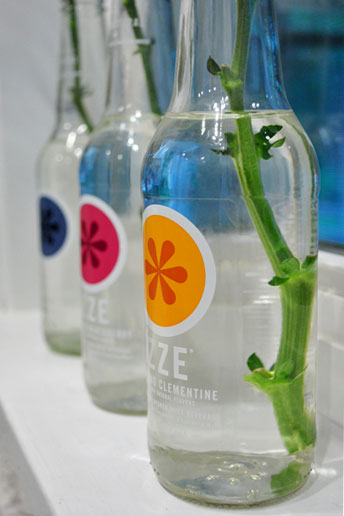 So there you have our monthly blossoms. They've actually been lasting quite a while, thanks to the fact that they hail form a local florist (which really does seem to make a difference). We also change the water and re-cut their stems every 5 days or so- just to give them the best chance at long term survival (so far we're over two weeks into things and they're still going strong).
But enough about our mums, do you guys have any other bottle or vase stand-ins that you've particularly loved using instead of the more tried and true meant-for-flower vessels? Are there any other flowers that you've been enjoying lately? Oh yeah, and we've got more plans for those Izze bottles too (you know we love squeezing as many projects out of our cheap little purchases as we can) so don't be shocked if you see 'em again soon. Stay tuned…
Wanna see our first grocery store bouquet from last January? Itching to check out February, March, April, May, June, July, August, and September too? How about this year's January, February, March, April, May, June, and July bouquets? Just follow the links for some pretty sweet cheap-o (and even free) bouquets.
&nbsp&nbsp&nbsp