Archive for August, 2010
***This giveaway is no longer accepting entries***
In trying to title this week's giveaway from an online shop with over 2 million products covering every category from tools and lighting to sporting equipment and furniture, this is the best I could do. Then I realized that they did in fact sell kitchen sinks. Oh well, that's what I get for trying to sum up ATG Stores in just a few words.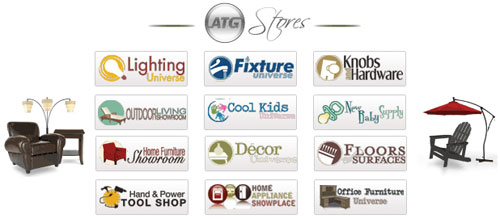 The shops above are just a sampling of the over 400 online stores that ATG operates (here's the perk: they sell items below retail and ship most of 'em for free). And one of you is going to score $150 towards ANYTHING from the ATG catalog of items. You'll probably need to set aside a couple of hours to make it even halfway through all that they offer, but to give you an idea, Sherry and I compiled a quick mood board of items that you could snag (or mostly snag) with the $150 prize.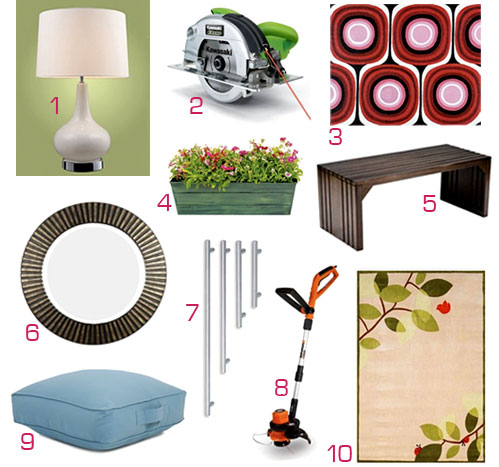 Now that you have an idea of what ATG has to offer – let's look at how you can enter to win the benjamin and a half credit:
PRIZE: $150 towards anything found on ATG Stores
TO ENTER: Comment on this post with the words "SINK ME!" and…
BONUS QUESTION: … be honest, what does your kitchen sink look like right now? Is it full of dishes waiting to be done? Does it happen to be empty and spotless? Or does it show signs of clean-up from a recent DIY project like ours?
GIVEAWAY CLOSES: Wednesday, August 4th at 8pm EST
NUMBER OF WINNERS: One
PRIZE SHIPS: The 50 United States and Canada
USUAL STUFF: One entry per e-mail address is permitted. The winner will be selected using random.org and announced on Thursday. Good luck!
See our Giveaway FAQs page for more info. Pics from ATG Stores.
&nbsp&nbsp&nbsp
Sometimes it's the little things that can make any house feel like a happy home. Here are five of our favorite little things that make our days just a little bit sweeter:
1. Our shower radio – it makes it feel more like a mini escape and helps us conserve water because we have a two song limit.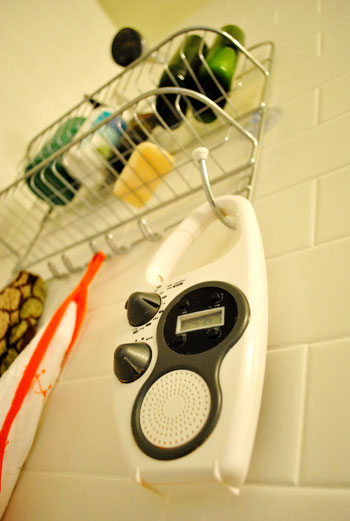 2. Large glass cereal jars – they're so much more charming than pouring from the box- plus we always know when we're running low.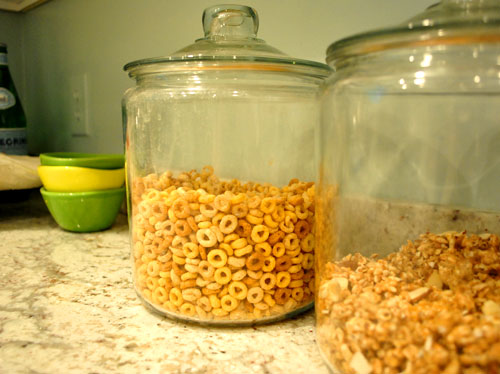 3. Fresh flowers and green leafy plants – they purify the air and inject a nice dose of natural texture- plus it's nice to fill a house with life, both figuratively and literally.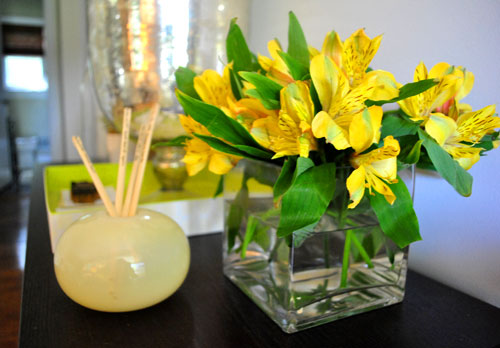 4. Our backyard firepit – when Monday looms there are always melty homemade s'mores on Sunday night to remind us that the weekend isn't quite over yet.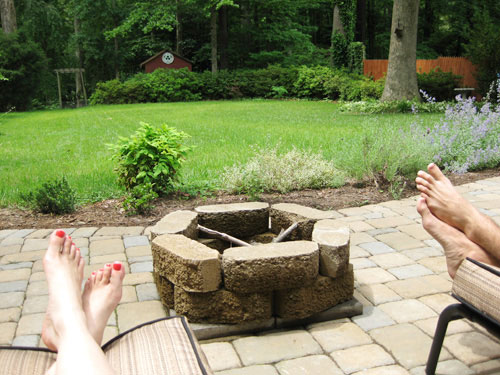 5. Baskets full of magazines and stacks of hardcover books- they coax us to sit down and relax for a moment and they just make a room feel more lived in and inviting.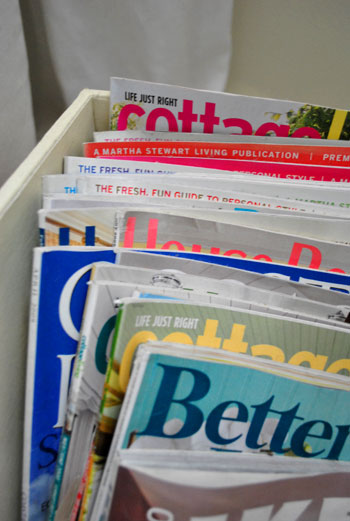 So that's our quick little rundown of five things that bring a smile to our faces (all without breaking the bank). In fact we spent about $12 on number one, around $15 on number two, just $5 to $10 a pop on number three, a mere $28 to build number four, and just a few dollars a month on number five (thanks to subscriptions, which save us mucho bucks off the cover price). What about you guys? Do you have any affordable little upgrades that just seem to make life better at your casa? We'd love to hear five things (or even just one) that make you happy to be home.
&nbsp&nbsp&nbsp