Archive for July, 2010
Back even before I knew for sure that I was prego I used to peruse BabyCenter for articles about "early signs." And once I had a test in my hand that confirmed that I was in fact "with-bean," John and I immediately logged on to find out when Baby P would be due. While there, I also signed up for emails about our baby's weekly growth (which I used to read aloud to John every time they landed in my inbox) and joined a message board to converse with thousands of other expectant May moms.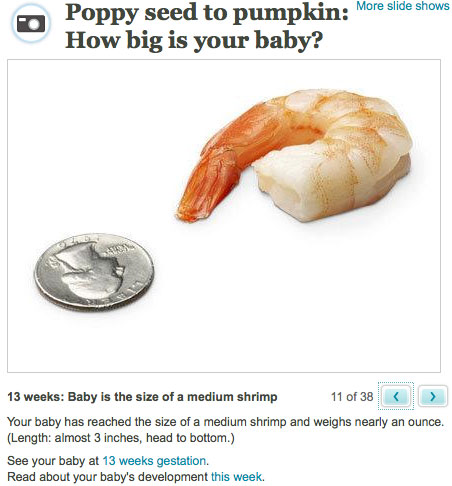 After Clara arrived I started receiving emails about her development outside of the womb (which I continue to read aloud to John every time they roll in) and I still find myself stopping by the May Message Board to read about milestones that other babies are reaching and challenges that other moms to two-month-olds are currently facing.
So imagine my geeked out reaction when I got an email from none other than the kind folks at BabyCenter asking if John and I would be interested in blogging about baby-related home stuff (toy organization, kid-art display ideas, tot-friendly decor, etc) as a part of their Momformation team. Yeah I pretty much lost it and fist pumped my way around the room until Clara and John exploded with laughter about "silly mommy's frenetic wiggling" while Burger cowered in fear. Picture Clara looking at me like this: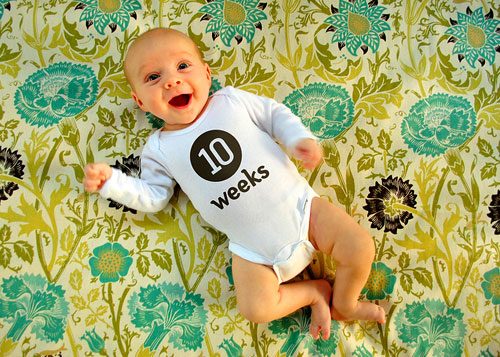 And Burger looking at me like this: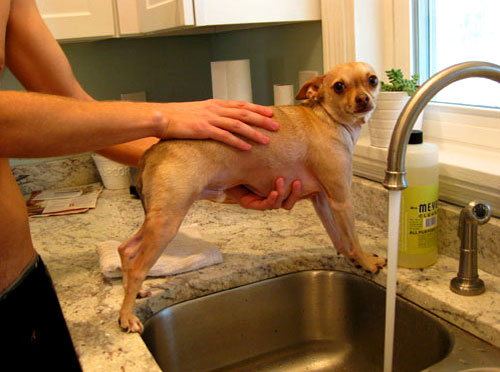 Even though that email only showed up a few short weeks ago, today our very first post is already live over on BabyCenter! And we hope that those of you who indicated an interest in a baby-based blog will head over and check it out. We know that many of our readers rely on us for non-baby-centric home improvement and decor advice over here on YHL, which is why we've worked hard to keep the wee-one-chatter to a once-every-few-weeks occurrence. And although many others of you have suggested/requested a baby spin-off blog in honor of Clara's arrival, there just aren't enough hours in the day to create and manage an entirely new blog- so our once-weekly column over on BabyCenter is an amazing solution!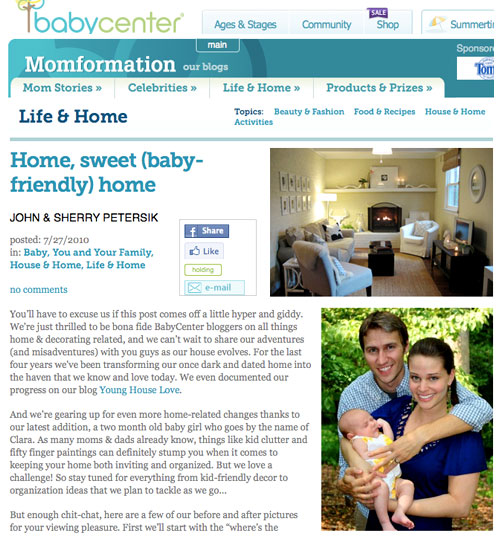 Today's post is just a nice-to-meetcha type of thing, but we already have tons of kid-related projects up our sleeves for the coming weeks. Seriously, we have a list about a mile long of fun tutorials, tips, and ideas that we can't wait to tackle. So for those of you with a bun in the oven, a bun that's already born, or just a love of bun-related projects (many of which can most definitely be adapted for adults, teens, tweens and even whipped up as that perfect niece or nephew present) we hope to see you over on BabyCenter every Tuesday when our latest post will go live each week.

So with our big announcement out of the way, now's the part where we get all mushy (stupid post-pregnancy hormones) and thank you from the bottom of our hearts for your support and sweet sentiments. You guys have no idea how much you motivate and inspire us every day with each kind comment, Facebook shout out, or sweet Tweet. You're the reason we do what we do and we love you (sniffle). Now somebody get me a tissue. Sheesh.
&nbsp&nbsp&nbsp
I never pictured myself painting a wall in our house black, let alone doing it at 5am. But that's what I found myself doing two weeks ago. Allow me to explain.
When our postcard wall moved into place last week, it meant our much loved wallflowers above the desk had to be relocated…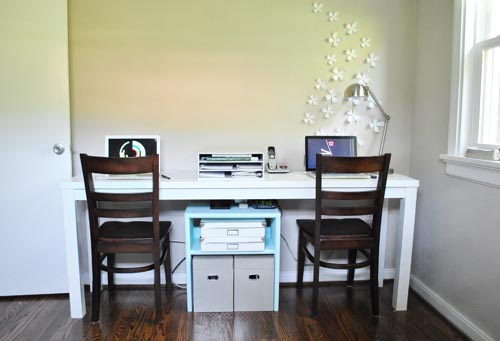 … well, some stayed in place when we decided we liked leaning a few on the shelves of our postcard wall- but the rest needed a new home.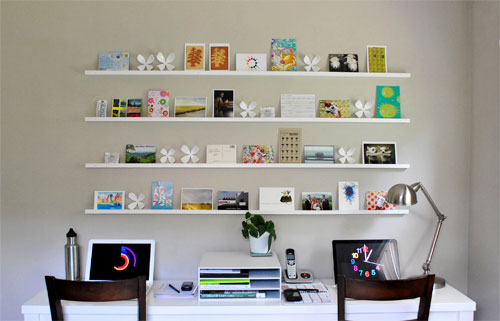 Well, they didn't go far. We decided to move them just one wall over to the small space under the office/guest room/playroom's one and only big window.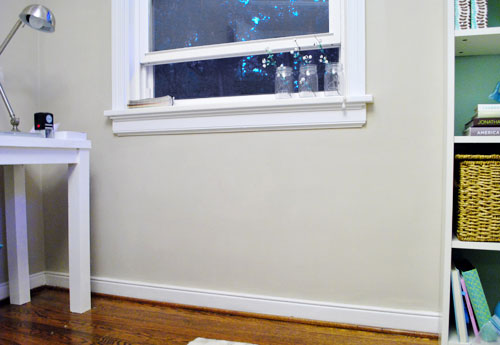 Why? That's probably best explained by answering the "how" first. Instead of relying on the special nails that came with our magnetic wallflower kit- which firmly affix the arrangement in one spot thanks to the magnet-backed flowers which stick to the magnetized nail heads- we decided to try something new: magnetic paint (note: some of the new wallflower kits snap instead of being magnetized). We thought magnetic paint would be just the thing for this project since we'd been dying to try it for years and were just waiting for the right project. We often wondered if the rumors were true- did it really work? We were about to find out.
See, by creating a large magnetic canvas we could design a spot where the wallflowers could be displayed, but instead of being limited to the fixed spots where we placed the magnetic pins in the wall, this time the wallflowers (along with any other magnets) could easily be moved around into an infinite number of fun formations, adding a nice element of "play" to our office/guest room/playroom- especially once Clara becomes mobile enough to move them around. And they're definitely at a kid-friendly height!
Luckily the magnetic paint rumors were true. Well, mostly – it's actually magnetic primer.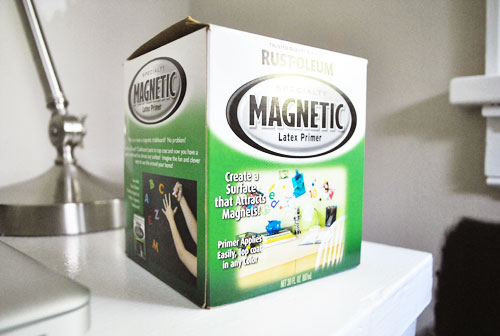 We found this $21 quart of Rust-oleum Magnetic Latex Primer at Home Depot (next to things like chalkboard paint, dry erase paint, and glow-in-the-dark paint). Oh and before heading home we noticed the instructions actually suggested having it shaken by the store's paint department to help keep the iron particles from settling on the bottom – so don't forget that step! The instructions also suggested two or three thin coats to achieve the best results as opposed to one or two thick and gloppy ones. Good to know.
Well… we did seven.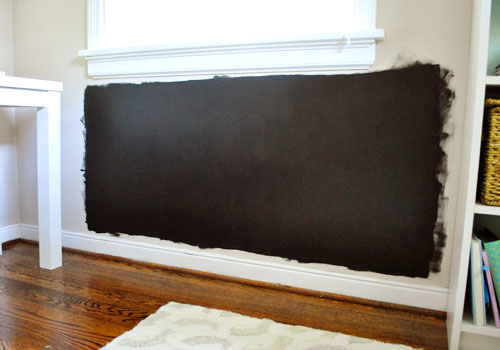 And we made sure they were all extremely thin so there wasn't any bump or delineation where the magnetic paint started or ended. Maybe four extra applications were overkill, but we were determined to make this stuff work. Plus I realized only after coat number two or three that I was supposed to be vigorously stirring between each application. Oops. But since the coats dried really fast it only took me an evening, a morning, and one random 5am painting session to apply all seven (Clara had woken us up for a surprise feeding- she usually sleeps from around 10pm to 9am!- so I figured I'd be productive while Sherry sleepily nursed her). And ultimately… drumroll please… it worked. Woo hoo!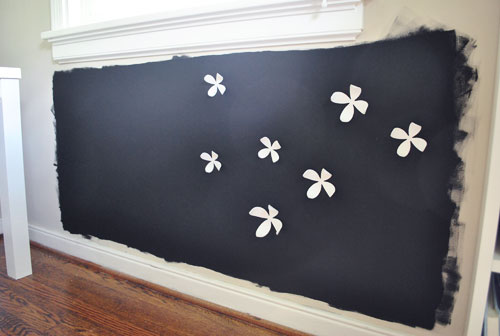 Well, it mostly worked. After each coat I tested variously sized wallflowers to see if they would stay up. The smallest sizes stuck almost immediately but despite my persistence I never could get the larger ones to stay in one spot (they'd just slide down the wall, hit the baseboard, and fall off). So we'd say that magnetic primer works, but not with anything terribly heavy. Now you know why some ended up on the postcard shelves. Oh well – happy accident.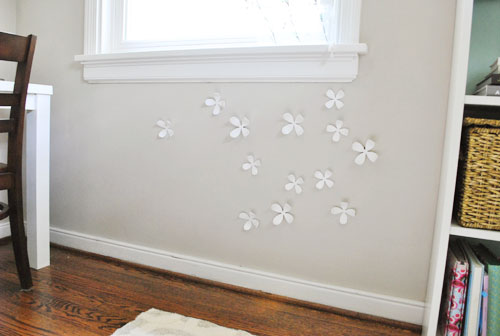 But in the good news category, despite the fact that we had just painted a huge black spot on our wall – it barely took two coats to cover it up completely with the original wall color (Glidden's Sand White). Phew. Heart attack averted. And it didn't seem to lose any of the magnetic attraction when covered with other non-magnetic paint. It's also 100% non-toxic and kid-safe when dry (obviously it's not safe for a kid to drink it in liquid form). We did keep Clara out of the room with the windows open and a fan on for the full drying period (and about three days after that since we happened to be out of town for the weekend anyway) just to be safe.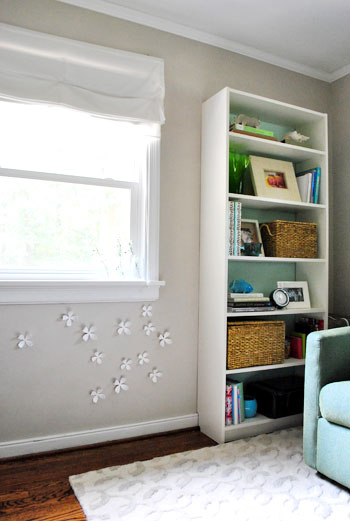 Even though we couldn't get all of the wallflowers to stick, we're actually really happy with how it turned out. And we can't wait to find some other fun magnets to put up there so Clara can play with them when she's a bit older. Speaking of which – does anyone know where we could find an all-white set of those alphabet magnets? We googled around for a while with no luck- and we think they would be a fun and educational addition to the little slices of "playroom" that we're trying to squeeze into this small space for our favorite little girl.
Has anyone else tried magnetic primer? Or any of those other wacky chalkboard/dry erase/glow-in-the-dark paints? We'd love to know what you guys thought about using those newfangled products. Did they work? Were they messy or hard to apply? Spill the beans.
Psst- Wanna follow the entire office/guest bedroom/playroom makeover? Click here for the intro post, here to read about the big sleeper sofa hunt, here for the DIY desk play-by-play, here for the homemade light fixture project, here for our hacked Ikea bookcase, here for the file storage we built, here for how we squeezed in some toy storage, here for how we picked out some DIY art that we could agree on, here for how we wrangled our wires, and here for the play-by-play of creating our postcard art wall.

&nbsp&nbsp&nbsp