Archive for May, 2010
*** This giveaway is no longer accepting entries***
Time to break out your inner product designer again folks, because this week you're designing your very own lamp shade.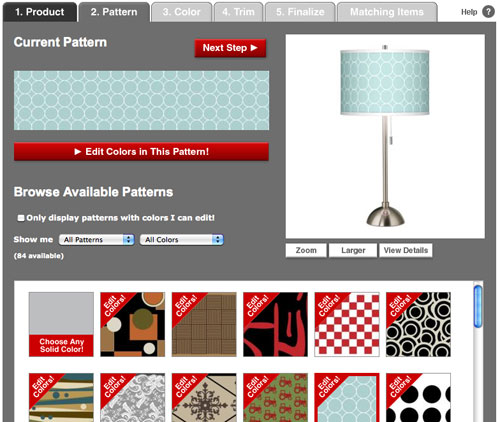 Lamps Plus is the nation's largest specialty lighting retailer (you West Coasties may know them in person, while us East Coasters can peruse their wares online) and they've got a great new "Design It" tool on their site so you can design your own drum shade for a whole slew of lamps and fixture styles. And this week one of you can win a Brushed Steel Contemporary Table Lamp with a shade in the pattern, color and trim of your choice.
Here are just a few of the designs that we played around with (so many patterns, so few empty side tables):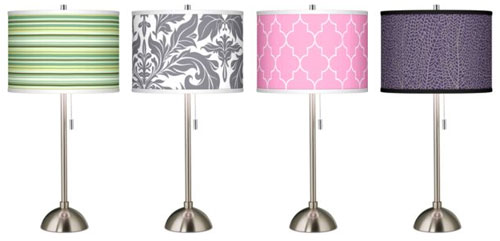 If you've already created a design that you love and can't bear to wait 'til Thursday's winner announcement, Lamps Plus is giving YHL readers a special discount (click for more details). Oh and you can take a screenshot of your design and submit it on Lamps Plus' Facebook page to remember- and share- your masterpiece with others. Who knew lamps could be so interactive? Now for this week's entry deets:
PRIZE: A Brushed Steel Contemporary Table Lamp with your very own custom shade thanks to the Lamps Plus' Design It tool
TO ENTER: Comment on this post with the words "MY SHADE IS" and…
BONUS QUESTION: …tell us your favorite color (we're going back to basics this week). But since we've all grown up a bit past simple "green" or "red," we'd love a bit more of a description (glowing amber? muted gray-blue? ruby red? celery green?).
GIVEAWAY CLOSES: Wednesday, May 26th at 8pm EST
NUMBER OF WINNERS: ONE
PRIZE SHIPS: The 50 nifty United States
USUAL STUFF: One entry per e-mail address is permitted. The winner will be selected using random.org and announced on Thursday. Good luck!
Find more freebie info on our Giveaway FAQs page. Pics courtesy of Lamps Plus
&nbsp&nbsp&nbsp
We were. All the time. Every spring and summer, thanks to a bit of increased humidity, our full bathroom's door used to swell just enough in the top left corner to keep the door from opening on the first pull. Or the second. Or the third. In fact it usually took some serious "door flapping" (grabbing the knob and rocking back and forth until it sprung free on the fifth or sixth tug) to get out of the bathroom every time we used it. And forget about our poor friends and family members who innocently ducked in there and then freaked out about a minute later when they thought they were locked in the bathroom permanently (screaming and pounding usually occurred in those instances- if not at least some mumbled obscenities).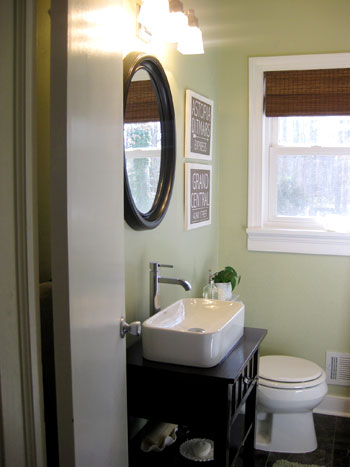 The odd thing is that we put up with this silly inconvenience for such a long time. Especially when there's such a simple solution. One day when John had our $50-ish Black & Decker hand sander from Home Depot out (while working on something for our new office- more on that tomorrow) I mentioned that he should hop up on a chair and sand down that dastardly left side of the bathroom door to keep it from sticking ever again.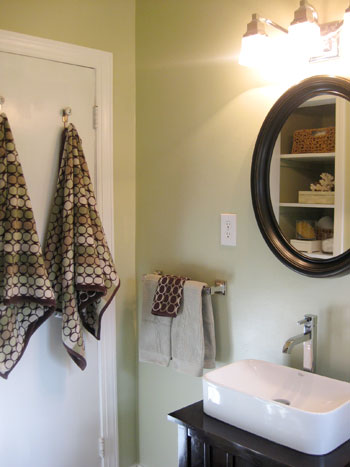 And it worked like a charm. It seriously took him less than sixty seconds of running a hand sander across the top of the door to ever-so-slightly slim it down so it no longer got caught by the door frame as snugly on those hot and humid days. And even if we didn't have a hand sander, we're sure about five minutes with a sanding block or even a piece of sandpaper and some elbow grease would have also done the trick. Oh and painting the top edge after you sand it (priming first = extra credit) will further keep it from expanding again, so your door will be shaved into submission for the long haul.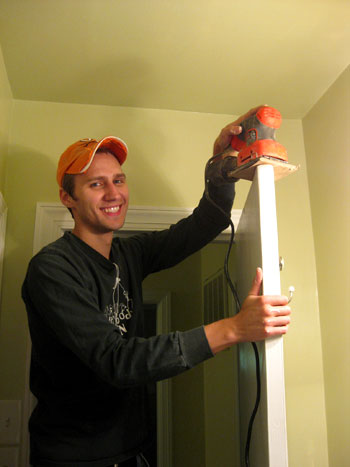 So if you have a sticky bathroom (or any other room) door that you're dealing with, just break out that sandpaper and get 'er done. Or you could wait four years and titter every time you hear friends and family members panicking when they think we're trapped in the restroom forever. Either one.
And we'd love to know what simple project you guys have been putting off for weeks, months, maybe even years. It always seems like the tiniest to-do's get put on hold the longest…
&nbsp&nbsp&nbsp