Archive for May, 2010
***This giveaway is no longer accepting entries***
About six months ago, this charming watercolor painting of Burger showed up as a surprise Christmas present in our mailbox. Ain't he cute?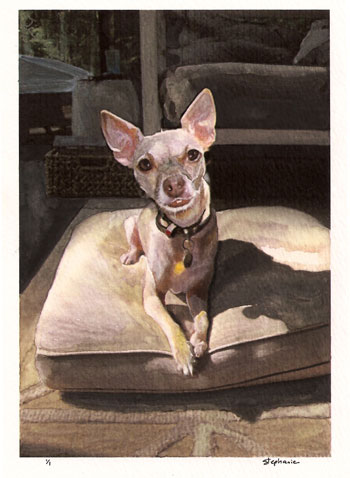 Fast forward to the present day. The thoughtful artist, Gadora Wilder (the snappy alter ego of Stephanie Lewis) is back to offer up a fun YHL giveaway. Which means one of you will score an artistic still life of your very own canine, cat, canary, chameleon or even chair (yes, Gadora does pets and still lifes a plenty)!  That way you can capture your favorite furry friend or proudest decorating decision as one-of-a-kind artwork.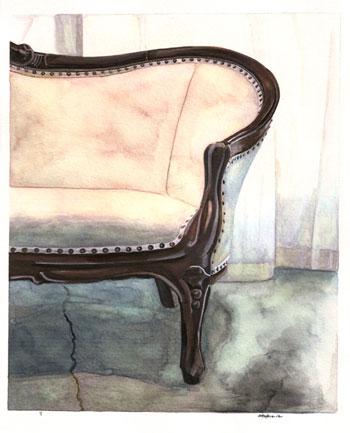 Based on a photo you submit, she'll digitally enhance it, print it on watercolor paper, over-paint it with watercolor, mat it, and send it back to you all ready to frame.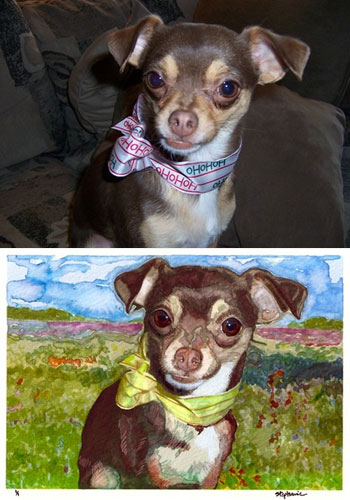 So here's how to get your shot at this week's prize:
PRIZE: One 8×10 custom watercolor of your pet (or any other still life) by Gadora Wilder
TO ENTER: Comment on this post with the words "WATERCOLOR THIS!" and…
BONUS QUESTION: …tell us what pet photo or still life you'd love to have rendered as a painting. An especially cute pic of your feline snuggled in bed? A goofy photo of your pup in the snow? Or that favorite cozy corner of your living room? Feel free to include a link or post the pic over on our Facebook page too.
GIVEAWAY CLOSES: Wednesday, May 5th at 8pm EST
NUMBER OF WINNERS: ONE
PRIZE SHIPS: This prize ships anywhere in the world!
USUAL STUFF: One entry per e-mail address is permitted. The winner will be selected using random.org and announced on Thursday. Good luck!
Find more freebie info on our Giveaway FAQs page. Pics courtesy of Gadora Wilder.
&nbsp&nbsp&nbsp
As many of you know, I recently snagged some cheap-o drinking glasses that rock my world, which spurred on a full fledged glass-fronted cabinet makeover here at Casa Petersik.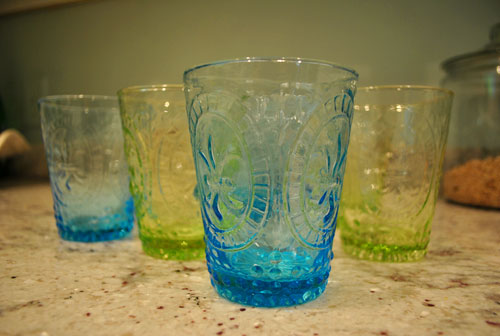 Here's what our glass fronted corner cabinet looked like before the big spring switcheroo.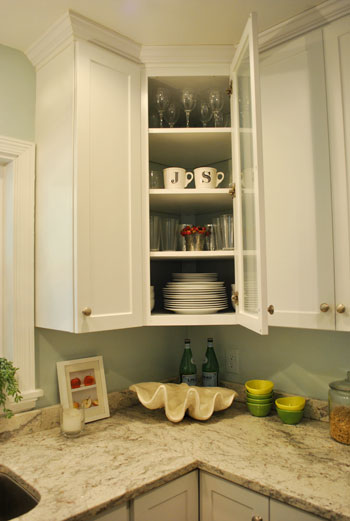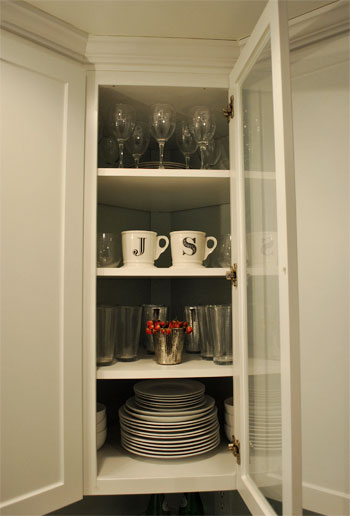 We love that it was full of plates, glasses and bowls that we use all the time (we're all about enjoying out servingware on a regular basis so nothing feels too precious or underused) so of course when I picked up those new glasses I made a promise to John that they wouldn't be tucked away for "special occasions" and that we'd use them on the regular. And what better way to remember to use something all the time than to have it easily in view behind the one glass cabinet door in your kitchen, right? So here's what the cabinet looks like these days: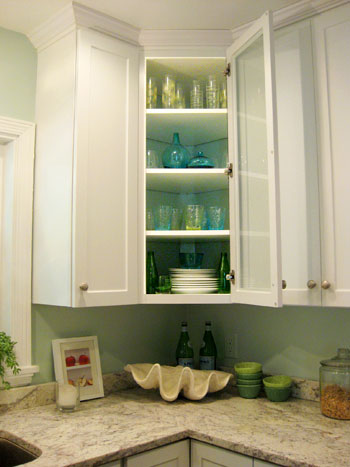 Isn't it nice and fresh and light for spring? We love that you can much more easily see that the back of the cabinet is painted the same blue tone as the walls (the colored glassware really brings that out). And we also love that our new drinking glasses inspired a whole new palette that still accommodates our white dishes but allows us to showcase a few more colorful glass objects that make the entire kitchen feel a bit more vibrant and cheerful.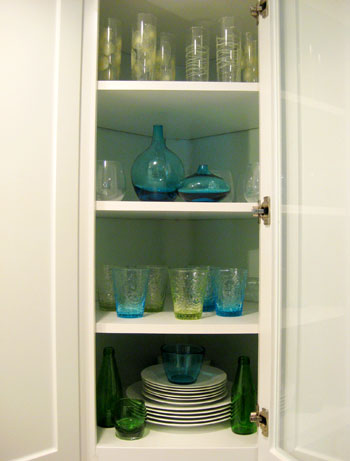 On the top shelf you'll see our tall Ikea glasses (picked up a while back on a dime) which used to hide in the cabinet to the left of this one. We love that they're out on display and that their soft celery green and yellow designs work so well with our new green and blue World Market glasses. These guys are our oj and smoothie glasses (we actually use them quite often, and surprisingly in nearly half a year we haven't broken one yet).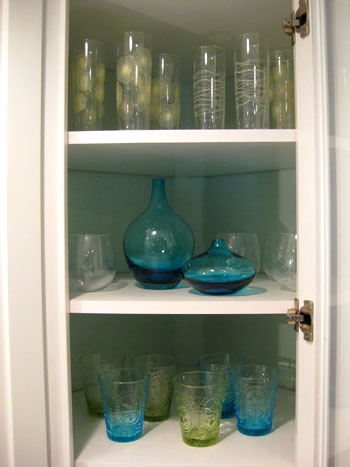 And instead of displaying our initial mugs among our stemless wine glasses, we moved them to another room (stay tuned for those details) since they can function in oh so many ways (as pen cups or q-tip and cotton ball holders for example). And in their place we plopped some cheap blue Ikea vases (also purchased a while back on the cheap) just to hammer home our cheerful new light and airy palette.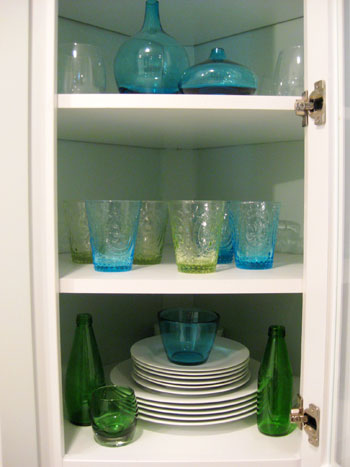 On the bottom shelf you can see that we added a few objects that we already had (a green glass votive holder, two mini Pellegrino bottles sans label, and a cheap-o blue glass Ikea bowl)- again just to tie into our new lighter spring color scheme. And the basic white bowls that used to flank those plates are now just stored in the cabinet to the left (along with the clear drinking glasses and wine glasses that we offset with our new arrangement). Thankfully by bringing over those fun skinny glasses on the top shelf we freed up enough room for those other items in the nearby cabinet so nothing is left without a designated "spot." So that's how our kitchen got a bit of a pick-me-up for the mere price of our six new drinking glasses from World Market.
Sometimes I get too busy to switch things out like this, but whenever I take the time to play around with the items that we already have I'm always amazed by how fresh and fun it can be. There's nothing like a work-with-what-you-have makeover. We'd love to hear what you guys are swapping out now that warmer weather and sunnier skies are upon us. Any spring makeovers going on in your house? Any new dishware and glassware coming out from hiding (or being introduced on the cheap thanks to stores like TJ Maxx, Target, World Market, and Home Goods)? Do any of you have a glass fronted cabinet (or some open shelving) in your kitchen that's begging for a little presto-change-o? Let's chat.
&nbsp&nbsp&nbsp