Archive for February, 2010
Your entries on this week's giveaway totally win the award for "most unexpectedly amusing bonus question responses." Plus they sparked Sherry and I to share some funny foreign phrases that we learned back in high school when she took French and I took Latin. My favorite was definitely a French idiom that Sherry mentioned which meant "that's the last straw" but literally translated to "that's the end of the beans." I've been using the English translation around the house quite frequently lately. Perhaps I could even convince Grace Hester Designs to turn it into a print?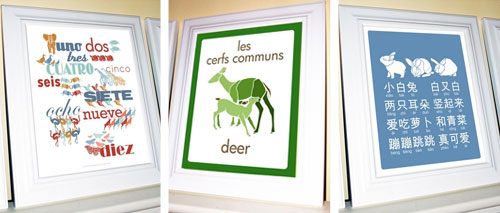 Then again, it's probably best that we let her stick to the graphic and playful designs that she's already so good at. After all, there are plenty of eye-pleasing options for our TWO winners to choose from with their $50 gift cards. And now the rest of you can get in on the fun. Just enter "YOUNGHOUSE" at checkout to get 20% off any item in her shop through March 4th (regular shipping fees still apply).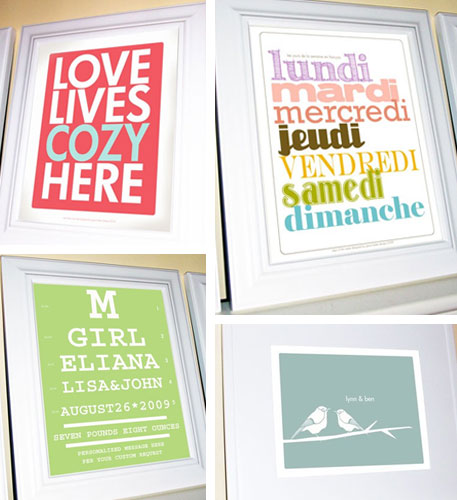 But back to our two lucky winners. We had a multi-lingual chat with random.org and it happily provided us with two random names: Jermaine D (who didn't realize she spoke a smidge of Hindi) and Diana (who can't seem to stop saying "Yes" in Spanish). Congrats! We'd love to know what you two will be snagging with your freebie gift cards (just be sure to tell us in English…).
Oh and next week's giveaway will be a nice wrap-up to this month of love, especially for those who didn't get everything they wanted for V-day last weekend (yup, that's a clue).
Find more freebie info on our Giveaway FAQs page. Pics courtesy of Grace Hester Designs.
&nbsp&nbsp&nbsp
Anne's living an dining room is ready for a fresh new look. Here's her letter:
I'm BEYOND excited to be getting a mood board from you two!!! I need your help with my living room, which is the first room you enter in our home. It does connect to our dining room, so any suggestions for that adjoined space would be welcome. My husband and I like modern and contemporary styles, perhaps with a dash of eclectic-ness. The only things we want to stay in the room are the entertainment center and the picture above the love seat (although that can be moved to a different wall). Everything else can go! I'd love an ottoman that can handle feet and has good storage along with window treatments- and I'd like to display pics of our family! In the dining room I'd love a new table and chairs and a new rug. I'd also love a new wall color. As far as colors go, I'd like it to feel warm, inviting, and homey– I totally love and trust your taste. I think I like most patterns and I like the idea of having a lot of texture in the room. We do have kids, so that's something to keep in mind. THANK YOU SO MUCH! Words can't express how grateful I am to be receiving your help! Giddy with excitement, Anne (& Colby)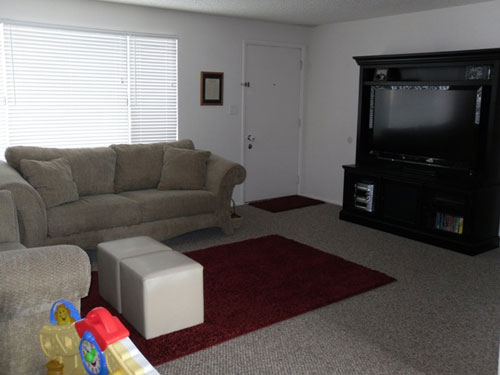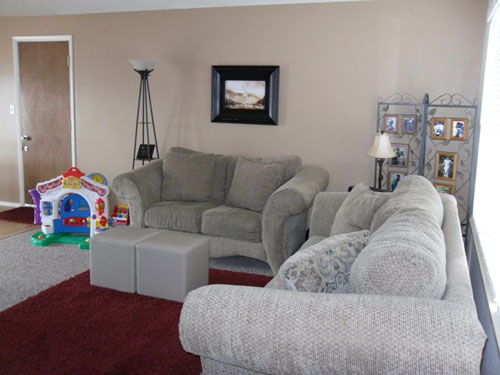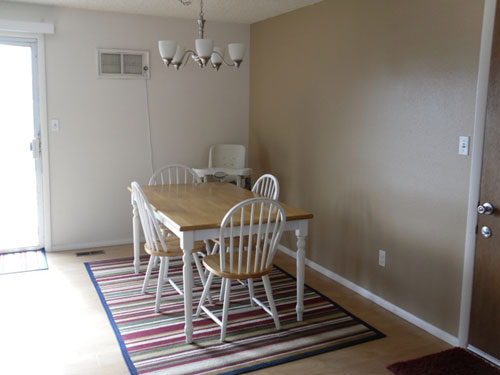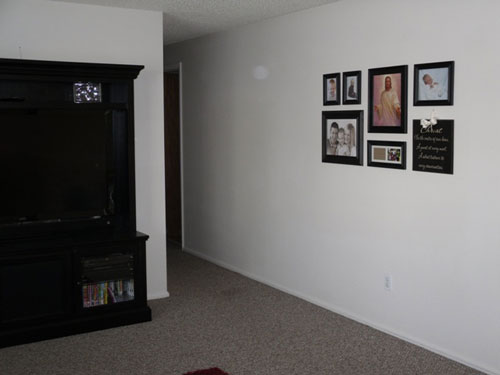 Here's the plan:
And here's the new layout suggestion: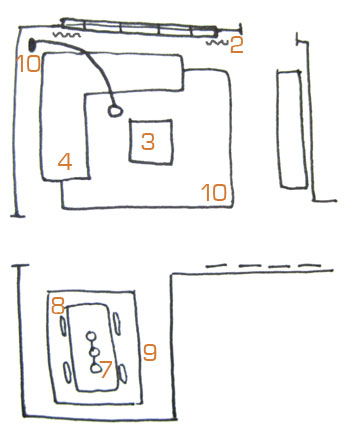 Now for the mood board breakdown.

Read the rest of this entry »
&nbsp&nbsp&nbsp