Archive for February, 2010
***This giveaway is no longer accepting entries***
Since we know you guys love personalized stationery as much as we do (and we always like to support other husband and wife teams), we're psyched to bring you this week's giveaway from Wild Ink Press. This duo – plus their 2 year old son/sidekick- churns out beautiful letterpress stationery by hand (and foot). And they print all of their stuff on 100% recycled paper or cotton and reuse everything from scraps to clean-up rags, always keeping their process as eco-friendly as possible. But of course, it's their stunning designs that are the real stars of their process.
And this week, TWO of you are going to win a custom set of letterpress stationery (up to a $150 value each!). Here are the five designs our winners will have the pleasure of choosing from, either for themselves (or maybe even as a Valentine's Day gift?). First we have The Signature, which puts your name in a silver metallic script with a custom icon to add some whimsy. And you can pick from green, pink, khaki or gray envelopes to match. Man, I wish my signature came out this fancy looking every time I sign on the dotted line.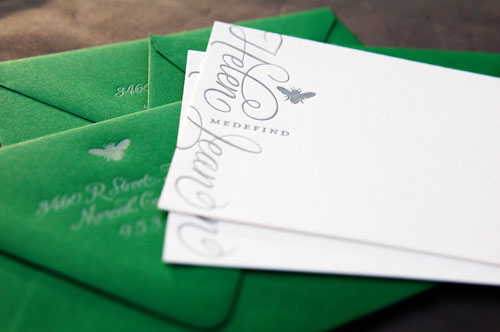 The Dictionary is a classic design with dark brown or black ink on ivory paper. And speaking of the ivories, the khaki envelope comes lined with vintage sheet music or an actual dictionary page (smoking jacket and pipe not included).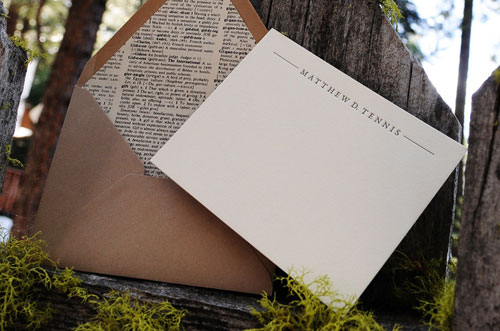 The Bandana Paisley is kinda dusty old west meets colorful sophistication. Pick from a magenta, turquoise, purple or red paisley to coordinate with a gray, khaki or purple envelope. A far cry from the days of the Pony Express.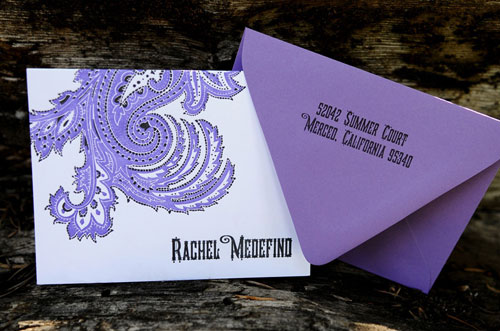 The Nautical had us at "ahoy." It comes on beachy pale blue paper with a ship ghosted in the background and a handsome navy envelope.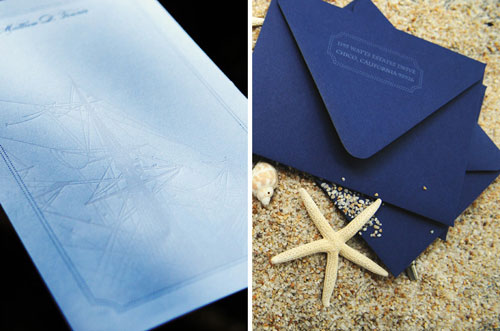 The Audrey is a combo of a sophisticated dotted pinstripe and your name printed in a playful circus font. The orange or magenta color options for both the type and envelope finish off the big top design.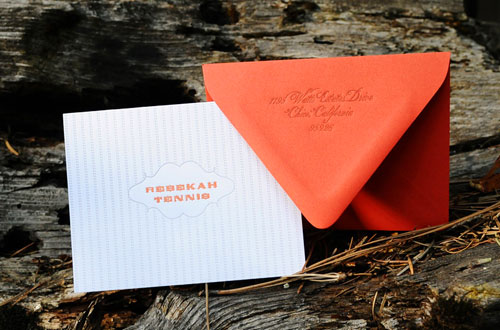 Have you already picked out the one you love? Well here's how you can vie for your chance to win (bonus: stay tuned for a discount on Thursday- everyone sort of wins in the end):
PRIZE: A 30-piece set of custom letterpress stationery from Wild Ink Press (selected from the five designs shown here).
TO ENTER: Comment on this post with the words "PRESS ME" and…
BONUS QUESTION: …tell us about your writing style. Do you write exclusively in cursive? Do you rock all caps all of the time? Do you dot your I's with something special? Is your penmanship virtually unreadable? Or do you just avoid hand-writing at all costs?
GIVEAWAY CLOSES: Wednesday, February 3rd at 8pm EST
NUMBER OF WINNERS: Two
PRIZE SHIPS: You name it. They'll ship it anywhere!
USUAL STUFF: One entry per e-mail address is permitted. The winners will be selected using random.org and announced on Thursday. Good luck!
Find more freebie info on our Giveaway FAQs page. Pics courtesy of Wild Ink Press.
&nbsp&nbsp&nbsp
With a snowstorm dumping about nine inches of fluffy white stuff on us this weekend (which is pretty rare for our neck of the woods), we were oohing and aahing over how pretty everything looked covered in powder. But it also reminded us that one reason that we love central Virginia is that we're lucky to get a chance to experience all four seasons. Nice long springs and falls are pretty much par for the course along with the occasional snowstorm (three instances of accumulation in four years- just few enough to make them feel special). Of course we also get to enjoy the sticky summer humidity but it's definitely a fair trade in our minds.
So we used our big-deal snow day to dig up photos of our house from all four quarters of the year. Here are a few seasonal views of the front of Casa Petersik – although we apparently have no summertime shots saved that were snapped from this angle (one more thing to add to our to-do list). Here's our house in the spring (taken in April of 2009). Does it look familiar? It should- it's actually the pic in our blog header.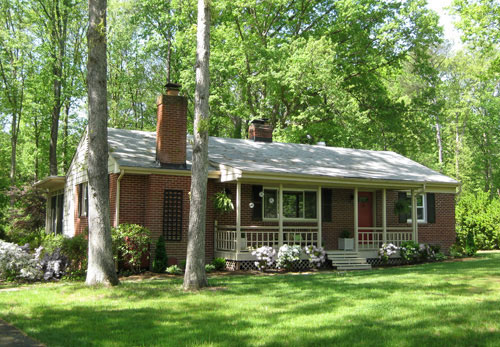 Here's our humble home in the fall (taken in September of 2007). Of course this old shot was snapped before we removed the yellow storm door, demo'd that country-looking scalloped porch header, retooled the front landscaping, painted the big gray gas tank to match the house, and took on our big porch makeover.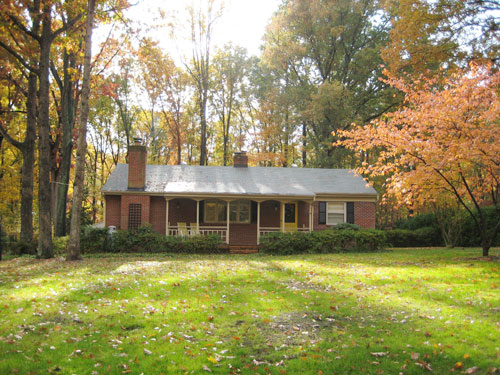 And here's our house in the winter, sporting a nice little snow blanket (taken in December of 2009).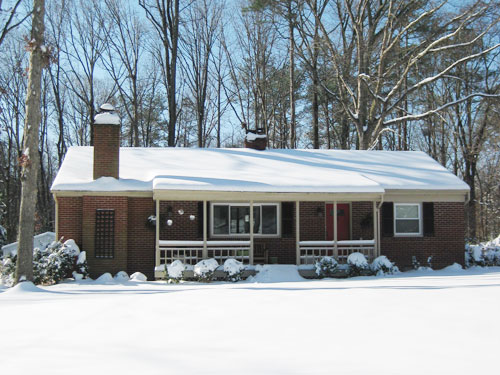 We were also surprised to discover that we actually had shots of the backyard in all four seasons. Here's the view from the back patio, starting with the spring (taken in April of 2009).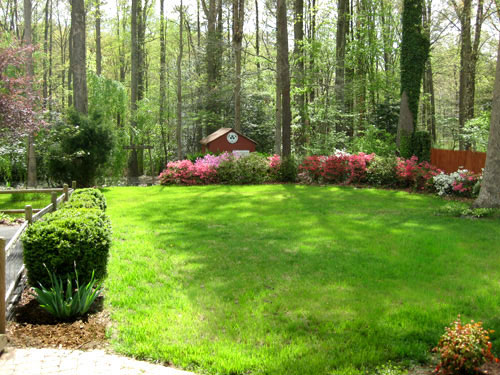 Here's the yard in the middle of the summer (taken in June of 2009, right after I mowed that crazy-green lawn).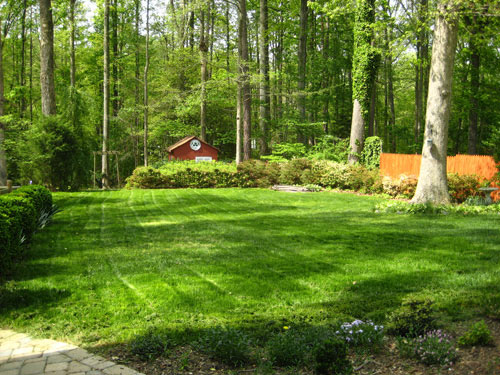 Here we are in the fall (taken in September of 2008).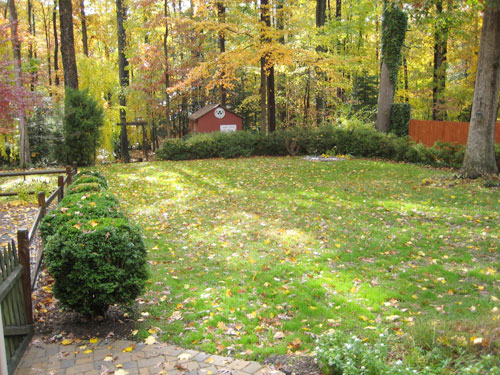 And now for a blindingly white winter shot (taken in March of 2009).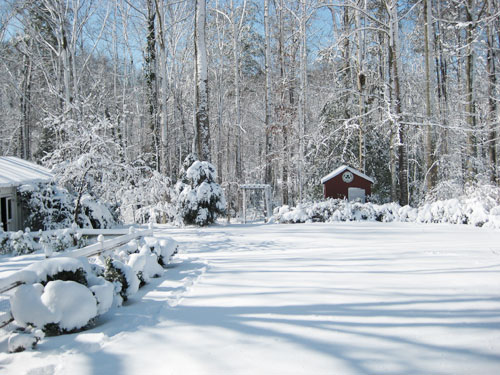 It really is nice to have documentation of almost every season from the front (and every single one from the back). Even if it's just to dream of winter when we're sweltering in July or reminisce about sunny spring days when the yard is covered with snow like this weekend. Do you guys get to experience each season where you live? Are you over in Australia enjoying the summertime right now? Is there one season in particular that you think makes your house look especially beautiful? Or one that you dread for all the housework it causes (leaf raking? lawn mowing? snow shoveling?). Do tell.
&nbsp&nbsp&nbsp