Archive for January, 2010
When Brieanne sent over her amazing nursery before and after pics we couldn't wait to share the major transformation. Here's her letter:
Last year my sister asked me (her younger sister with the architecture degree) to help her with her nursery for my future (and now completely adorable) niece Claire. Because my sister and brother-in-law could possibly have more than one child in their current space, they wanted a decently gender neutral nursery. Beginning with some bedding by Skip Hop my sister loved, we started a "mood board." The criteria: gender neutral, simple, non-cluttered and CHEAP. Jen (my sister) wanted something fresh and relaxing for herself, knowing the nursery would be mostly for her enjoyment. Armed with these thoughts, I decided to do a modern ode to "The Little Prince," even though the baby was/is a girl–it was one of my sister's favorite stories growing up. Hope you like the nursery as much as I enjoy your blog! – Brieanne
Here's the room serving as a half-hearted guest bedroom before the big makeover: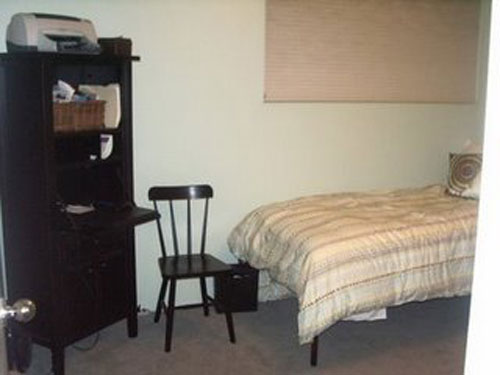 And here it is now after it has been transformed into a lovely nursery for baby Claire: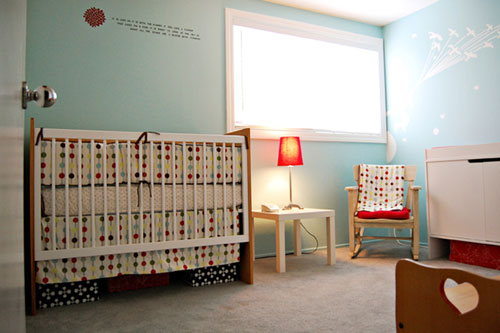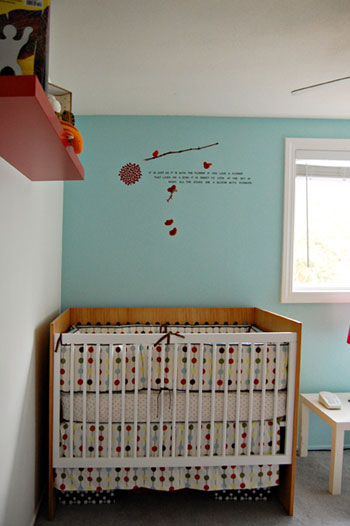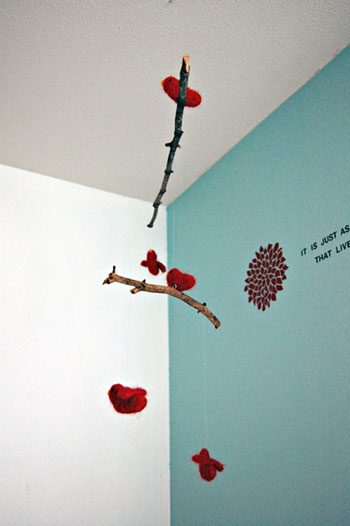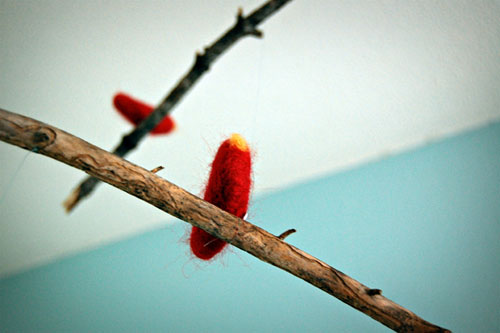 Oh and here's a resource list from Brieanne:
Crib and changer: Cub Kids by NettoCollection
Toy box: my sister's from when she was a kid
Rocking chair: my grandmother's
Bedding: Mod Dot by Skip Hop, given to my sister by her inlaws
Side table: LACK table by Ikea.
Shelf: LACK shelf by Ikea
Lamp: Confiscated from another room (lampshade from Ikea)
Mobile: needle felted birds made from red wool, hung on sticks found at our family cabin in Lake Tahoe, all assembled by me "on site."
Mural: painted by me, blown up with a projector, image from "The Little Prince"
Decal: Bloom, by Elephannie @ etsy.com
Quote: stick on letters. The quote says:"It is just as it is with the flower. If you love a flower that lives on a star, it is sweet to look at the sky at night. All the stars are a-bloom with flowers."
Didn't Brieanne and her sister do a great job making that room cozy and adorable for the lucky little lady? Let's play a little game we like to call what's-your-favorite-part? We love everything from the mobile to the charming quote on the wall so it's truly a tough call.
Update: Brieanne actually does have a blog and just shared the addy with us. Feel free to pop by and ogle the eye candy.
&nbsp&nbsp&nbsp
Now that we're done with the big bathroom makeover it's nursery time, baby. Pun intended. The sad thing is that we love our third bedroom, so the idea that it has to somehow disappear to make way for the bean is a tad bittersweet.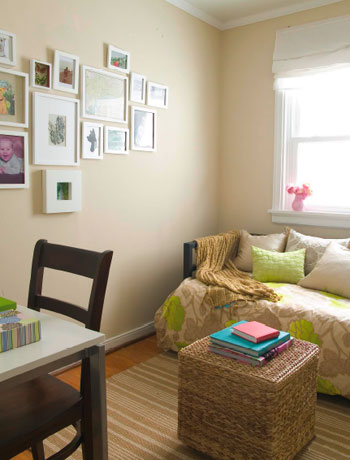 Of course we're over the moon to meet our little girl in May and can't wait to start whipping up the perfect nursery to welcome her to Casa Petersik. We're just use-what-you-have kind of people, so the idea of suddenly having a daybed, table, chair, rug and ottoman without a happy home had us stumped for a good half hour or so.
Then we channeled Tim Gunn (picture us putting on our make-it-work hats) and got brainstorming.
Thankfully we had already thought to relocate our third bedroom's little wrapping paper/letter writing table down to the basement for that big makeover a few months back (along with the chair and a second chair that we'd been storing in the closet ever since we switched out two of our dining chairs for a bench).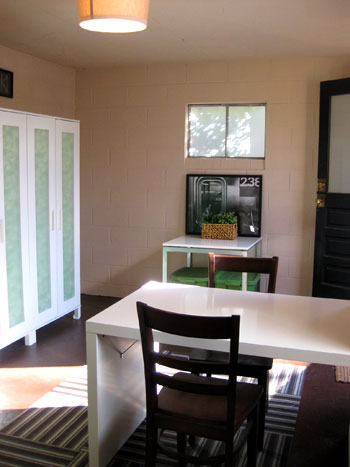 But what about that daybed? Unless we were willing to forgo a crib (uh, not an option) it had to find a new place to live since the nursery is by far the smallest room in our house (except for the bathrooms if those count). Happily, the sunroom quickly came to mind. Sure we already have one totally cozy daybed in there that we lounge on pretty much from spring to fall. But why not bring in a second one for twice the fun? That was pretty much our thought process. And after a bit of grunting and shimmying we had it in place (don't worry, John did all the heavy lifting while I played the role of "supervisor").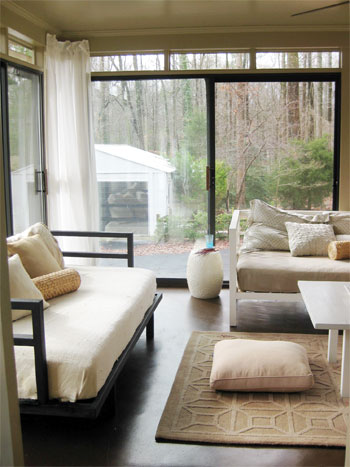 And it didn't look half bad. In fact it made us wish it was a bit warmer out so we could both settle in with a few good books and officially put them both to good use.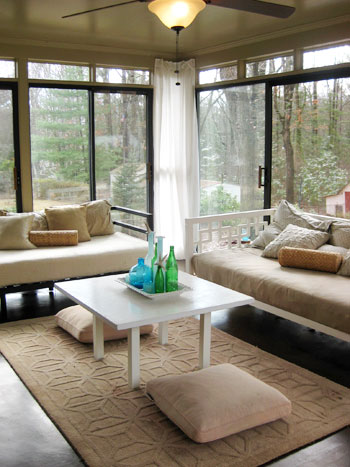 Oh and one sort of surprising discovery was that we didn't mind the darker wood tone of the new daybed next to the existing white one as much as we thought we would (probably thanks to all of those oil-rubbed bronze sliding door sashes that bring a similar tone to the space). We're still planning to eventually paint it white for a bit more balance (we like the idea of the daybeds being the same color but different styles with complementary but not identical bedding and pillows to avoid complete matchy-matchy overload).
And speaking of pillows, we kept many of the same ones that were on it in the third bedroom and tossed an oatmeal colored blanket over the mattress to help it fit right in with the similarly accessorized existing daybed. We like the serene and layered look but also think adding some punchy pillows to both daybeds would really wake up the room for spring so stay tuned for that in a few months…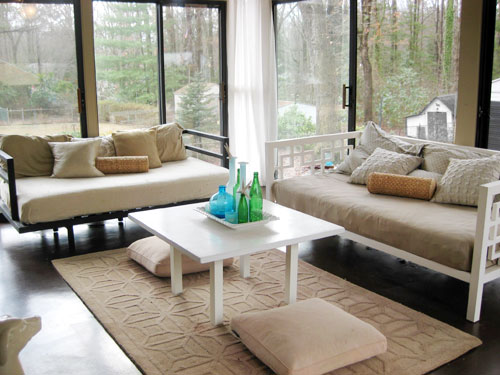 Probably the best thing about placing the daybed along the wall where we formerly just had one small teak chair and a side table is that it provides the best view of our private backyard (since the other daybed faces in towards the house). And we can accommodate a lot more people in the sunroom now that we switched out one teak chair for an entire daybed. I smell a game night coming on…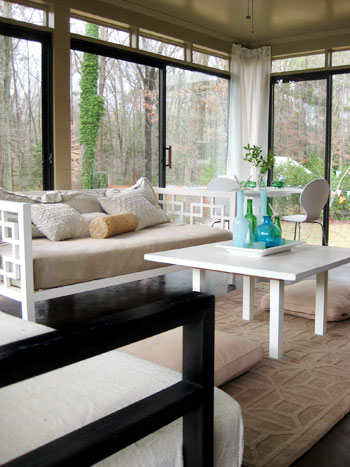 We're definitely glad to have found a little "interim place" for the daybed to live before it potentially goes back into the nursery-turned-big-girl-room in a few years (we've heard from more than a few friends and family members that daybeds make great big-girl beds when the crib is no longer necessary). Although we can see "sunroom sleepovers" in our future once more than one kiddo comes along, so who knows. It might just stay put for the long haul. I guess only time will tell…
Next we had the third bedroom rug to deal with. Since it's jute we reasoned that we wanted something cushier like a plush wool rug underfoot for our little one. So it definitely needed a new home. But where? Well, it's actually the exact same rug that we have in the kitchen (we loved it so much we got it twice).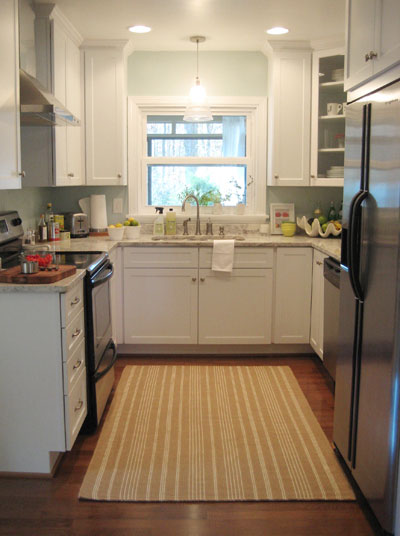 So the idea of rolling the extra one up and tucking it behind the blinds above our laundry nook didn't seem like the worst plan in the world. Now if we ever have a spaghetti sauce or grape juice incident in the kitch, we'll have a spare squirreled away in the mostly-empty storage area above our washer and dryer (ever since we finished the big basement makeover clutter in our house has been radically reduced- woot woot).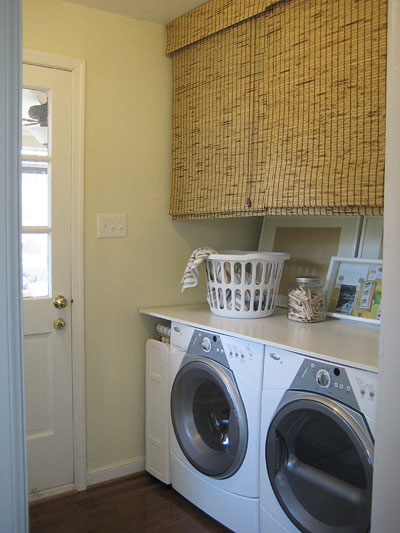 Then it was time to ponder a new place for the ottoman. And after a bit of thought we figured that it would actually come in handy if it stayed in the nursery (for toy storage, putting up my feet when I'm nursing, etc). So our little woven friend gets to stay- at least for now- along with the asymmetrical photo collage on the wall. We might switch out a few of the framed items for some fun baby-focused art (with punchy colors to work with the new yet-to-be-revealed color scheme) but for the most part we think that the wall of frames will create a great little stimulating focal point for the beanette (of course it'll be out of reach for quite a few years, and once she's taller and more mobile we'll securely fasten them all to the wall or move them entirely if we ever think they pose a danger).
So that's how we managed to clear out the nursery without amassing a graveyard full of sad displaced furniture.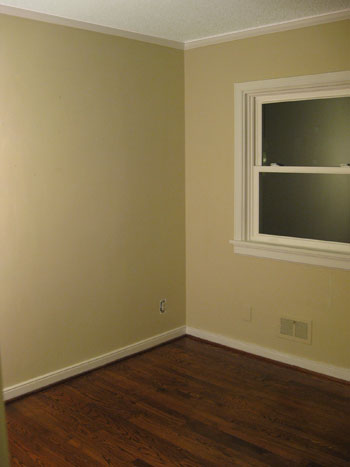 And there's nothing more full of promise than a bare room just waiting to be transformed. It certainly came in handy when we repainted the walls (and the ceiling!) this weekend. So stay tuned for those details…
What about you guys? What have all you new moms and dads done with an old room's furniture to make way for baby? Have you relied on Craigslist? Adapted it for the nursery? Put it into storage? Moved it to other rooms around the house? What about all you non-baby-having-individuals who converted one room to something entirely different (bedroom to library, den to home office, etc)? Do tell.
&nbsp&nbsp&nbsp