Archive for January, 2010
When Amy came to us for help with her living room we jumped at the chance to inject a warm, layered and lived-in look. Here's her letter:
Your blog is a favorite of mine. And I need your help with the living room! It's not a huge room (14 x 14) and we don't have much wall space (one whole wall opens up to the entry/stairs and the other opens up to the kitchen). I'm kind of confused as far as furniture placement- especially where to put the tv and sofa? I'd like the fireplace to be the focus of the room, but we don't really like tvs over fireplaces. I'm more into warm colors and want to make it a cozy place to sit and relax, but also entertain an infant. I attempted to find paint colors on my own and am now stuck with a zillion samples and haven't yet found "the one." I'm also confused about paint for the hall leading up the stairs (should it be the same as the living room?). As far as my style I think I'm pretty eclectic. I normally shop at Pottery Barn, Anthropology, and Target. I also love Etsy for accessories. I'm looking for that layered look – like we've lived there forever. As far as our furnishings go, we purchased the rug from Pottery Barn and I'd like that to stay. The coffee table is also a keeper. Everything else in the room can be replaced. We need a sofa with slipcovers as our baby loves to spit up :)  Would appreciated help with paint colors, window treatments, furniture and accessories. Any suggestions would be great! – Amy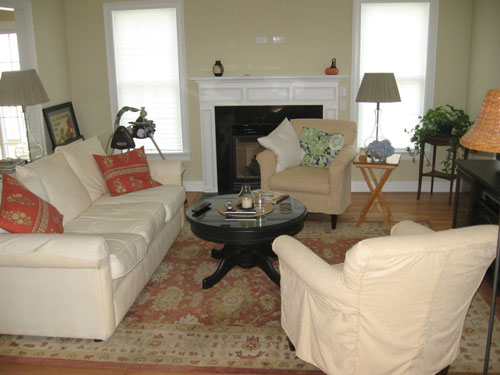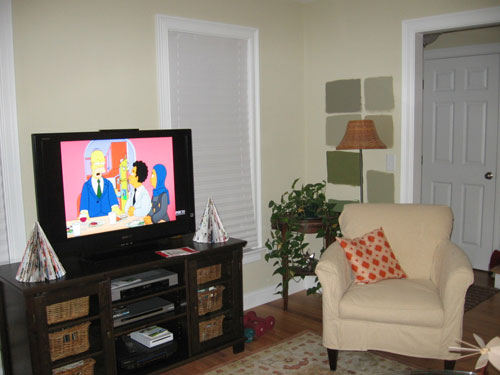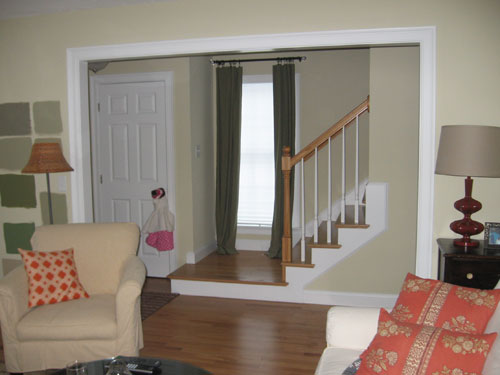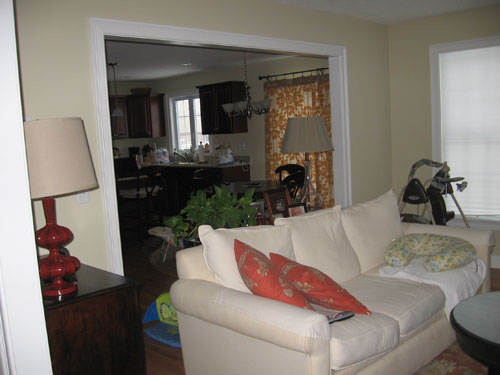 Here's the plan:
And here's the newly proposed layout: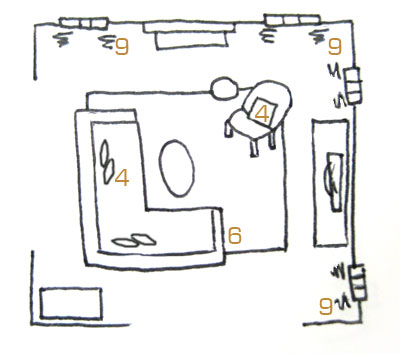 Now for the mood board breakdown.

Read the rest of this entry »
&nbsp&nbsp&nbsp
Q: I love your blog and often check in twice a day. Thank you for your great work! But I have one question: what do you do at the kitchen sink with the few things you regularly use for washing-up/cleaning the dishes and the table (like a sponge, a dish cloth, a brush, dishwashing detergent, maybe gloves)? Are there good solutions out there that look clean, well-organized and perhaps even cool? What would you suggest to anyone who hates having too much stuff lying/standing around in the kitchen? Thank you and greetings from Europe. -Monica
A: Good question! In a nut shell, we keep a dish cloth folded up next to the sink or draped over the sink itself (as seen below):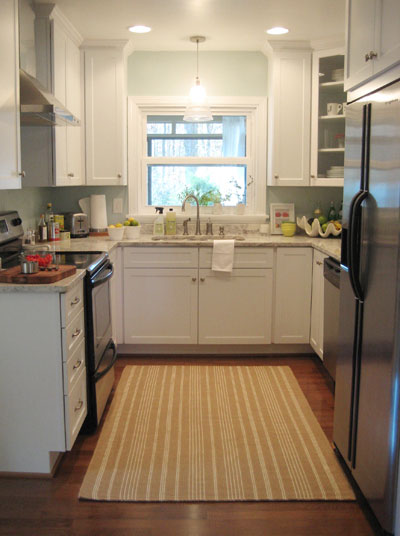 And we house our sponge in this wire caddy that suctions to the inside of the sink (so it's not visible unless you're standing over it looking in). We also have a caddy with soap and lotion by Cucina from Anthropologie next to the faucet- which really helps two otherwise potentially disparate and mismatched items feel like they're being "wrangled" together for a more streamlined effect. And we usually have a cute bottle of all-purpose cleaner like Mrs. Meyer's located on the other side of the sink for easy access when it comes to wiping down the counter or the dining room table from time to time.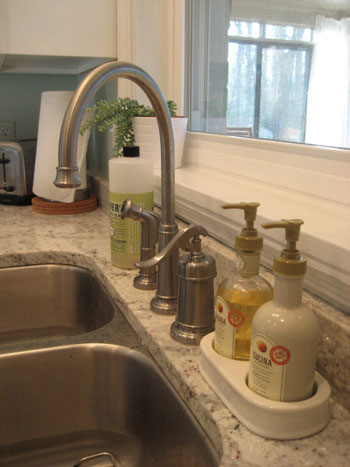 Oh and we keep our dish detergent and rubber gloves under the sink since we mainly rely on our dishwasher to do most of the after-dinner work for us (and we have yet to find a cool way to store rubber gloves in full sight). But what about you guys? Do any of you have more sink-side solutions that you'd like to share with Monica to help her whip her kitchen into shape without sacrificing function or form? Let's talk about how you store your soap, your sponges and everything else you use to get 'er done in the kitch.
Psst- Want more photos and info about what's cookin' in our kitchen? Check out this post, this post and this post for all the deets.
&nbsp&nbsp&nbsp