Archive for December, 2009
By now you're all probably off with your family eating gingerbread and tearing into some presents but we just wanted to share the holiday card we whipped up for our loved ones (since you're all on our virtual mailing list). We wish you guys a very happy and sweet holiday with the ones you love. And speaking of love, we adore every last one of you for dropping in to see what we're up to over here at Casa Petersik. Your support and encouragement never fail to put smiles on our faces each and every day, and we're full of gratitude for the amazing year we've been fortunate enough to share with all of you.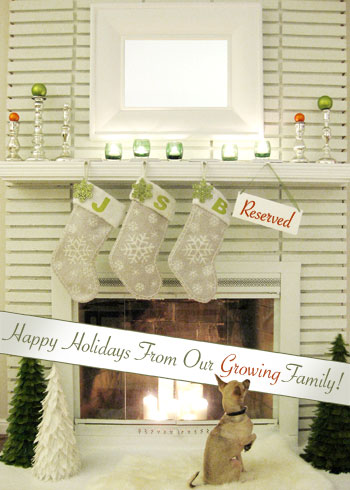 So don't forget to enjoy some eggnog for me (thanks to the bean it's off limits this year) while you celebrate the best part of having a place to call home: sharing it with the ones you love. Here's to many more adventures (and misadventures) in 2010!
Psst- Wanna see our favorite holiday card of all time? It's actually the first one we made from '07.
Pssssst- Wanna know how we create our cards? We just take photos, mess around with them in Photoshop, print them at one of those automatic CVS or Target photo kiosks and pop them in the mail. They only cost around 30 cents per picture and they're oh so personalized and fun!

&nbsp&nbsp&nbsp
We know you're probably all itching to get your holiday on right about now, so we'll try to cut to the chase. As you guys probably remember, Christmas is coming a day early for FIVE of you thanks to this week's giveaway from Glidden paint. And being quite fond of Glidden's color selections ourselves, we're pretty excited for the handful of you whose new year will be off to a colorful start.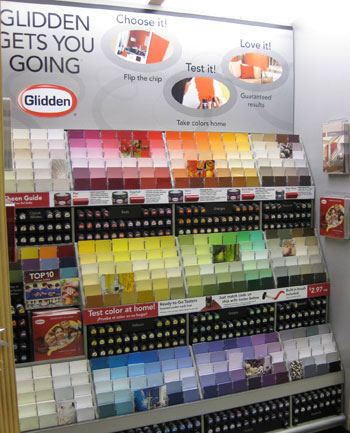 So we peeked in random.org's stocking and pulled out the names of our five winners who will each be receiving a voucher for a free can of Glidden paint (in any color & finish) to be redeemed at their local Home Depot. Here they are in no particular order:
And as 2009 comes to a close next week, we're wrapping up a year full of giveaways with one last '09 freebie before twenty-ten takes over. And it may or may not involve a $100 gift card…
Get more info about our freebies on our Giveaway FAQs page.
&nbsp&nbsp&nbsp