Courtney's living and dining room is ready to be transformed. Here's her letter:
I received a mood board as a Christmas gift and I'm super excited! I read your blog almost every day and love your style (and budget-conscious ideas!). Anyway, my boyfriend and I just moved in together and we really need help with our living room/dining room (with focus on the living room). Our style is much more casual as opposed to formal and we like more traditional styles. We are definitely open to some fun touches though! If we had to pick a store that best reflected our desired aesthetic, it would be Crate and Barrel. We DEFINITELY need some color in the space- everything right now is pretty brown. Most of the furniture needs to stay but we are willing to get rid of the dining room chairs, the hutch near the front door, and the lamps. The TV and stand will not be staying and we need a new wall color. There aren't any particular colors or patterns that we hate but we tend to lean towards more natural colors (and Eric would kill me if the walls ended up pink). Thanks for all of your help and we are looking forward to what you all come up with! – Courtney (and Eric)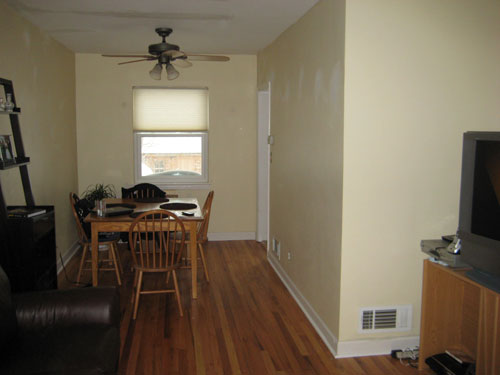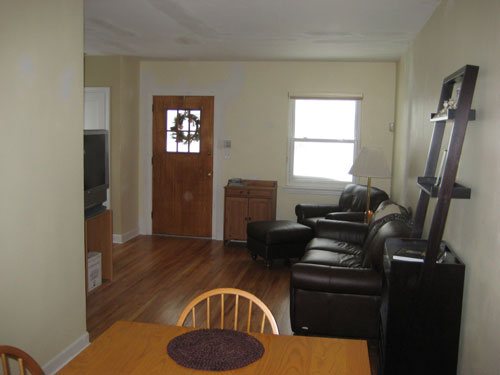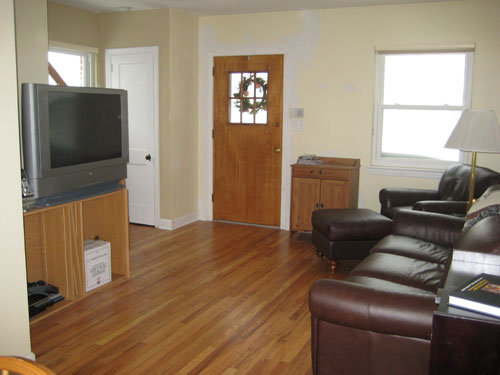 Here's the plan: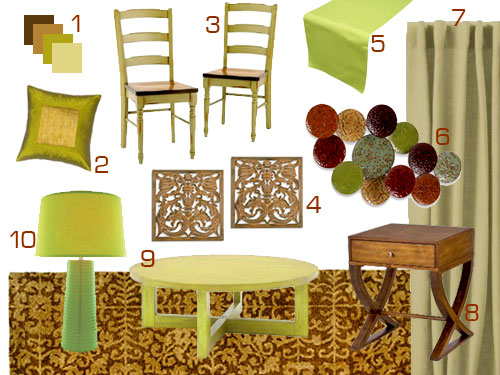 An here's our newly proposed layout: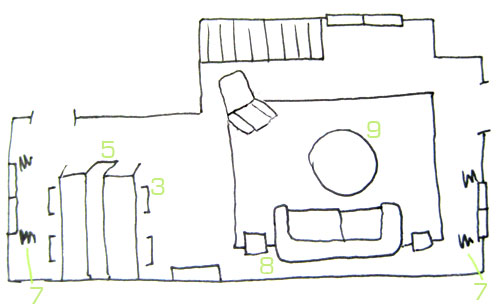 And now for the mood board breakdown.
1. When it comes to crisping things up for a warm and casual atmosphere we'd love to see Benjamin Moore's Westminster Gold 200 on the walls to create a rich wheaty-gold backdrop for the space (you can see it in action over here in Abbey's after photos- it's a great color for rooms with rich toned furnishings like brown or red). And as for accent colors we'll be bringing in more browns and tans along with neutral sandy tans and taupes plus a variety of layered green tones from sage and celery to pistachio.
2. These luxe silk pillows (just $29!) will instantly break up the dark brown sofa and add a pop of color to the matching brown leather chair (which we'd love to see moved to the opposite corner where the TV used to reside, angled in towards the center of the sofa across the room). Then the sofa can move a bit closer to the wall with the front door so Courtney can add matching end tables with statement-making table lamps on either side.
3. Over in the dining area, turning the table 90 degrees and pushing the short side against the left wall will create a peninsula of sorts. It will still accommodate two, three or even four chairs (and can be pulled out and rotated to facilitate larger groups on occasion) but for the day to day, creating this peninsula will help the flow and make the space feel more intentional and balanced then placing it off-centered but not against the wall (as it is in the before photo above). Then because the table is lighter oak but the dark chocolate shelving piece nearby will stay, we think using a dark gel stain to get the dining table to the same tone as the rich brown shelving unit will instantly tie it into the space and make the room look a lot more cohesive and elegant. Then that shelving piece can be used as a sort of buffet of sorts for the dining room (complete with stacks of plates and pretty decorative glassed and candle holders in our color scheme). And because Courtney wanted to replace her chairs, we thought these charming pistachio colored ones would add interest and dimension to the dining room while tying in with the new darker table and the other green accent colors throughout the space.
4. Once the sofa is shimmied over towards the wall with the door on it (to accommodate a side table on each side) we'd love to see two or three of these gorgeous wooden wall panels hanging above it. They can be placed about 5″ apart from each other and about 24″ above the back of the sofa to add texture and sculptural interest in a snap. And we love that the pattern in the panels actually ties in with the rug that we'll be introducing in a few moments.
5. One of our favorite ways to instantly break up a big rectangular wooden table is with a fabric table runner, and this punchy green one will definitely layer even more tones of green into the space while breaking up all that brown. And the price? Almost insane.
6. For art in the dining area, we'd love to see this cool collection of plates hung centered on the left wall where the side of the table will be placed to create a peninsula. The colors will immediately tie in with everything from the rug to the green accents and even the leather sofas, and the 3D interest will really punch of the dining room in a snap.
7. It doesn't get much more subtle than these soft pistachio green curtains from Ikea that still have enough neutral taupey tones to help them fit right in with the rest of the room. We'd love to see them hung high (a few inches below the ceiling) and wide (around 18″ beyond each window in the room) to maximize light and make those windows look grand and gorgeous.
8. Here are the beautiful side tables that we dug up. We love that they look high-end and elegant while ringing in at just $99 each. Plus their warm brown hues will work with the rug and help to set off the dark chocolate sofa that they'll soon flank.
9. And speaking of the rug, we'd love to see this 6 x 9′ beauty in the center of the living space to help visually define a cozy and casual seating area by connecting the armchair that will now live in the old TV corner to the sofa across the room. Setting down a coffee table in the middle of the rug will also help anchor everything and create a definite "sitting zone" within a large space that also includes a dining area. That's why we love the idea of snagging this round light wood version from Target (round= great for flow in a room that people pass through). And painting it a soft pistachio color to mimic the chairs in the dining area (just bring home green paint swatches and select the one that matches those chairs the closest) will really take the table from simple to stunning. Oh and here's a furniture painting tutorial which should come in handy.
10. This showstopper of a lamp (which is a total steal when you consider that comparable ones are all around $200) will look amazing on either side of the sofa atop each of Courtney's new matching end tables. In a space that was once overwhelmed by brown furnishings and wood (on the floors, the furniture, etc) small pops of green like these lamps, the pillows, the curtains, the coffee table and the dining chairs will really add layered style and interest to keep the room feeling fresh and inviting.
Oh and since we suggested using a gel stain to make the dining table a bit darker to work with the deeper toned pieces that will remain in the space, we also think the front door could either be stained in the same dark color to work with the rest of the room or painted a crisp white tone just like the other doors in the space for even more cohesion and effortless polish.
So there you have it. A living and dining room full of casual and inviting style. We can't wait to see what you guys think!
Update: We sadly can no longer find the time to take on client commissioned mood boards (we now whip up general inspiration boards instead) but if we ever reinstate them we'll make a big announcement!
&nbsp
&nbsp&nbsp&nbsp

&nbsp

&nbsp
If you enjoyed this post, please leave a comment or subscribe to the feed and get future articles delivered to your feed reader.
48 Comments
This comment section is currently closed.