Archive for November, 2009
***This giveaway is no longer accepting entries***
If you guys haven't heard of papernstitch before, you've gotta check it out. It's another great online source for handmade art (prints, photos, knits, etc) that's curated monthly to exhibit a fresh crop of handpicked artists for you to shop and draw inspiration from. Might we suggest bookmarking it for your upcoming holiday gift shopping?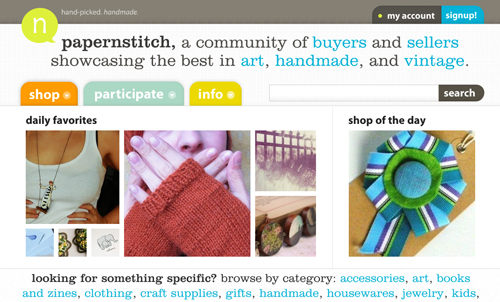 This week, papernstitch is giving away a set of four photographic prints from one of their favorite photographers: Allison Trentelman of Rocky Top Studio. Allison is a nature photographer whose snowy birds and forest floor photo collections almost feel like they were shot in some fairy tale world (actually the Maine coast – but we still wouldn't be surprised to spot a nymph or two in the background). We love that they let you bring both a bit of nature and lighthearted whimsy to your walls.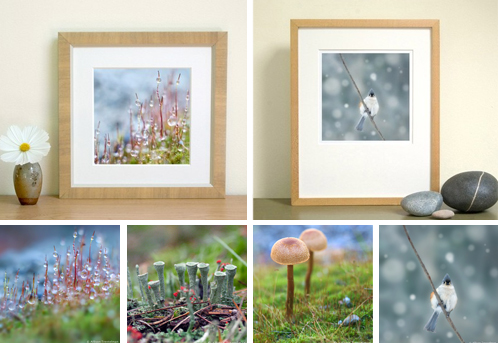 So here's how you can score a dose of outdoors for your indoors this week:
PRIZE: Set of four 7″ x 7″ prints (Tufted Titmouse, Little Mushrooms, Droplets and Pixie Cup) from Rocky Top Studio courtesy of papernstitch.
TO ENTER: Comment on this post with the words "OUTSIDE PLEASE" or "INSIDE PLEASE" because…
BONUS QUESTION: …this week we wanna know if you consider yourself to be more of an outdoorsy or an indoorsy person. Is your perfect day spent out in the sun, surrounded by nature- maybe even camping under the stars? Or would you prefer being inside – maybe shopping somewhere, checking out a museum or movie, or even just snuggled in the comfort of your own home?
GIVEAWAY CLOSES: Wednesday, November 25th at 8pm EST
NUMBER OF WINNERS: One
PRIZE SHIPS: To anyone, anywhere!
USUAL STUFF: One entry per e-mail address is permitted. The winner will be selected using random.org and announced on Thursday. Good luck!
PS: Stay tuned for a generous discount from Rocky Top Studio when we announce our winner on Thursday. Let's call it a little Thanksgiving present…
Get more info about our freebies on our Giveaway FAQs page. Images courtesy of papernstitch and Rocky Top Studio.

&nbsp&nbsp&nbsp
Since we had so much fun a few weeks ago with this quiz from Ethan Allen, we thought we'd try another one on for size this week. This "StyleScope" quiz from HomeGoods (yes Sherry squealed when I revealed that it was created by her favorite accessory store) was actually shared by Stefanie on Twitter so we have her to thank for the fun.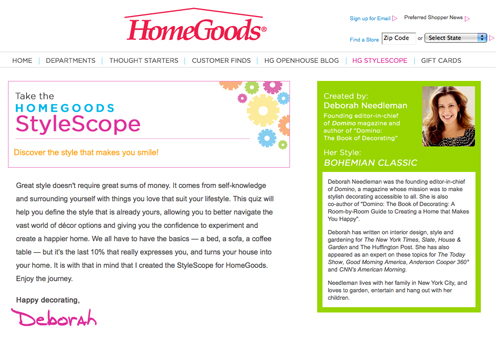 But be sure to save some thanks for Deborah Needleman too. She created the quiz and you may recognize her as the founding editor-in-chief of Domino magazine (RIP). So you can imagine how high our hopes were for this analysis…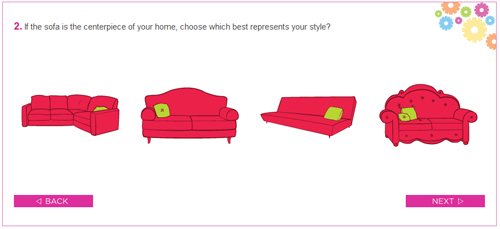 Unfortunately, I'd have to say it's one of the more off-base results we've been given in a while. I was pegged as: Elegant Classic, which makes me picture someone serving tea in an evening gown (I can honestly say I've never experienced that, nor do I plan to). Some of the descriptions make a bit more sense (liking order, symmetry and timeless appeal) but most don't sound very familiar at all (natural sense of drama, appreciation for family heirlooms – um, have you seen how much Ikea/Target/HomeGoods we own?). Maybe I got thrown off by all of the questions about entertaining (since that's not something that we do a lot of- we're too busy being blog nerds on nights and weekends).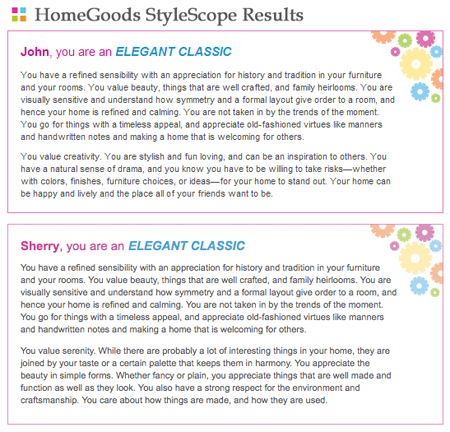 Surprisingly (or perhaps not so surprisingly) Sherry also got the same Elegant Classic result. And she had the same initial hesitation that I did about the title. But her slightly altered description showed a bit more accuracy: valuing serenity, harmonious color palettes and respect for the environment. Her results continued to be different in some places (my design challenge: maximize; her challenge: organize) and exactly the same in others (we had the same "Happy Home" colors, which are somewhere near the neutral family that we both gravitate towards for the most part).

But enough about our results. Head over and take the HomeGoods StyleScope quiz yourself and let us know what you think of your results. Our fingers are crossed that they're right on for you because we love HomeGoods a little too much around Casa Petersik and we're hoping they nail it for someone, even if that lucky someone can't be us (did I just hear Sherry sniffle from the other room?). Oh HomeGoods why have you forsaken mislabeled us?
Psst- Wanna take more fun (and possibly semi-accurate) decorating style quizzes? Here are a few oldie but goodies: Sproost, Ikea, Creative Youniverse.
&nbsp&nbsp&nbsp