Archive for October, 2009
***This giveaway is no longer accepting entries***
No, the title of this week's freebie isn't meant to be perverse. It's just the clearest way to identify the DuPont giveaway that has already popped up on some of our favorite blogs. And now it's here on YHL (insert party kazoo sound effect here). Ladies and gents, we present to you: the DuPont iPod Touch giveaway. That's right, DuPont's gonna hook one of you up with a free iPod Touch. Monday just got a little better, eh?
DuPont recently launched a new free iPhone and iPod Touch app called mySurface that's designed to help you pick a countertop from within their Corian and Zodiaq line of products. The fun interface would've been great back when we were redoing our kitchen, if nothing else just to give us a sense of how many options were out there. So even though technology's a bit too late for our renovation, we're still getting great bathroom inspiration ideas from mySurface's photo gallery: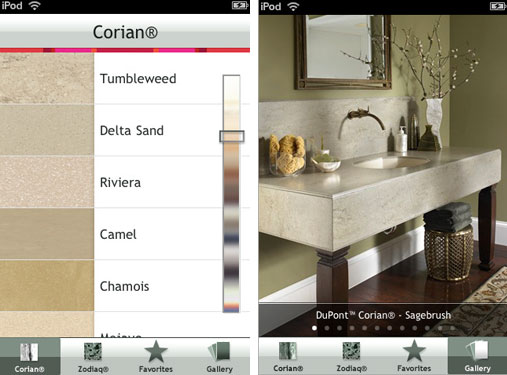 DuPont was even kind enough to hook us up with our own iPod Touch (now I'm almost as cool as my iPhone toting wife) to check it out and dig up some other helpful DIY apps to share with you guys. So here are the other home-improvement related apps that we're digging:
We've been having lots of fun with Benjamin Moore's ColorCapture app (also free). Using uploaded photos (or pics snapped with the iPhone's camera) you find paint colors and color schemes to coordinate with your favorite fabric, painting or – well – photo of your dog on the beach. And though we haven't used it yet, the 99-cent SwedeShop app is the unofficial Ikea organizer for the iPhone. So you can forget the golf pencil on your next trip- plus it automatically tallies your budget as you go.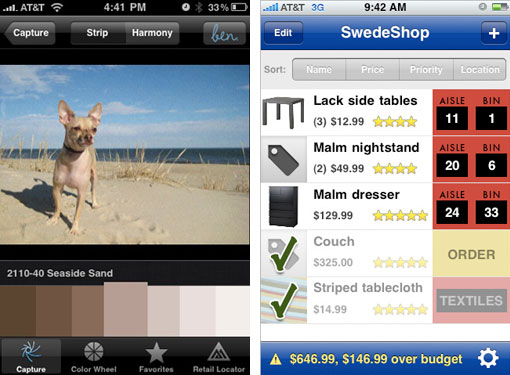 We also got lots of tips about keeping notes and lists on your iPhone back on this post, so we've started to use Evernote (again, free). It's like the Voice Memo and Notes tools that come already loaded on the iPod, but a bit more organized. Linked to an account on evernote.com, you can keep voice, text, photo and screen grab notes that can be labeled with tags, sorted by geo-tags and easily searched. We've also been enjoying craigsphone, the app version of craigslist. Nothing new in terms of content, but hunting for real estate, browsing local yard sales and perusing used furniture in need of a new home is almost easier on the iPod than the real web site. The app is free, but it certainly could end up costing us more as we discover new steals.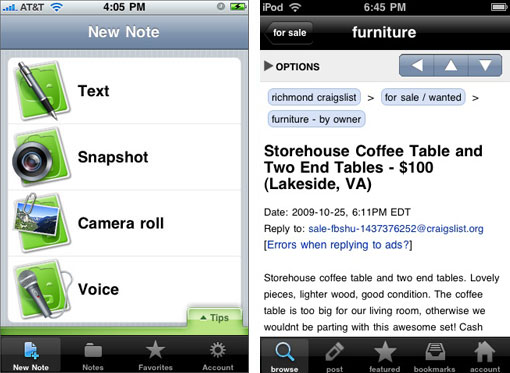 But enough jibber-jabber. Here's how you can win your very own iPod Touch:
PRIZE: An 8GB iPod Touch courtesy of DuPont and their new mySurface app
TO ENTER: Comment on this post with the words "TOUCH ME" and…
BONUS QUESTION: …help us build our app collection by telling us your favorite iPhone app (if you've got one) OR if you could create your own miracle app, tell us what would it would do (balance your checkbook? get dinner ready? walk the dog?)
GIVEAWAY CLOSES: Wednesday, October 28th at 8pm EST
NUMBER OF WINNERS: One
PRIZE SHIPS: USA only
USUAL STUFF: One entry per e-mail address is permitted. The winner will be selected using random.org and announced on Thursday. Good luck!
Get more info on our freebies at our Giveaway FAQs page. Images courtesy of Apple.
&nbsp&nbsp&nbsp
When Jen and Erik sent their toddler-friendly entryway makeover our way we had to share their genius transformation. Here's their letter:
I just wanted to let you guys know how much we love your site. It's funny because in a lot of ways you remind us of ourselves. People think we're nuts doing all we do around the house. We thought once we had a baby we'd be done- but nope, our son just inspires us more, as is the case with our new mudroom. The space was once green, which wasn't bad but looked crazy with all the colorful art we were trying to bring in. So we decided to lighten it up with Glidden's Quiet Light. The saying above the door was inspired by our two year-old again (he says "have a good day!" to anyone leaving the house). Just seeing it makes us smile! Then there's the case of the lockers I loved from Pottery Barn and begged Erik to make for us because I didn't want to spend all that money. Boy, did he- and for a steal too – $250 total. The bench on the lockers doubles as a pet bed and a place to sit down when taking off shoes. The rug is from Flor.com. It was our one splurge at about $150, but the tiles come up and can be washed in the sink if there are spills. We used magnetic primer above the desk, covered with 2 coats of chalkboard paint to create the magnetic chalkboard to display Jack's art. The bench cushion was made for $30 with fabric from JoAnn Fabrics and two coupons for 40% off from each of our parents' Sunday papers. The canvas is recycled from the basement. I helped our son Jack paint it with tempra paint using his feet, the palms of his hands and even his nose at one point! The blinds are el cheapo Target blinds. We paid $41 for the pair and then hot glued fringe on them make them look more custom. Lastly lighting is a recycled pendant light with a $15 Walmart shade. Our son, Jack seems to really enjoy the room and so do we. Keep up the great job on the site! -Jen and Erik
Here's the room before its two-year-old-inspired makeover: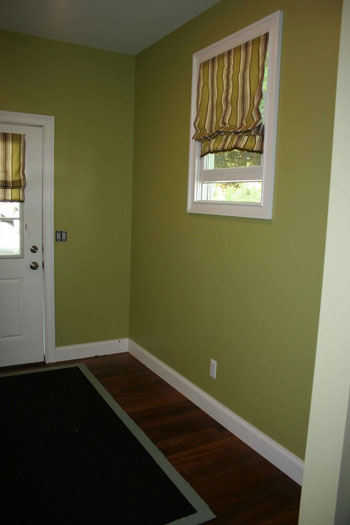 And here's the I-can't-believe-that's-the-same-space after: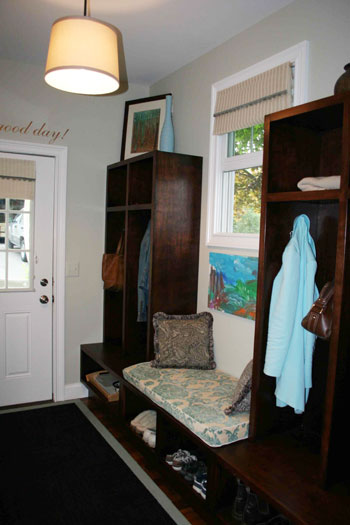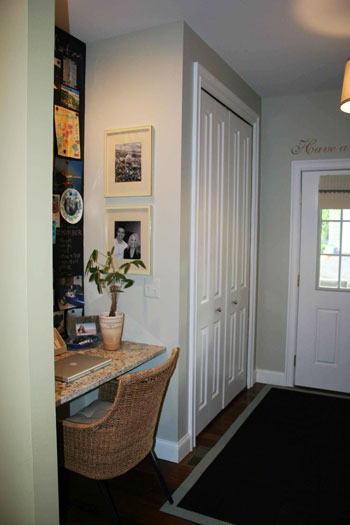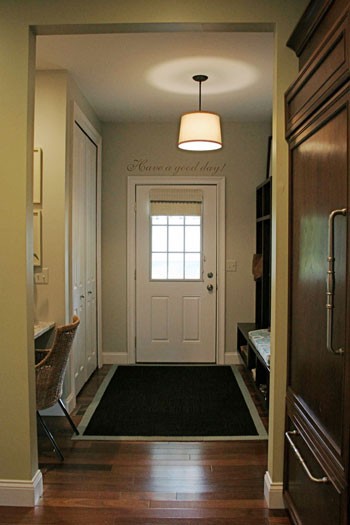 Isn't that a stunning little entryway makeover? We love how Jen and Erik were so inspired by little Jack (the quote above the door is so sweet, and we love the personal meaning behind it). What do you guys think? Isn't this a great use for an old hallway that needs to step it up in the function department? And the fact that they made those lockers is beyond amazing. Thanks so much for sending your fab before and afters our way Jen and Erik! And be sure to give your little guy a high five for his awesome art work.
Psst- Don't forget to check out Jen and Erik's brand new blog right here for more amazing eye candy…
&nbsp&nbsp&nbsp