Archive for July, 2009
Laura's lamp makeover really lights our fire. It's amazing what a little spray paint can do. Here's her letter:
I wanted to share this quick DIY project I completed last Friday after getting out of work early. I just bought a lamp at the local Salvation Army up in Alexandria, VA, and stopped over at the Home Depot for some spray paint and polyurethane. The project didn't take that long and I used "Rust-oleum" Painter's Touch in satin Aqua, with a clear gloss coat. I also wanted to say how much I love your blog! You are very talented people and I'm so glad to hear that you are only a few hours south of me- yay for "locals"!  -Laura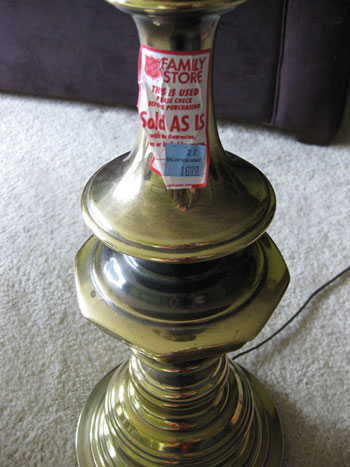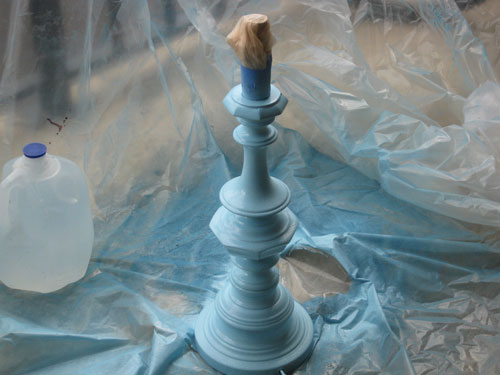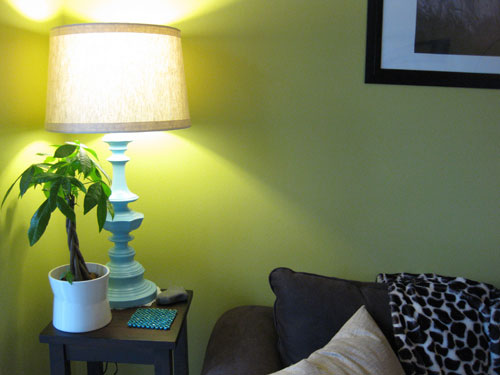 Isn't Laura's lighting makeover proof that style can come at any price? And we love that she took matters into her own hands and snagged something secondhand. Nice recycling job there Laura! You can read more about the process right here on her blog. And definitely tell her how much you love it right here. Yay for "locals" and spray paint.

&nbsp&nbsp&nbsp
***This giveaway is no longer accepting entries***
We first encountered this week's giveaway sponsor a few weeks back when browsing Richmond's Shops at 5807, which is collection of different local boutiques under one roof. MonkeyGrass caught our eye immediately thanks to their fun, colorful and stylish decor, candles, kids' stuff, etc. And that was before we even realized that all of their merch was green! Even better, eh?
So we're psyched that MonkeyGrass is generously offering up some of their personality-filled party goods to one fortunate reader. Just check out the eco-friendly party pack they've put together for us: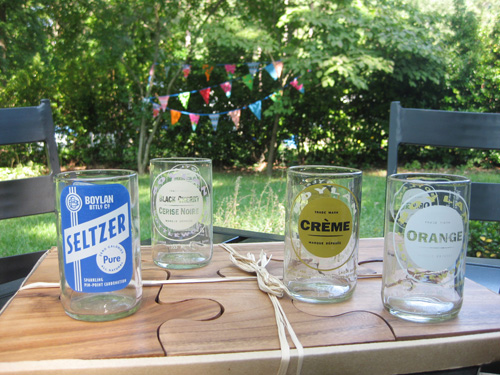 What you're seeing there in the foreground are a foursome of Pop Tumblers, made from recycled soda bottles. I (as a self-proclaimed soda junkie) have been eyeing these for a while so I'm majorly envious of this week's winner. But what is that they're sitting on you ask? Well…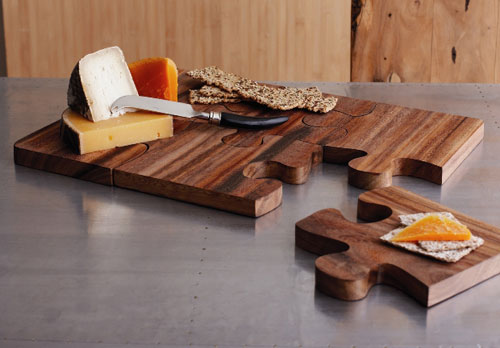 …it's a Puzzle Piece Serving Board that's made from sustainable wood. It can be kept together to serve a couple of friends who've stopped by for dinner, or be split apart to dish out for a variety of offerings on every surface you have available.
But wait there's more. You may have spotted that festive fabric banner off in the distance of the first photo…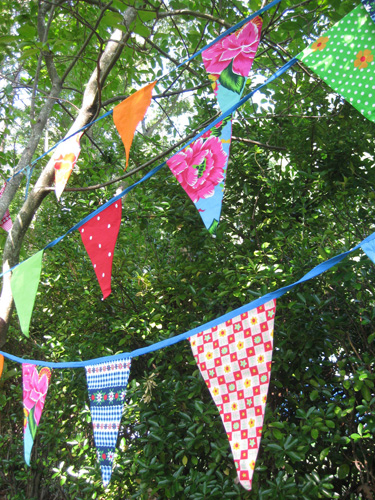 It's actually a colorful Cotton Flag Banner which is truly a genius invention since it's a reusable replacement for streamers, poster board & balloon decorations that are a lot more wasteful than a reusable one-size-fits-all party-in-a-pinnie. It's perfect for birthday parties, bridal showers, Mother's Day, a bachelor party… well, scratch that last one. Even so, we're sure our winner will find plenty of uses to break out this festive string o' flags and spare the local landfill a garbage bag full of disposable one-time-use stuff. We loved it so much that when MonkeyGrass generously offered up an extra banner for us that we couldn't resist! Anyway here's how to enter to snag the whole party pack:
PRIZE: One green party pack from MonkeyGrass including Pop Tumblers, a Puzzle Serving Board and a Cotton Flag Banner (total value of $114)
TO ENTER: Comment on this post with the words "PARTY ON" and…
BONUS QUESTION: Tell us one of your favorite party planning tips. Do you have a special host/hostess trick? Or a party game that always seems to be a hit? Or maybe even some brilliant idea you especially enjoyed as a guest somewhere else?
GIVEAWAY CLOSES: Wednesday, July 29th at 8pm EST
NUMBER OF WINNERS: One, Uno, Un… and thus exhausts my foreign language skills
PRIZE SHIPS: USA or Canada
THE USUAL: One entry per e-mail address is permitted. The winner(s) will be selected using random.org and announced on Saturday. Good luck!
Get more info on our freebies at our Giveaway FAQs page. Serving Board image courtesy of MonkeyGrass.
&nbsp&nbsp&nbsp