Archive for July, 2009
Sarah's law office is full of potential for a polished and professional space. Here's her letter:
Yay! I am so excited to have a "Young House Love" law office makeover. My office is a place where I would like clients to come and be impressed, and not say "this is obviously a young girl just out of law school." I'm looking for a traditional, sophisticated, elegant yet feminine office, that has a "library feeling" – one which I would be proud to bring a client into. The big desk, burgundy chairs, flooring and curtains must stay where they are, unfortunately. The white blinds can be taken out, the diplomas can be moved, and the printer stand can be relocated as well. While the chairs are a burgundy/wine color and the curtains have the burgundy/wine color and dark blue (to match some of the matting on the diplomas) I don't mind pops of color to bring some interest to the room. Three design issues I have been having are: (1) there is a window behind the hutch of the desk, the top of which sticks out – something I'd like to cover, (2) the big empty corner to the left of the desk needs something and (3) the walls to the left and to the right as you enter the room are bare. As for paint ideas, yes please. Oh and I've been considering adding crown molding and a fireplace. Thanks so much for all of your help! – Sarah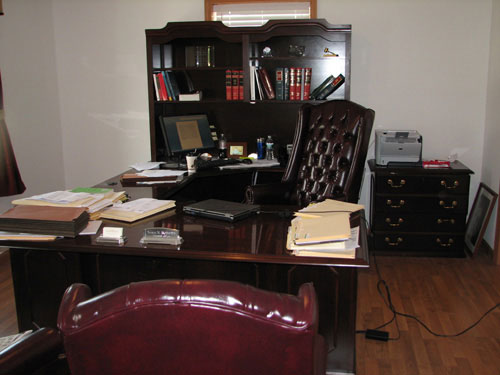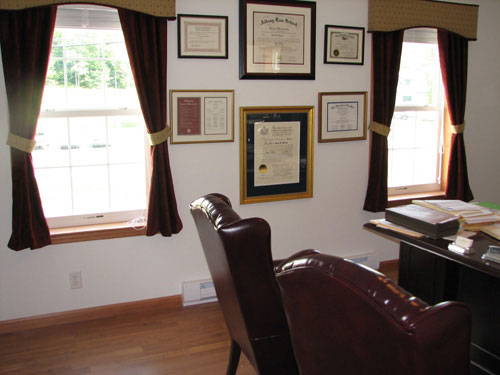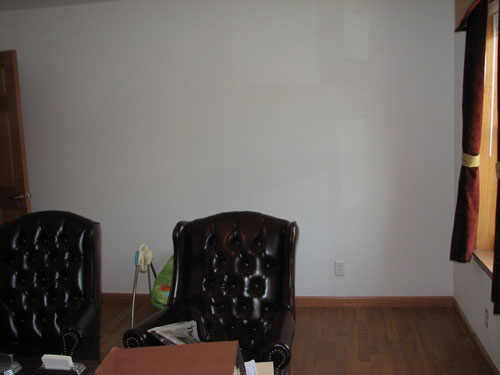 This office is primed for a major makeover. Here's the plan:
And now for the mood board breakdown.

Read the rest of this entry »
&nbsp&nbsp&nbsp
You guys already know that we like to keep all of our idle decorating objects in one cabinet that we lovingly refer to as the Decor Store for easy (and free) new arrangements whenever I get the urge: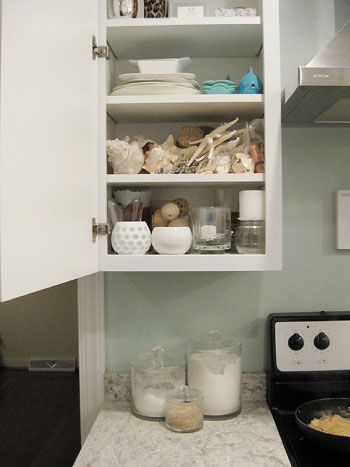 So when I started jonesing for a new look for our dining room table, I looked no further than our trusty little collection of already-on-hand options. Here's what the table looked like before the mini makeover (I did love having table-setting items right at arm's reach, I just wanted something new…):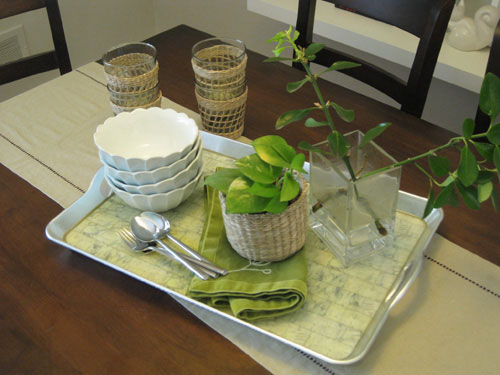 So I stashed the bowls and the silverware back in the kitchen and decided to keep the plant and the napkins for the green pops of color that they (literally) brought to the table. And I wasn't quite ready to retire my favorite woven & glass cups so those stuck around too. But what else could I introduce to keep things interesting and maybe even a little romantic? One peek into the accessory cabinet- er, Decor Store- had us seeing red. Wine that is. A giant ziplock bag of collected wine corks (thanks to friends and neighbors who save theirs up for us- no we didn't actually "earn" them all ourselves) caught my eye and a plan began to emerge. I love corks as vase filler, but did I have a larger vessel for the center of the table? Yessss, I quickly grabbed a cheap hurricane snagged a while back at Ikea and a pillar candle for the center. Here are my supplies all laid out before the super simple "assembly" process began: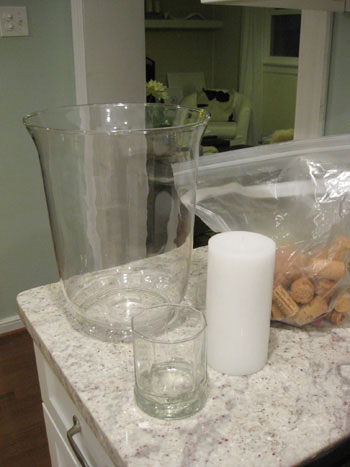 But what's that juice glass in front? Well, I introduced that after I tried putting the pillar candle and corks in the hurricane only to notice that it didn't look as full or as dramatic as I'd hoped. See, by placing the glass upside-down under the pillar candle it became a stand of sorts and raised the candle up a few inches…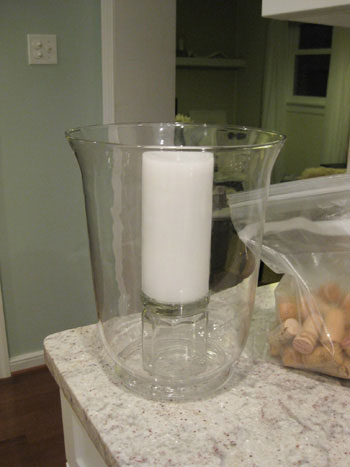 … it also took up a good amount of volume in the center of the hurricane so the next time I began to add the cork "vase filler" it instantly looked a lot more full. Score.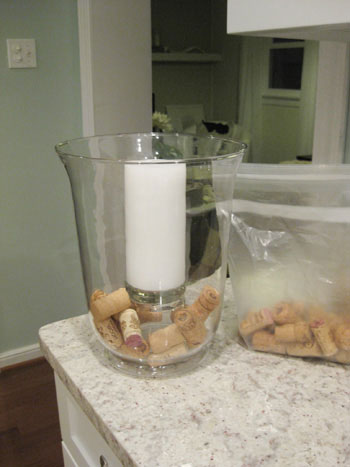 Here our new centerpiece bursting with corky goodness. Isn't it funny how some collected corks, a juice glass we had hanging around, a pillar candle and an old Ikea hurricane can come together like they were meant to be?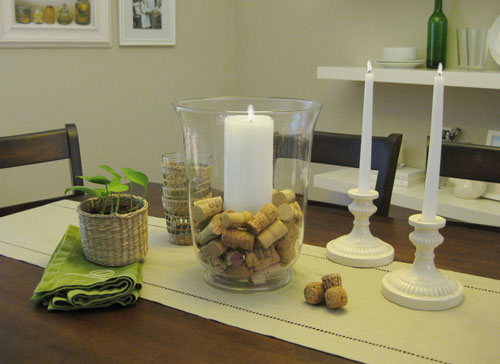 I love how the woven basket-turned planter works with the woven cups and the corks for a natural and rugged texture that really complements the more polished looking ceramic candlesticks and the gleaming glass hurricane.
And speaking of those candlesticks that we snatched up at Goodwill for $1 a few months ago, we actually have a little oldie-but-a-goody taper candle tip to share with anyone who is at their wits' end with a wobbly candle (because the last thing that you want a flaming stick to be is precarious). It's actually something that John's mom taught me in passing, and it has since come to the rescue many many times (and possibly saved Casa Petersik from going up in a cloud of smoke). Just light the wick of your candle a bit and drip some hot wax into the base of the candlestick. Then place your candle base in the candlestick (taking care that you're inserting it so it looks straight and even) and the hot wax will bond to the bottom of the candle to hold it in place like glue.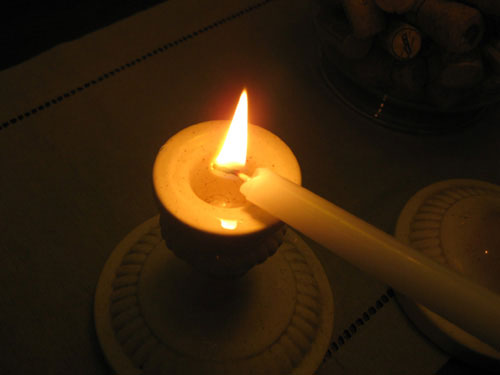 Ta-daaa. No more obsessive candle straightening necessary. And no more fears of your new cork centerpiece going up in a fiery blaze. Wax on, guys. Wax on. And you gotta love how candles and wine corks keep the dining table feeling inviting and even a little, dare we say it, romantic…
So that's our latest little mini makeover around these parts. Any favorite candle tips of your own? Any unusual vase filler suggestions or centerpiece solutions? We wanna know what's living it up on your dining table.
Update: One of our readers replicated our corks-&-candles-in-a-hurricane idea using skinny taper candles instead of a big fat pillar candle and did note that they burned down a lot faster and posed a potential fire hazard if they weren't being watched (since corks are certainly a flammable material if the flame burns down to that level). We definitely recommend using a large slow-burning pillar candle set about eight inches above the corks and never leaving it unattended. Safety first!
&nbsp&nbsp&nbsp