Susie's living and dining room is bursting with potential. Here's her letter:
My sweet husband got me a mood board for Mother's Day! I love your style and I'm always trying to channel my inner Young House Love but I need help with my living/dining room. I like different styles (everything from shabby chic to contemporary to glam to traditional) and I'm very indecisive. I would like the living room to be more open to the dining room area and don't like that the loveseat shuts off the dining room. The windows need treatments, we need a coffee table or maybe an ottoman that could double for extra seating and side tables. The fireplace is hideous so any ideas of how we can spruce it up would be great. The things that have to stay in the room are the dining light which is new, the dining table (it's never been our fav but we don't have the budget to replace it- what can we do?), the wine rack, the antique slot machine, and the buffet (the wall in the living room, on either side of the fireplace, is the only wall that it will fit on). Everything else can go. We'd like to keep the walls tan and when it comes to accent colors we love browns/neutrals, oranges, and whites (I dislike red). Thanks so much!! – Susie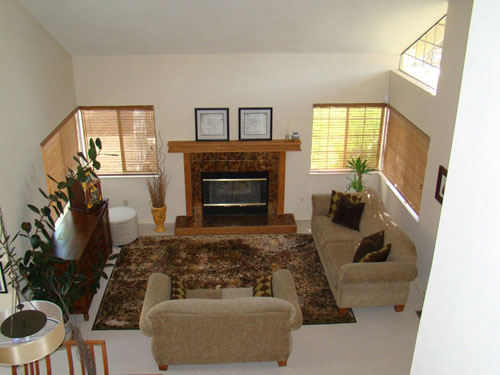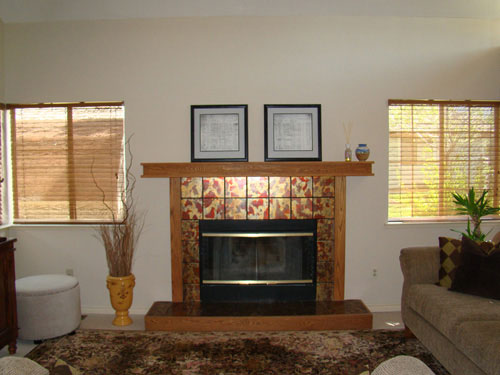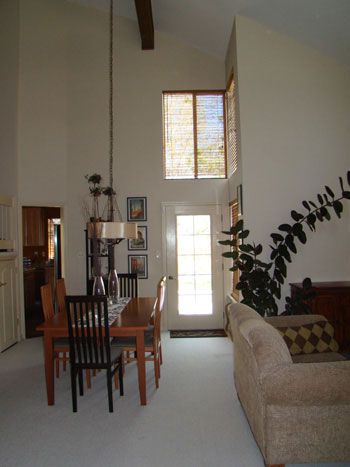 This space is primed for a major makeover. Here's the plan:
And now for the mood board breakdown.
1. Our color scheme was inspired by Susie's love of neutral tones (browns, tans, creams) mixed and rich orange hues- and we even brought in a dash of slate blue to keep things interesting and balance all that warm with a splash of cool.
2. Susie mentioned that she didn't like how the loveseat cuts off the living space from the dining area, so to make it feel more open while also allowing for two more seated guests, we think replacing the loveseat with two of these great chocolate brown chairs (and an airy woven side table in between 'em) will make both spaces feel more open. Plus the chairs swivel so guests can face the fire, the window, the couch, or even the dining area- and they look just as lovely from the back so it'll feel less like you're staring at the back of a loveseat from the dining area.
3. Two of these gorgeous ceramic lamps (which are dead ringers for pricier Crate & Barrel ones) on the buffet will really add ambiance and make things look more polished- and they tie right into our cream and tan and orange scheme.
4. As for the fireplace, we'd love to see this great round mirror hung above the fireplace (so the bottom of the mirror is about 6″ from the top of the mantel) to add sinewy curves and reflect lots of light for an airy and open feeling. The tones of the metal detailing tie in perfectly with our scheme and even the shape mimics the swivel chairs and the side table we'll be adding for subtle cohesion that will create an inviting atmosphere.
And speaking of the fireplace, since Susie dislikes the tilework and the wood tones don't complement her existing buffet, we'd actually suggest priming and painting both the wood mantel and the tile a crisp white tone and then adding a few thin coats of water based polyurethane for a pretty durable effect (we did this three years ago to our fireplace hearth in the living room and even though it occasionally gets walked on it has held up well). Of course this is just a budget-friendly quick-fix, and maybe in a few years Susie can replace it with tan tumbled travertine for a totally finished effect and long-term duribility.
5. Replacing the doormats near the front door and in the dining room with these woven ones from Ikea (they're a steal!) will add more of that tan on tan texture and cohesion to the space. And speaking of the dining room, when it comes to sprucing up the table as Susie requested, we would suggest using a gel stain to darken both the table and chairs so they match the buffet- they'll look like a whole new set! Then adding this woven runner with a slate blue vase in the center of the table will finish of the dining room in a snap.
6. White curtains will instantly lighten and brighten both areas while adding breezy style and inviting atmosphere in a snap (and on the cheap). These Ikea curtains panels are the very ones that we use in our house, and we'd love to see them hung high and wide above the corner windows (we'd love three panels per side, one on the outside of each window and one down the center of the wall crack where the windows meet). We'd also love to mimic that look in the corner of the dining room where there's a glass door next to a window (again using three panels- one on each side and one along the wall crack) to create a cohesive and soft feeling while adding billowy style to spare.
7. Here's the lovely woven side table (that bears a striking resemblance to a pricier Pottery Barn version) that we'd love to see between the two swivel chairs that will replace the loveseat in the living area. The texture will play off of everything from Susie's existing blinds to the table runner and even the Ikea doormats while creating a layered and lovely effect.
8. Susie requested an ottoman in the living room to serve as extra seating in a pinch and we love this cream tufted one that we found (on sale!). The soft ivory color will really pop with the new rug and the existing sofa and it could accommodate extra people at a party (and a tray of appetizers could also be placed right in the middle of it).
9. And speaking of placing things, if Susie and her hubby are ever relaxing on the sofa and want a place to put their drinks (since there will only be a woven side table between the two swivel chairs and a fabric ottoman) they might appreciate something solid. Which is why we jumped at the chance to add a console table behind the existing sofa for a place to display some decorative accessories (maybe some slate blue pottery, hardcover books, candlesticks, or vases) and rest a drink in a moment's notice. The icing on the cake is the fact that this piece is super on sale (marked down $600!) and appears to match their existing buffet perfectly.
10. These pillows are by far our favorite part of this mood board for the amazing pattern, texture and interesting color scheme that they'll bring to the entire room. An orange brown and blue honeycomb pillow will look lovely on each of the brown swivel chairs while two of the tan button-detailed ones will completely freshen up the existing sofa. Swoon.
11. And now for our piece de resistance. This amazing rug will instantly tie into all the texture and color that we have going on in this open space to create an intimate and inviting feeling that's both interesting and serene at the same time. We love the vine-y details and the colors couldn't be more perfect for the space. Plus the price tag is almost unbelievable for such a large wool rug!
So there you have it. A living and dining room full of textured and inviting style. We can't wait to see what you guys think!
Update: We sadly can no longer find the time to take on client commissioned mood boards (we now whip up general inspiration boards instead) but if we ever reinstate them we'll make a big announcement!
&nbsp
&nbsp&nbsp&nbsp

&nbsp

&nbsp
If you enjoyed this post, please leave a comment or subscribe to the feed and get future articles delivered to your feed reader.
14 Comments
Updated due to reader feedback: Respectful, constructive disagreement is welcome, but comments made to provoke others, be malicious, or distract from the purpose of this site will be removed.