Archive for May, 2009
So did you guys think we spent the long weekend relaxing and eating burgers? Do you know us at all? Ok, so we did do our fair share of grillin' out, but we also found the time to transform the back patio. Yep, we mentioned that we longed for a welcoming and functional outdoor room to grill stuff up, chillax with a good book (or glossy shelter mag) and whip up some melty s'mores… and we just couldn't wait one minute longer to make our backyard dream a ready-for-summer reality. Here's what our back patio looked like before Memorial Day weekend- all lonely except for an old Target table and chair set purchased about two years ago.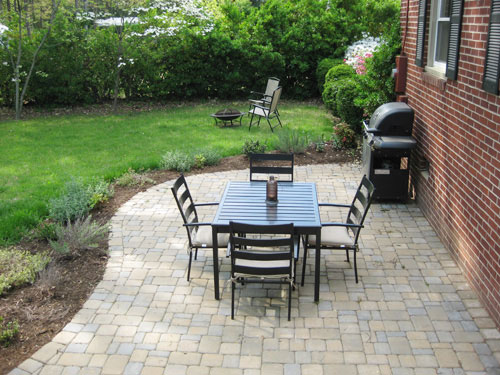 And here's what it looked like Saturday morning after a bit of assembling, potting, and even a quick fire-pit-building project. We happily got 'er done in a few hours so we had the rest of the long weekend to enjoy our newest room. Here's how it all went down.
We actually ordered these two Walmart lounge chairs (which appear to be sold out now) a few months back with birthday money from our families. We were dying for a place to read, watch Burger run around, and maybe even do some outdoor blog stuff (and a friend with two lounge chairs totally inspired us to take the plunge). But although they were sadly on backorder for what seemed like forever, these matching loungers ended up being well worth the wait (and their $277 price tag for two). In fact we were so excited about finally getting our mitts on them that John assembled 'em on Friday night at dusk- because neither of us could bear to wait another minute to enjoy them.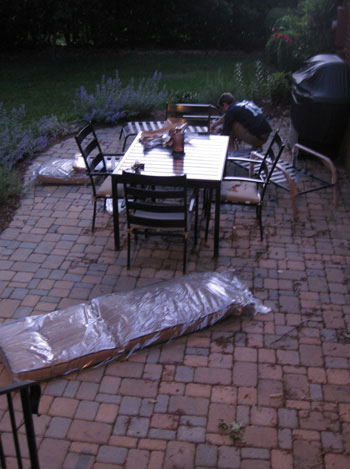 You think I'm kidding. Here I am taking one out for a spin that evening. In the dark. Yeah, we're nerds.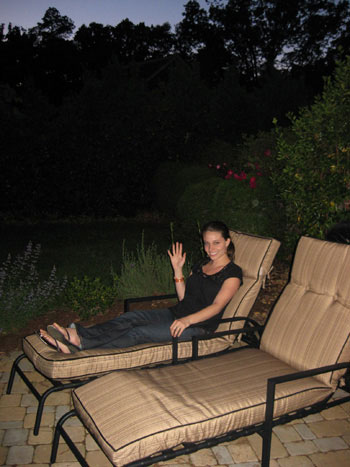 And of course we're loving our little firepit.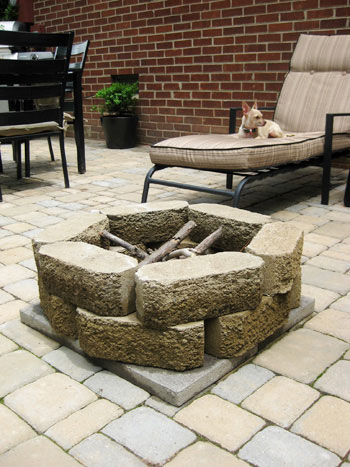 We also brought in two simple black planters that we purchased at Ikea a few months back and popped some $6 boxwoods in 'em for a bit more life and color on our newly spruced patio. You'll also notice the green lumbar pillow (stolen from our porch makeover) on our lounge chair. We liked the pop of hue so much that we're thinking about bringing home two more for our lounge chairs so this little green guy can go back to his former home on the front porch.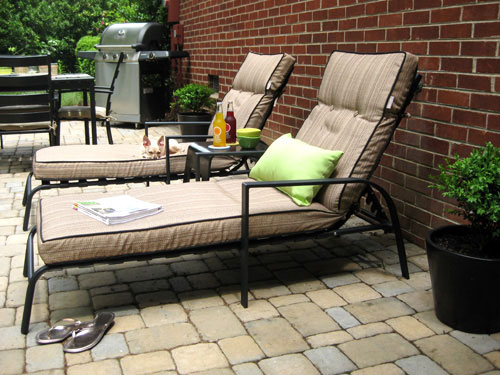 We already had our big-ish stainless steel grill (we actually purchased it for our backyard wedding where our dads grilled up grub for our guests) – but we found that we rarely used it since… probably because the rest of the patio left much to be desired. As a testiment to our new makeover, we've grilled up at least four meals in the past three days so we're extremely excited to be using it instead of spending years keeping it covered and never even cracking it open.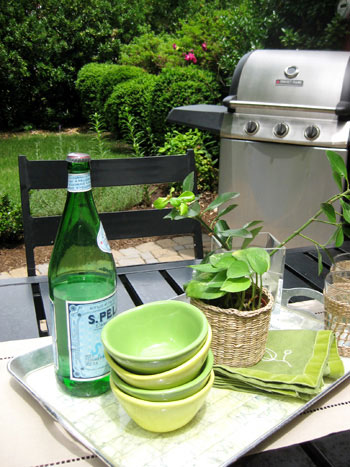 Here's another view of the brand-spankin-new set-up. We love that there's more than enough room to move around and that we were able to create a few different functions in one not-that-huge area. Making a space multitask is definitely one of our favorite ways to force ourselves to use it more frequently (it's why we moved our dining area into our hardly-ever-used living room and now we're in there all the time).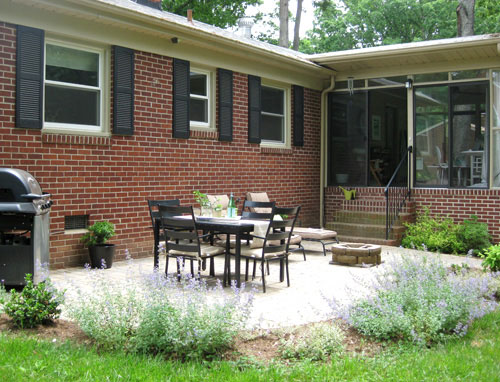 Of course Burger loves the new set up and has already claimed both lounge chairs as his (he switches chairs every twenty minutes or so for good measure).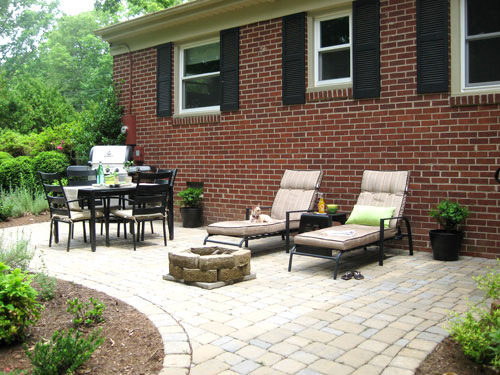 But every once in a while John and I actually get to steal them back and enjoy our lovely backyard with a book on our lap and an ice cold beverage on the "new" side table (an old Ikea stool in the garage got a coat of black exterior paint and a topcoat of outdoor poly). Life is good when you have the perfect little spot to drop a drink, a book or a snack.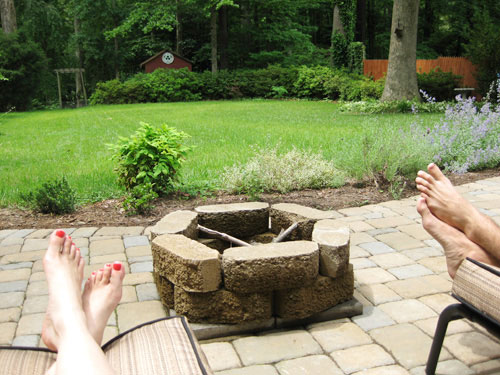 And if you're Burger, life is pretty good no matter where you are or what you're doing… but it's especially fabulous on those new lounge chairs. At least that's the story his eyes are telling in this photo.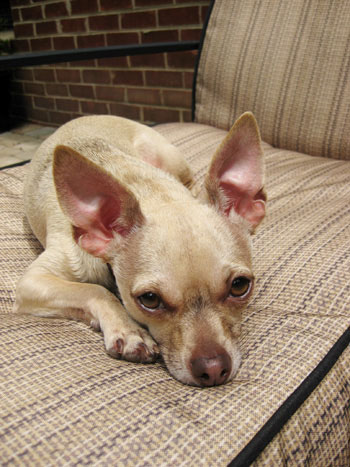 And speaking of the good life, we even got a chance to take our fire pit out for a spin yesterday night when we whipped up a few s'mores after a yummy dinner courtesy of – you guessed it- the grill.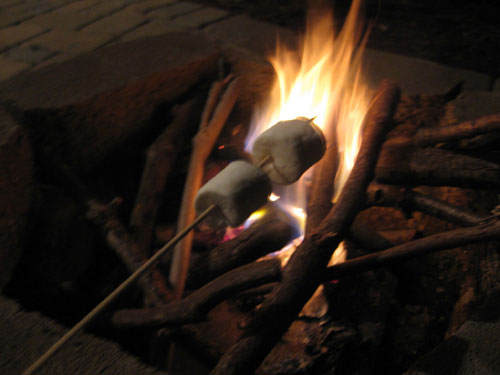 Is there anything better than a scorched marshmallow smooshed onto a hunk of chocolate and sandwiched in a honey graham cracker? I think not.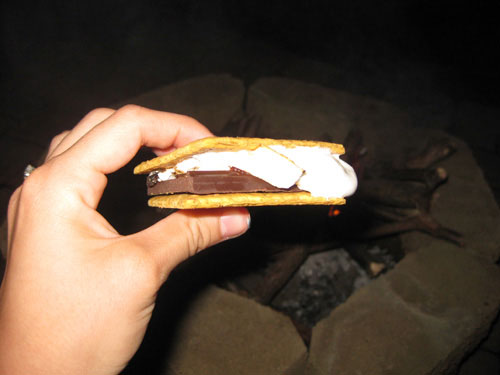 And apparently I'm not alone in that sentiment. Here's John loving his s'more to the max (as Burger lurks in the shadows).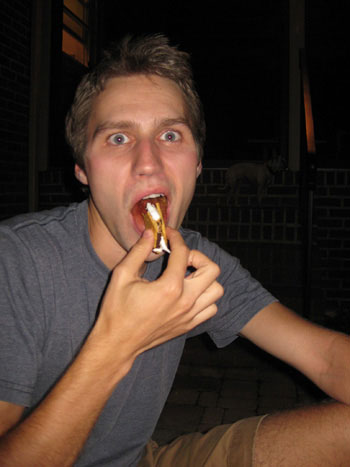 And since we know you guys are figure-heads, here's our fun little budget breakdown. Since our patio was a lot bigger than our front porch we figured it would run us well over $500 for the whole shebang, but we're super excited to report that we did it on a whole lot less (especially since the money that went towards the lounge chairs was a b-day gift from both of our families).
Lounge chair set: $277
Two black Ikea planters: $30
Two boxwoods for the planters: $12
Side table: repurposed Ikea stool (aka: free, but it was only $19 originally)
Grand Total: $319.00
So what did you guys do for your long weekend? Did you tackle any house projects? Did you flee your casa in an attempt to forget all the things on your to do list? Did you get to enjoy the miracle that is a s'more? Do tell.
***This giveaway is no longer accepting entries***
Who doesn't love candelight? The soft glow, the romantic mood, the fire hazard… wait, forget that last part. Well, you can literally forget about that last part thanks to the bright minds behind this week's giveaway from Smart Candle. Their flameless candles take the mess and worry out of setting the mood at your next dinner party, couple's night in or spooky séance (if you're into that sort of thing).
We were a smidge skeptical of these faux candles at first, but after receiving a set to take for a test-run, we were pleasantly surprised. The rechargeable LED light has an incredible way of flickering so randomly that you'd have almost no idea they weren't real. Plus, their tea-light size means you can drop them into just about any of your existing votive candle holders if you ever need a change from the modern, frosted glass cups that Smart Candle provides (or even some cool luminary bags to line your front walkway). They'll even look great in your windows during the holidays.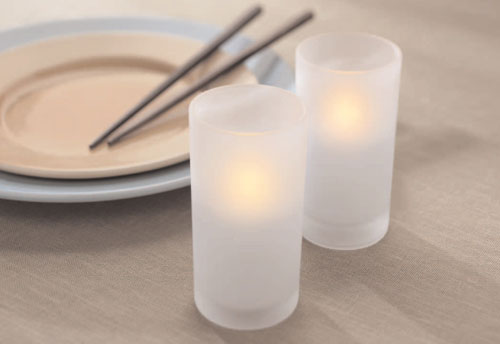 And the good news is that we've got TWO 4-pack gift sets up for grabs (each retailing at $52). To enter,  just comment on this post with the words "I'LL FAKE IT" by Wednesday, May 27 at 8pm EST. And while you're at it, tell us what other imitation items you happily rely on. Are you all about buying generic grocery store items? Do you gladly show off your faux-croc loafers? Do cover bands really get you going?
We'll select our two lucky winners using random.org and announce them later in the week. As usual we only accept one entry per e-mail address, but Smart Candle ships globally so everyone on the entire planet has a shot at the prize. Good luck…
Learn more about our freebies on our Giveaway FAQs page. Images courtesy of Smart Candle..
On May 25, 2006 Sherry and I officially became homeowners. Yup, it's been three whole years since we moved into our humble abode and we can't believe how time has flown. Despite all that's happened (renovations, redecorations, and even a backyard wedding), it seems too soon to be celebrating our third anniversary at this address.
In honor of our milestone, we thought we'd give you guys a look back at how we ended up here. Because as much as we think time passed incredibly quickly between then and now, wait 'til you hear how speedily our house hunting weekend – yes, one single solitary weekend – went. And we've peppered our timeline with some photos that we took during the first few looks at our home (FYI – all of our House Tour "before" photos are from our first walk-through or they day of our inspection).
February 25, 2006: Sherry and I ditch New York City and relocate to Richmond, VA in my parents' minivan (full of only a few essentials) in search of a slower pace. We happily move into a one-bedroom apartment to get a sense of the city before choosing a neighborhood to buy in (watch a video tour of that apartment full of free hand-me-downs). We figure we'll spend a year renting before taking the homeowner plunge.
March 18, 2006: I propose to Sherry on the top of a mountain after a 4 mile hike (Sherry always jokes that I really made her work for her ring). She says "yes" after a bit of speechless arm flapping. Our parents feel much better about the whole living together thing.
Mid-April 2006: Friends advise us that "it's never too soon" to start house hunting, just so we can get a sense of what's available and what we can afford. Sherry consults our bank to learn how much of a loan we'd be approved for… just in case.
Friday, April 21- 6pm: I come home from work to learn that Sherry has arranged for us to see a nearby house that fits our budget. We decide it'll be good house hunting practice. We hate the house, but love the agent and ask him to help us find other options (that's his backside below).
Saturday, April 22  – 8am: It's raining, but that doesn't slow us down. Armed with a bunch of listings, we begin driving around checking out neighborhoods to get a sense of what our money can buy (so we're better prepared when it comes time to "seriously" look in down the line).
11am: Don't like most of the drive-by options, but decide we should at least go into one for the experience. Our agent first gives us a tour of a recently renovated, two-bedroom. Neighborhood and location aren't the best for us, but the inside is nice and new. We tell our agent that we like it, but don't want to pay for all the renovation work that we could do ourselves (although we literally have zero experience). Agent suggests we see one other house which is a bit more of a "fixer-upper."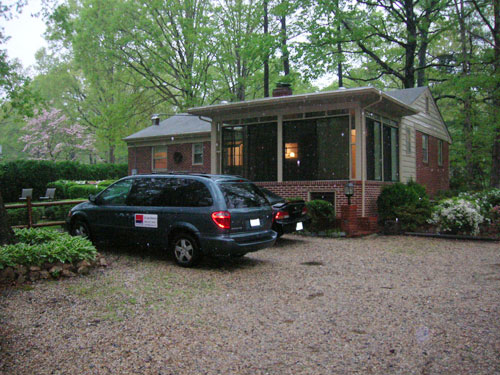 Noon: At other house. Had driven by it earlier, loved the location but could barely see the darn thing through all the trees. Another couple is already there touring it. First impression: very outdated, the exact antithesis of the previously renovated house we toured. Walk through the humble brick ranch, laughing/cringing at several features. Love the backyard and the price (which is over 30K lower than our budget- lots of room for renovations…). Start to realize the house has potential. But we're not seriously looking. Right?
1:30pm: Back to the apartment. Sherry professes her love for the house we just saw. She wants to put in an offer on it. I express my hesitation – we're just looking right? Sherry counters – it's only been on the market for two days. What if that other couple takes it? What if we never find anything else that's a great deal in a great location. How does paying rent for a year when we could be paying down a mortgage make sense? This continues for a while. I start to see her point.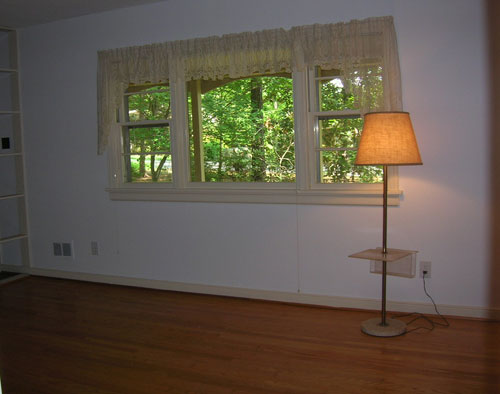 2:30pm: We call our agent and tell him we'd like to put an offer on the house. I pace nervously.
4pm: Agent arrives. We fill out paperwork. He leaves to submit it. My pacing continues. Sherry prefers to jump around giddily saying it's gonna be great. "We'll love that house and it'll love us back" she promises.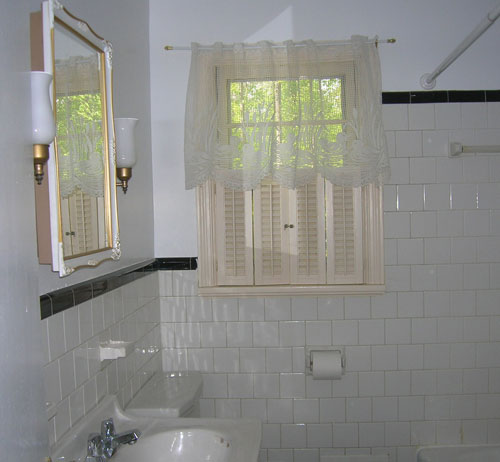 Sunday, April 23 – 10am: Agent calls. Offer is accepted. Mix of disbelief and excitement floods over us. Did we really just buy a house? On the very weekend we started "casually" looking around? Start calling family and try desperately to explain our "guess what? we got a house" news in a way that doesn't make us sound completely out of our minds…
Saturday, April 29th- 11am: Show my parents our future home. They love it so much they suggest that we get married in the expertly manicured backyard. We had already decided on an outdoor ceremony at a gorgeous stately tudor on a big grassy lawn, but this suggestion sticks in our heads and by the time we get the keys we're sold on a backyard wedding at our new house.
Thursday, May 25 – 4pm: House inspection goes off without a hitch. All the financial stuff checks out too. Meet attorney for the closing. Sign a bazillion pieces of paper. Get keys handed over to us. Sherry & John Petersik = homeowners. Do the (seated) happy dance in the car.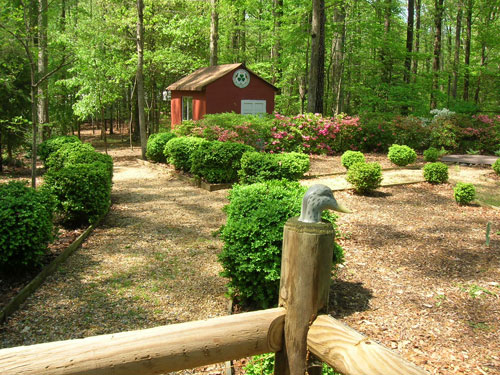 6pm: Like two crazy people, we begin shuttling whatever belongings fit in our tiny Nisaan Maxima from the apartment to our new house (we don't have the patience to wait until morning when we'll have a UHaul). We have officially begun "moving in." That night is spent on an air mattress in our soon-to-be master bedroom even though we have a perfectly serviceable bed back at the apartment. Why shouldn't we sleep in our new house?
Friday, May 26 – 9am: I leave for work. Sherry pushes all of her meetings and conference calls until next week and begins decorating (she claims she can't  sleep let alone work until she gets to repaint a few rooms). She hasn't stopped fixing things up since (1094 days and counting)- and I've gotten in on the demo/reno action quite a bit since then as well.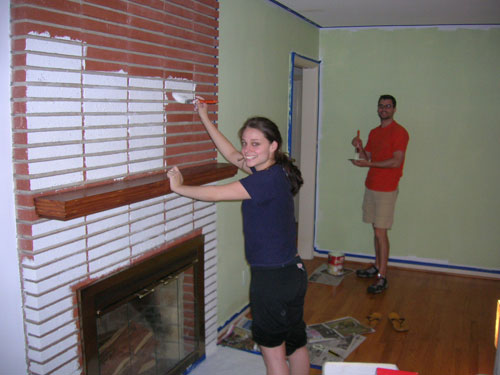 That's my cousin in the photo above helping Sherry paint our living room (the first time around). That was taken the Sunday after our closing (the only reason it wasn't on Saturday is because we were in New Jersey for a wedding that day, but we drove home that evening- through the night- just to get back to our new house and whip out our paint brushes the next morning).
So that's the story of how Casa Petersik came to be. We'd love to hear how you guys found your current homes. Was it a long process? Or a whirlwind like ours? Either way, we hope you've enjoyed celebrating your homeownership milestones as much as we have. Happy anniversary, house!