Archive for April, 2009
You know those stores where everything is fab. u. lous. but it's a bit (or a bit more than a bit) out of your price range? Well Ruth & Ollie (in Richmond's super fab Carytown area) is one of those places:
We absolutely adore this amazing store. And thanks to the concept of window shopping we can breeze through and not spend a cent. Instead of walking around lamenting the fact that we can't afford a thing, we like to window shop with a purpose: inspiration. There's no sense feeling sad about your champagne taste if you only have a beer budget or feeling inferior in a shop full of such beautiful out-of-reach things, so we like to seize the day and take note of some stunning high-end ideas that anyone can implement on an inexpensive item from Target or even a thrift store. The truth is that we can all live in a house that looks a bit more upscale and customized than straight-from-Target-and-Ikea, we just need a few ideas. Here's what really got us excited…
Steal This Idea #1: Paint the inside of your buffet/hutch/bookcase a contrasting color. We love the turquoise and white combo they have going on below- and especially love it paired with a bright yellow lamp. The best part is that any lamp can go sunshine yellow with a $4 can of spray paint and it only takes about an hour to paint the inside of your buffet or bookcase for a totally chic effect (for a long lasting result use one coat of oil-based primer followed by two coats of latex semi-gloss paint applied with a brush). Even the olive colored chair next to the buffet had us weak in the knees, and it's another perfect example of the power of a can of spray paint and a few hours.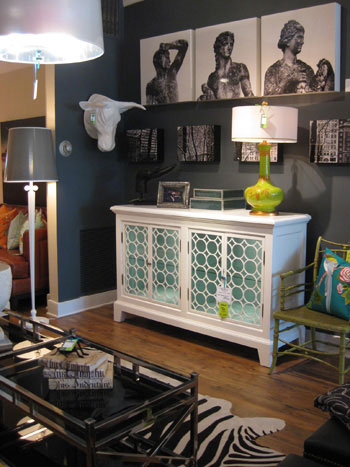 Steal This Idea #2: Upholstery is just as easy and affordable as paint, and we were so in love with these faux-cow print ottomans that we just had to stop and take note. Most padded cushions on a dining chair or stool can be easily screwed out from the bottom and recovered in a matter of minutes (here's a handy chair upholstery tutorial) and even benches and ottomans can be completely reinvented with just a yard of fabulous fabric. So drop by your local Joanne Fabrics (or other majorly affordable fabric store) but don't forget to check out a super high end fabric store as well (in Richmond we love Williams & Sherrill) because $20 a yard fabric is still a steal if you only need one yard of it to transform two ottomans or an oversized bench!
But maybe you think we're making it sound too easy. You might argue that places like Target and thrift stores don't have pieces with these lines and this fabulous detailing so it's all a futile effort. Well, to that we say: check out these $55 side tables we found at Target that would totally look like dead ringers for the ottomans above once the top was unscrewed and they were covered in a layer of batting and reupholstered with some fabulous faux-cow fabric. Score one for Team Cheap!
Steal This Idea #3: We also totally loved the three mirrors hung next to each other on the back wall above, because it reminded us that a bit of molding or wood trim can really make all the difference (especially when it's glued on in in an inspired pattern like the gorgeous geometric shapes seen above). And you don't need a bunch of power tools and a woodworking background to do it! An inexpensive hand saw, a miter box and a tube of Liquid Nails is probably all you'd really need to get 'er done in a few hours.
Steal This Idea #4: This set-up reminded us that a few punches of bright color can really make the room, especially when they're brought in with pillows, a throw, and a look-at-me accessory. A bright turqoise, coral, raspberry, yellow, tangerine, lime or even silver pillow from HomeGoods or TJ Maxx would already get your living room halfway there (and a coordinating throw tossed on the sofa will get you even closer). Then all you need is to troll a thrift store or a garage sale for the perfect sculpture, vase, ceramic animal, or metal object that you can spray paint in the same bright color (it'll only cost ya $4 for that custom look).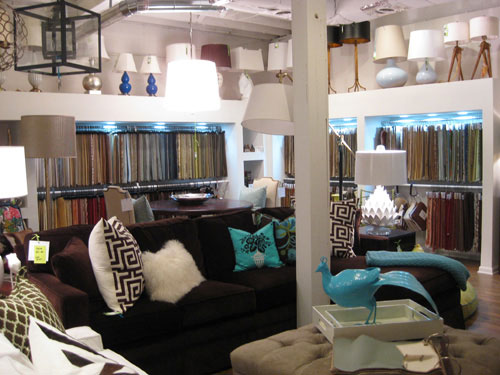 Steal This Idea #5: Sometimes one accessory can make the entire room and add so much posh style that it elevates every other item in the space. In this case, the starburst mirror below is the ultimate focal point, so keep an eye out for a large needs-a-little-work mirror (HomeGoods and TJ Maxx sell lots of terrible faux-bronze ones that would look oh so chic painted white or black). Heck, you can even keep your eyes peeled for a large work of art at a garage sale (you can always repaint the frame if it's in bad shape). The key is that you're going for one big & bold piece that will really make a statement. A lot of times people without much of a decorating budget are in the habit of adding tiny things as they go (a little frame here, a small vase there) but sometimes purchasing something huge (still on a budget mind you, just for a bit more than you'd spend on a small vase or a tiny picture frame) can really have a lot more impact on their space than a million little frames and vases ever could.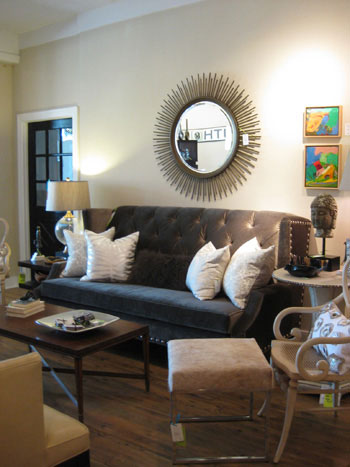 So there you have it. A virtual tour of one of Richmond's loveliest high-end furniture and accessory shops. Thanks for the inspiration Ruth & Ollie! We hope everyone is now more excited for their next trip to Target, TJ Maxx or the thrift store since anything really can look like a million bucks (sometimes for under twenty dollars worth of alterations). Gotta love that a coat of paint, new upholstery, or even a bit of wood trim can turn boring-but-in-my-budget pieces into ooh-la-la-look-at-that-lovely-ottoman/chair/buffet/mirror/lamp/turquoise bird…
Have you guys used paint, upholstery, or wood trim to take something from average to amazing? Any plans to do it in the near future? Tell us all about it.
Jonesing for more awesome alterations? Check out this gorgeous mirror makeover by the über fabulous Katie over at Bower Power.
&nbsp&nbsp&nbsp
Oh happy day! The time has finally come to reveal our recent front porch makeover that we completed as part of the 48-Hour Challenge with Better Homes & Gardens and Home Depot. The task? Turn our snore of a front porch into a bellissimo outdoor space for relaxing with a $500 gift card to Home Depot and our wits. Here's a reminder of the booooooring blank slate of a before that we were working with: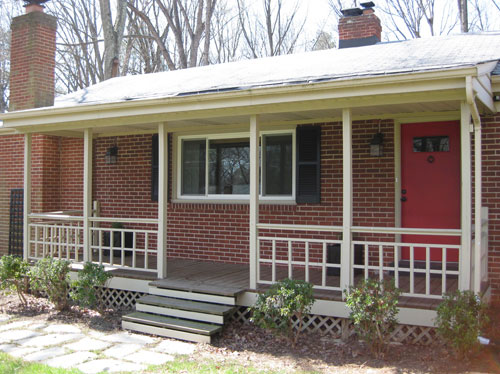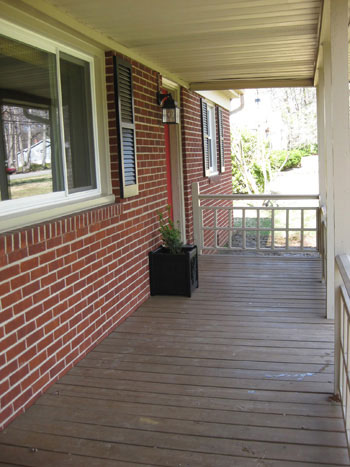 But lets not dwell on the past. It's time for the after pictures!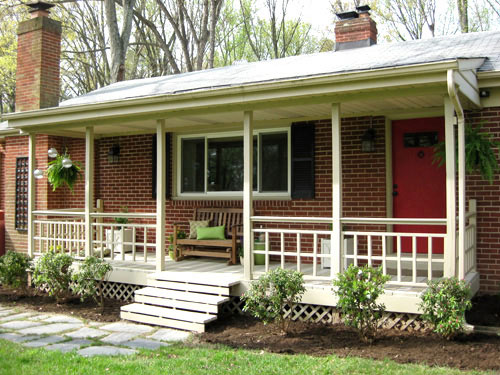 Our big porch makeover project can be broken down into four major categories: painting, building, sewing, and hanging. First we painted the old dark-planked porch with tan and cream stripes for an instant face lift (we really wanted our new "outside room" to feel light and airy to match more of what we have going on inside). We even used an extra bit of cream paint to lighten up our old black square planters (we actually got them at Home Depot right before the challenge and painted them black- d'oh!).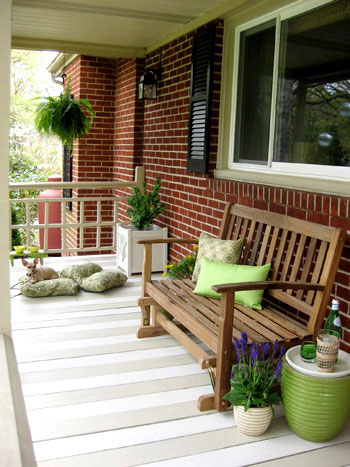 Then we assembled our glider bench and made a totally workable little side table with a large planter and a terra cotta saucer that we sealed, painted and turned into a tabletop. Now there's a spot for a book, a little drinky-drink, or even a plate full of bbq.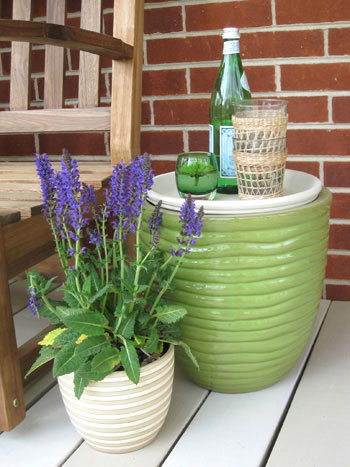 We also purchased a sweet green paisley lounge chair cushion… only to take a scissors to it. Cutting it in half and resewing each piece back up created two all-weather floor pillows. And you know what floor pillows mean to Burger, right?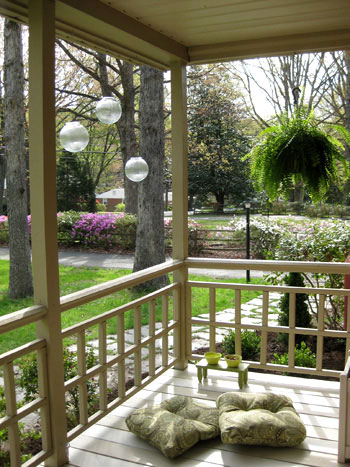 A perfect place to unwind after a hard day of chasing bugs. Look at the sheer bliss on his little dog face. He LOVES his new puppy lounge and sits staring at the front door in the living room until we let him out to play- er, bask.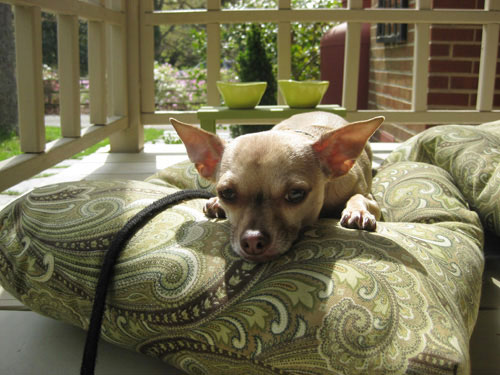 You might notice the leash on Burger in the pic (although I don't know how you could see anything at all beyond his adorable face). Well, we couldn't very well allow our precious pooch to roam free like we do in the fenced-in backyard, so we devised a way for him to have full range of the porch without being able to take off after a squirrel and dash into the road. For just $2 we snagged a hook and a carabiner which we used to create a little leash-holding-apparatus for added peace of mind. And he doesn't seem to mind a bit! Safety note: we use an extra long leash so Burger has full range of the porch and can even go down the stairs and into the yard (so he can't hang off and get strangled). We also never leave him outside unsupervised (we like to have him on his leash even when we're out there in case he gets spooked and bolts for the street). We do not advise recreating this hook setup if you plan to leave your pet unattended at any time!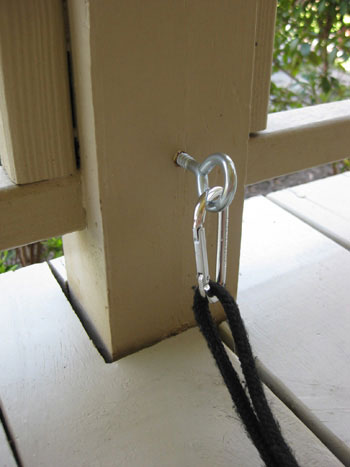 Maybe it's because we also made a small food and water station for him with a piece of wood, some wood glue, and four molding pieces that we reimagined as legs. Painting it green made it fit right in, and Burger loves grabbing a snack or a sip whenever the mood strikes. What more could a dog want?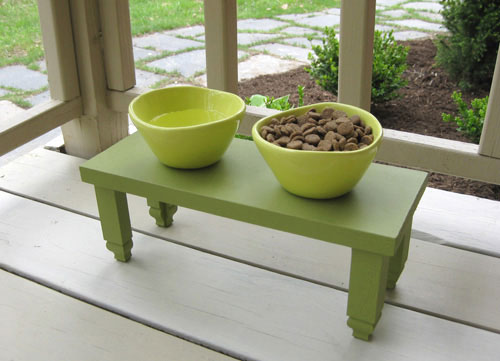 We also wanted to add more greenery and texture without breaking the bank. Two feathery hanging ferns (for just $9 a pop) created even more of the "outdoor room" effect by serving as abstract dividers so you feel enveloped on the front porch, even though they don't really obscure any of the view.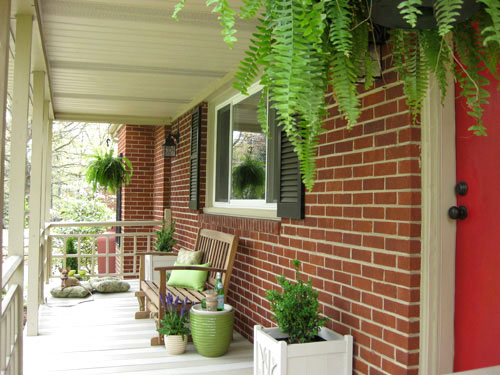 We also snagged a tan doormat that works well with the tone on tone stripes that we painted as well as our cheery red door.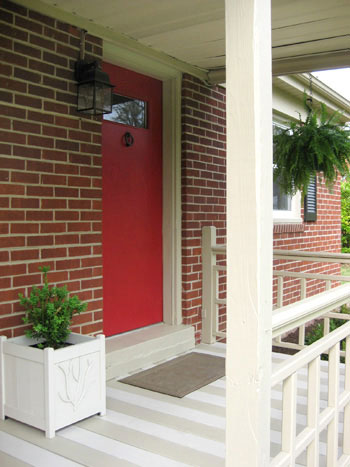 The mat and the bench coincidentally had extremely similar coloring, which injects a nice bit of balance and cohesion to the whole space (gotta love happy accidents).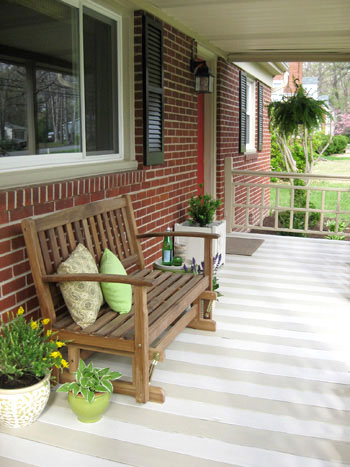 We also seized the opportunity to bring in more green and cream planters to flank the bench and a few plush outdoor pillows for that sit-and-stay-a-while vibe. Oh and see that pillow with the cream and green medallion detail? That baby was just $6 on clearance. Gotta love Home Depot!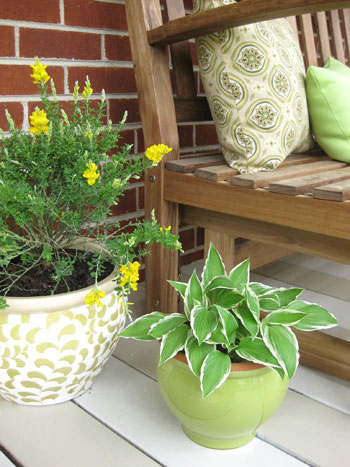 For a bit of interest and ambiance (and because we still had a few bucks burning a hole in our pocket) we created hanging candle holders with inexpensive bulb covers from the lighting department and some wire (we were all about trolling every aisle for ideas).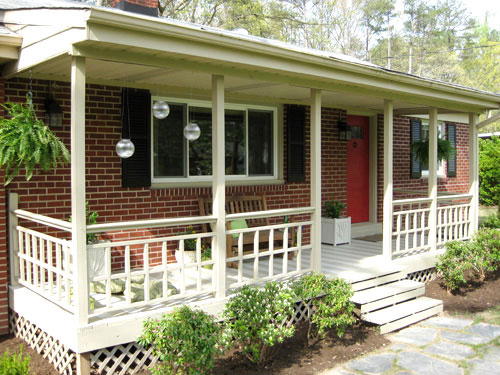 We intentionally picked thick durable ribbed glass so they'll hold up outside (we've already had a few torrential rains and we're happy to report that they're doing just fine).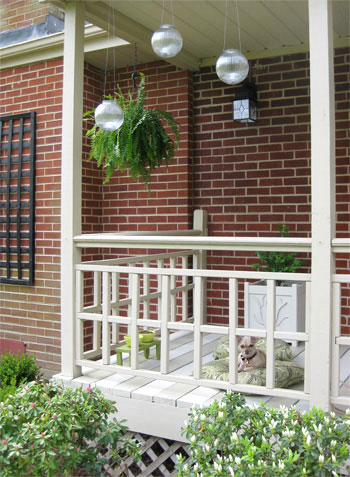 Here they are doing their thing in the dark. Ooooh. Ahhh.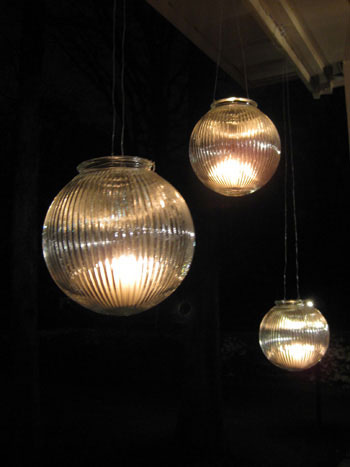 As the sun sets slowly and the stars come out, so ends the big porch project reveal. Of course we'll be back with step-by-step tutorials for every project (from the pooch food & water station to our striped porch painting process). Stay tuned…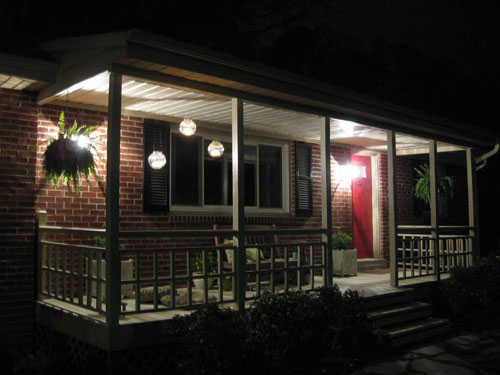 But wait! There's still the budget to attend to. Here's an approximated breakdown for ya:
Glider Bench: $200
Porch & Floor Paint: $45
Planter-Turned-Side-Table: $40
Other Planters & Plants To Flank Bench: $80
Bench Pillows: two for $25
Lounge Cushion Converted To Two Floor Pillows: $25
Dog Feeding Station: $10
Burger's Leash Hook: $2
Hanging Candle Holders: three for $20
Hanging Ferns: two for $18
Doormat: $15
Misc. Supplies (paint brushes, hanging hooks, etc): $18
Grand Total: $498
Words can't even express how happy we feel every time we step out the front door (which has been happening quite a lot these days, rain or shine). Thanks so much to Home Depot and BHG for this amazing challenge. Air kisses all around!
Oh and don't forget to head over to BHG.com to check out our reveal pics and details as well as the fabulous transformations that the other four challengers drummed up!
&nbsp&nbsp&nbsp