Archive for April, 2009
Diane's living/dining room is bursting with boundless potential. Here's her letter:
I came across your website last year and just got around to signing up for some design help. What convinced me is reading that you both lived in NYC – so you know what it's like to live in a small apartment! So here's my living room. Did I mention that it is also my dining room? The hard part is that although it's a good size, it's been hard for me to figure out the perfect layout since there is a lot of unusable space — 2 doors into the room (from foyer and also french doors into kitchen/dining alcove), a wall with windows and a heater in front of them and then the wall with with fireplace and built-in bookcases. My style is traditional with a modern flair – I really like the things you've done in your house. I should mention that I'm in my early 40's, so I don't want anything too young looking and I don't mind spending a bit more money to get some quality pieces. I just bought the couch, the mirror and the pictures (although the mirror and pictures can be used elsewhere and the lamp will be going in my bedroom). I love geometric shapes. I'm open to color/paint suggestions, but would like to keep it somewhat muted vs. bright. Also, please excuse the mess – wow, in person I never realized what a storage facility this place is. I'm cleaning up, RIGHT NOW. Thanks and have a great weekend. -Diane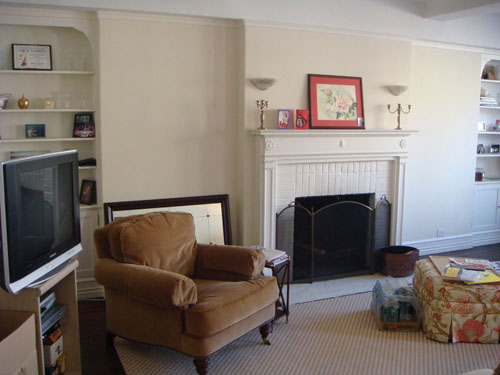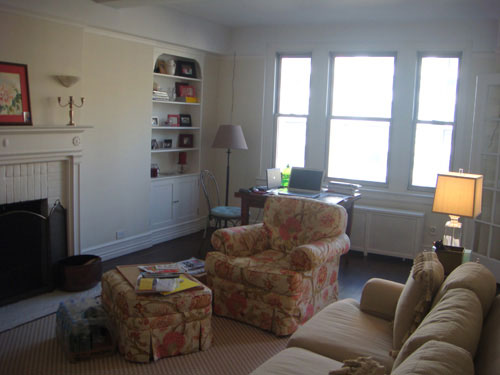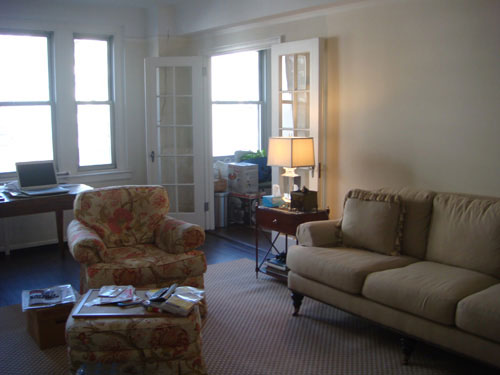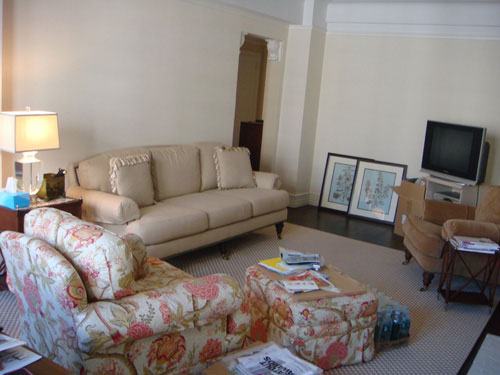 This multitasking space is primed for a major makeover. Here's the plan:
And now for the mood board breakdown.

Read the rest of this entry »
&nbsp&nbsp&nbsp
***This giveaway is no longer accepting entries***
People sometimes question the purpose of Twitter, but when it helps us find great giveaways it certainly earns another point in our book. So imagine our delight when Fresh Leaf Designs tweeted us about giving away their signature Cushion Corset pillows to one of our lucky readers.
Okay, so it was actually a mix of delight and confusion. After all, what's a cushion corset anyway? It's actually a very smart and stylish solution to dressing up a plain ol' pillow. Just like the name indicates, the corset (i.e. a band of bold fabric) wraps around the pillow and ties in the back creating a punchy accent pillow that, if your mood changes, can easily be "re-dressed" in another corset for a completely new look. Easy, right?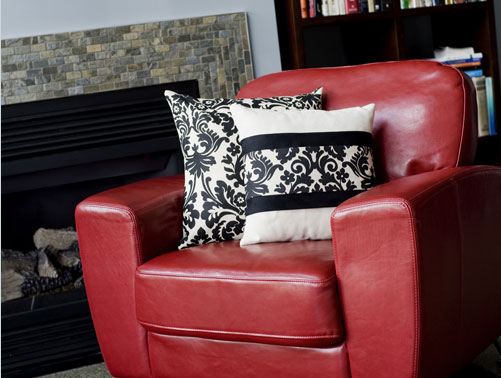 And as you can see from these pictures, Fresh Leaf Designs also sells complimentary throw pillows in coordinating fabrics to help bring even more color to your couch, chair or bed.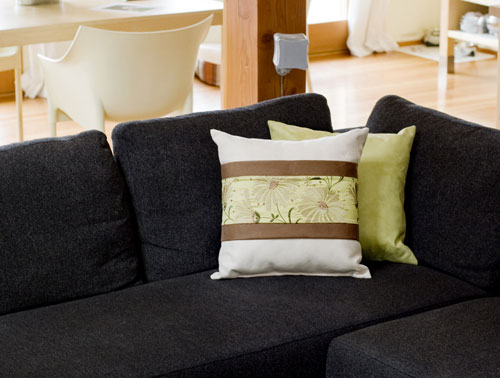 So if you wanna snag a set of Fresh Leaf's great designs, just comment on this post with the words "IT'S A CINCH" by Wednesday, April 29th at 8pm EST. And while you're at it, tell us your easiest trick for dressing up your house in a flash (ex: fresh flowers? a quick window cleaning? a bowl of fruit on the table? simply making the bed?).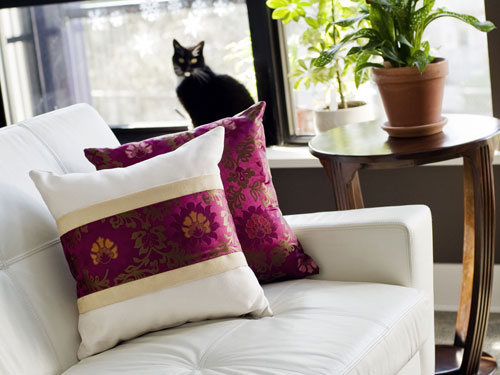 One winner will be randomly selected to receive their choice of the two pillow sets shown in this post. This giveaway's open to all of our international readers as well as everyone in the good ol' US of A. Please limit one entry per e-mail address. Good luck…
Got questions about this freebie? Learn more on our Giveaway FAQs page. Images courtesy of Fresh Leaf Designs.
&nbsp&nbsp&nbsp