Archive for April, 2009
Spring has sprung and everyone seems to be requesting soft blue touches when it comes to mood board makeovers (it's certainly a gender neutral color that feels serene… and more fun than builder beige)! Take Karin who asked for an elegant, comfortable and traditional living room to work with her existing blue and yellow sofa and her creamy tan walls. Here's her letter:
Hi Youngsters, this is our formal living room which we have not done anything with since we moved into our house almost a year ago. Our style is pretty traditional but I'd like it to be elegant and comfortable. I'm intimidated by the tall ceilings and large window in this room. We aren't up to the task of painting right now. The couch needs to stay (for budget purposes- it is creamy yellow and slate blue if you look closely). I don't know if it would fit better on the wall where it is or under the window. I think I'd like 2 chairs, a coffee table, and area rug but I need some direction (and I love your style). The end table can stay or go- either way. Also, there is no overhead lighting in here so we need lamps or something. As far as colors, I like anything that isn't too overwhelming. My husband has something against turquoise tones but we both like blue a lot. I would like the living and dining areas to feel cohesive. If you had a suggestion about an art piece or window treatment that would make the dining room tie into the living room I'd love to hear it. I'm so looking forward to seeing what you think we should do with our room! – Karin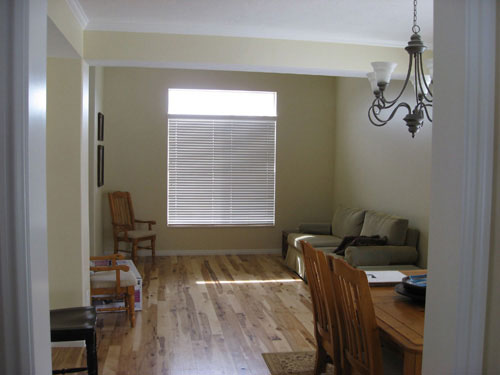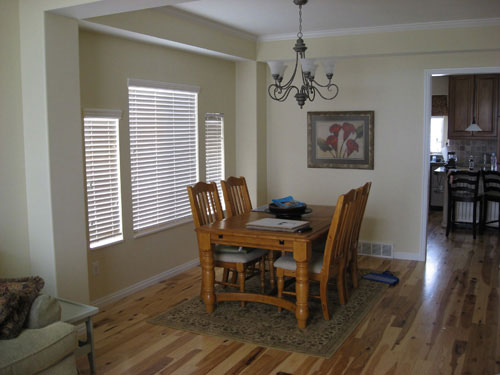 This space is definitely bursting with potential (just look at those gorgeous floors and that great picture window)! Here's the plan:
And now for the mood board breakdown.

Read the rest of this entry »
&nbsp&nbsp&nbsp
Have you guys been playing around with Behr's Paint Your Place tool as much as we have lately? Ever since we learned about it for our Behr paint giveaway, we've been trying all sorts of color combos. We've exhausted so many options in our own home (thanks to the fact that you can upload your own rooms) that we've now turned to painting some of Behr's inspiration photos for our own amusement (since we don't exactly have soaring ceilings and ten foot tall windows). We highly recommend it to anyone else living in a vertically challenged house.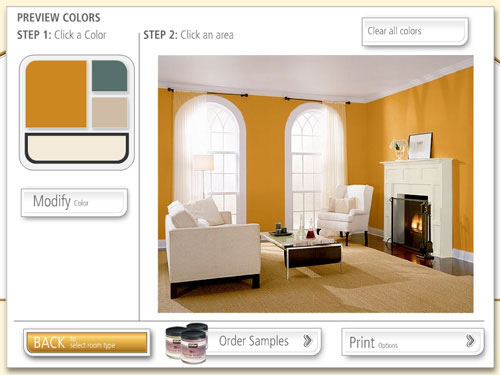 But enough about our paint fantasies, let's get on to the three randomly-selected winners who will each be receiving a free gallon of Behr paint (in the color and finish of their choosing) and a complimentary Behr fan deck. The lucky trio is… Gretchen, Kim and Chad.
Congrats you three! Interestingly enough, you're each in different stages of painting progress. Gretchen's about to move into a new home (i.e. blank canvas), Chad's facing a house with colorless walls and Kim's just a few rooms away from having her place complete. We can relate to each of those moments, so we're excited to hear what color you'll each be choosing. Hopefully you'll share some photos of your progress (nudge, nudge).
And as usual, there's more free stuff coming down the pipeline next week. So if you weren't among this week's lucky group of winners, just keep your chin up. You'll definitely work up an appetite for our next giveaway (yes, that's a hint)…
Full details about our freebies are available at our Giveaway FAQs. Screenshots courtesy of Behr.
&nbsp&nbsp&nbsp