Archive for March, 2009
When Anna sent us pictures of her family room redo, we couldn't wait to share the major makeover with you before-and-after-lovin' people. Here's her letter:
I thought you might like pictures of my 1960's step-down family room re-do. The best part was getting rid of the textured ceiling and replacing the carpeting with wide plank wood flooring. Because the flooring is engineered wood, it could be applied directly to a concrete slab. We couldn't commit to painting the fireplace, but we hoped that getting rid of the paneling and making a few other changes would lighten the room up enough to make it livable. The etageres next to the fireplace were found on your website and we bought them on clearance from JC Penney! Thanks! The pillows and rugs are from Target, and the white chair is a thrift store find that I spray painted and made a new chair pad for. I don't really like the coffee table, and hope to find a new one soon. Have a great day! – Anna
Here's the dark and dated before: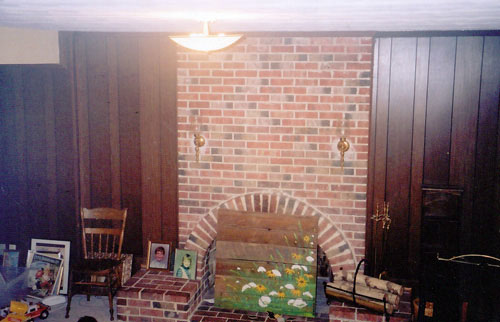 And the amazing after pics: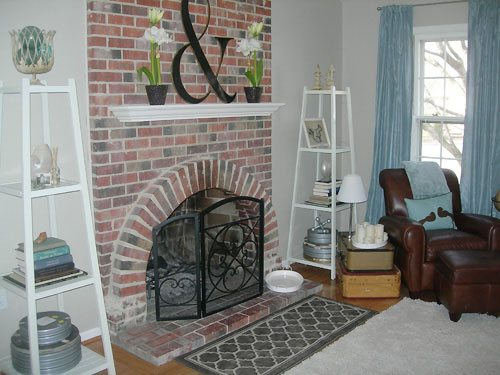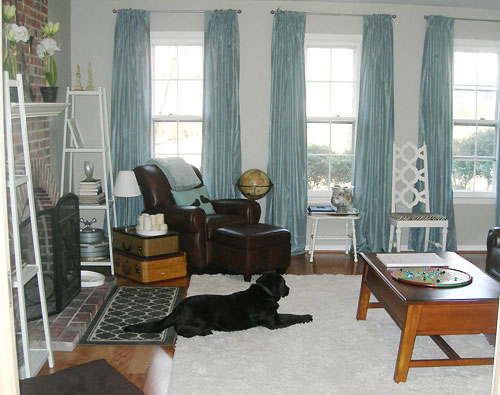 It's unbelievable that a chair that once looked like this…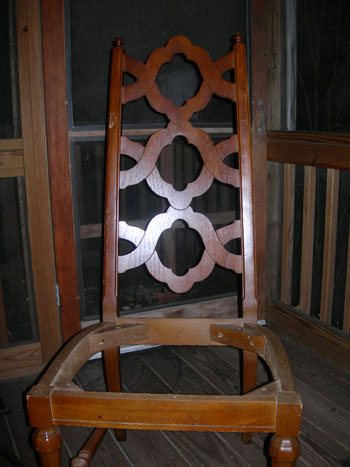 …was transformed into this showstopper with some spray paint and a new fabric cushion.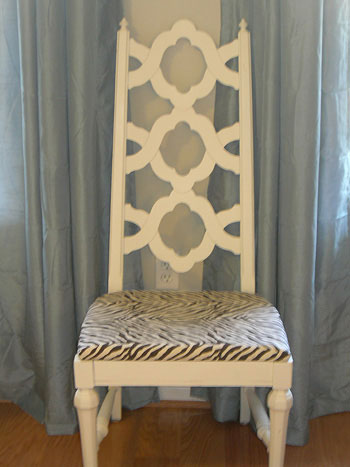 Deeeelicious. Thanks so much for the gorgeous pictures, Anna. Now everyone's gonna be on Craigslist trying to hunt down a quatrefoil chair like yours. Including me!
***This giveaway is no longer accepting entries***
I'm not even going to dance around this one: we've got a $200 Home Depot gift card up for grabs.
This week's stellar prize comes direct from Home Depot themselves as part of their "What's Your Pro Project" contest. But the good ol' HD isn't just asking about your upcoming heavy duty projects, they're looking to lend a hand too. Thanks to their 1,200 local Tool Rental Centers, you can borrow over 325 professional tools, from power and hand tools to yard, garden and electrical equipment. Sure beats buying that aerator you only use once a year.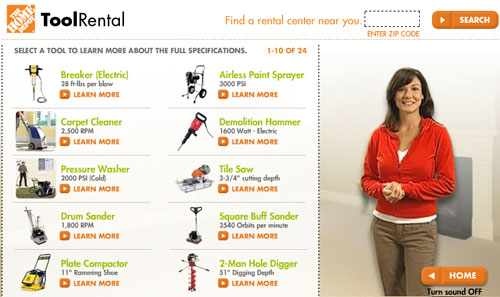 So if you want a shot at the $200 gift card, first check out their selection of tool rentals and then comment on this post with the phrase "GOTTA GET A [insert name of tool you'd most like to rent]." That's right, to be eligible for the prize you have to tell us what tool you'd consider renting AND what project you might tackle with it (sorry folks, we've gotta be sticklers on this one). For instance, I've already been daydreaming about renting a powerwasher to do some heavy duty clean-up on our front porch. Plus, who doesn't like cleaning and looking like a badass at the same time? If only I could powerwash the dishes…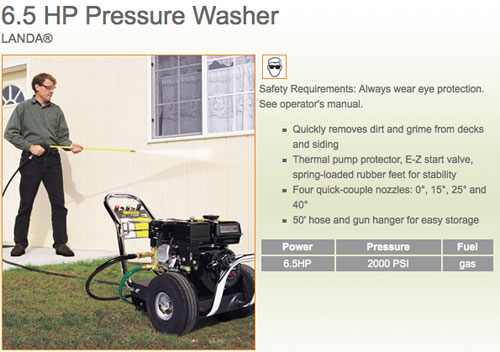 Alas, we're not eligible for the prize (soooooo jealous of you guys), but at least we get to hear about all your power tool fantasies and the pro projects you might be tackling soon. Entries will be accepted until Wednesday, March 25th at 8pm EST and the prize is only available to United States residents. The one, randomly selected winner will be announced later in the week. Good luck…
Any other questions you may have are answered in our Giveaway FAQs. Screen grabs courtesy of Home Depot Tool Rental Centers.
Last Thursday was my 27th birthday and of course my family and friends didn't fail to deliver. My sweet hubby whisked me out to a yummy Mediterranean restaurant (Cous Cous!) and the next morning we headed up to his parents' beach house in Delaware for a birthday weekend with my mom and stepdad along with the in-laws. Before I knew it we were loading present after present into the car and heading home on Sunday. Time flies when you're having fun (and ripping open some house-related birthday gifts). Here are the goods…
John's a big proponent of a birthday list, which is always a lot of fun to create. I only need to drop in on a few of my favorite online stores and before I know it I have a slew of links that he can send out to his family (and mine!). I actually spotted these faux topiaries a while back, and was super excited that they were still around to add to my little b-day list. Don't they look happy in the sunroom?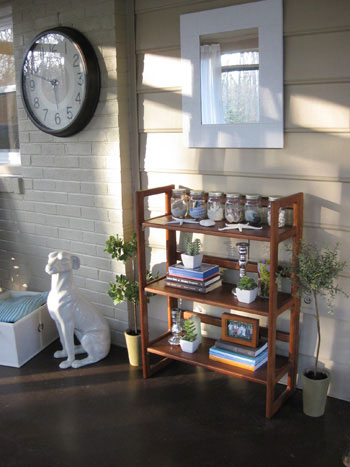 These fake rosemary and mint topiaries (or as I love to call them: fauxpiaries) add some green to our sunroom, which can't really sustain actual greenery year round since it gets freezing cold in the winter (it's not temperature controlled in there, and we've tried everything from boxwoods to evergreens with limited luck). I'm not really opposed to fake plants, as long as they look real and aren't super ostentatious (and there are real plants around too). Thankfully, these guys look just as good in person as they do online… which isn't always the case. Whew.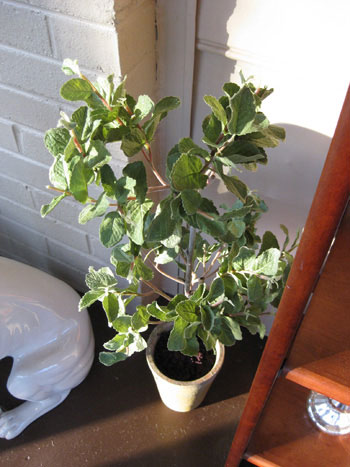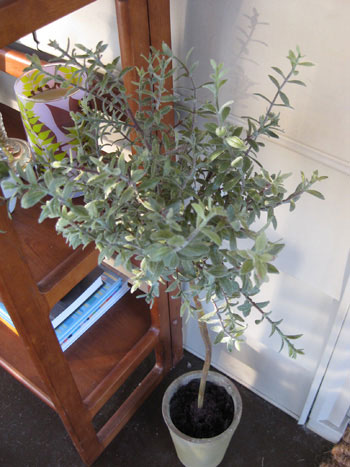 My mom also gave me the always-appreciated birthday check along with a little basket of goodies for the kitchen (organic parsley that you can grow right in the bag, gourmet popcorn and Barefoot Contessa brownies, mmmm).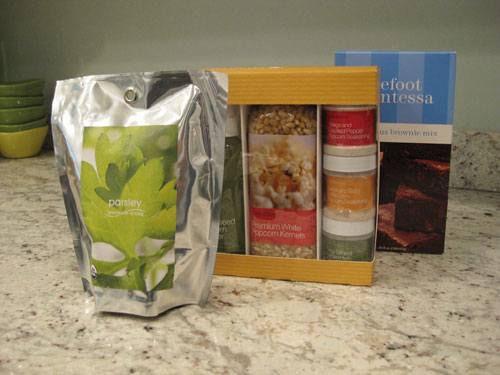 John's mom and dad also got me this awesome Pottery Barn wreath which I've had my eye on since December. And now that it has been marked down from $99 to $29, it's definitely a steal. I was so excited about it I even took it for a test run when we got home (and actually considered keeping it up year-round, but John managed to convince me that the pinecones made it a bit less all-season than I originally thought). Oh well, bringing it out every Christmas will make it feel like a super special occasion. Only nine more months and counting…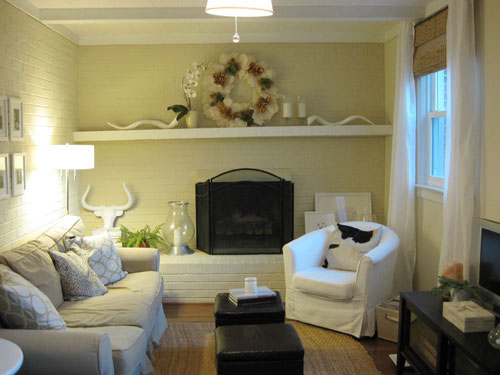 Here's a detail shot of those gorgeous bleached paper-thin leaves and the festive flowers, pinecones and pom poms (the pics on the PB website don't even do it justice- and it's huge!).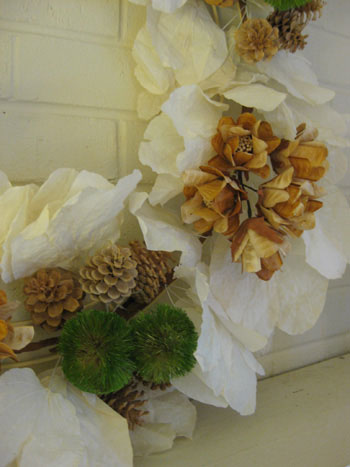 From John and his sister I got two of these amazing ZGallerie candle sconces that I've been sweating since the moment they were added to the site a few weeks ago. The graphic shape works with so many things that already reside in Casa Petersik- the outline mimics our yellow living room rug, and they even look fabulous with the patterned quilt in our guest bedroom: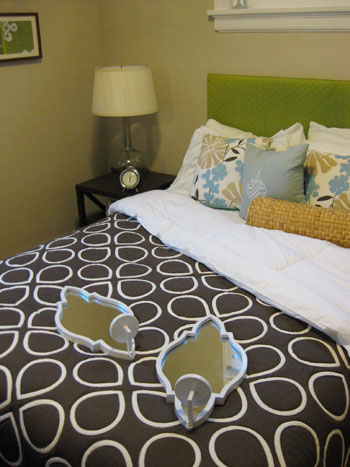 Ultimately we decided to hang them in the master suite so we could enjoy them a bit more regularly- and as luck would have it, they also look lovely with our blue and white duvet- who knew those babies would be so versatile?!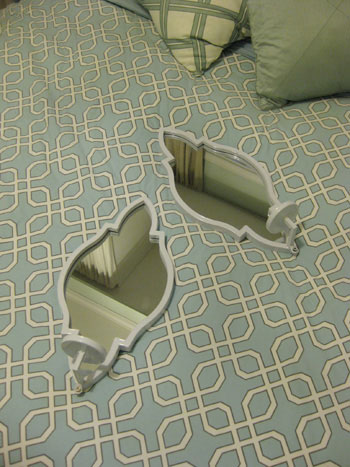 Here's the blank wall that was just crying out for attention (we believe in waiting to hang something that we really love instead of rushing into anything that we may regret- and a blank wall in a bedroom is actually surprisingly soothing):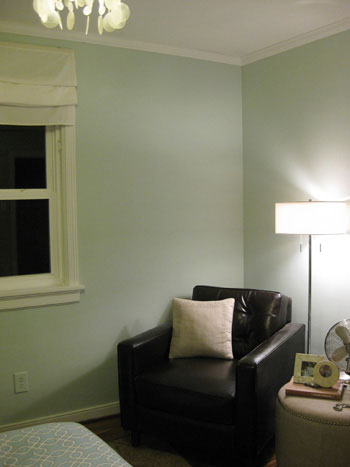 And here's the hubs hanging my birthday sconces while I stepped back and perfected the placement (it's definitely IMPERATIVE to stand back and take a good look at everything you're hanging while someone else holds it up to avoid about a million "oops holes" as we call 'em). We also used anchors to ensure that they're nice and secure (don't wanna mess around when there's an open flame involved).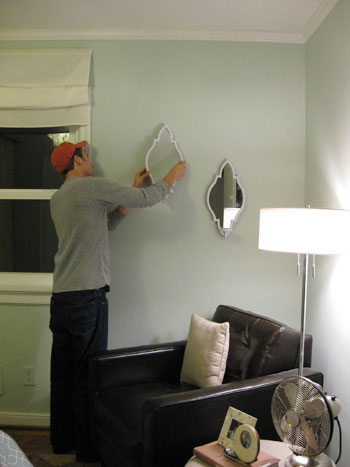 Here they are all purrrty on the wall. I love the staggered placement (John's idea- he's quite the decorator) and the way the mirrors bounce around the candlelight so liberally. Aren't birthdays the best?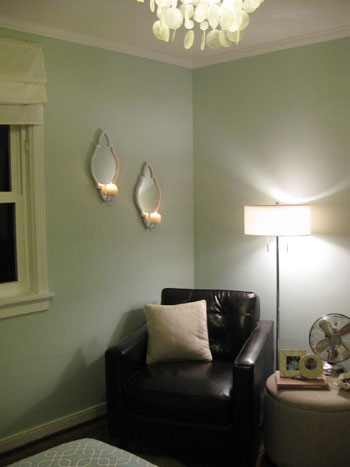 Here's the gratuitous detail shot. I think I'm in love…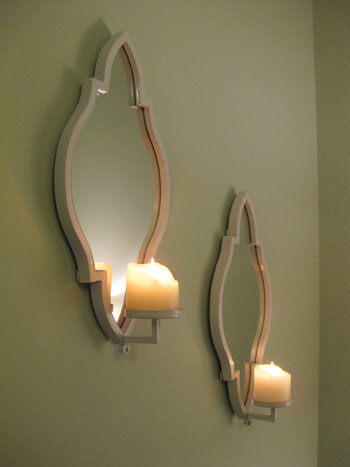 So that's the birthday present play by play. Thanks so much to my lovely friends and family (and especially my sweet hubby- who already made us those Barefoot Contessa brownies). Best birthday ever! And speaking of birthdays, what do you guys do when yours rolls around? Do you ever go for house-related items? Always ask for cold hard cash? Make a b-day list to send around? Do tell.