Archive for March, 2009
Wowza, you guys just about broke the bounds of our comment box in this latest giveaway from Home Depot. That poor little green speech bubble is only 3 digits wide and with nearly 1,000 entries we narrowly escaped blog template disaster. Phew.
And with all the projects you guys are planning that require paint sprayers, rototillers, tile saws, and more, it sounds like the 1,200 nationwide Home Depot Tool Rental Centers are gonna save this group a fair amount of money in tool purchases very soon. But one person isn't just going to save money, they're going to make some – to the tune of a $200 Home Depot gift card. And that lucky lady (and potential demolition hammer renter) is… Karen!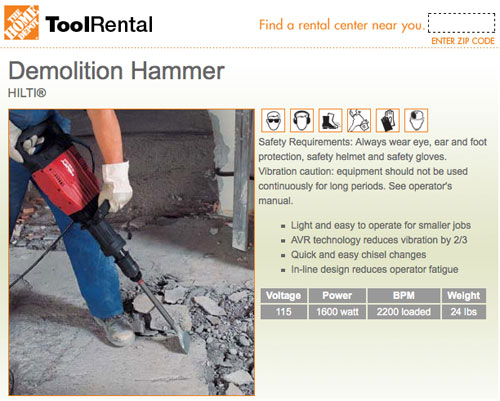 We can't wait to see what projects you tackle with your gift card, Karen. Count Sherry and me amongst the 900+ people coveting your prize. But that jealously doesn't have to last long. There's another giveaway in the hopper for Monday that'll have everyone seeing plenty of colors beyond envy green (yes, that's a clue). Stay tuned…
&nbsp&nbsp&nbsp
When Trudi tasked us with helping her create a fresh new dining zone and sitting area we rolled up our sleeves and whipped our our paint decks. Here's her letter:
We're looking to warm up the whole space with a new wall color and I would like a dining area and a sitting/reading area. I love color: lime green, blues, yellow, white, tans, I like graphic and floral prints. Oh and I'm over red. I like pops of color on white or light furniture… but I have 3 small children (4, 2 & 9 months) so a lot of white won't work for now. Traditional, modern, beachy, glamorous, casual I like them all. I love the painting (it was my first big purchase when I bought my first house). The piano will be removed and I just purchased a sisal rug with a black border and parson chairs with black slip covers for the table, but they were inexpensive so the slipcover color can change if necessary. The benches are out, the buffet is an old dresser that can be replaced, I would love a round dining table for 6 but I don't know if I have the room so we may have to keep the dining table, I will leave that up to you. We are also planning to get a new light fixture and I have a Pottery Barn Charleston chair in a half that I can buy a slipcover for if you think that would work. I'm so looking forward to your design ideas, being a stay at home mom this is where I spend most of my time and I really want to love what I see. Thanks! – Trudi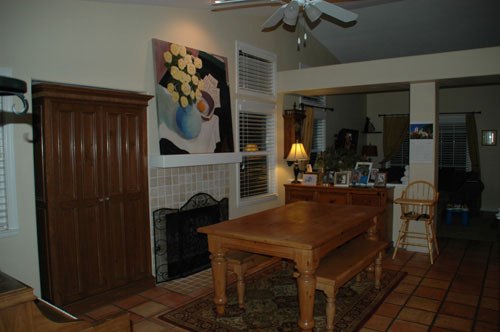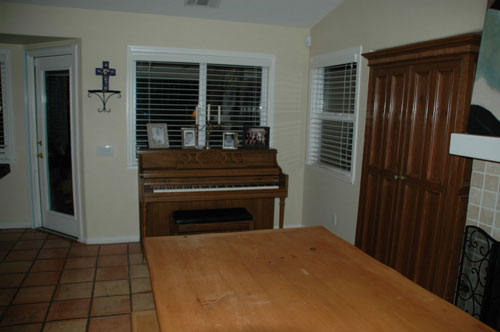 There's nothing like clearing a few things out and bringing some fresh new life into a space. Here's our plan:
And now for the mood board breakdown.

Read the rest of this entry »
&nbsp&nbsp&nbsp