You guys may have already caught wind of the Sproost quiz over at Odi et Amo or Bower Power, but who are we not to jump on a quiz bandwagon? The Sproost quiz is another thirty second questionnaire that promises to pinpoint your personal home design style (kinda like last week's Ikea quiz) based on your rankings of differently designed rooms. It uses a simple "Love It" to "Hate It" scale and calculates your top home design styles based on your picks. Here are my results: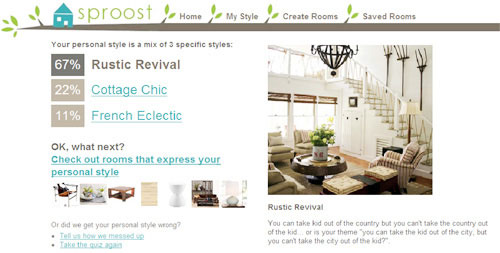 Last week Sherry was the one who registered high on the country (or as she argues, cottage) scale. But as you can see, this week I'm taking that cake with my three country/cottage-influenced styles. I was very skeptical of my analysis until I read the description of my top ranking Rustic Revival style: "You…love a mix of modern and country. The clean lines of the modern softened by rustic/vintage elements is the perfect mix in your mind." I can live with that diagnosis. It's pretty accurate, actually. But what about Sherry's…
Her highest ranked style was still in the country slash cottage zone, but it was offset by a much beachier Nantucket Style and a more contemporary Vintage Modern. Like me, Sherry thinks her top-ranking description is pretty spot on, the Nantucket one is fairly close (minus the part about light wood and wicker) and the Vintage Modern has some hints of accuracy in there (loves flea markets and clean lines).
In comparing notes, Sherry and I realized that we each got different photos to choose from during the quiz. So we each took it a second time, got totally different rooms to choose from, and ended up with very different results. Nantucket Style and Arts & Crafts crept into my diagnosis and Sherry suddenly had only two top styles – Rustic Revival and Cottage Chic. Interesting…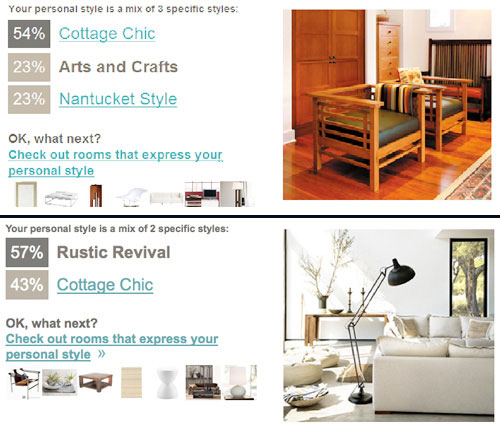 Click here to take the Sproost quiz for yourself. It's definitely worth going through it more than once if you have the time. If nothing else you'll get an extra dose of eye candy and find a few more inspiration rooms that you can copy to your desktop before clicking through to the next image. And as always, we'd love to hear what shows up in your results, if you think they're accurate and if they change each time you play. Happy clicking everyone…
&nbsp
&nbsp&nbsp&nbsp

&nbsp

&nbsp
If you enjoyed this post, please leave a comment or subscribe to the feed and get future articles delivered to your feed reader.
30 Comments
This comment section is currently closed.