Archive for February, 2009
Ready for more free stuff? Do I even need to ask?
This week's giveaway comes from Shades of Light, a local specialty lighting and decor store whose wide selection of products have been featured everywhere from Cottage Living to Coastal Living and even on decor8. And if you live here in Richmond, you've probably driven by their location on Broad St. across from Willow Lawn. We actually bumped into them most recently at a local blogging event, where we learned that they've started an Inspired Spaces blog which features expert insights on lighting your home, as well as great before & after pictures of their design projects.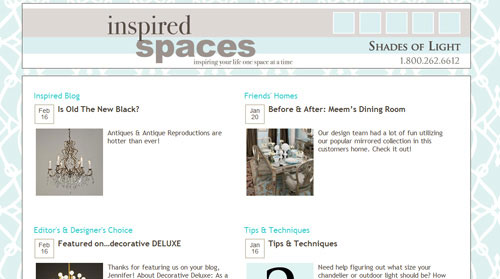 Shades of Light offers a wide selection of styles (vintage, classic, contemporary, etc) across a wide variety of items (lamps, chandeliers, pendants, rugs, mirrors and even furniture) which you can browse in their store, online and by catalog. But this week we're giving away their exclusive natural-meets-elegant bamboo table lamp to one lucky winner, who will get to choose between the silver one and the black one pictured below.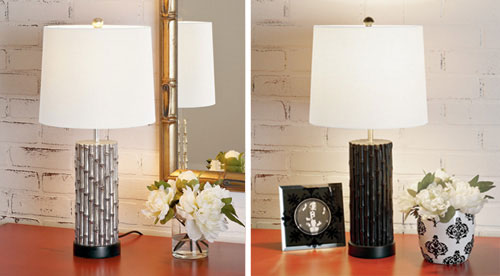 To enter the contest just comment on this post with the words "LIGHT ME UP" by Wednesday, February 25th at 8pm EST. While you're at it tell us what else makes you light up with excitement (chocolate? weekends? chihuahuas?). This prize is available to residents of the lower 48 United States and, as usual, there's only one entry per e-mail address allowed. One winner will be selected using random.org and announced later in the week. Good luck…
If you're looking for more info about our giveaways you can find it here. All images courtesy of Shades of Light.
&nbsp&nbsp&nbsp
It looks like I'm not the only one with a penchant for white ceramic animals. I just cracked open my new copy of Thom Filicia Style (I highly recommend it by the way- so inspiring!) and noticed a bit of a theme. Dude, the guy has a white ceramic eagle console table base!  And a giant white faux gazelle head mounted on the wall! And another giant ceramic eagle for a desk accessory. And a ornery little ceramic bull on a coffee table.
It was a revelation. Thom loves ceramic animals too. In fact, I spotted at least 14 different varieties (!) throughout the gorgeously designed pages of his book. That's gotta be a record or something. And of course we can't forget the famous Nate Berkus ceramic rhino (possibly this $3480 version right here) that pops up in his portfolio all the time. You know, the one that inspired my recent Valentine's Day rhino from zgallerie (for just a bit less)?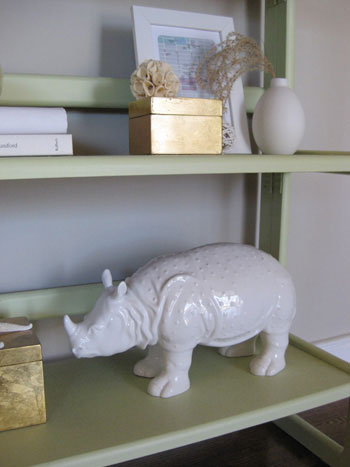 We picked up this handsome pooch for just $29 at HomeGoods last March (around $436 cheaper than this almost identical version from Perch). It was love at first sight.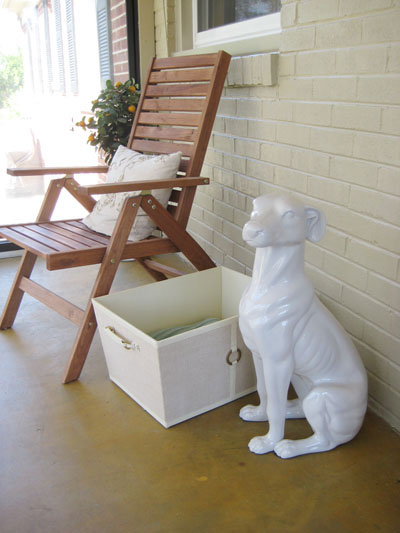 And two years ago we snagged this white iron bull for $25 at a flea market in North Carolina. He even gets festive Christmas ornament earrings every December. If that's not love I don't know what is.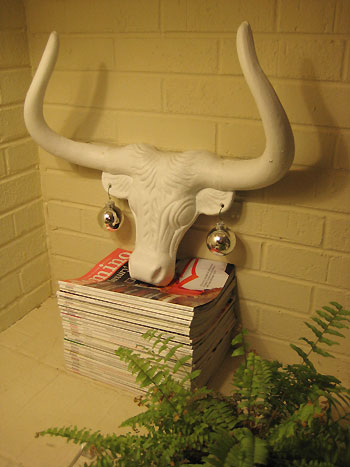 Maybe we should start a Facebook group. Or host a ceramic animal meet and greet. Oh my goodness, how weird would that be? At least we don't have names for them. So what about you guys? Is there anything that you love to collect? From milk glass to Disney paraphernalia, we wanna know what you happily hoard.
Click here for another ceramic animal that really gets my heart pumping. Too bad he's $525.
&nbsp&nbsp&nbsp