Archive for February, 2009
If any of you are addicted to The View, Thom Filicia or Kimberly-Clark products then you probably already know what I'm about to say. The three have teamed up for a Room-A-Day Giveaway where 16 lucky winners will be chosen to receive $25,000 (!!!) to transform a space in their home. They announced the first winner today on The View, but you can still enter once-a-day here until March 6th for your chance to take home the cold hard cash.
And while we can't help you win the 25k, we do have a special prize to give away right here: a copy of Thom Filicia's latest book, Thom Filicia Style, along an eco-friendly bag filled with a slew of Kimberly-Clark products (think Kleenex, Cottonelle, Scott, Huggies, etc).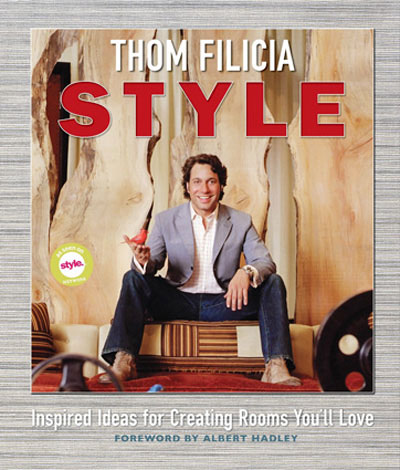 You may know Thom from Queer Eye for the Straight Guy, or his current show (a Sherry favorite) Dress My Nest.
To enter to win Thom Filicia's amazing new book and the eco-bag of Kimberly-Clark goodies, just comment on this post with the words "BOOK ME" by Wednesday, Feb 4th at 8pm EST. And while you're at it, why not tell us what room you'd make over in your home if you won the grand prize.
We'll announce one, randomly chosen winner by the end of the week. And don't forget to enter to win the grand prize over at the Room-A-Day Giveaway while you're at it. Good luck everyone!
New to our giveaways? Find out all about them here.
&nbsp&nbsp&nbsp
Why spend money or fill up the garbage can if you don't have to? It's no secret that we love to repurpose, and we actually got a note from a guy named Kenn with this fabulous image attached: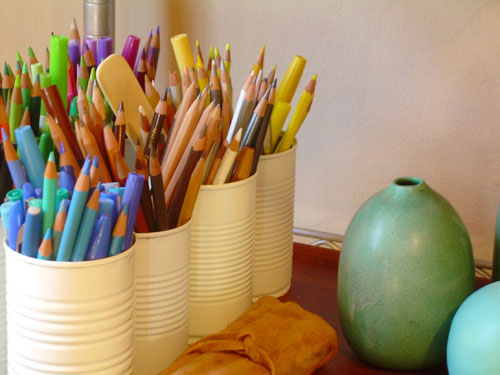 How great are these old cans turned pencil cups? A simple coat of paint is all that it takes to unify a bevvy of cans that you already have in your recycling bin- and they'd also make charming vases and could even corral spoons and forks at a casual gathering.
Inspired by the inbox eye candy, we put on our thinking caps to come up with some other normally-discarded items could be reimagined into something useful. We rarely have plastic bottles around the house (this one was left behind by a visitor) but anyone who does could make a charming little bud vase in a second: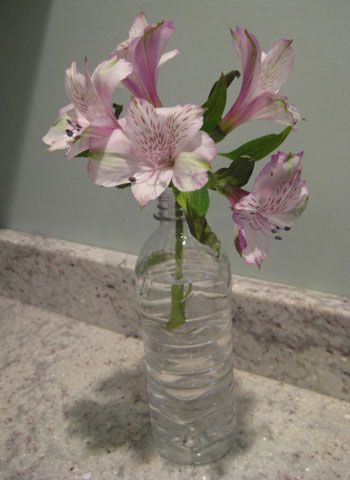 And ten of them plus a tennis or nerf ball could create a fun DIY bowling set for any little ones in the house.
There are so may other objects that can be reused in a flash. Old egg cartons can come in handy for storing jewelry in a drawer or a cabinet (much like my ceramic egg crate "jewelry box"):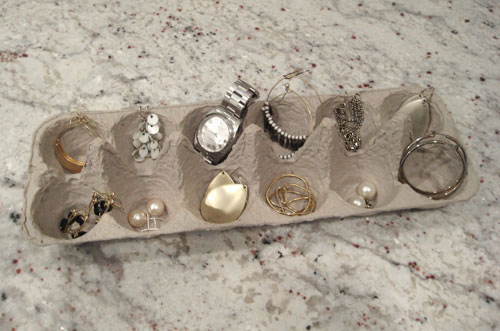 It could even work in a junk drawer to sort rubber bands, paperclips, push pins, and other small office supplies. Or in a garage or tool area to store nuts, bolts, screws, anchors, and nails. Gotta love 12 little compartments that work for almost anything (bobby pins and hair elastics… the possibilities are endless).
And we can't forget one of our favorite repurposing solutions. Old wine and Pelegrino bottles become pretty decorative accents in a flash (especially after the mismatched labels are soaked and removed):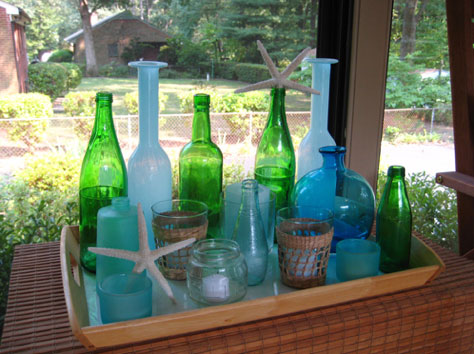 We're also big fans of refilling things, like this gorgeous bottle of olive oil (a gift from one of our high-rolling friends from William's Sonoma). We love to top it off each time it runs low. Anything to keep that pretty bottle on our kitchen counter: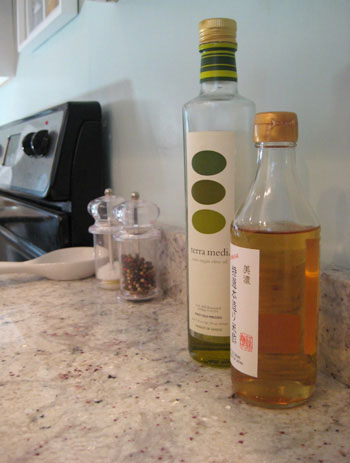 We also plan to refill our Cucina soap and lotion set (a recent $32 purchase from Anthropologie). It wasn't exactly dirt cheap, but not too bad when you consider you get soap, lotion, and a charming little ceramic dish that holds 'em both. And the fact that we can refill them with our favorite organic soap and lotion once they run out means we'll have them sittin' pretty near the kitchen sink forever: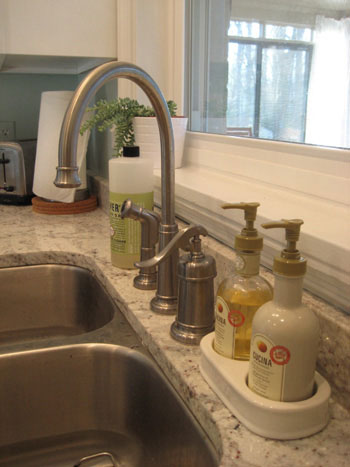 And why stop there? Here are a few more ideas:
Cereal boxes covered with brown paper bags can become shipping boxes used for sending books and other small objects to friends and family members
Old plates and platters can be used under planters with drainage holes to catch any excess water and protect your furnishings and floors
Used coffee grounds and tea bags make great natural plant fertilizers- read more about that here
An empty plastic milk jug becomes a watering can with a few holes punched into the plastic cap
Your old magazines can be dropped off at local bookstores or hair salons (we easily found one willing to take our leftovers) who then give them away for free to other customers
Now it's your turn! Tell us all about everything that you recycle, reuse and repurpose in your home. We can't wait to hear how you guys make haste and not waste.
For more repurposing tips, check out this great post from TipNut and the comments left by our lovely (and very clever) readers.
&nbsp&nbsp&nbsp