Archive for February, 2009
Most guys don't log time with their sister's boyfriends by helping them rearrange their bedrooms. But then again, most guys don't list "furniture placement" among their interests. So when my little sister Carrie recruited us to give her boyfriend Robert a hand with his clunky bedroom layout (after we spruced up her living room last fall) we were totally up for the challenge. And the budget? Zero dollars and zero cents.
For a guy just out of college, Robert has a pretty sweet townhome and a surprisingly grown-up bedroom set. He was just struggling with a way to functionally cram all that serious furniture into such a modestly sized space. Here's what his room looked like when we arrived (we didn't really give him fair warning to clean up – but at his age I wasn't exactly obsessively organized either).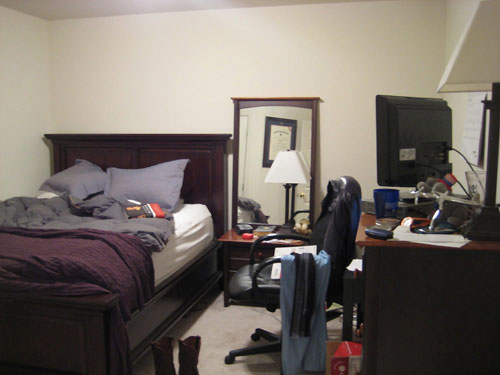 Robert had two main complaints about his room: (1) not enough space to move around and (2) an unused corner that collected junk by default. We noticed that it also felt crowded when you walked in – the biggest piece of furniture (the bed) stared you straight in the face while the tallest object (the dresser) practically bumped right into you as you entered. So in about 45 minutes we cleaned, rearranged and spent absolutely no money to give Robert a more spacious feeling furniture arrangement. Here's the rearranged result (from the same view):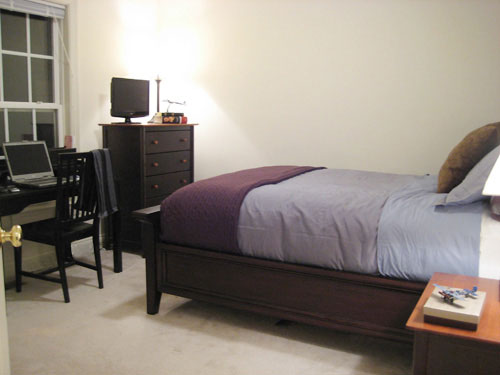 Not bad for a no budget switcheroo, eh? Cleaning certainly helped a lot, but here's a rough floor plan to show you where furniture arrangement really made the difference (note: Robert's bedding is in fact a blue and brown combo, but it somehow looks purple in the pictures):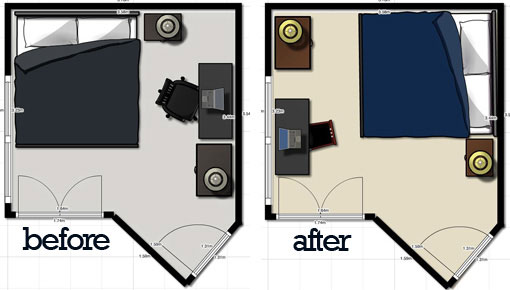 The biggest difference was moving the hulking headboard out of your initial line of sight and exposing more of that big back wall to let your eyes "breathe" a bit when you first enter the room. A few other helpful changes were swapping out the large office chair with a lighter-looking one (borrowed from elsewhere in the house) and positioning the matching table lamps on either side of the space for a more balanced look (and consistent lighting throughout the space). Robert also loved that we centered his desk under the window so he was no longer staring at the wall while he worked.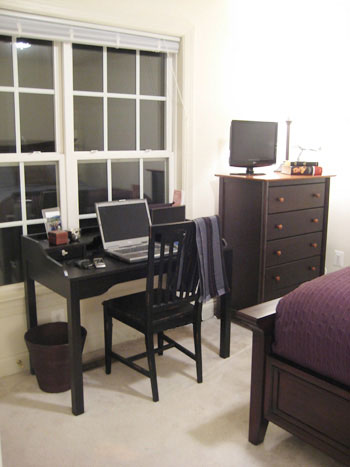 And now, instead of the practically walking into the side of the dresser upon entry, the bedroom door opens to this much lower-profile nightstand. It still gives Robert a place to toss his keys without risking a lamp in the eye.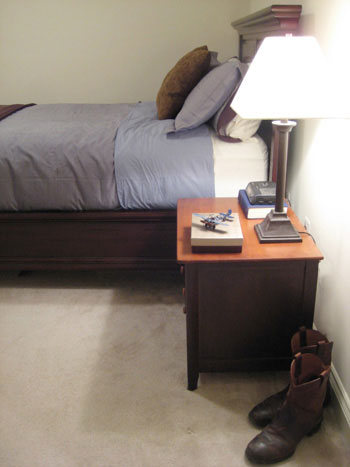 You can still appreciate the classic, masculine look of the headboard from the other side of the room. Heck, from this view you almost forget that this modestly sized space does double duty as a bedroom and office.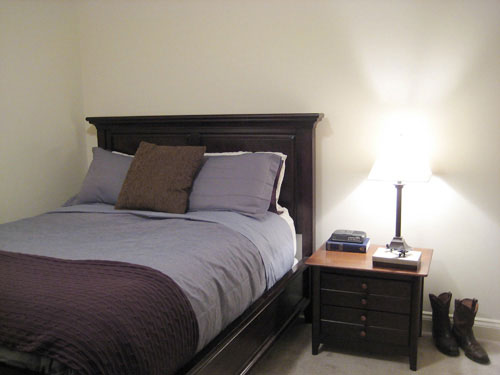 Best of all, Robert's two pet peeves are no more – he has more walking room and no more wasted corners. He plans to add art, hang that mirror and possibly add a round circle rug from Ikea and some slate blue corduroy curtain panels. But for now we think he should be pretty proud of his "new" room which called for absolutely no money, and just a little moving.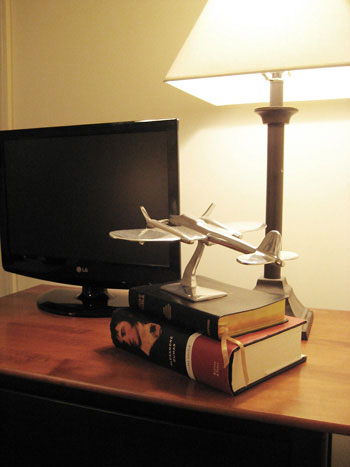 And I have to hand it to Robert for being a good sport about the whole thing. Not many guys would take well to their girlfriend's older brother dismantling their bedroom. And if the worst thing we uncovered during our rearrangement was a few too many issues of Popular Mechanics (engineering porn?) then I think I'll let him keep dating my baby sister.
Floor plans created using Floorplanner.com
&nbsp&nbsp&nbsp
We've always admired the cool, graphic designs on Old Navy's line of candles, soaps and lotions but had not yet gone as far as to actually purchase any of 'em. That is until we saw that the entire line was on clearance this weekend…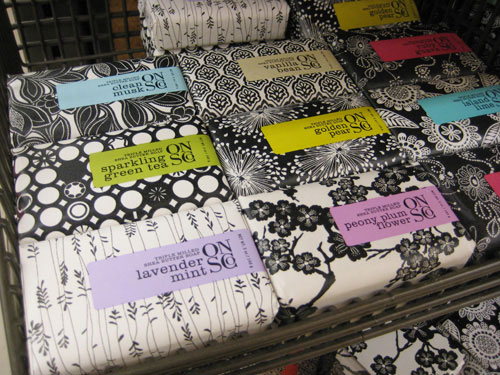 We decided to snag 2 for $5 (marked down from $7) because, call us crazy, but we actually like to have a nicely wrapped bar soap on display in our master bathroom. We're liquid soap people (as are all of our guests so far) but we gotta do something with the built-in soap dish, right? Plus, the black & white designs work oh-so-well against our black & white tile.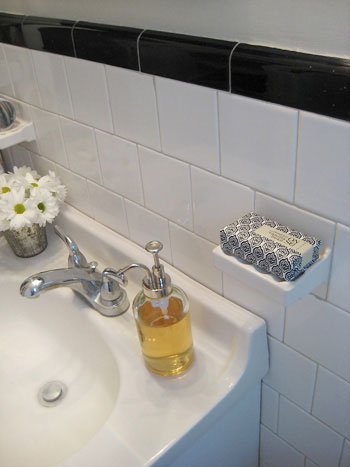 The one above is the Vanilla Bean scent, and we also got a Lavender Mint for when our mood changes. Do you have a favorite design of the bunch (we tried to get all of them in the first picture, so we think that's a complete set above).
Oh, and it looks like Old Navy's trying to move them out fast to make room for new stuff, so head over there soon if you wanna grab a few for yourself. We've been all about soap lately, haven't we? Our next steal of the week will not be about soap. Promise.
&nbsp&nbsp&nbsp