Archive for January, 2009
By now you've probably all read about our new nailhead ottoman. And in inviting that plush little pouf into our master bedroom, the white pedestal table that used to live next to our leather armchair was sadly displaced. But not for long. We'd been meaning to upgrade our wicker hand-me-down table in the den (actually a relic from John's older sister's childhood bedroom) and we finally had our chance.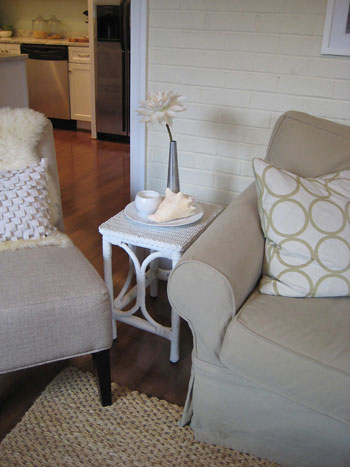 Enter the displaced DIY pedestal table stage left (you can check out how we made it here). It's the perfect size for the larger furnishings in the den, and it's endlessly more functional than our old teeny weeny wicker table that lived there before.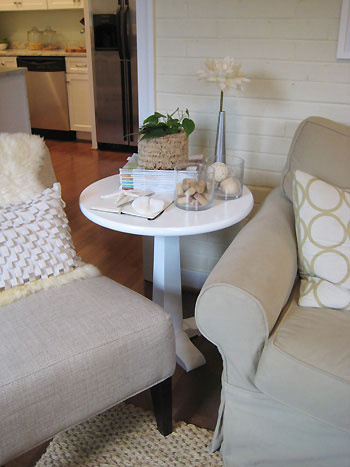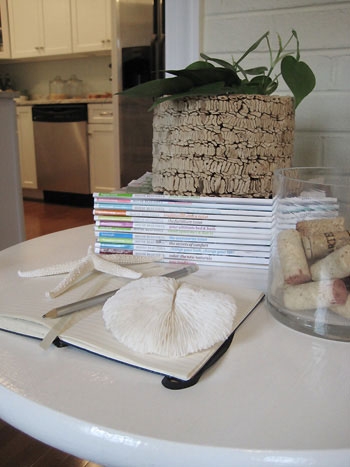 And the back of the table is actually seen just as often as the front (thanks to the fact that it lives near the super wide pass-through to the kitchen) so we're thankful that this table looks as good coming as it does going.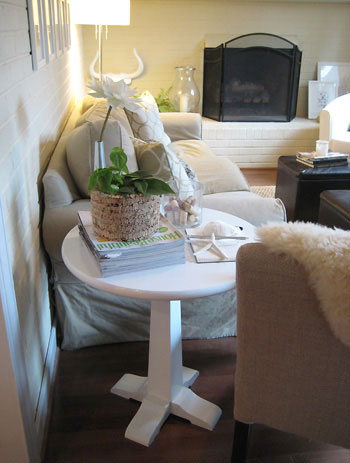 And while we're on the subject of our new side table, we thought we'd take the opportunity to talk a little bit about tablescapes. We've recently received some requests for tips on displaying objects so they look chic and uncluttered, so here they are:
Position things at a few different heights. We like to use the "spiral rule," where objects stairstep their way down in height. The vase is our tallest object, followed by the nearby stack of magazines topped with a planter. Then the two cylinder vases step down in height once more, and the notebook paired with two sea inspired "paper weights" is the lowest profile object of the bunch. By displaying things that are graduated in height, they look varied enough to keep things interesting and less chaotic than anything astronomically taller or shorter than the rest of the objects.
Select objects that relate to each other in some way. By choosing the natural fiber planter, the textural corks and the woven decorative balls in the vase, there's a common underlying natural feeling that is carried around the tableau. Then the white of the flower, the sea life and the notebook complement the glossy white of the pedestal table and the repeated cylinder shape of the glass vases and the planter also relate to each other (and the shape of the table) for subtle cohesion that ties everything together. Of course this principal also works with a large grouping of super similar objects like colorful glass vases, a collection of candlesticks or white ceramic pottery. Instead of spreading out like objects, why not display them all in one place for maximum impact?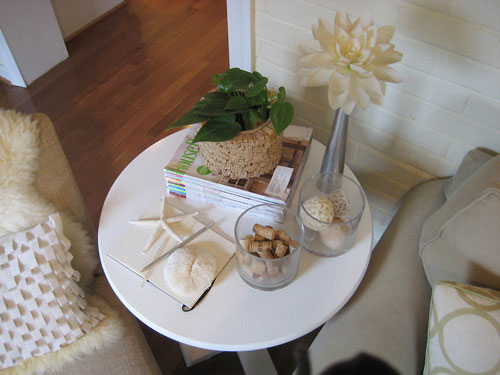 Edit ruthlessly. I know it sounds like an obvious tip, but your spaces won't look cluttered if you take a good look at them and remove the offending clutter. This table could accommodate more magazines, some books, a box full of our TV remotes, some candles, etc. But we drew the line at a few choice objects that we love, which we can better appreciate without a sea of other items that compete for our attention. Plus there's room to set down a drink, which is always important for a side table.
There's magic in odd numbers. This is a basic decorating principle that is worth its weight in gold. For some mystical reason, an even number of objects can look very static and ho-hum (picture a dining room table with just two matching candlesticks on display). Meanwhile, a grouping of three or five objects is instantly more dynamic and interesting (especially when the items have something in common and are stairstepped). You'll notice that if you count the groupings on the table above, you'll see that there we happened to land on a display with five distinct "parts" (the tall flower vase, the two cylinder vases, the magazine stack with the planter on top, and the notebook/sea life display).
So there you have it. A few simple tips for creating fresh and fabulous little vignettes throughout your home. Happy tablescaping! And what about you guys? Do you have any more tableau tips for creating eye-pleasing arrangements with the objects that you already have around the house? Do tell.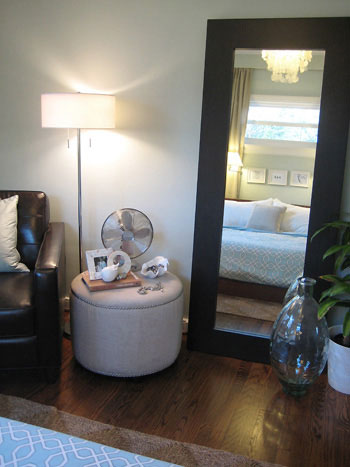 And of course we can't go without taking one last look at the new bedroom ottoman that inspired the whole table switcheroo. Thanks little guy.
For more accessory arrangement tips, check out this bevy of articles on BHG
&nbsp&nbsp&nbsp
Oh I am madly in love with the newest addition to our master bedroom. It's this yummy little linen looking ottoman with nailhead trim: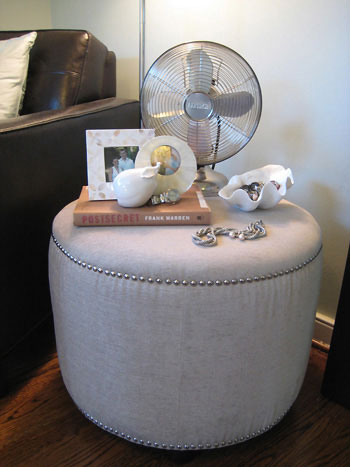 Sure it looks like a super spendy little pouf, but it's actually a TJ Maxx steal, snagged for $119. The funny thing is that $119 is actually the most we've ever spent on an ottoman (the two leather ottomans in the den were $69 Target steals and the woven ottoman in the third bedroom was under $40). But it was ottoman love at first sight, and although I initially resisted the purchase when I saw it with a friend, I couldn't get it out of my mind so I brought John back to TJ Maxx that evening to weigh in on my beloved nailheaded pouf.
One of our rules is that we need to have a spot in mind for the item that we're considering, and I actually had two (slipped under the console table in the living room or next to the armchair in the master bedroom) and I pointed out that we could always return it if neither of my predetermined ottoman places worked. Lo and behold John actually liked it, and before I knew it we were carrying her over the threshold into Casa Petersik.
Here's what the bedroom used to look like with our DIY pedestal table (we actually popped a tabletop from Lowe's on a smaller wooden pedestal table from Target and painted the whole thing glossy white). It was definitely an improvement from the old set up, but the exposed fan wire always felt a little messy and the pedestal table always seemed a bit too tall for the low slung leather armchair beside it.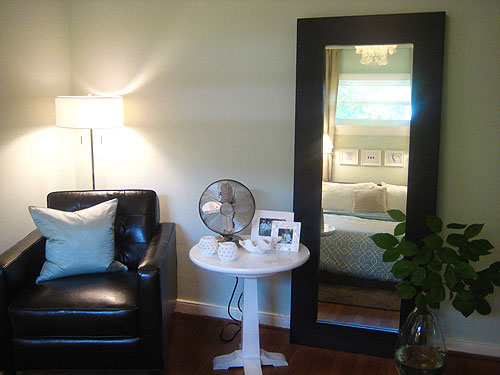 So we moved the pedestal table into the den (stay tuned for those pictures, gotta love two mini makeovers for the price of one ottoman!) and replaced it with our plush new pouf.
The ottoman is the perfect height for the chair (it no longer competes with the height of the arm) and the fan is now aimed directly at us as we sleep instead of 12 inches above our heads. Summer can't come soon enough! But best of all, that unsightly black fan wire is now nowhere to be seen. And thanks to the ottoman's lower profile and smaller surface area, the whole room feels a wee bit larger and less crowded. Which is key in our tiny bedroom.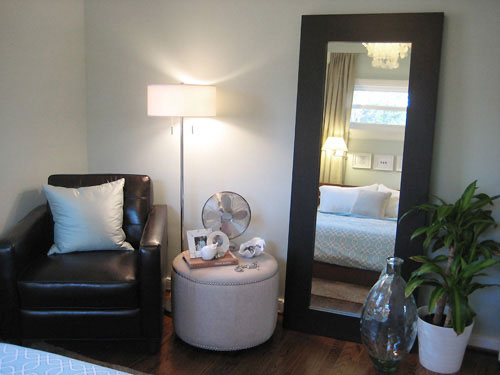 And have I mentioned those nailheads really do it for me? Swoon.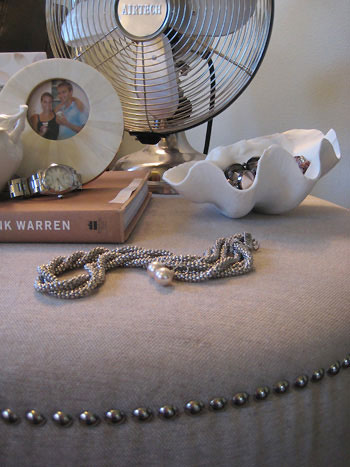 What about you guys? Do you have a major crush on certain decorative details like nailhead trim or curtain grommets? How about x-backed chairs or beveled glass edges? Dish the decorative detail dirt.
&nbsp&nbsp&nbsp