Archive for January, 2009
Domino is shutting its doors. Sniffle. We heard rumblings of this a few months ago but begged the magazine gods to spare one of our favorite pubs. Alas, they didn't hear our pleas. You can read more about this sad state of affairs here and here.
I for one have every issue since it came out in 2005 and will never forget my first great magazine love.
Sadness.
&nbsp&nbsp&nbsp
When Eve sounded the paint palette alarm we whipped out our swatches and got down to business. Here's her letter:
The room in need of a color makeover is the entry to the house. It is used as a dining room and it opens to the kitchen which is connected in an open layout to the living room. I'd like the room to look glamorous… I need a miracle for that fireplace! I'm keeping the furniture and the chandelier but the accessories can be replaced and I'm also removing the shelves by the stairs and the ivory drapery. All the rooms are the same boring rental beige. We'll be placing the house on the market in about a year or less so I want a "staged home" friendly color but I do want to make a dramatic change in this room, I don't want this to look like a rental anymore. I have been in love with rooms that are in the gray family (saw one with blue-ish tones that I loved and one with a pink-ish\lavender-ish undertone that I loved as well). I also love chocolate brown and silvery blue. I don't like vibrant colors like green, orange and lime. I like "luxurious\glamorous" looking rooms- I love spa or boutique hotel like. I don't want anything dark or that will make the space look smaller. I'm so excited about this, I can't wait! – Eve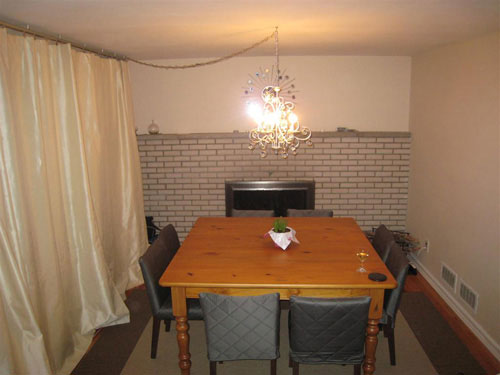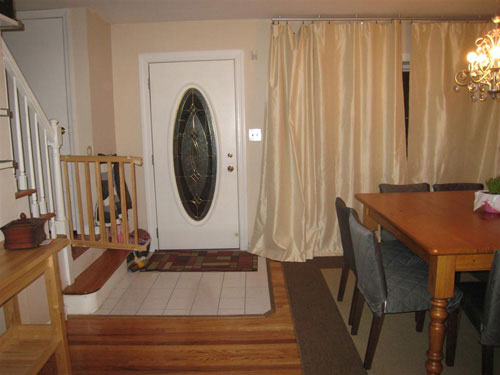 This dining room actually has a lot going for it: huge windows to let in lots of light and a fireplace at the head of the table. We just have to accentuate the positives and tone down some of the negatives (overpowering shiny curtains and dingy bricks) to really make this room a glamorous and luxurious place to share a meal. Here are our three color scheme suggestions for Eve: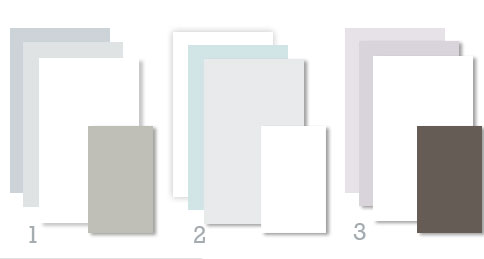 And now for the disclaimer: the color depictions above are only as accurate as your monitor (and not nearly as rich as the real thing) so Laura should grab each of the paint chips and bring 'em into her kitchen before picking a favorite palette. Here's the color scheme breakdown.

Read the rest of this entry »
&nbsp&nbsp&nbsp