Archive for January, 2009
When it comes to hanging curtains we're not shy about encouraging people to hang them high and wide to visually enlarge the window and add height and drama to any space. Just as influential as paint on the walls, nothing makes a room look more finished than a few floor to ceiling curtain panels. And we're here to break down a few fast and easy curtain-hanging steps for your convenience. Of course there's more than one way to skin a cat (that expression is gross, sorry) so here's a method that works for us (although there are about a million other approaches out there).
Here's our favorite eight year old's window sans curtains. You can see how harsh the rectangular frame of the window is, and how naked the entire wall looks. Nothin' some Ikea curtains can't fix.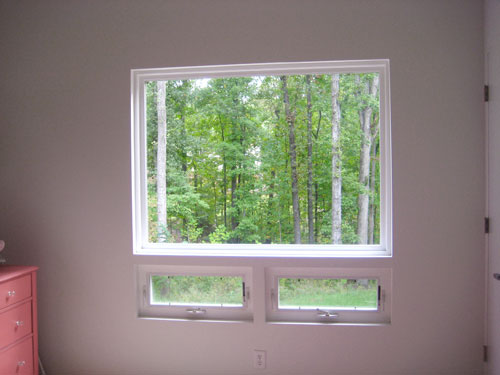 The first step is to determine how high and wide you can go. In this case (where the ceilings are 9 feet tall) we didn't go all the way to the ceiling (as we do with our 8 foot ones) but we did decide to place the curtains 12″ higher than the top of the window, and 12″ wider on each side. A good way to check that the curtain rod can extend far enough (which is definitely something to figure out before installing the rod hooks) is to lay it on the floor in front of the window and measure your targeted width (in this case adding 12 inches to either side of the window) to ensure that the rod is long enough.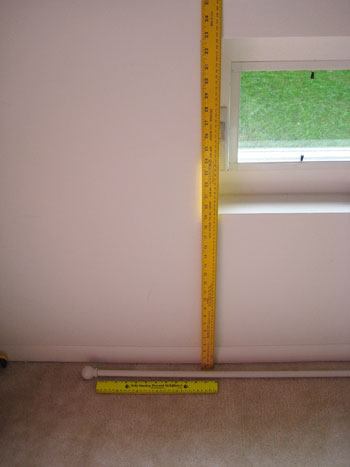 Once we determined that the rod was long enough, we simply used a level to measure 12″ higher than the window frame and another 12″ to the right of the window (and to the left on the other side). Marking the spot with a small penciled "x" was all it took. Then we predrilled a small hole for a plastic anchor, hammered it into place, and drilled the screw right into the anchor to secure the rod hook. No sweat.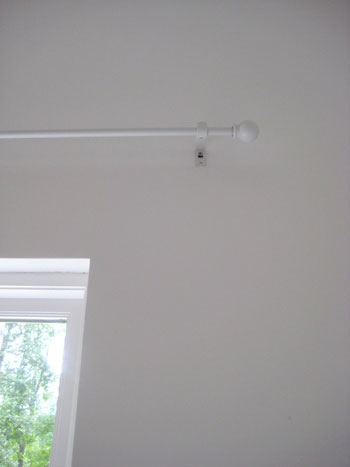 In this case we also hung a hook in the middle of the rod for added support (to counteract the dreaded "sagging rod") which was easily added by measuring 12″ above the center of the window and again using a plastic anchor and a screw to keep the rod hook securely in place.
Here's the finished product: billowy floor length curtains that can be easily hemmed to just skim the floor (although Princess Olivia loves the pooled look so much that she prefers them as is). Of course colored and even patterned curtains would add even more punch to this space, but Olivia's minimalist mommy adores the white on white look. And it's actually a huge trend to hang curtains that closely match the hue of the wall for a seamless and uninterrupted look that draws your eye right out the window.  Mission accomplished.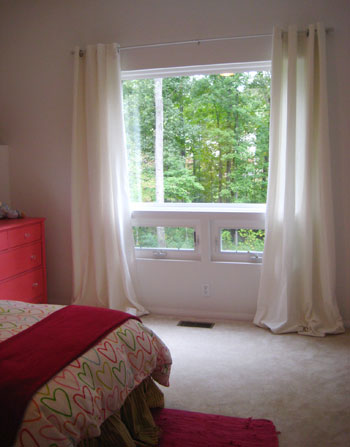 And while many people fear the space between the top of the rod and the window, you can easily see here that it looks perfectly balanced (in fact, we think the window looks choked and crowded when the rod is mounted right on top of the window frame). And you can always cheat things even more by adding some bamboo shades like we did in our living room to hide the 15″ gap above ours. Oh window treatments: how did people ever live without you?!
We hope our lil' curtain tutorial has been helpful and empowering. John wasn't even around when I hung the curtains above (his sister Emily and I grabbed the drill and went to town). So if you have a ruler, a level, and a drill you can get 'er done in about a half hour for a totally polished result. And of course we'd love any and all curtain hanging tips that you guys have picked up over the years. Dish the curtain hanging dirt…
&nbsp&nbsp&nbsp

We've only recently become resolution people, but oh how quickly Sherry and I have embraced this New Year's tradition. We'll spare you all of the personal "improvements" that we're going to tackle in oh-nine, but we do have a couple of home related resolutions on our list. I, for one, want to tap into my inner carpenter this year and build something – even if it's just a few flower boxes for the front porch (and the back windows above the patio if Sherry has her way). And Sherry's making a resolution to hone her entertaining skills by having more friends over for dinner, game nights, etc.
How 'bout you guys? Are you into the whole resolution thing? If so, we wanna know what yours are- especially if they involve any home improvement projects or DIY skillz that you've been itching to break out. And who knows, maybe writing them here for all to see will help everyone stick to 'em a little better. Here's hoping we do…
&nbsp&nbsp&nbsp