When these two newlyweds called on us for help with their living room we got right down to business. Here's their letter:
My husband Drew and I are so excited for you to help us out! We were just married in October so most of the stuff we own are hand me downs from family. The kitchen and living room are connected but we really need help with the living room so feel free to focus on that space. We like the somewhat casual comfy look of Pottery Barn and West Elm. We like the black and darker wood furniture the best. The TV has to stay and the speakers can be replaced with another color but Drew won't get rid of them. Everything else can go! As for the wall color, it can stay if it works but we can do something else also. The current color is Gobi Desert by Behr. Colors we like are browns, blues, greens anything but pink or purple. Patterns we really like paisley, and toile but any pattern is fine. Thank you and we can't wait to see what you put together!! – Megan & Drew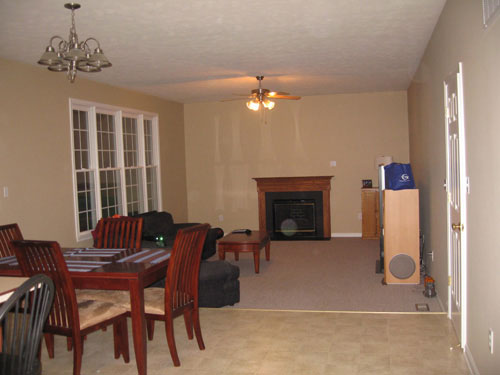 This open floorplan is primed for a major makeover. Here's a mood board full of ideas to take this room of hand-me-down furnishings to the next level.
And now for the mood board breakdown.
1. Our color palette for the space will be full of deep chocolate wood tones, comfy casual tans and a touch of sky blue and cream to keep things feeling airy and light. We love the current wall color so we'll work with it to create a comfy cozy haven where these newlyweds can nest.
2. The giant existing TV and speakers are definitely the focal point of the space, but shifting attention back to the fireplace is as easy as placing this stunning canvas above the wood mantel (which we'd love to see sanded and stained a dark espresso tone to match all the new furnishings). We'll also flank the fireplace with two tall leaning bookcases to add height and eye-pleasing symmetry to that soon-to-be-fabulous fireplace wall.
3. Although Megan and Drew mentioned that the living area was the focus of the makeover, we couldn't help but share this great deal of a dining table (over $300 off!) for the adjoining eating area. It'll really work with all the deep wood tones we'll be bringing into the nearby living room.
4. And speaking of deep wood tones, we'd love to see this airy, clean-lined coffee table placed parallel to the TV in front of the new sectional that we'll be bringing in.
5. Here's the aforementioned sectional that we'd love to see covered in "natural" twill fabric. It's a slipcovered sofa, so it will be a breeze to keep looking crisp and new (especially since Megan and Drew have a pooch) and the L shaped arrangement will make TV viewing and fireplace gazing equally accessible in the space. And because we realize this sectional doesn't come cheap (although it's definitely an investment that will last), we also dug up this less expensive microfiber twill version from Overstock.com so they can take their pick.
6. Two of these leaning bookcases on either side of the fireplace will add height, frame out the pretty canvas art we found, and attract some much needed attention towards the fireplace and away from the TV. And at just $79 a pop, they're a total steal. We'd love to see them accessorized with baskets, books, and greenery just like the one in the mood board above.
7. We love the idea of introducing this tall fabric floor lamp (on sale!) to the right of the media area (as you face that wall) to diffuse the view of the side of the speaker as you enter the room. And speaking of the speakers, we understand that Drew is willing to replace them with another color, so we'd like to see deep brown or black speakers to blend in with the new media cabinet and other furnishings.
8. And here's the new media stand that will make that generously sized TV look downright elegant. We love the clean lines and the deep wood tones that will work perfectly with the other pieces we'll be bringing into the space. And you can't beat the sleek concealed storage drawers for remotes, dog toys, and anything else Megan and Drew want to keep out of view.
9. A few of these leafy chocolate pillows will bring the brown tones in the coffee table and media cabinet over to the sectional for a balanced and inviting affect. And the golden, tan and cream details in these pillows will work seamlessly with everything from the curtains to the new rug.
10. Here are those curtains now. The warm tan undertones will tie in beautifully with the existing wall color and the creamy coloring will complement the tile floor in the nearby eating area as well as the cream sectional we'll be bringing in. And the subtle pattern will add a bit of interest and movement to the space in a snap. We'd like to see these curtains hung high and wide on the windows behind the couch and also would like to see them hung high and wide around the glass doors in the adjoined eating area (not pictured) for eye-pleasing continuity and balance.
11. And lastly we have a stunning patterned rug which will feel comfy and cozy underfoot while injecting some more texture and color to the space. Centering the 5'7″x 7'10" rug under the sectional and the coffee table will really add warmth and style to the space, and the vertical lines will complement all the other clean-lined pieces in the room.
So there you have it. A comfortable and welcoming living room for Megan and Drew to come home to. We can't wait to hear what you guys think!
Update: We sadly can no longer find the time to take on client commissioned mood boards (we now whip up general inspiration boards instead) but if we ever reinstate them we'll make a big announcement!
&nbsp
&nbsp&nbsp&nbsp

&nbsp

&nbsp
If you enjoyed this post, please leave a comment or subscribe to the feed and get future articles delivered to your feed reader.
13 Comments
This comment section is currently closed.