Archive for December, 2008

Sometimes ripping that snowflake wrapping paper is more like an audition than an authentic emotional reaction (ex: "Oh Aunt Irma, I LOVVVEEE this bedazzled sweater!").  And when it comes to receiving home stuff we just had to ask how you guys feel.
Do you genuinely rejoice when someone you know and love personally selects something to grace your mantel, hang on your wall, gussy up your coffee table or swank up the kitchen counter? Or do you prefer a gift card to select your own vase/frame/planter/lamp/pillow/etc?
Sometimes someone else can get it oh so right, but on the other hand you just might end up with one of those guilt gifts that you hide in a drawer until that person comes for a visit at which point you pop it on the mantel for the day. Whaddya think? Are home decor related presents a good idea or are gift cards the ultimate decorating accoutrement? Dish the holiday dirt!
&nbsp&nbsp&nbsp
We're making good on our clue-a-day promise to slowly reveal pictures and details about the major home improvement undertaking that's currently in progress here at Casa Petersik. You may remember that our first clue was that we had to take our Christmas tree down a full week early, and we're back with our second clue of the week: where'd the guest bedroom go?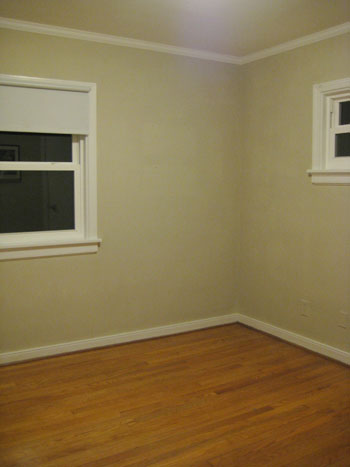 We had to clear out the entire room (closet included) to proceed with our project. Any ideas? Hit us with your best guess. And stay tuned for three more clues over the next three days that will lead up to the big reveal on Monday…
&nbsp&nbsp&nbsp