Archive for December, 2008
We're back with our third clue of the week as we inch towards Monday when we'll finally unveil the major home improvement project that recently wreaked havoc on our home. We've already revealed that we took the Christmas tree down a week early and completely cleared the guest bedroom so on to clue #3: we're freezing our buns off.
Yes, here at Casa Petersik the Christmas spirit is literally in the air (we could have sworn we saw our breath this morning) so blankets, sweaters and hot cocoa are all in heavy rotation. Any new guesses? Did we sufficiently confuse you? We promise this will all make sense on Monday so stay tuned…
If I were a betting man I'd wager that you're all Apartment Therapy junkies just like us. So you may already know that they're accepting nominations for their new 2008 "Homies" award for the best home design blog of the year. Heck, you may have even dropped our name into the virtual bandana already.
But in case you have yet to weigh in, of course we'd love your endorsements. And to further convince you guys that we're truly dedicated, we went the extra mile and photoshopped a few homie accessories into our photo below- just to get into the persona.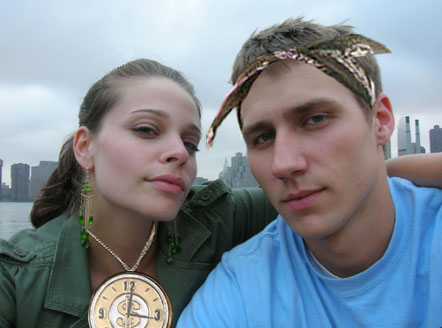 What can we say, we're method bloggers. Apartment Therapy will pick six final contenders from all of their nominations and the real voting will commence in late January, so click here to get this nominaton party started, yo. We're crossing our fingers that there's a pimp cup trophy in the works for the winner…
Sometimes ripping that snowflake wrapping paper is more like an audition than an authentic emotional reaction (ex: "Oh Aunt Irma, I LOVVVEEE this bedazzled sweater!").  And when it comes to receiving home stuff we just had to ask how you guys feel.
Do you genuinely rejoice when someone you know and love personally selects something to grace your mantel, hang on your wall, gussy up your coffee table or swank up the kitchen counter? Or do you prefer a gift card to select your own vase/frame/planter/lamp/pillow/etc?
Sometimes someone else can get it oh so right, but on the other hand you just might end up with one of those guilt gifts that you hide in a drawer until that person comes for a visit at which point you pop it on the mantel for the day. Whaddya think? Are home decor related presents a good idea or are gift cards the ultimate decorating accoutrement? Dish the holiday dirt!