Archive for December, 2008
When Melinda read about our little tray tiling project, she and her husband decided to try their hand at some tray customization too. Here's her letter:
My husband and I were inspired by your DIY tray project from a couple of weeks ago. My sister is a huge tea drinker so I decided to make her a tea tray for Christmas using an old British ad slogan. Here are some photos from the process. Thanks for the daily dose of inspiration! -Melinda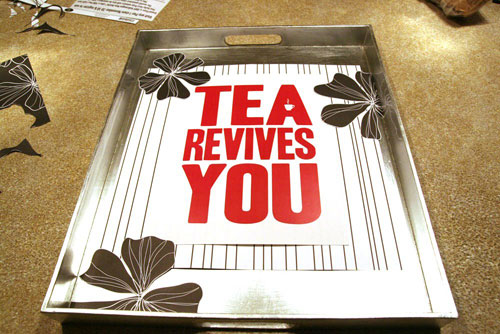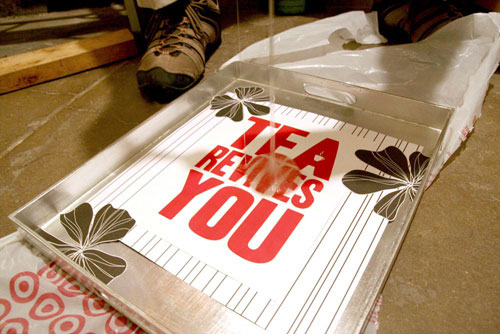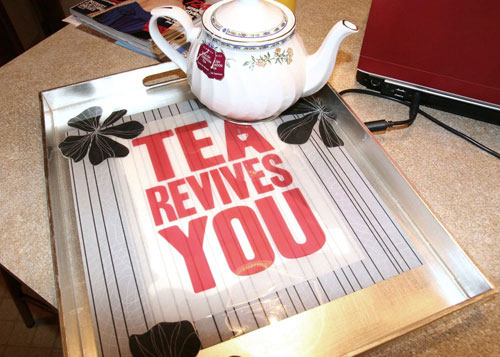 Melinda snagged the tray at Pier One and the striped & flowered paper from a local scrapbook store. Then she printed the "Tea Revives You" image at home and picked up the same liquid resin that we used from Michael's. Total project cost: about $25. Not bad for a completely custom Christmas present for a tea-loving sister.
Thanks so much for sharing your fabulous tray project pictures, Melinda! And if anyone else whipped up a customized tray of their own, don't hesitate to send us some visuals. We eat that stuff for breakfast.
&nbsp&nbsp&nbsp
We're so caught up in the Christmas spirit that we decided to try our hand at creating a few custom ornaments this year. Ornament decorating can be as complicated as you make it, but of course we wanted to tackle something easy and super cheap so we headed over to Michael's and grabbed a six pack of empty glass ornaments ($2.49), some white glitter ($1.30), and a bag of feathers ($2.49). Then we pulled out our craft glue and got down to business.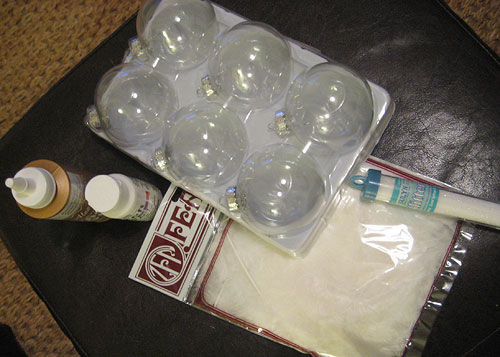 It was really more of a trial and error process. We originally planned to stuff some of the ornaments chock full of feathers but realized less is more once we saw how sweet and simple one fluffy feather looked inside the glass orb (the silver top slips off for easy ornament filling). The result is delicate and delightful. And definitely worth the $1.04 per ornament that we spent.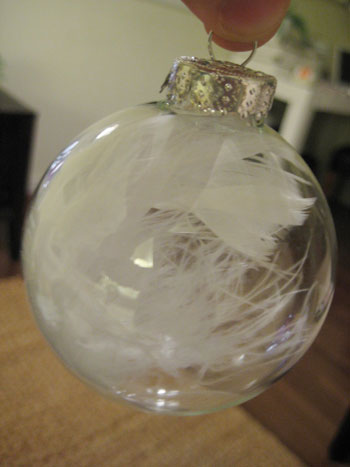 We also used a q-tip to spread craft glue around the top of a few other ornaments, which we then coated in sparkling white glitter for that fresh & fluffy snow look that's charming and kinda expensive looking actually: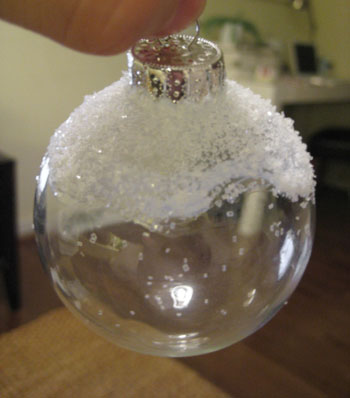 The finishing touch was to use some thin white ribbon that we already had around the house to create classy little loops to hang each ornament from the tree with style. They actually look so elegant that we're debating eliminating green wire ornament hangers altogether and adding thin white ribbon to each and every ornament on the tree. It really elevates them in a you'd-think-they-were-a-splurge-but-they-were-really-a-steal way.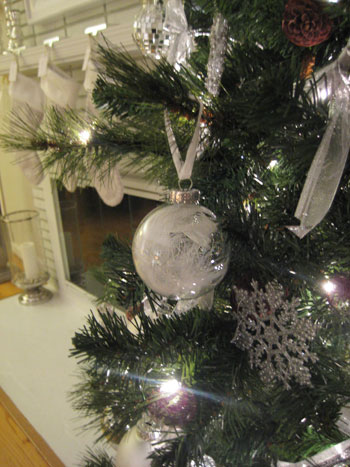 So how do we like our feathered and glittered creations? They're our new favorite ornaments! Not only because we made them ourselves, but because they actually look better than most of our store bought ones. And the entire project took just fifteen minutes and only cost a little over $5. Score! This whole ornament making thing just might become a family tradition…
Do you guys have any DIY ornament crafts that you happily take on each December? From cookie ornaments and popcorn garland to painted ceramic and felt creations, we'd love to know what you guys throw together when the Chritsmas spirit moves you.
For more DIY ornament ideas, check out Martha's fabulous creations here and here.
&nbsp&nbsp&nbsp