Archive for November, 2008
Almost every surface in our home is constantly evolving, so I thought I'd document a bit of the presto-change-o process that regularly occurs around here, starting with the fireplace mantel in our den. Here's what it looked like before I started switching things out and shifting things around. Not too bad, but not too exciting either: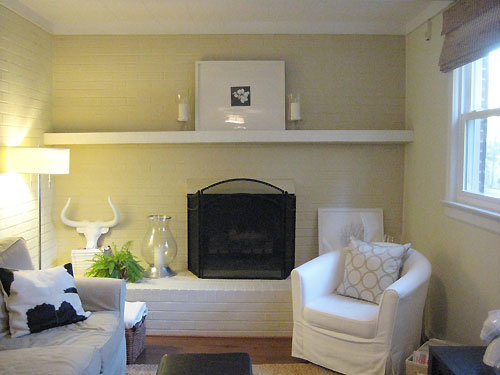 So I brought in an assortment of pale blue vases and green bottles (old wine and Pellegrino ones work) for a little color (and added some purple hydrangeas for even more interest). Switching out the second hurricane for our white ceramic horse (from Target) and sticking a twiggy manzanita branch behind the pony subtly broke up all the symmetry, which is always less expected than something that's perfectly balanced.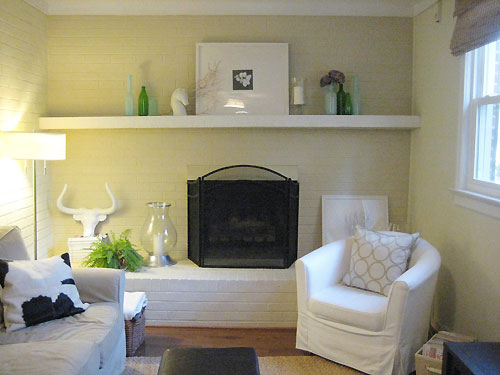 Then I tried layering frames to escape the "box on top of box" look of the big centered frame above the fireplace opening. And since I liked the pop of green from the glass bottles above, I again injected some emerald, this time in the form of a feathery fern and a leafy potted orchid.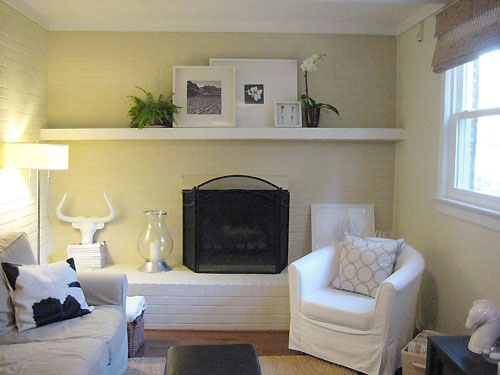 Then I switched out the fern and the orchid for two ceramic horns that I snagged at Pottery Barn Outlet (on clearance for $7 down from $50 a pop). I loved how they introduced soft curves to what was once just a boxy and geometric display.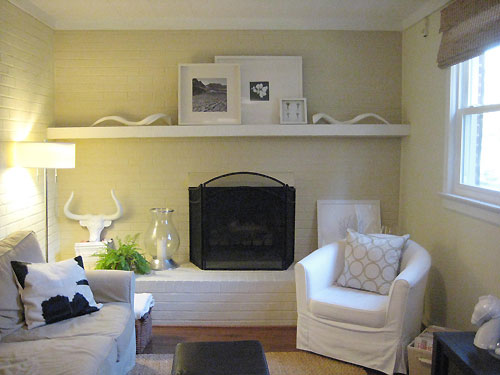 Fearing that all the overlapping frames were getting a bit top heavy, I went back to a super symmetrical display (my initial set up + the new ceramic horns).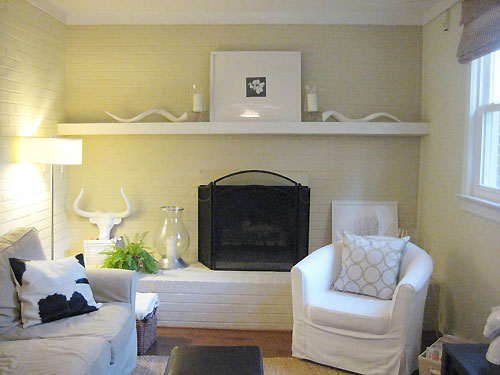 But once again all the symmetry was just a bit too predictable, so I added some potted herbs from the kitchen and brought in our other orchid (in a lighter pot with vibrant pink flowers). By shifting both hurricanes to the right side of the frame and keeping the herbs from feeling totally balanced (one is closer to the frame while one's a bit further away) things still felt balanced but not overly symmetrical and static.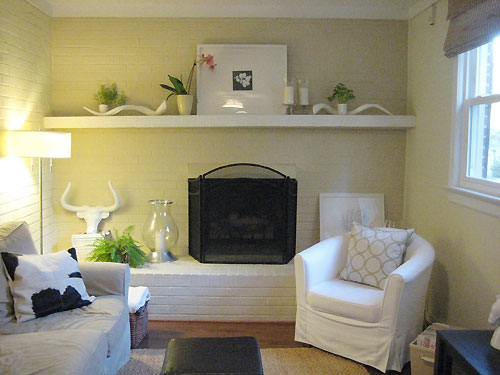 But storing herbs up on the mantle wasn't exactly as convenient as housing them on our kitchen windowsill, so I switched the extra greenery out for some random items I found around the house: a framed collection of keys, a glossy green ceramic pear, and a big silver P.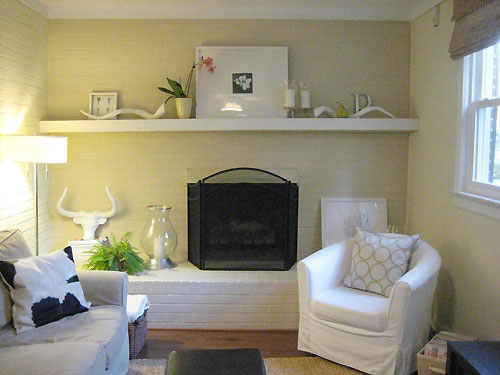 But things started to feel a bit busy, so I edited out the pear, the P and the framed keys. What remained was the winning mantle arrangement. At least for now…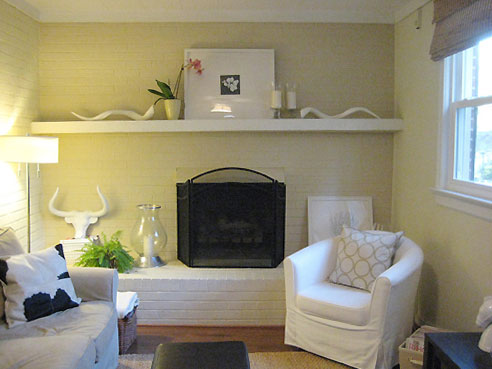 I hope you've enjoyed this little mantel makeover play-by-play. We love that we were able to evolve our fireplace for free using items that we already had around the house (save for the ceramic horns). And we hope we've encouraged you guys to mix and match the things you have at home for a varied look that always holds your attention and never looks stale. We're planning a few more accessorizing tutorials for arranging a coffee table, a bookcase, and more. So, as always, stay tuned…
For a few mantel makeover ideas from BHG, click here and here.
&nbsp&nbsp&nbsp
Last night we attended the much mentioned R Home For The Holidays event here in Richmond at the Virginia Historical Society and we returned home full of holiday inspiration. We were super flattered to score an invitation (due to our new "contributer" status at R Home magazine where we have a DIY decor column that launched in their holiday issue). And we were even more psyched to share a few tickets with some lucky readers. But fear not if you didn't win or just happen to live far far away. We're here to provide a virtual tour so sit back with a glass of egg nog and get ready to have a jolly ol' time.
The event kicked off with a display of creatively decorated Christmas trees (many by local vendors, charities, and even college students). And each and every ornament got our holiday-planning wheels turning. Exhibit A: ornaments fashioned from festive rock candy. Reminiscent of colorful glittering icicles, we're crazy about this yummy idea: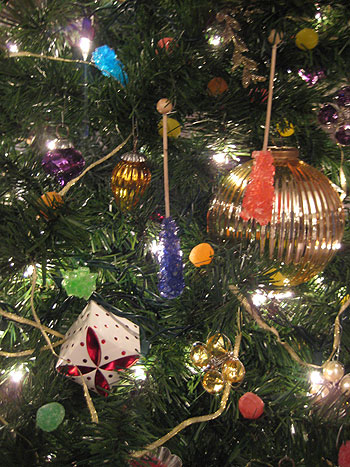 Hand sewn ornaments like these adorable critters are another sweet homemade way to create a cozy and cuddly atmosphere (you can snatch 'em up here or make some of your own). We especially love the cat hanging off of the tree. Me-owww.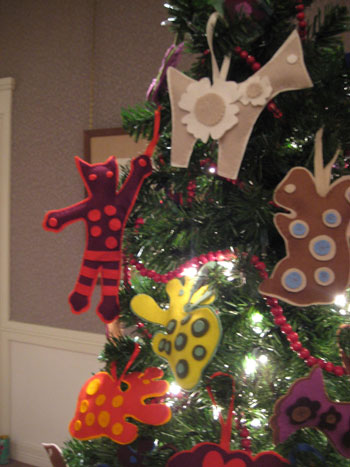 Another one of our favorites was a tree decorated entirely with gorgeous printed and patterned paper. The festive strung bird garland struck us as especially doable, and even the paper flowers seemed somewhat easy to master. And this look is certainly one you can replicate on the cheap (paper's a lot less expensive than glass, and you can pick up some of the decorative ones below right here).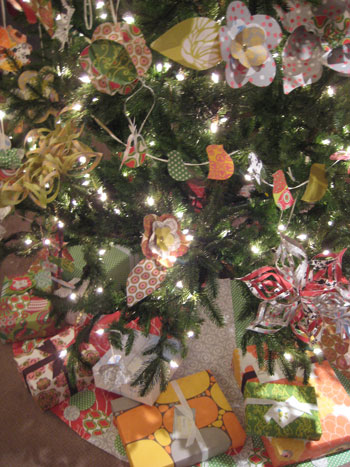 This tree was inspired by the beach, and while we're no strangers to starfish in our tree (click here to see some of last year's holiday decor at our casa) we loved the simple and sweet idea of stringing up a postcard or two to commemorate favorite trips or even represent family that lives across the country.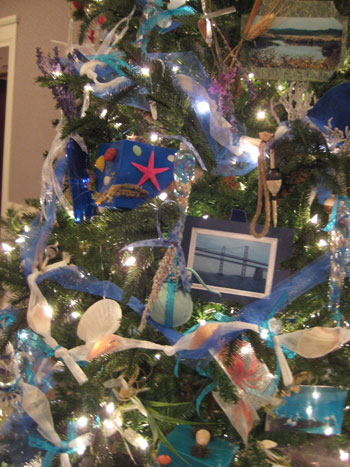 This adorable & edible tree was created for Meals On Wheels, and featured cute pinwheel pasta ornaments and balls decoupaged with tasty product logos like Jujyfruits and Snickers.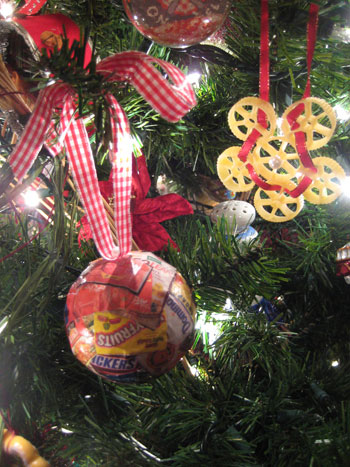 And last but not least, this tree took a natural approach with feather and bird's nest ornaments fashioned from ceramic and even wire. It was elegant, serene and understated- and heaven knows we love anything that's white and ceramic.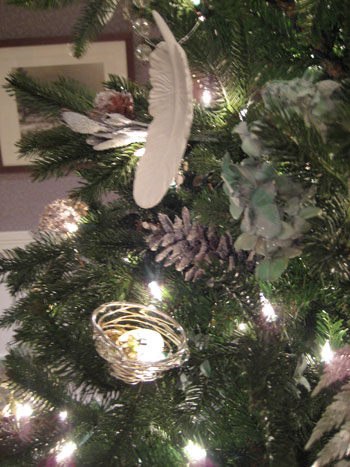 There were also a few vendors peddling their wares as people perused the Christmas trees and got into the holiday spirit. We thought this creative use of a drawer-turned-basket (with a great glass pull) was particularly inspired.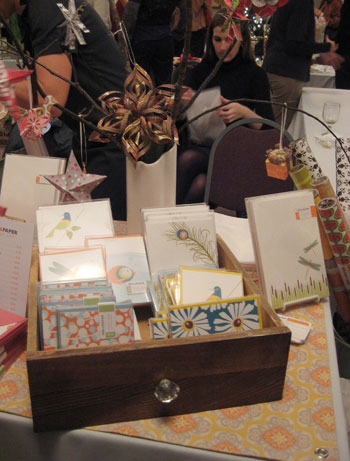 And harkening back to our love of all things ceramic and white, we definitely laughed out loud when we feasted our eyes on these debutante deer statues. Hysterical.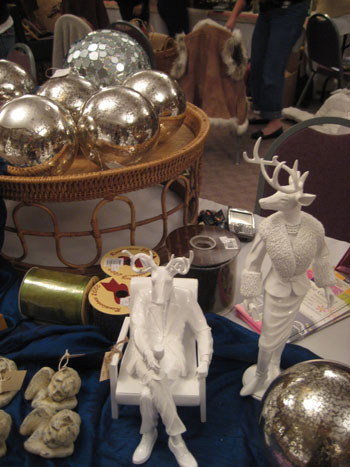 After we enjoyed some yummy munchies (everything from sushi to mini cordon bleu bites) we then headed to the auditorium to hear speeches from none other than the fabulous Barbara Fairchild of Bon Appetit and the always charming Matthew Mead of Country Home magazine (who I actually worked with many moons ago in NY when I freelanced for CH).
They both brought down the house with funny annecdotes and insider info (Bon Appetit is already shooting Chistmas stories for their 2009 magazine! Matthew secretly creates fake magazine covers in the hopes that he'll one day get his own!). And we especially loved Matthew's hands on demonstration about creating fast and affordable centerpieces (using everything from coffee beans and macadamias to cherries and crab apples). We really got a kick out of his artichokes-as-placecard-holders idea, since we happened onto the same solution a few weeks back. All in all, it was thoroughly entertaining and we left full of seasonal spirit (but only metaphorically speaking- while there was an open bar, we didn't over indulge).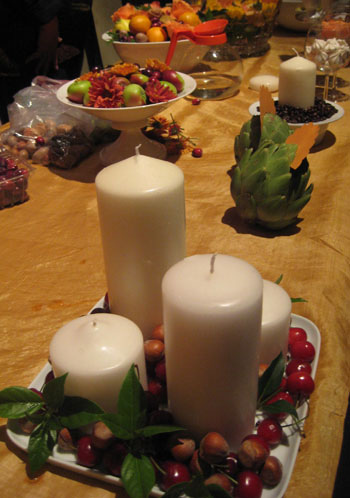 And we even got to meet some of our readers. It's always great to put a face to a name- er, comment ID. Here's one of our grand prize winners LeilaMac who was sweeter than that brownie bite I'm showing off below.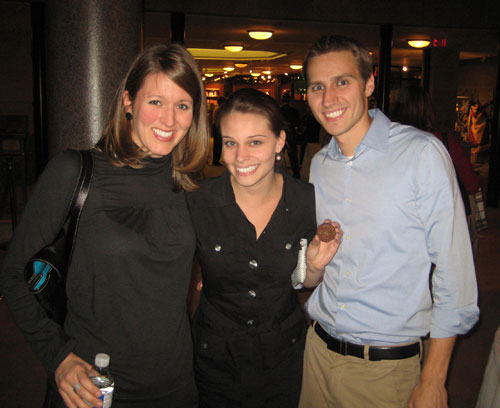 And here are a few more readers who boldly marched up to us and introduced themselves. Gotta love making new friends for the holidays!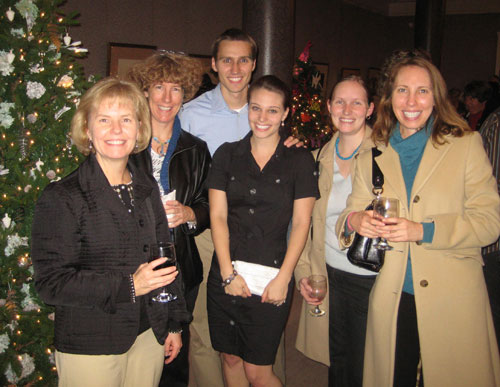 So that concludes our rehashing of the R Home For The Holidays extravaganza. We hope you've been inspired to dive headfirst into the holiday season. And if anything you've seen lately has you psyched for seasonal decorating, feel free to tell us all about it. 'Tis the season to share and share alike!
&nbsp&nbsp&nbsp