Archive for November, 2008
When Susan wrote to us in need of some dining room swankification, we trolled the web and tore through our paint decks to create a crisp and inviting space just in time for Turkey day. Here's her letter:
We definitely need your help with our dining room. It's a work in progress. The dining room table and chairs must stay but I can easily make new slipcovers if you object to the pattern of the material. The dark sideboard stays but the other can be removed (on the right). The rug is new but it can find a new home in another room if you think it needs to relocate. I was also thinking of getting a capiz shell chandelier- I saw one on your blog that I like. I will be adding crown molding and painting the shutters white. The blue paint is new and I sort of like it. I was thinking about curtains for beside the shutters. I really need accessories to make this room look finished. My style is kind of nondescript- I like things crisp and uncluttered (like Pottery Barn). We moved into a house that was very Southwestern and we are slowly trying to rid it of this influence… adios wrought iron and terrecotta! – Susan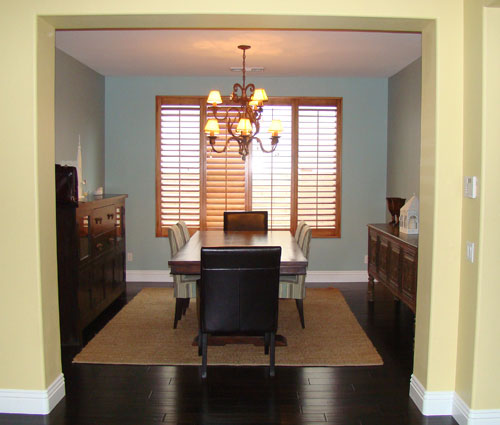 Those floors! That window! Those shutters that will soon be painted white! This room is bursting with potential. So without further ado, our trusty custom mood board to take Susan's dining room from basic to brilliant:
Here's the mood board breakdown.

Read the rest of this entry »
Just in time for John's 27th birthday, Burger whipped up an original paw painting for his doting dad. He's a regular Jackson Pawlock, I tell ya.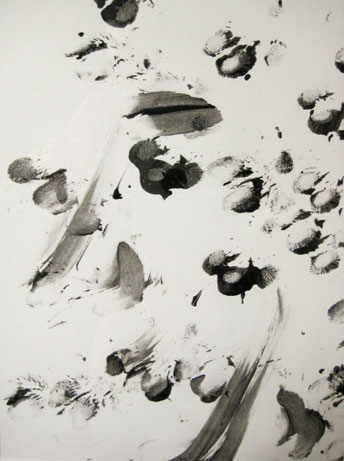 It was actually a cute little project that Burger and I took on together, and he had an inordinate amount of fun throughout the process (even afterwards at bathtime). I grabbed an 8.5×11 piece of white cardstock to serve as the canvas and some water based craft paint (which I squirted onto a plate). Then I just carefully dipped his front right paw into the paint puddle and let him dance it out on the cardstock.
The only important point to mention is to be sure you snatch up your pooch after his stompfest and thoroughly wash that paw before he scampers off onto the rug or the couch (we did the whole thing in the kitchen on the wood floor) and if you have a bigger pup you can always close doors or otherwise block off doorways to rooms that are less wipe-able in case puppy makes a break for it.
Slipped into a crisp white frame with a generously sized white mat (Target, $12) it actually looks like real art: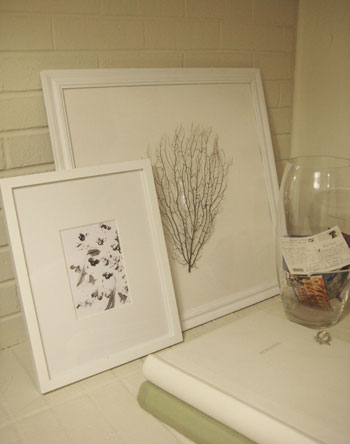 And although John adored his artful little puppy painted prezzie, I also got him a few practical and borderline professional (by our standards anyway) gifts for fun in the kitchen. The first being a 12″ Cuisinart Green Gourmet skillet coated with Ceramica, a new eco-friendly nonstick coating (similar to glass or ceramic) which keeps food sliding right off without any harmful off gassing or food leeching like Teflon. It certainly wasn't cheap but as John's mom so eloquently pointed out as I pondered whether I should spring for it, we'll have it for years. And we love it. We've never had quality cookware before, so consider us smitten.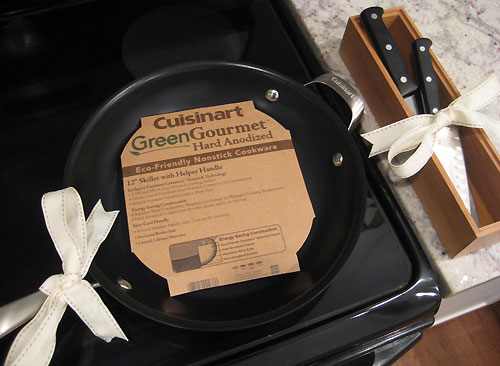 And along the same "quality cookware" theme I also bought two super sharp J. A Henckels knives and a nice little bamboo box for storing them (as opposed to those plastic knife sleeves- we're on a BPA/plastic-free kick even when it comes to our knives). Contrary to popular belief, John's actually the chef of our family and since unwrapping his new toys he's been even more excited to slice, dice and saute. Which of course is fabulous news for me and Burger the begger.
Before and after!
Ok, so we're not so good at the knock-knock jokes. Sheesh. But we do have an exciting new tab below our header labeled "Our Portfolio". And what perchance do you think is on that new page? Why oodles of before and afters of course!
That's right, we've finally compiled a collection of every decorating project that we've consulted on to date (from mood board makeovers to in the flesh consultations). And we've wrangled them into one easy to peruse place for your viewing pleasure. Low budget mini makeovers? Check. Total room overhauls? Affirmative. Bedroom redos? Yuppers. Kitchen transformations? Absafreakinlutely.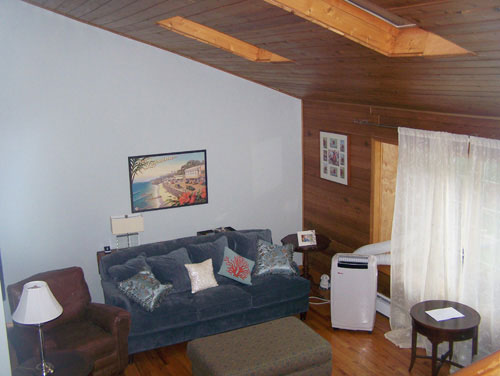 So click on over and have a look around (and enjoy the after that goes with the blah before pic above). And remember to check back every now and then for even more makeovers as they continue to roll in…