Archive for November, 2008
When Christan wrote to us in search of a clean and current yet soft and subtle kitchen color scheme, we grabbed our paint swatches and got to work. Here's her letter:
I'm so excited that I found your website! It has been so inspirational to read and I have many, many rooms I need consultations on! The first room that needs your help is the kitchen. You'll see that there are a full set of cabinets on one side of the kitchen, and then on the other side, just past the fridge, are another row of cabinets. The cabinets are currently painted white and have become stained with coffee spills, etc from the previous owners. They are in desperate need of being repainted. What color combination would you recommend for the walls and for the cabinets? My fiancé, Dan, tends to have a very modern style and I tend to sway a little more towards French Country and warmer colors (although I love cool tones and neutrals, too). We need to find a happy medium… if that's possible… between the two styles. Please keep in mind that I cannot afford to change the flooring or the counters at this time but we are planning to get new cabinet hardware soon and new appliances sometime in the future. Oh and eventually we will sell the house so please keep resale in mind when you're developing the color palette. We look forward to hearing what you think! – Christan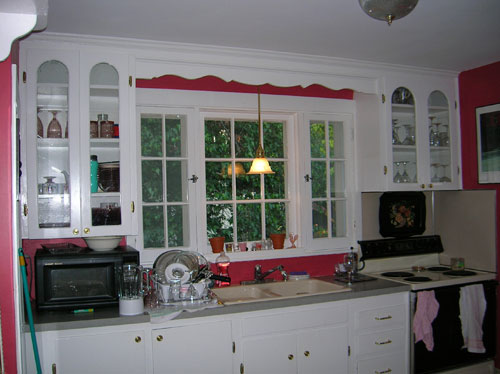 Those walls are certainly bright against those white cabinets, so we're sure this is going to be one of those insanely dramatic before and after stories. Of course we have to mention that the color schemes below look a heckova lot more dynamic in person, so bear with our paltry attempt to recreate them in Photoshop. The best thing for Christan to do is to grab all of the swatches that we recommend below and hold them up in her space to see which grouping suits her fancy. We can hardly wait to see what she picks (and of course peep the after pics!). So without further ado, three different color palette ideas to spiff up her kitchen in no time: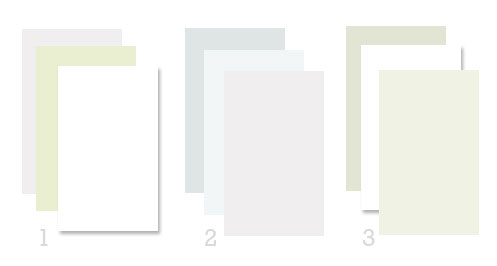 Here's the color scheme breakdown.

Read the rest of this entry »
&nbsp&nbsp&nbsp
We hooked you guys up with an easy breezy chair upholstery tutorial a while ago, and we're back with some more fabulous chair overhauls for your viewing pleasure.
John's frequently mentioned sister Emily recently recruited me to go fabric hunting with her in hopes of stumbling upon the perfect new fabric to cover two old chairs with serious transformation potential. First we pounded the pavement to find the perfect complement to this sleek, low slung chair (with worn orange fabric that had seen better days). Here we are testing out a few swatches before calling the upholsterer: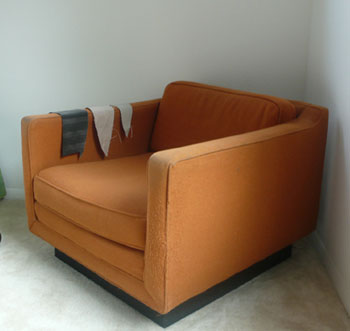 And here's the well dressed "after" proudly sporting a tiny black and white checkered fabric that gives off an overall gray effect with some movement (and a super fun pillow to keep things interesting):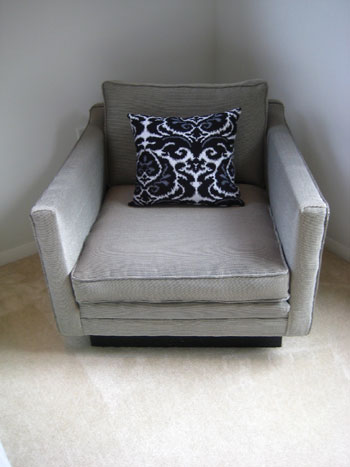 But the upholstery party didn't end there (in fact, we cleverly negotiated a discount rate thanks to the fact that we had two chairs that needed recovering). Here's a chair that Emily and I discovered for a mere $15 at a thrift store (The Love Of Jesus, here in southside Richmond- and yes it's really called that). The bones were there but it needed some major work. Here's the granny-esque before:
And a progress shot after we spray primed and painted the wood a bright crisp white: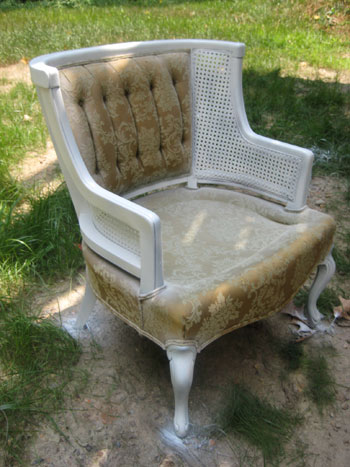 Then we sent her off the the upholsterer for a sexy little makeover (in ever so classic black suede) to compliment her new white paint job: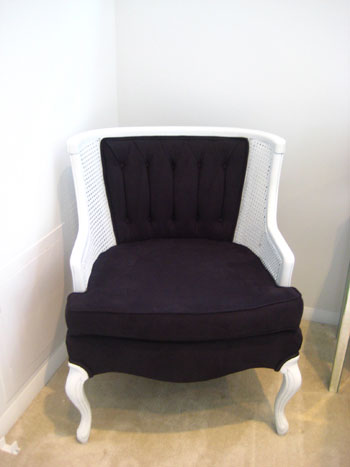 So there you have it. Two fab chair makeovers thanks to some timeless fabric selections and some much needed upholstery assistance (many thanks go out to our local upholstery guy Bruce Thorton: 437-8853). We hope you've been inspired to rescue a sad, droopy looking chair or two! If they have the right bones you'll be well on your way to sittin' pretty. And send us your chair makeover pics if ya got 'em- there's nothing like a little eye candy in the morning.
&nbsp&nbsp&nbsp