Archive for October, 2008
OK, we've been bursting at the seams to reveal this fabulous before and after and it's finally finished (insert party kazoo sound effect here). And the reason that we're so excited to share this perky pink makeover is that it's a little girl's room (we often do adult rooms but kids rooms are so much fun). To add to our enthusiasm, we were also able to reinvent amazing thrift store finds and raid Ikea to transform little Olivia's bedroom on a serious budget ($200 to be exact). So without further ado, the blank slate before pics: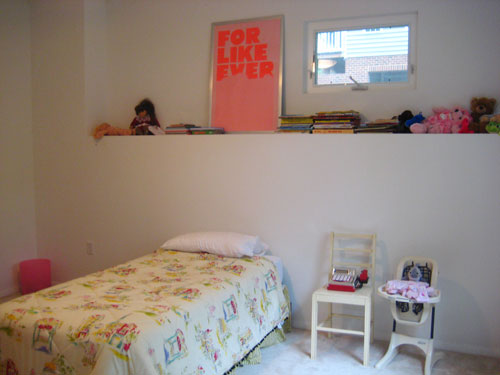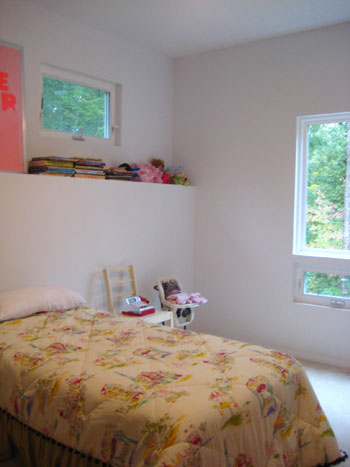 Eight year old Olivia's house is a new construction here in town, and her mom (who just happens to be John's lovely sister) was looking to add plenty of playful pink along with a major dose of personality (for her fun loving and fabulous daughter). The room had great bones to begin with (a giant picture window and that amazing built in shelf behind the bed to name a few) so we couldn't wait to create a whole new room for Olivia without breaking the bank. One of the first pieces that we found was this desk at a local thrift store. It needed some love, but the open shelving and the clean lines had us at hello. Not to mention the $15 price tag. That was a major selling point too.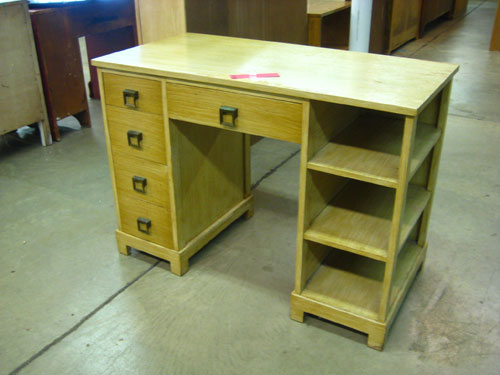 A coat of oil based primer followed by two coats of punchy pink paint (Benjamin Moore's Milano Red) took the old desk from drab to fab. Here it is living happily ever after in the corner of Olivia's reinvented room: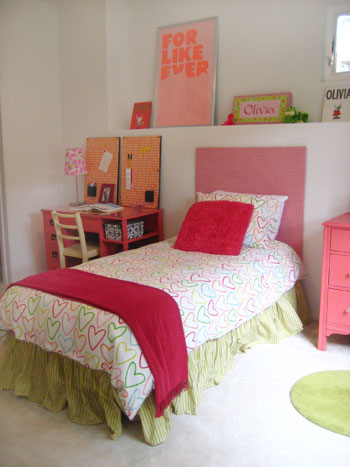 But our affordable desk overhaul didn't end there. We also picked up a custom cut piece of plexiglass to lay across the top of the desk to protect it from endless scribbling while lending a crisp modern look on a dime (well, more like 300 dimes- it was only 30 smackaroos).
We also snagged a $5 desk chair at the same thrift store where we found the desk, and even grabbed two magnet boards from Ikea, which we covered with some cheeky wrapping paper (that says "there's no place like home") to add even more texture and fun on the cheap. And for even more pattern and pinkness, we snatched up a $20 Ikea desk lamp to complete the layered pattern-on-pattern look. Now Olivia can file in style (we kid you not, the girl has a serious office supply obsession).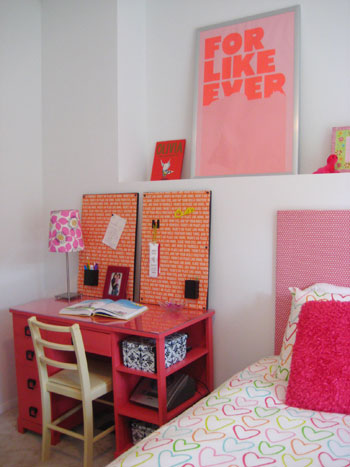 And because we wanted to create balance and inject some more of that poppy pink paint, we also painted Olivia's hand-me-down dresser (located on the other side of the bed) the same punchy hue. Plopping a $9 green Ikea rug in front of it added even more fun and freshness, and also helped to tie in the color of Olivia's existing bed skirt as well as her darling Olivia sign above the bed.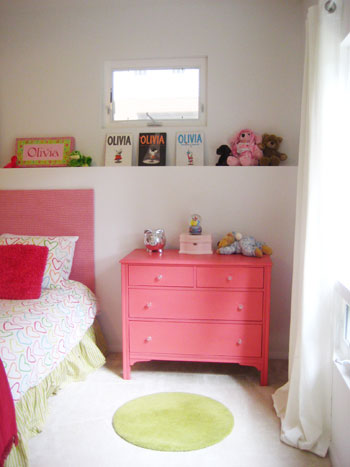 We also softened the windows and framed that gorgeous view with some easy, breezy grommetted curtain panels from Ikea. And even upholstered her headboard by hand (click here for our oh-so-simple tutorial). Then swapping out her existing duvet for something a bit more graphic and mod really polished off the entire room (for $13- gotta love Ikea).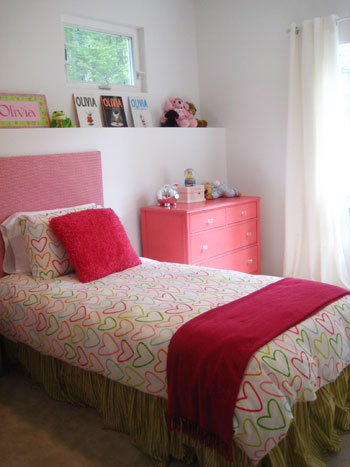 And because creating a personalized and inviting space for Olivia was the name of the game, we grabbed a few of her favorite books (which just happen to share her name) and lined them up on that great architectural shelf above her bed. It doesn't get much more customized than that…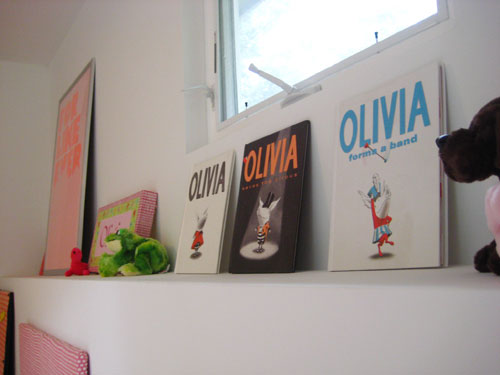 And because we know you guys like to see how we worked with our $200 budget, we included a little price breakdown for your viewing pleasure. We may have spent every last penny (well, we actually had a few of those left since we rounded all of our prices up to the nearest dollar) but we're definitely proud of our penny pinching purchases.
Olivia's Cost Breakdown:
Thrift store desk: $15
Thrift store chair: $5
Custom cut plexiglass desk topper: $30
Pink dresser: free (it was Olivia's brothers old desk that we painted)
Two grommetted curtain panels from Ikea: $39
Two Ikea magnet boards: $26
Orange wrapping paper to cover magnet boards: $3
Ikea heart duvet: $13
Upholstered headboard: $40 (click here to see how we made it)
Round green rug from Ikea: $9
Ikea desk lamp: $20
GRAND TOTAL: $200
So what do you guys think? Isn't Olivia's new bedroom cozy and cute? Do you have any simple and affordable decorating tricks up your sleeves for transforming a kids room on a dime? Share and share alike.
The pumpkin carving bug snuck up on us this weekend. So we dashed out to a nearby church / temporary pumpkin patch and snagged a pair that was ripe for the carvin'. Rather than grab the traditional orange variety, we picked up (this should not surprise you) white pumpkins instead.  And these non-traditional pumpkins called for non-traditional designs courtesy of some homemade stencils.
I wanted to flex my pumpkin carving muscles (I got skillz, yo) so I located an intricate damask pattern online and used Photoshop to turn it into a black & white line drawing that we could use as a stencil.  After sizing it to fit my pumpkin, I simply printed it out on regular office paper. This is the moment where I should've second guessed my very intricate pattern choice: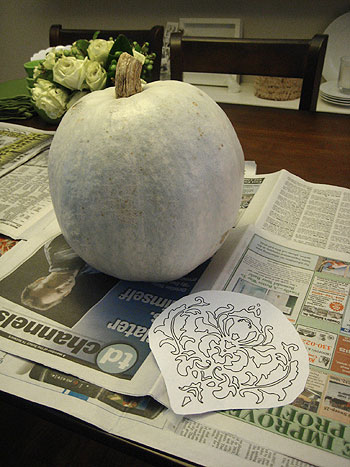 To transfer the stencil onto the pumpkin, we used a trick Sherry picked up in art school.  We flipped the paper over and rubbed graphite all over the back of it using a regular pencil.  It's like makeshift carbon paper.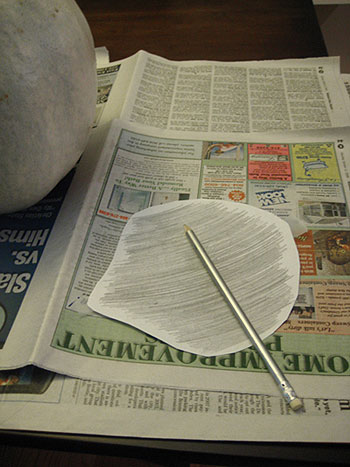 Then we taped the design in place on the pumpkin (graphite side down) and used the pencil (and some decent pressure) to trace over the damask outline. This transferred a faint outline onto the pumpkin, which we then went over with a thin Sharpie to make sure that the design didn't smudge away during the carving process: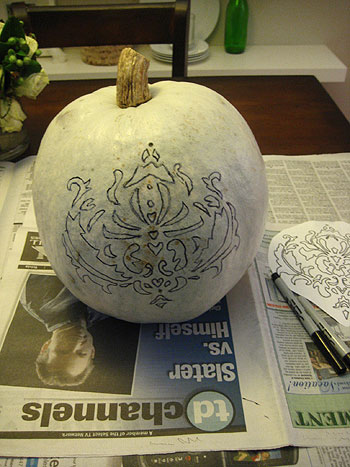 From there we got down to slicing and dicing, using a $2 four-in-one pumpkin carving tool we picked up from Michael's.  I'll spare you from most of the photos of this process, since everything after the initial pumpkin gutting involved a lot of strained grimaces and "man, this thing is thick!" faces. White pumpkins are a rare (and pretty thick-skinned) bunch.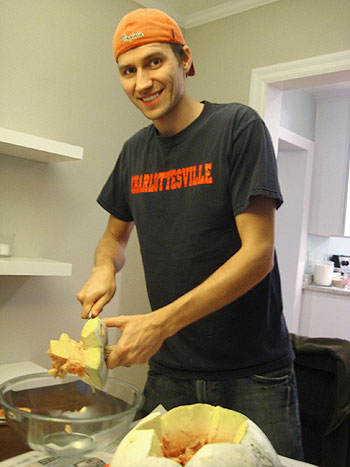 But in the end, I was pleasantly surprised with the final result… since there were multiple moments in the process when I was sure it was ruined. Not the easiest design to read from the road (but I do like getting guesses as to what it is – a butterfly? a monster?). And I lived to tell the tale. With all ten fingers in tact no less.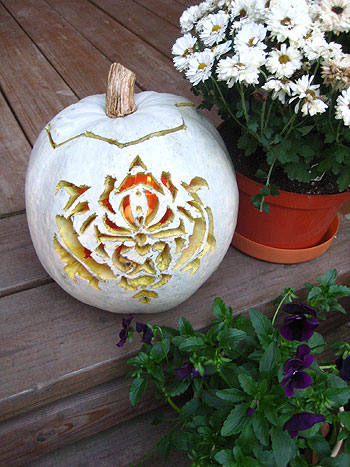 But we did take things a little bit easier with the pumpkin Sherry carved (although I think it was just as successful when it comes to what Sherry calls "swank-factor". We used the same homemade pattern process, this time to transfer a J&S monogram onto her pumpkin- I know, a monogram, how predictable of us. Oh, and this pumpkin had some balance issues so we decided to try carving it on its side (cutting out the back, instead of the top). It's actually a lot more interesting that way. Gotta love a happy accident. Here it is before the carve job: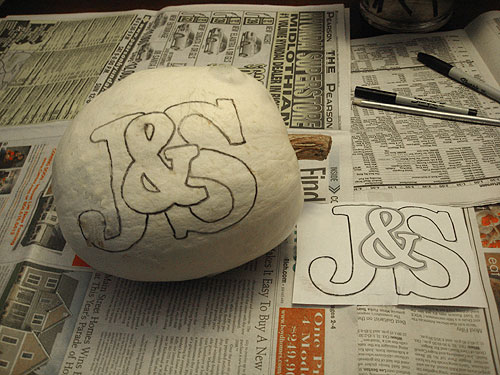 We designed the ampersand to overlap our initials knowing that it wouldn't be possible to completely cut it out. Instead, we just scraped off a couple of layers to expose the orange rind inside.  It's a good ol' trick sure to give your pumpkin a bit of the layered look. Here's the final result of Sherry's handiwork: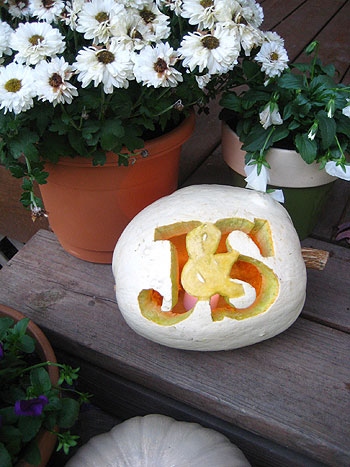 We loved how this one turned out, which gave us the idea of carving out our house numbers – one digit per pumpkin.  Maybe we'll tackle that another weekend when once my hands have recovered…
Got any unexpected pumpkin carving tricks or designs up your sleeves?  We wanna hear 'em so spill the beans- er, pumpkin seeds.
When Mai wrote to us in search of a modern and chic office makeover, we were excited to put our heads together and whip up something faaaabulous, darling. Here's her letter:
Your home and design choices are absolutely amazing and inspiring.  I love reading your blog daily.  Where I need your help is my office.  I purchased a white parsons desk, a ghost chair, a Keep Calm & Carry On art frame, and I also mounted a TV on the wall. Oh and I painted the room Benjamin Moore Silver Fox (which I'd like to keep). When it comes to a color palette I'd love to keep things light blue, black and white. I like to shop at ZGallerie, Pottery Barn, West Elm, CB2, and Crate & Barrel. Also I would like to add a little sitting area as well (and would like your help with furniture arrangement in general). I'd love for the office to be clean, modern, glamorous and chic. Thanks! I look forward to hearing from you!- Mai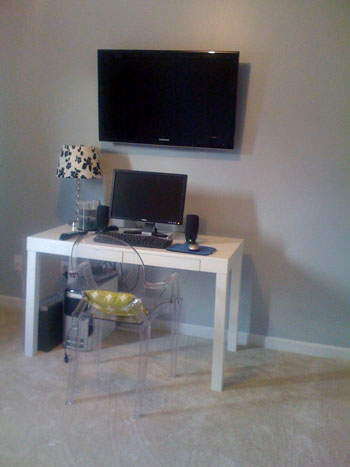 So we speedily whipped up a swank & sleek mood board for Mai's soon-to-be fabulous office:
Here's the mood board breakdown.

Read the rest of this entry »