Archive for October, 2008
When we got Keatra and her hubby Levi's plea for help with their living room we couldn't wait to spring into action. Here's their letter:
I'd been debating taking the plunge and asking for help until I saw CJ and Amy's Design Dilemma and House Crashing: A Brilliant Bungalow. They pushed us over the edge and here we are! As far as our style goes we are not fond of anything too "matchy" and thus I immediately fell in love with the variety of design elements that filled Matt and Kristin's house. I would say that our preferred style is somewhere in between modern and funky flea market. We find ourselves shopping at places like Ikea, Cost Plus World Market, and Urban Outfitters. We like the current green wall color (Behr's Grass Cloth), red book case (Ikea), and dining room table (although we are up for new chair suggestions if the current ones don't work).  A new front door is on its way, it has 6 small windows at the top that we'll want to add a curtain to for privacy.  The TV stand can go, but if we can paint it, it might save our budget a bit. I am sad to say that the couch should probably stay for now as we have a new four-legged addition that is still learning his manners, but a suggestion would be great for when the time comes to make the purchase, we'd prefer leather as we have two cats and two dogs! Thank You!  -Keatra and Levi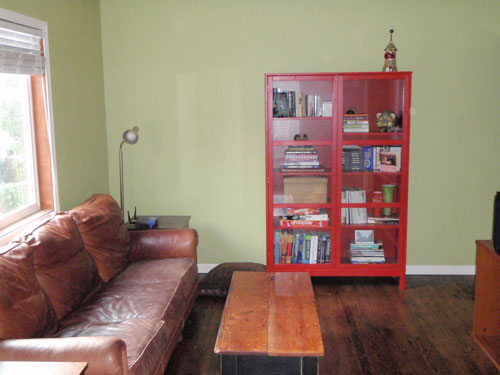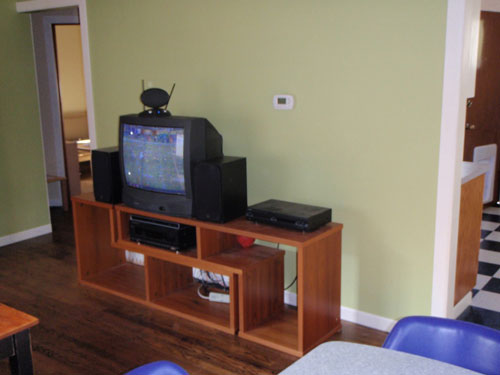 We love Keatra and Levi's wall color, and that red piece from Ikea is amazing! We can definitely work in a lot of their existing pieces to create something modern, mix & matched, and anything but expected. So without further ado, our handy dandy mood board:
And now for the mood board breakdown.

Read the rest of this entry »
Just a week after we whipped up Mai's home office mood board she hit us up for a living/dining room makeover. Let the fun begin! Here's her letter:
First of all, I wanted to thank you for helping me with the office makeover! Moving along I need some serious help is the living/dinning room. My husband and I are both young professionals and just bought and moved into a brand new house. While its an exciting time for us, our social life is in trouble. We just can't drum up any enthusiasm when it comes to entertaining guests in our cold and sparsely furnished living and dining area. We want to transform this room into a grand, glamorous, contemporary space with an intimate and personal feel. The living room and adjoining dinning room have vaulted ceilings and an awesome fireplace. But the living room's existing light fixture is really small and it just didn't cast enough light over the space. As for right now we don't have a lightning fixture in the dinning area but we need one there as well as a new dining table and chairs. Also our large television definitely has to be incorporated into the room. We currently don't have any furniture in the house so feel free to suggest everything that you think will fill out both spaces- oh and I love the Borghese dresser at ZGallerie so if you could work that in I'd be much obliged. Yay, I'm so excited about this. Thanks! -Mai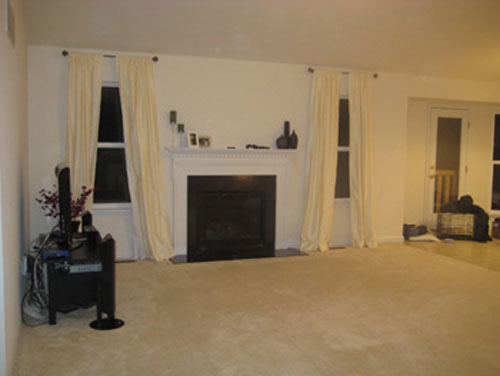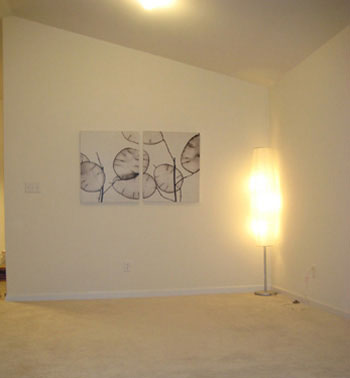 Such a grand room with such great high ceilings (the first pic is the living area and the second pic is the adjoining dining area) deserves some fantastic furnishings that make entertaining a snap. So without further ado, our sparkle and shine mood board for our hostess who will soon have the mostess:
Here's the mood board breakdown.

Read the rest of this entry »
It's been a long while since we've done a Top Design update (I've been trying to be respectful of the fact that not everyone is as reality TV obsessed as we are).  But, we're down to the final four so I figured it was worth a mention, especially as we near the conclusion of our little guess-the-top-three-contest.
For those of you who watched this week, you saw my sole remaining hope in the game, Andrea, excuse herself from the competition so she could be back with her family.  Thereby dashing both her hopes and mine for coming out on top.  In fact, I'm the only person who's had all three of their picks eliminated.  Shows what I know…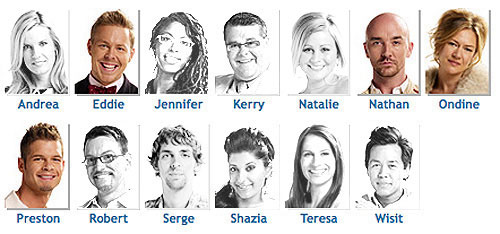 Even though Andrea's chances were slim at this point, I was still disappointed to watch her give up when the judges clearly stated that Ondine had the worst design this week (see the rooms for yourself here).  If I had to guess now, I'd say it's a toss up between Martha-Stewart-in-training Eddie and design renegade Nathan… who happens to have been Sherry's top pick from the start.  Man, she always beats me at these things.
Who do you think will take the title?  Or better yet, who deserves the title?  And does anyone else miss Wisit and his operatic outbursts like we do?