Archive for September, 2008
No really, who are you people? You're a mystery wrapped in an enigma.
To help answer that very question, we thought we'd use our blogiversary week to get to know you fine people a little bit better – who you are, why you read and how you think we can make Young House Love even better moving forward.
So if ever there was a time to comment, it's now.  Please – no, pretty please – take two minutes to answer the questions below.  And if you've never commented before or are unsure how, it's easy.  Just click the number in that green speech bubble to the right of this post's title and scroll to the bottom of the page. Real names and e-mail addresses aren't required so the pressure is off. And if you're still too shy, feel free to e-mail your answers to youngsters@younghouselove.com.
And since we're already stealing a page from Decorno's book by doing this poll in the first place, we promise to recap all of your comments at the end of the week, a la her State of the Blog Address. So here we go with the asking of the questions:
Who are you? Male/Female? Age? Location? Marital status? Any kids?
How often do you read Young House Love? (Daily? Once a week? Whenever you have free time at work?)
How do you prefer to view Young House Love? (On younghouselove.com? Through an RSS reader like Google or Bloglines?)
What are your favorite types of posts & why? (Easy DIY ideas? Before & after pictures? Design Dilemmas? Major home improvement undertakings?)
What are your other must-read blogs? (If you have one of your own, feel free to plug it right here!)

What advice do you have for us to make Young House Love even better in year #2?
And, for fun, what's one change you would make to your house (assuming time and money were no object)?
Anything else you want us to know, or just gotta share with the world?
Thanks again for your time! And have we told you that you look lovely today? Because you do.
Many of you have probably heard that Sherry and I started Young House Love to help our family keep up with our kitchen renovation.  We came up with the idea while walking Burger one evening last September and even picked the name before finishing our loop around the block.
That night I signed up for a free WordPress account, found an existing template I liked, typed up a quick introductory post (read it for yourself here) and thus gave birth to our blog.  And it looked a little something like this: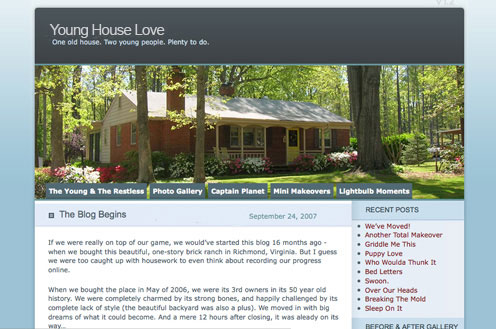 That steely blue template looks so funny to us now, but it was our pride and joy for the first 5 months of our blogging experience.  It wasn't until the dust had settled in our kitchen that we finally considered giving Young House Love a makeover too.
I learned some basic web coding and together we designed a new homepage that felt a little more like home (we spruced up the site with the neutral palette and clean lines that you see throughout our house). On February 16 we launched the new design and haven't looked back… although we're always open to suggestions if you've got any!
Knowing our ever-evolving tastes, don't be surprised if you see YHL v3.0 someday. But for now we're just enjoying our happy little home(page)- and we hope that you guys are too.
File this under it's nice to be nominated.
As we mentioned in our inaugural blogiversary post, we were actually talking to people at Harpo about doing a teensy little DIY segment on an episode of Oprah. One of our lovely readers over at Better Homes & Gardens (thanks Kaelin!) emailed us to mention that Harpo execs were looking for some crafty home peeps so she gave them our name. About an hour later the phone rang! Yes, we realize how INSANE that sounds. Even after 15 emails back and forth and two phone conversations it still seems like a series of dream sequences.
Alas, even after all the back and forth with the lovely people at Harpo, it just couldn't come together in time for their targeted episode (the one that featured Ty Pennington making over two twins' homes last Friday) but it was an honor, a privilege, and a bit of a nail-biter to have even been considered.
And now that we're on their radar who knows. Maybe one day we'll get to look cutie pie Nate Berkus in his dreamy green eyes and tell him how much we obsess over his sickeningly perfect design sense on a daily basis (although John would probably choose to word his admiration in a slightly different manner). Fingers crossed…