Archive for September, 2008
I go geeky for statistics, so one of my favorite things about blogging is being able to watch the behind-the-scenes action of who's visiting our site, where they're coming from and why they dropped by.  Part of this fun includes WordPress Stat's ability to show us the terms that people are plugging into their search engines which lead them right to our site.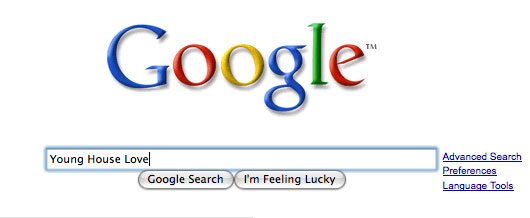 Most of it's pretty obvious stuff – "young house love blog," "modern kitchen pictures," and "house layout" – but occasionally we spot a search term that cracks us up.  I'm talking about the amazingly off-topic search terms that, usually thanks to our punny post titles, have led some poor soul to our doorstep by mistake.  So without further ado, we present to you our five favorites:
1.  "ELEPHANTITIS" – Our apologies to anyone with a real case of elephantitis who inadvertently found our post about Richmond's White Elephant Sale. We hope that any actual cases of inflamed tissue clear up soon.
2.  "YOUNG SUPERMODELS" – We blame our two posts about the local Parade of Homes, where we take a look inside new model homes in the area, for leading these people astray. We're looking forward to a slew of new America's Next Top Model searches next month when we take our third trip through the Parade.
3.  "N-SINK VIDEO" – It seems in the years since *N Sync faded from the top of the charts, many people have forgotten how to spell their name.  So instead of drooling over to boy band videos, over thirty people got to drool over the kitchen sink we scored on eBay instead.
4.  "OPEN RELATIONSHIP" – For this one I picture some pitiful guy searching for advice about how to ask his girlfriend about taking on a mistress. Instead, he found us asking for opinions about open living spaces vs. private separated rooms. Sorry for killing your game, buddy, but it probably wasn't going to happen anyway.
5.  "YOUNG PRETTY BOOTY" – As smarmy as this one is (which also reminds us that the Internet is not all houseblogs and rainbows) it still cracks us up at that some sicko landed at Young House Love thanks to a post called Birthday Booty. And I'm sure by mentioning it a second time, he's going to find himself back here all over again.  Hate to disappoint, but maybe it'll teach him a lesson.
And with that, a quick thank you to everyone who ended up here by using normal search terms.  We hope you found what you were looking for and we're especially glad that you decided to keep coming back for more.
&nbsp&nbsp&nbsp
Our custom mood board services were written up in The Washington Post this morning and the timing couldn't be better- happy blogiversary to us! We've been mentioned in The Post's "Blog Watch" section before, but this is the first time that we've been "featured" in a full article and we couldn't be more excited.
For anyone who'd like to take a peek at our new press, click here to get the scoop and read more about the "eDecorating" trend. And for anyone who is discovering our blog for the first time, welcome! We hope that you make yourself right at home. Click here to learn more about our custom decorating advice and be sure to check out our three most popular before & after makeovers below.
First there's Stacie, who ordered a custom mood board to lighten up in her dark bedroom. Here are the before shots: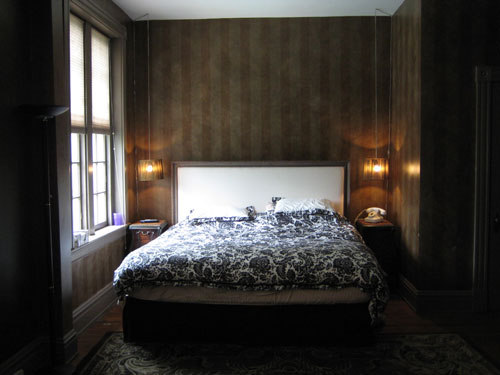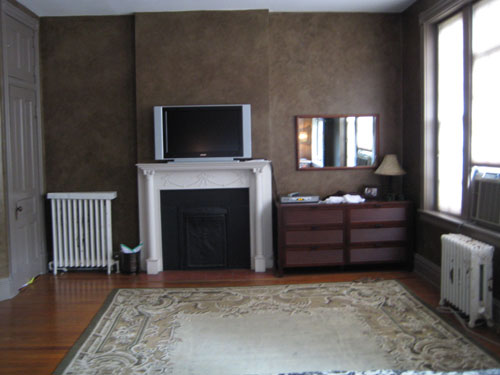 But once we whipped up an open and airy mood board for Stacie, this was the dramatic after: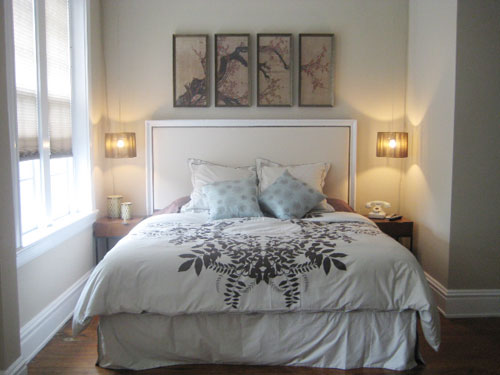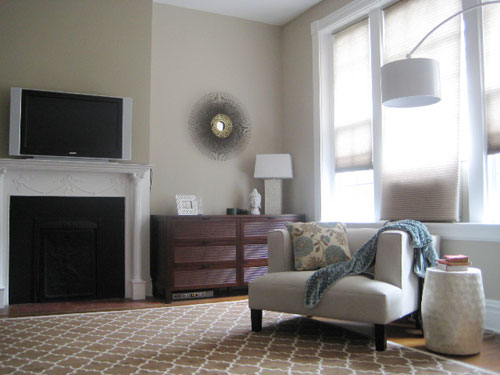 Another one of our most popular mood board makeovers occurred in Tiffany's family room, where she hired us to help her spice up her space with some worldly flavor. Here's the blank slate before: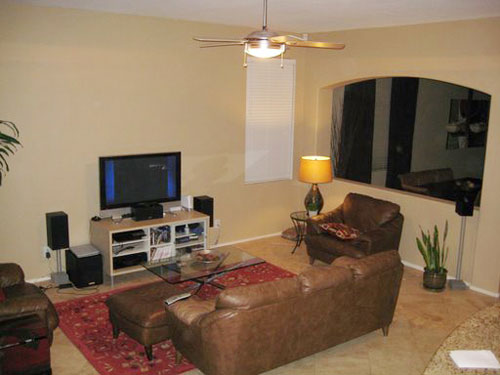 We put our heads together to come up with a global mood board for Tiffany. Without further ado, the exciting and international after: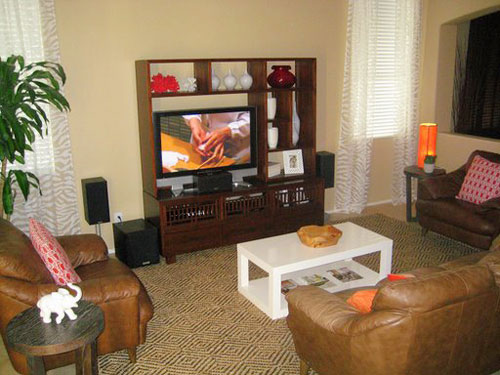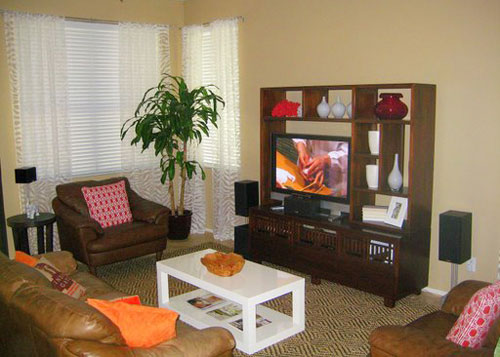 Yet another fan favorite when it comes to our custom makeovers was the under $200 transformation that we pulled off in Carrie's apartment. Here's the living/dining/kitchen area before: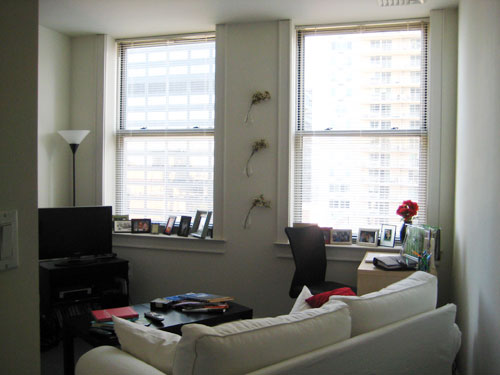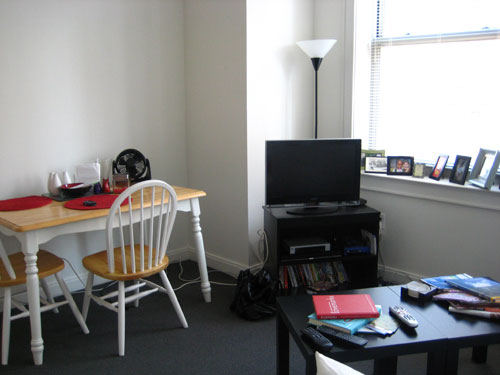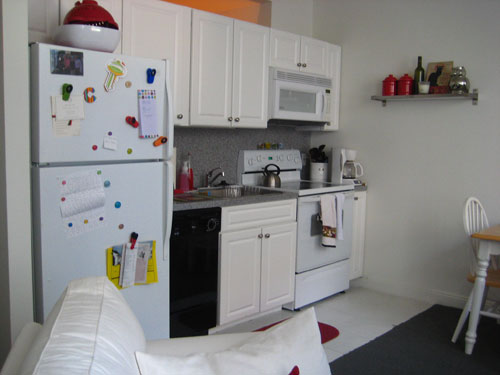 And the rearranged and affordably accessorized after: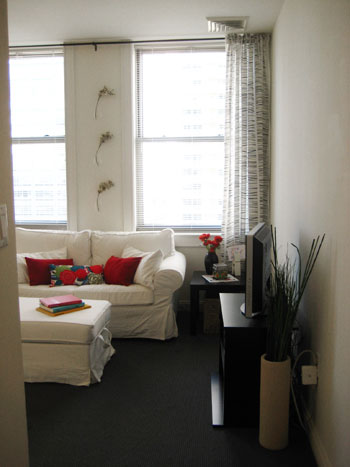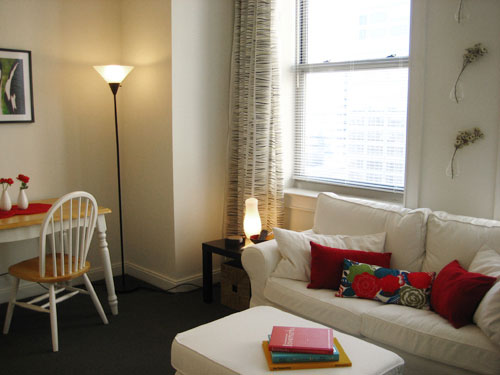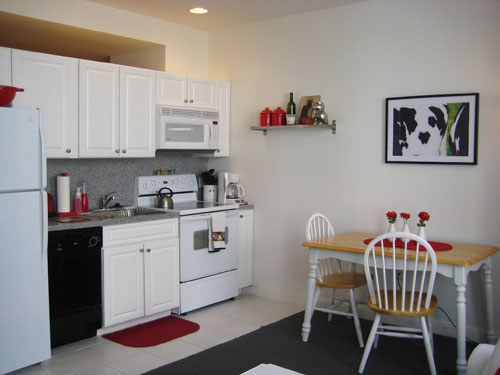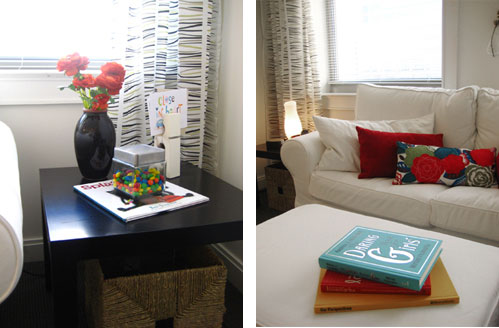 So whaddya think? And thanks so much for stopping by. Y'all come back now, ya hear?
&nbsp&nbsp&nbsp