Archive for September, 2008
Every house has a few utterly unsettling design challenges and ours is certainly no exception. And since we promised you guys the behind the scenes dirt in honor of our blogiversary week, we're gonna give you the inside scoop about our home's shortcomings (and how we went about turning a wackadoo design flaw into something a lot less visually offensive). Onward!
House Quirk #1: The window above our bed isn't centered. Not even close. In fact, it's over a foot too far to the right. So we racked our brains and came up with the idea to hang those tan curtains super wide on on either side of it, thereby cheating it to the left and making it appear centered. And that's how a $25 set of curtains negated our first seriously obvious design flaw and made our built-in wall look a lot more balanced and serene.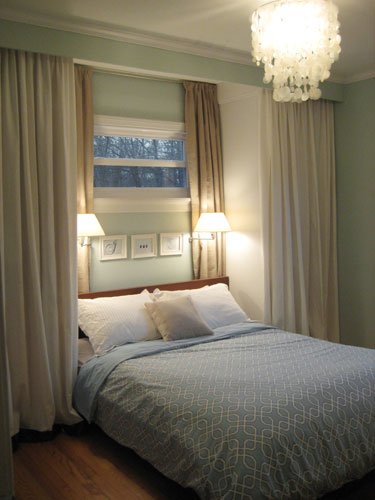 House Quirk #2: We had a crazy steel fuse box in the middle of our den. Enter our make-shift mudroom stage left. Sure it does a great job of corralling our coats and scarves, but it also hides that doozie of a fuse box which was painfully obvious when we moved in (don't mind our cute realtor below).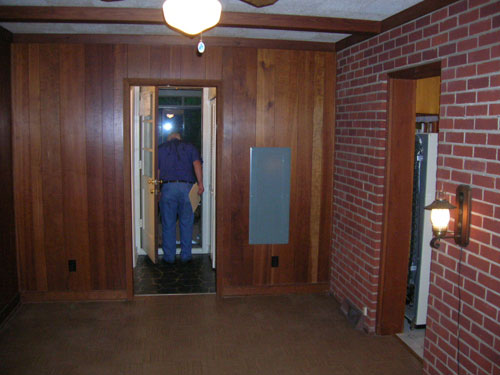 But thanks to paint, paint, more paint, and a row of hooks to further obscure the big hunk of metal in the corner of our den, now no one's the wiser. (And widening the doorway to the sunroom and the passageway into the kitchen along with laying hardwood floors throughout the adjoining rooms made the whole space a lot more open too).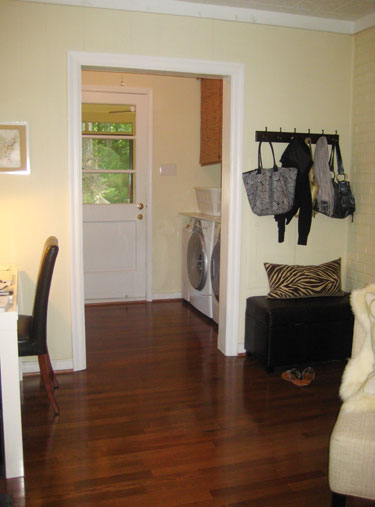 House Quirk #3: Oy. Our living room sported a weird wooden divider of sorts near the front door (check out the center panel with stained glass- so classy) along with a faux stone linoleum floor (!) in the corner. The design solution here was obvious- get 'em the heck outta our house. So when John went to work the day after we moved in, I got out my trusty hammer and…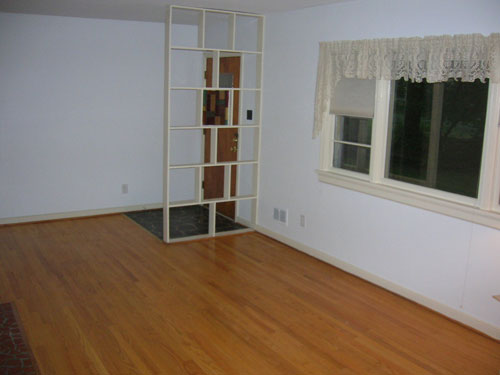 …knocked the snot out of that hideous divider (thereby making it pretty easy to carry out to the curb). But as for the "stone" linoleum, we thought our design fix would be an oversized natural fiber rug for the entryway to cover that serious faux stone fax pas. But it wasn't an easy size or shape to come by.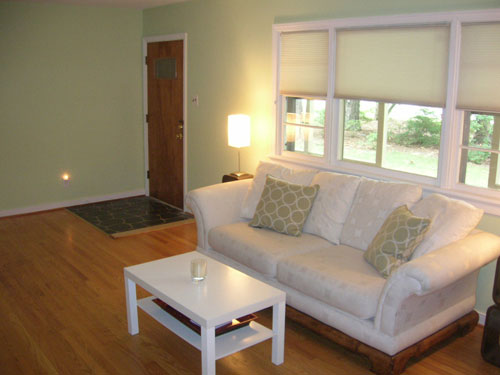 Then one strange and wonderful day I realized that the linoleum might have been installed right over our existing wood floor (instead of over the subfloor) meaning that I just might be able to rip it up to expose a perfect wood floor underneath. Of course every fiber of my being knew that this was an extremely optimistic outcome- who would cover hardwood with linoleum? And wouldn't it be coated in glue and nail holes if it was? But I pried up the linoleum and discovered flawless wood flooring that was living in secret underneath that hideous fake stone! And even though a tiny welcome mat lives at the entryway for practical reasons, it doesn't have to be crazy big and square to cover anything that's pretending to be stone underneath.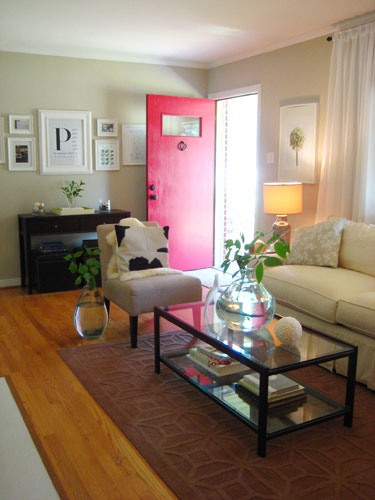 House Quirk #4: Our den was an obvious addition. That's right, it's back to our former hunting lodge for another major design flaw reveal. This room was added on (along with our second bathroom, laundry area and sunroom- thank God!) back in the 70's and while most of the space worked pretty seamlessly (there's not a step down or up, which we love), part of the den wall that used to be an exterior window was bricked over in a not-so-subtle way when they built the addition.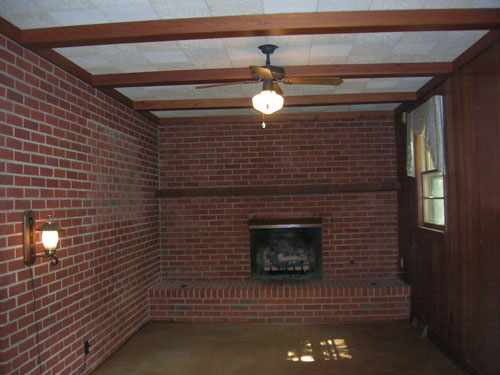 The bricks were dusty and the wrong color- in essence there was an obvious patch job going on. But since we never intended to leave any of the oppressively dark brick unpainted (or those beams and the paneling for that matter) this flaw was fixed in no time flat.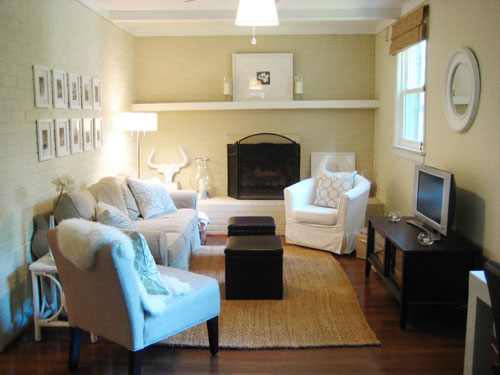 House Quirk #5: I used to have to dry my hair in the sunroom, which got pretty cold in the winter. That's right, when we moved into our house neither of the bathrooms had a single outlet in them- in 2006! Who lived here before us? Hippies with dreadlocks? Bald people? Anyway, the sunroom was the only room with an available outlet and a mirror nearby. Needless to say this was the most apparent flaw to our first few guests (sorry Cat!). But it was easily fixed the right way, by hiring a licensed electrician to pop a double outlet right next to the bathroom mirror for $65. Best 65 clams I ever spent.
What about you guys? Does your house have a design flaw that you just can't seem to conquer? Or have you remedied even the stickiest of design challenges? We showed you ours- now it's your turn.
&nbsp&nbsp&nbsp
It took us 'til last night to finally catalog all 199 responses to Tuesday's get-to-know-you-better post. And we've thoroughly enjoyed poring over all of your comments for the last three evenings.  So thank you again for taking the time to tell us about who you are and why you're here. You guys were a total mystery to us (much like this picture below) but now we feel like we've known you for years.
You're like us: This should come as no surprise, I guess, but for some reason we were shocked by how many of you were just like us: 20-something married couples figuring out this whole home ownership thing. A remarkable number of you are not only from Virginia (26), but are also from our beloved Richmond (11). And a whole lot of you are dog owners too (Burger says "holla" to the 96 pups mentioned).
You're not like us: But even while the average commenter was 29 years old, others ranged from their teens to their sixties. There were mothers of many, expecting mothers (congrats to the 5 of you!) and even an expecting grandmother (rock on Marty).  People also commented from all corners of the nation and even the world (Europe, Australia, and Asia were among the international locales). But it's clear that no matter our ages, life stages or locations- we all share this common love for sprucing up the place that we call home.
Three of you are like me: That is, male. Thanks to readers (and fellow home improvement enthusiasts) Wes, Ethan and Kyle for having my back. Although I also like that Melissa and Heather outed their men for reading in secret. The scandal!
We're in a committed relationship: Most of you called yourselves daily readers – although some admitted to being a bit more obsessive about it.  Either way, we're totally flattered.  And we love that so many of you come directly to the site (60%) but are also grateful to Google Reader and other RSS feeds for keeping the rest of you up to date on all things YHL. Let's say we've got plenty of motivation to keep the posts a comin' on a daily basis.
But enough about who you are, let's talk about what you want…
More of the same: It's always nice to be reassured that we're doing something right so, to borrow a phrase from five of you, we plan to "keep on keepin' on."  Expect more of your favorites – Before & Afters, Design Dilemmas, DIY Projects, Green Tips, etc. And to keep the 'ol ball rolling, we'd love MORE E-MAILS from you guys. Send us your before & after pics (especially you design dilemma folks!) because there are only so many more "afters" that our budget allows for in our own home at the moment.
New twists: But what fun is staying completely the same?  So thank you, thank you, thank you for all the awesome new ideas to keep things interesting around here. Here's just a sampling of the things you can look forward to:
Contests – You guys clearly love free stuff as much as we do, so give us some time and we'll figure out a fun contest or giveaway for a custom mood board, something from our shop or – who knows – maybe even a major prize from some generous big whig out there.
Holiday Decor – 'Tis almost the season, so stay tuned for entertaining ideas, affordable holiday decor, and all things to help you give thanks and deck the halls.
Low/No-Cost Makeovers – Whether you're a renter like Carrie, or just looking to save some loot, we'll put our heads together to dig up some more low budget and no budget design tips in the coming months.
More House Crashing – We got so many invitations to crash homes across the country that we're already saving our pennies for our first house crashing flight.
Party Crashing – We think weddings are a great place for design inspiration, so we loved the suggestion to look at other parties for ideas. Stylish table settings, memorable invitations and tasty appetizers are on the agenda among other entertaining tips and tricks. Any varsity part-throwers out there willing to invite a couple of chatty Richmonders to their next shindig in the name of research?
But that's not all. Not even close. There's plenty more good stuff where that came from (including lots of laughs) but we'll leave it at that for now. It was GREAT meeting all of you virtually. Thank you for all the kind words and for helping us make our second year even better than the last.
&nbsp&nbsp&nbsp