Archive for September, 2008
We love our kitchen counter and we love blueberries, but when we lifted up our blueberry carton and saw this, we weren't too pleased with either of them at the moment: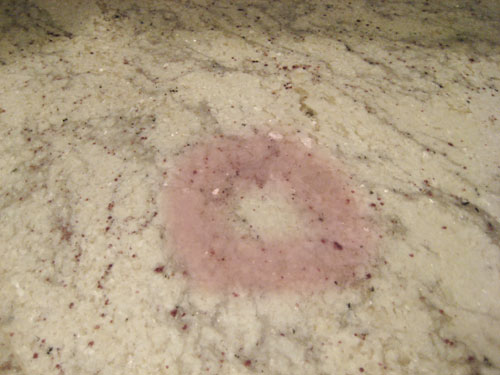 Yes, one of the only reasons granite can be tricky is because it's a porous stone, so it can absorb stains. And since our counters are not exactly the cheapest thing in our kitchen, the idea of a permanent pink square freaked us out in a major way. Especially when we realized that the blueberry carton had sat in that very spot for four whole days (!!!) before we picked it up and noticed the stain. We were 100% certain that we'd be stuck with that pink badge of honor for good.
But just for kicks we dug out the granite care card that came with our Stonemark slab back in January. Besides recommending that you wipe up any spills immediately (and we're guessing that doesn't mean four days later) it also mentioned that regular old household bleach can't harm granite, and can actually be used to suck a stain right out of the stone.
Needless to say, we were intrigued. So we ran next door to borrow some bleach from our neighbor (since we make an effort to keep chemicals of that caliber out of our home). You see, major chemical concoctions can be granted temporary admittance on the grounds that they might save our stone (although I actually wore two layers of rubber gloves and opened all the windows to air things out). The care card suggested pouring bleach right over the stain and letting it sit overnight with some plastic wrap over it to keep the granite moist. We didn't have any plastic wrap but we did have those big plastic freezer bags, which seemed to work just as well.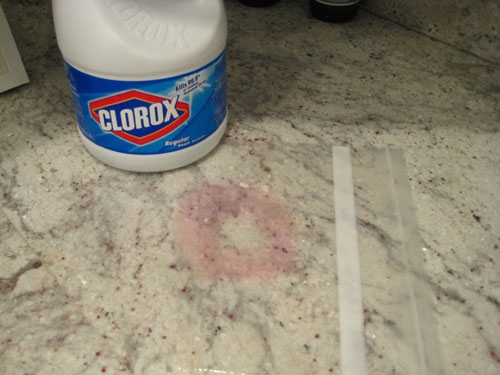 And we didn't even have to wait til the next morning. Within about an hour the stain was nothing more than a dark shadow and in another two hours it was completely invisible. And today I couldn't tell you where that pink square used to be if you pointed a gun at my head.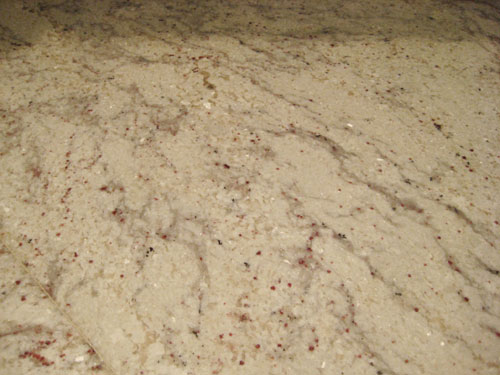 Of course, to thank the bleach for saving our counter we immediately exiled it from our home (read: returned it to the neighbor). But in this case it worked so effectively (and saved us at least one to three ulcers) so we definitely thought it was worth passing along as a possible granite saving solution for anyone else in a pinch.
And honestly, the experience has made me love our counter even more (there's no love lost for blueberries either, which we now keep in a glass bowl on the counter instead of the hole-riddled plastic carton). The fact that a big hideous berry stain could sit there for days and completely dissappear in mere hours makes me a lot less nervous about the occasion oil or wine spill that used to make me break out in hives. The moral of the story: if you're considering granite but are nervous about the stain-factor, it's safe to say that it's a lot more durable than ya think.
Tiffany totally made our Labor Day by sending us some amazing after photos from her family room re-do inspired by the globe-trotting moodboard we cooked up for her a couple months ago.  But before we reveal Tiffany's major makeover, let's take a quick walk down memory lane.  Behold, the family room before: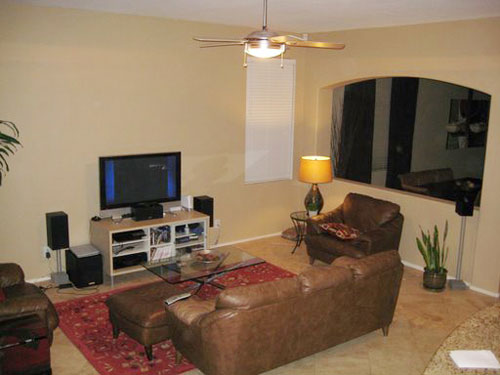 Tiffany called on us to help her create a cohesive look that exuded international flavor while maintaining a decidedly modern touch. So we worked with the existing couch, chairs and TV and created this gorgeous global moodboard to take her family room from tired to well traveled:
Tiffany followed our design plan to the letter, and expertly executed this incredible new look in her family room. Feast your eyes on the amazing transformation: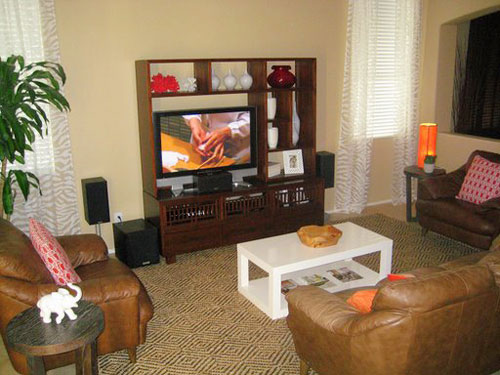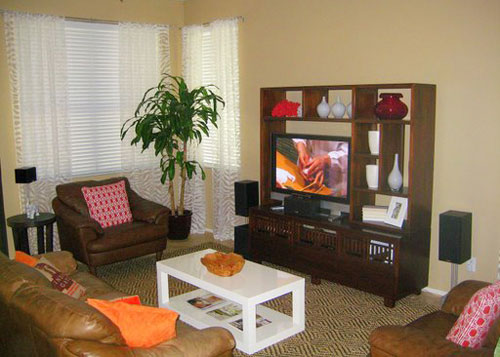 Our first clue that Tiffany loved her room was that she apparently even watches TV within her new color palette.  But a better clue was her gracious letter:
I can't decide which piece is my favorite, I just love it all. I thought the white table was a weird idea, but now that it's here, it does exactly as you promised. The room feels lighter because of it. The rug is amazing and has really pulled the room together. The curtains, I don't even know what to say there – perfection. The room has so many layers and so much texture now which is just what I wanted. Now, if I want to change things up, I can just switch out pillows or a few accessories with a different pop of color. I dig that. I love just sitting in this room now and can't wait to have a get together soon. Seriously, I was trying to talk my husband into moving before because I hated this room so much and have redone it four times in the 5+ years we've lived here.  Silly right, but it's the room we spend the most time in besides our bedroom. I'll be needing another mood board soon, I just can't decide which room to choose next. Thanks so much to you both. My husband thanks you too since I won't be redoing this room for a long time.  -Tiffany

No thank YOU for letting us help you solve your design dilemma and for sharing your wonderful after pics.  We're sure you won't mind, but we just had to share another angle of your new family room. How great are those curtains with that rug, people? Worldly and wonderful.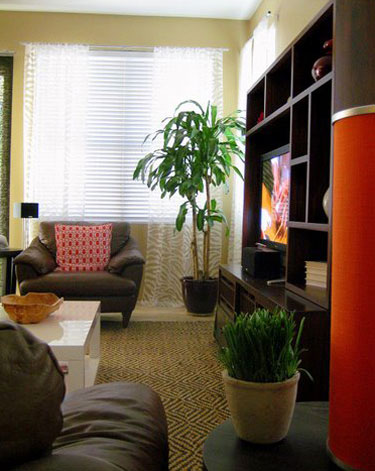 And I totally empathize with your husband's relief that this room can be checked off your to-do list. Just say the word and we'll get started on room number two!
Oh and Tiffany, let us know when you're having that get together. We'll be sure to clear our calendar…
Update: We sadly can no longer find the time to take on client commissioned mood boards (we now whip up general inspiration boards instead) but if we ever reinstate them we'll make a big announcement!
Actually, it feels like a good time has been looking for us lately. Everywhere we turn we're hearing about Sunny's Goodtime Paints – a local paint store whose founder (the cheerily-named Sunny Goode) aims to "bring out the artist in all." First, we spotted Lesley's sun porch floor sporting Sunny's graphic stencils. Next, Sunny's name got dropped in the August issue of Domino as part of the Katie Ukrop article. And then we noticed Ms. Goode herself has a regular feature in Richmond's R. Home magazine. Think we needed any more convincing to check out what all the fuss was about?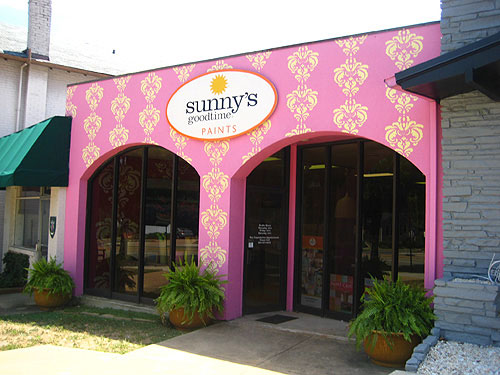 When we stopped by Sunny's Goodtime Paints last weekend we didn't bump into Sunny herself, but we still felt her personality from the moment we drove up. Before we stepped inside we knew we were in for a big helping of color inspiration, so we quickly braced our neutral-loving-selves to have our minds blown.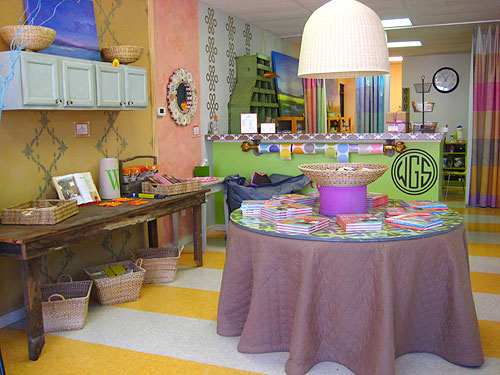 The store showcases all the tools Sunny offers to amp up the creativity in your home. The aforementioned stencils (seen above on walls, tables, counters, etc), paints, glazes, color washes, decals, books, brushes – you name it. Sherry and I debated a few stencils as a way to spice up our sunroom floor, but in the end couldn't pick just one and left completely empty handed. But rest assured, we'll be back…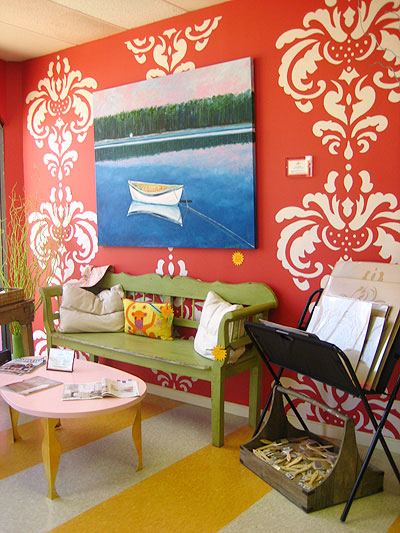 We were also inspired by all color wash and glaze products Sunny offers, and briefly contemplated using a glaze to add some subtle stripes somewhere in the house. But then we got distracted by the clever way the store displays its paint chips – using stir sticks dipped in paint. What a great way to know exactly what the paint will look like when it dries.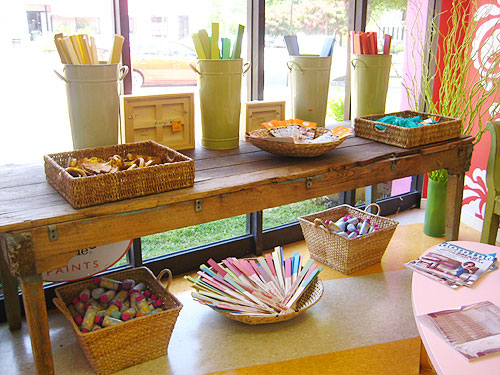 So clearly our trip to Sunny's Goodtime Paints got our creative juices flowing. If you're looking to get inspired by Sunny's innovative uses of color, pattern and paint, check out her two books: Paint Can! and Paint Can! Children's Rooms. And since all of Sunny's products are available on their website, distance won't keep you from having a good time for yourself.